Koji Uehara had a meteoric rise to becoming one of the most dominant closers in the game, but the 39-year-old also had a sharp decline at the end of the 2014 season that has seriously clouded his free agent stock.
Strengths/Pros
You'd be hard-pressed to find a relief pitcher — or any pitcher — with definitively better control than Uehara. Since jumping to the Majors in 2009, Uehara has walked 46 batters in 350 1/3 innings, and four of those have been intentional. He's averaged just 1.2 walks per nine innings over a six-year career, and a dozen of those walks came in his rookie season. He hasn't walked more than nine batters in any of the past five seasons.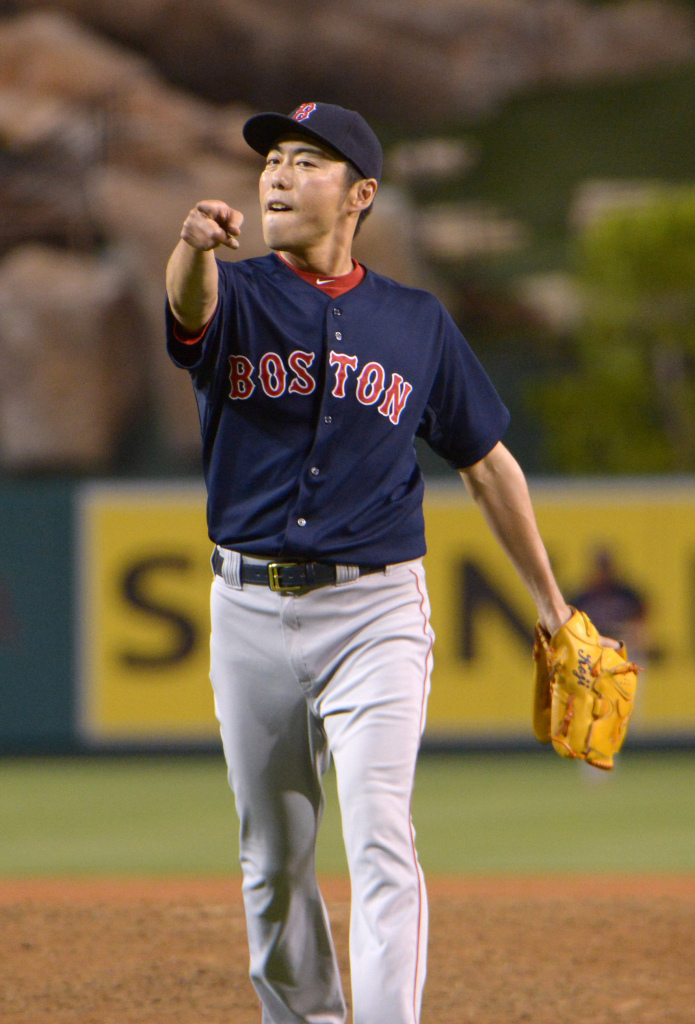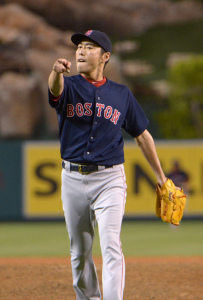 Uehara isn't just a control artist, however. Armed with a devastating split-finger, Uehara struck out 11.2 hitters per nine innings this season and has averaged 10.6 K/9 in his MLB career. Among pitchers with at least 50 innings pitched, his ridiculous 18.8 percent swinging strike rate in 2014 was second only to Aroldis Chapman.
He battled a bit of shoulder soreness early in the year, but Uehara was able to avoid the disabled list for the second straight season. He's been on the DL just once in the past four seasons, when he missed a little more than two months with a strained right lat. Overall, he's been durable and highly effective as a late-inning option for the Orioles, Rangers and Red Sox.
Uehara comes with experience in a setup role and in a closing role. He took over as the closer for the 2013 Red Sox and played a significant role in their World Series victory, posting a 1.09 ERA with 12.2 K/9 and 1.1 BB/9 in the regular season before firing 13 2/3 innings of one-run ball in the playoffs. He struck out 16 hitters without issuing a walk in the postseason and was named ALCS MVP after appearing in five of the six games. Teams will value the fact that he has thrived in a major market and on the game's biggest stage.
Weaknesses/Cons
Uehara will pitch next season at the age of 40, so clubs will inevitably have some reservation about his age.
The bigger concern for interested teams, however, will likely be the precipitous drop-off in his performance at the end of the season. Uehara yielded 10 runs over his final 7 2/3 innings this past season, leading many to wonder if he had become fatigued after a such heavy workload over the past two years. Uehara pitched only five times in the month of September, as he was shut down for a large portion of the month. Dominant as he's been, that slide, coupled with his age, is will be seen as a reason for pause.
Uehara has never thrown hard, but his 88.2 mph average fastball last season was the second-slowest of his big league career and represented a noticeable drop from the prior year's 89.2 mph mark. He also throws more splitters than any reliever in baseball — a pitch that is believed by many to put a high amount of stress on the elbow. Angels manager Mike Scioscia, Rays manager Joe Maddon and former Twins pitching coach Rick Anderson all weighed in on the risks of the pitch in this 2011 piece from the Associated Press.
Personal
Though a clear language barrier separates Uehara from his teammates, he's learned enough to get by with teammates since moving to the U.S. and is wildly popular among teammates, Brian MacPherson of the Providence Journal wrote late last year. Uehara is a master of using impersonations to get a laugh out of teammates; Brian Matusz spoke kindly of a particularly amusing impression of Jim Johnson, MacPherson wrote. Craig Breslow told MacPherson that no one thinks of Uehara as someone from another continent. "They think of him as one of the guys." Breslow was complimentary of Uehara's one-liners, stating that because he didn't speak quite enough English to build up context, "Every time he opens his mouth, it's a punchline." Drake Britton called Uehara "one of the coolest people" he's ever met.
Uehara is married and has one child. In his time with Boston he's been active in the community by visiting victims of the Boston Marathon bombing, participating in a golf tournament to benefit a South Florida children's hospital and participating in a baseball camp for children, among many other events/appearances, per the Red Sox media guide.
Market
The Red Sox have made it known that they want Uehara back in 2015, and there's mutual interest between the two sides. While they've taken the ambiguous stance of stating that they're not sure whether they'll extend a qualifying offer, I have to imagine that a QO is firmly out of the question after Uehara's late-season struggles. While most players prefer the security of a multi-year deal and are therefore disinclined to take the QO, the 40-year-old Uehara almost certainly wouldn't be able to top that mark and would likely accept.
While Uehara certainly has a good relationship with Boston, he said in an interview with the Boston Globe's Peter Abraham this summer that he's willing to go to any club in free agency: "The experience with the Red Sox has been fun. The World Series and now being selected an All-Star. But I don't have any specific teams that I want to play for. Any team that wants me the most is fine."
Any team in need of bullpen help on a short-term deal would be interested in Uehara, though given his age, it seems that he would likely limit himself to contending clubs in hopes off reaching another World Series. In addition to the Red Sox, I'd imagine that the Yankees, Dodgers, Tigers, Nationals, Cardinals and Giants could all show interest in Uehara.
Expected Contract
Uehara hasn't given any indication that he's only looking to play one more season, so it seems possible that he could get some offers of both the one- and two-year variety. On a two-year deal, given his age and poor results over his final five weeks or so, I have a difficult time envisioning him signing for a fair AAV.
While Uehara certainly may prefer the security of playing on a multi-year deal after going year-to-year for so long, there might not be much upside for him taking a lower AAV to lock in the second year. If he could find a one-year offer similar to the $10MM deal Mariano Rivera signed prior to the 2013 season, Uehara could eclipse his theoretical ceiling on a two-year guarantee even with a somewhat diminished performance in 2015. Unless he blows out his arm, it seems reasonable that he could expect to find $5-6MM next winter with any sort of reasonable success, and possibly quite a bit more.
This seems to me to be a matter of preference for the player (one-year at a higher AAV or two years with some additional security), but the I'm predicting that Uehara will sign a one-year, $11MM contract.
Photo courtesy of USA Today Sports Images.