Pat Neshek improbably went from minor league signee to All-Star setup man after signing late with the Cardinals last winter. He'll now look to parlay the finest season of his career into his first multi-year deal on the free agent market.
Strengths/Pros
Over the past three seasons, Neshek has quietly assembled a nice track record. He's pitched to a 2.26 ERA with 8.0 K/9 and 2.1 BB/9 over a period of 127 1/3 innings in that timeframe. In particular, the side-armer has been a dominant weapon against right-handed hitters, limiting same-handed bats to a paltry .173/.228/.271 batting line.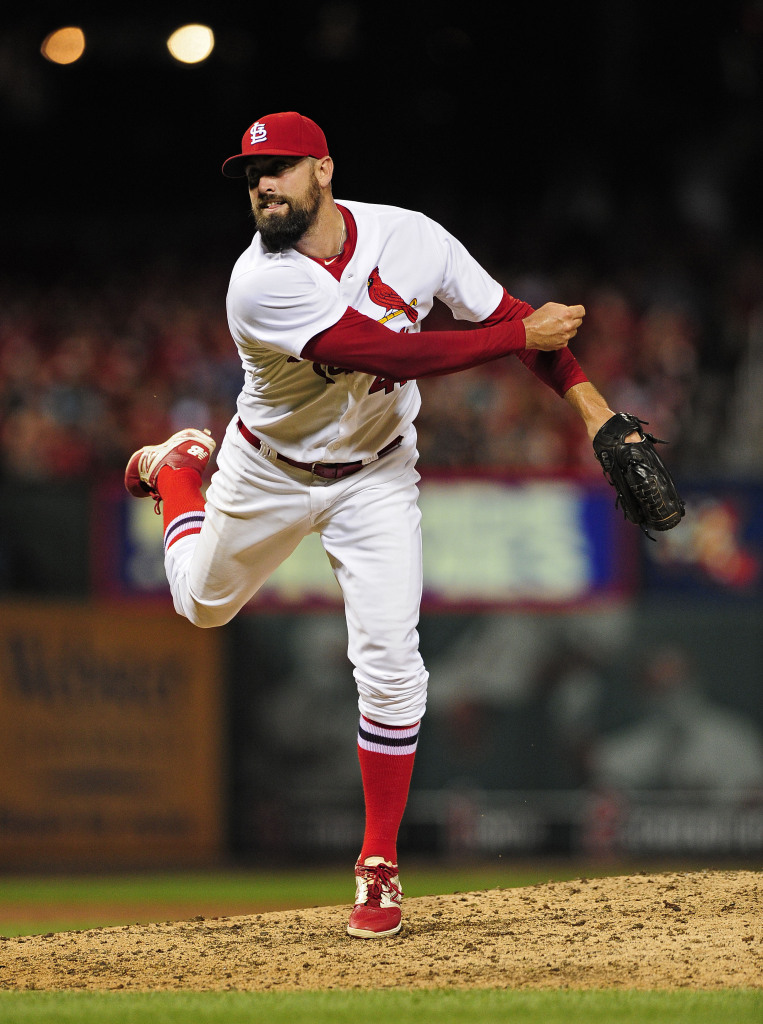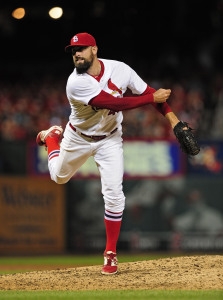 Neshek's three-year platform looks solid from a statistical standpoint, but it downplays how great his 2014 campaign truly was. His 67 1/3 innings and 71 appearances ranked eighth and 12th among free agent relievers, respectively, and only Andrew Miller's 2.4 fWAR topped Neshek's mark of 1.8 this season. Assuming the options of Darren O'Day and Huston Street are exercised, no relief pitcher can claim to have topped his 2.4 RA9-WAR, and only Koji Uehara can lay claim to a better strikeout-to-walk ratio than Neshek's mark of 7.56. He was even dominant against left-handed hitters, stifling them to the tune of a .196/.237/.304 line. However you slice it, Neshek was one of the very best relief pitchers in Major League Baseball this season.
A .233 BABIP and 83 percent strand rate also contributed to Neshek's ERA, but somewhat remarkably, those marks are in line with his career norms. Neshek does appear to able to consistently strand runners and induce weak contact at a better-than-average rate, though it's fair to question if he can sustain levels this superior to the 2014 league-average reliever rates of .294 and 73.9.
Like nearly all relief pitchers, he won't come with a qualifying offer attached, so he won't cost a draft pick. And, while he's had some injuries in his pro career (most notably Tommy John surgery back in 2008), he's been healthy in each of the past four seasons. His health in 2014 was apparent, given the fact that he posted his best fastball velocity since his rookie campaign in 2006.
Neshek also stepped into the ninth inning at season's end and picked up six saves, which might make him a bit more appealing to teams with late-inning needs.
Weaknesses/Cons
Neshek looked to be on the verge of breaking out as an elite setup man with his hometown Twins back in 2007, but the Tommy John surgery and a damaged pulley tendon in his right hand slowed his career considerably and limited him to just 22 1/3 big league innings from 2008-10. It's been an uphill battle to reestablish himself in the Major Leagues since that time, meaning he doesn't have a particularly lengthy track record to draw from. In fact, he's totaled just 281 2/3 innings in the Majors.
Dominant as Neshek was against lefties in 2014, he had the opposite problem in 2013. Lefties batted .315/.367/.566 against Neshek last season, and he had enough trouble getting them out that he was at one point designated for assignment by the A's despite possessing strong all-around numbers at the time. This season, he dramatically reduced the number of sliders he threw in favor of the fastball, and the result does seem to have been positive.
Neshek's electric ERA was, in part, sustained thanks to a career-low homer-to-flyball rate of just 4.3 percent. Teams may worry that Neshek, who entered the season with a career 10.4 percent HR/FB ratio, will regress toward his career marks. Those who point to the change in pitch selection as a possible reason for this year's shift won't have a leg to stand on, either, as his slider has typically not been susceptible to homers.
Neshek's resurgent season came at age 33, and he'll pitch next season at age 34, so he's older than a number of arms in the second tier of the free agent market. He also struggled down the stretch, allowing nine runs over his final 12 innings, although seven of those did come in just two bad outings.
Personal
Neshek's unorthodox delivery stems from an injury sustained in high school that prevented him from throwing overhand. He was hit by a pitch on the wrist and described the sensation of throwing overhand following that incident to Ted Berg of USA Today by saying it felt like the ball "was ripping right through my fingertips." Neshek's delivery was developed to compensate for that injury but soon turned into a weapon that he used effectively in his college career at Butler.
Neshek is an avid autograph collector and has a love of collecting and trading baseball cards. Neshek started a web site for fans who share his passion. He is a fan of Out Of The Park Baseball — a popular baseball simulation game — and is even a reader of MLBTR (Hi Pat!). Neshek is often described as an outgoing, engaging person who takes a genuine interest in those around him.
Market
The relief market this season is fronted by David Robertson and Andrew Miller, but Neshek will be one of many strong options in the second tier.  He and agent Barry Meister seem likely to target multiple years, and there's certainly a case to be made. In terms of ERA, FIP, xFIP, SIERA, K%, BB% and GB%, Neshek's three-year platform heading into free agency is comparable, if not superior, to that of Joe Smith, who signed a three-year pact with the Angels last offseason.
Of course, that doesn't mean Smith's contract is a reasonable expectation, as Neshek is three-and-a-half years older, has thrown fewer innings than Smith in that time and has struggled more against lefties. The point, however, is that he has rate stats commensurate with well-compensated relievers, and he is coming off an elite walk season.
In spite of the lower innings total relative to his peers, there will be no shortage of clubs that look at Neshek as a relatively affordable piece to strengthen their bullpen. I'd imagine that the Red Sox, Yankees, Cardinals, Dodgers, Tigers, Giants, Indians and Nats could all have some interest. Each of those teams either made the postseason or was within striking distance this season. However, Neshek is a player who has "only" banked about $4.5MM in his career, so I can see him going to a rebuilding or non-contending club, should that team offer the most money. The White Sox are known to be in need of bullpen help, as are the Astros, Cubs and Phillies, to name a few.
Expected Contract
Despite his standout 2014, I have a difficult time envisioning a three-year pact on an open market that is flush with relief options. I do, however, think that Neshek can land a two-year pact, possibly with an option, especially if Meister strikes quickly. Relievers are typically best-served to sign early in free agency, and Neshek should strive to do the same.
Last offseason, Edward Mujica inked a two-year, $9.5MM contract with the Red Sox despite a late-season slide that cost him his closer's gig. While Neshek hasn't built up Mujica's track record of innings at the Major League level, he strikes hitters out at a higher rate and is coming off a better platform season. I expect something near Mujica's contract to be the landing spot, as I'm projecting a two-year, $10MM contract for Neshek.
Photo courtesy of USA Today Sports Images.