The Phillies have added some innings to their rotation, announcing the signing of right-hander Aaron Harang to a one-year, $5MM deal. Harang, a client of ACES, can earn more through performance incentives and awards bonuses, per the team.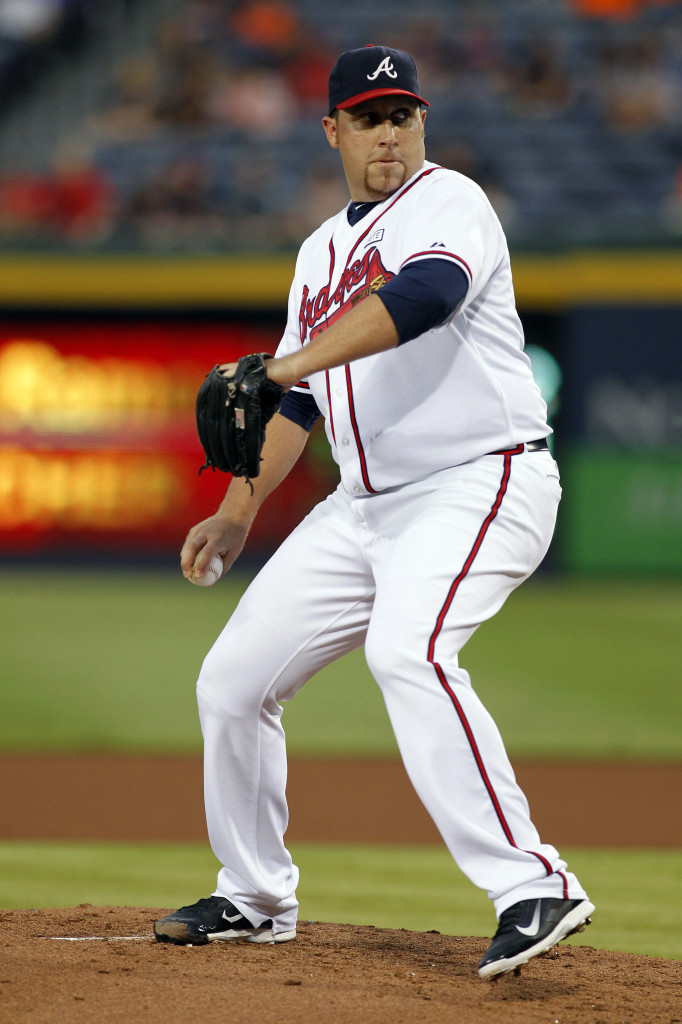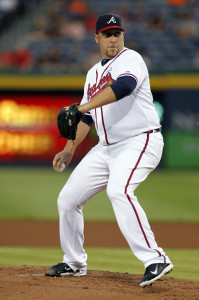 The 36-year-old Harang enjoyed a very nice rebound campaign with the Braves in 2014, pitching to a 3.57 ERA with 7.1 K/9, 3.1 BB/9 and a 39.4 percent ground-ball rate in 204 1/3 innings. Harang's 3.57 FIP felt that his ERA was a perfect indicator of his skill set, although other metrics such as xFIP (4.03) and SIERA (4.18) felt that he was the beneficiary of some good fortune. Interest from Philadelphia was first noted last week by CSNPhilly.com's Jim Salisbury.
For the Phillies, Harang will provide a much-needed stabilizing force in the rotation, and he comes at a price tag that isn't prohibitive. While the Phillies don't expect to contend in 2015 — they've already traded away Jimmy Rollins, Marlon Byrd and Antonio Bastardo — they still need someone to soak up innings in the rotation. Harang can do just that for manager Ryne Sandberg. He'll join Cliff Lee and possibly Cole Hamels (depending on whether or not he is traded) in an otherwise thin rotation. Jerome Williams figures to lock down one spot, with David Buchanan the likely occupant of another. Beyond that, the fifth spot figures to be a competition between the likes of reported non-roster invitee Wandy Rodriguez, right-hander Miguel Alfredo Gonzalez and eventually 2014 first-round pick Aaron Nola.
Harang's peak came in the 2006-07 seasons with the Reds when he hurled a combined 466 innings of 3.75 ERA ball in the very hitter-friendly Great American Ball Park. Harang posted a 124 ERA+ in each of those seasons and even finished fourth in the NL Cy Young voting in 2007. He was off to a solid start in 2008, but many Reds fans will point to a four-inning, 63-pitch relief stint on two days' rest (in an 18-inning marathon game) on May 25 of that season as the day in which things took a turn for the worse for Harang. Though he fired four scoreless innings that day, Harang wound up on the DL with a forearm strain and posted a 5.88 ERA over the remainder of the year. He never fully regained his form as a Red, although he's had relatively successful stints with the Padres, Dodgers and Mets (in terms of ERA, anyhow) since leaving Cincinnati.
Harang's contract is affordable enough that the Phillies should be able to flip him at the trade deadline if he's pitching well. We at MLBTR agreed that a two-year deal could be possible for Harang based on his strong 2014 (as Zach Links mentioned in his free agent profile), but the market for Harang's services never gained too much steam. The large number of quality arms on both the free agent and trade markets likely prevented that from happening, but Harang still managed to pull in a guarantee five times larger than the $1MM sum paid to him by the Braves a year ago.
Jon Heyman of CBS Sports first reported that a deal was in place (Twitter link).
Photo courtesy of USA Today Sports Images.