The Dodgers have reportedly landed yet another high-profile Cuban talent by agreeing to a six-year, $62.5MM contract with infielder Hector Olivera.  The deal contains a $28MM signing bonus and is pending a physical.  Olivera is represented by Greg Genske of the Legacy Agency.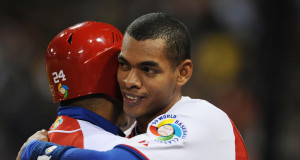 Olivera reportedly has a slight UCL tear in his right elbow, and the deal provides protection for the team in the event that it proves problematic. Los Angeles would pick up an option for a seventh season at the price of just $1MM in the event that Olivera needs Tommy John surgery at some point during the six guaranteed seasons. That type of clause is, of course, most associated with pitcher John Lackey, whose free agent deal with the Red Sox included a similar provision that ultimately gave the team a valuable additional season of control.
Olivera's signing process was a long and often controversial one, including an agent change, contested reports of a damaged UCL (which now seem to have had validity) and a wide spectrum of possible contracts ranging from four to six years in length and between $30MM to over $70MM in value. In the end, Olivera and Legacy have to be pleased to have landed an agreement near the highest end of those projected deals.  The Dodgers outbid several teams for Olivera's services, as the Padres, Marlins, Braves, Giants, Mariners, Yankees, Twins and A's were said to have varying degrees of interest.
The signing represents the Dodgers' most expensive dip yet into the Cuban market.  The club has also added Yasiel Puig ($42MM), Alex Guerrero ($28MM), Erisbel Arruebarrena ($25MM) and Pablo Fernandez ($8MM) within the last three years, yet they've managed to add this significant international talent without going over their international bonus pool limit.  While clubs like the Red Sox or Diamondbacks (who exceeded their pools) are prevented from signing international players for more than $300K until July 2017, the Dodgers have largely targeted players who aren't pool-eligible, like the 29-year-old Olivera.
Beyond the UCL rumors, some scouts were also concerned that Olivera missed over a season in Cuba recovering from a blood clot in his arm, and he played mostly DH after returning to action in 2013.  Still, MLB scouts were very impressed with Olivera's right-handed hitting approach, his ability to play at either second or third base, and his potential to contribute right away, as Baseball America's Ben Badler notes.  In a more detailed scouting report available to BA subscribers, Badler writes that Olivera "compares favorably to the two top recent Cuban signings who received major league contracts, Yasmany Tomas and Rusney Castillo."
Olivera still needs to obtain a visa, and as Yahoo Sports' Jeff Passan notes, he'll likely need about a month in the minor leagues, so May is probably the earliest we'd see Olivera in a Dodgers uniform.  L.A. has no need to rush Olivera as they already have Juan Uribe at third and Howie Kendrick at second; ironically, of all Olivera's suitors, the Dodgers were perhaps the team least in need of immediate infield help.  With Uribe and Kendrick both free agents after the season, however, it seems that Olivera will replace one (probably Uribe, as most feel Olivera is best suited to third) as the Dodgers' long-term solution.
MLB.com's Jesse Sanchez first reported the signing, while Jon Heyman of CBSSports.com tweeted financial details. Robert Murray (via Twitter), Sanchez (via Twitter), and J.P. Hoornstra of the Los Angeles News Group (also on Twitter) reported details of the injury clause.
Photo courtesy of USA Today Sports Images.