Another postseason appearance without a World Series victory made for a disappointing finish in the Motor City, and the Tigers will now be relying on a rotation and an outfield that look markedly different than last year's units.
Major League Signings
Trades and Claims
Extensions
Notable Minor League Deals
Notable Losses
Needs Addressed
Knowing that a reunion with Max Scherzer was highly unlikely after the ace spurned a six-year, $144MM contract offer last year in Spring Training, the Tigers instead made fellow free agent Victor Martinez their top priority. V-Mart didn't take long to be persuaded, though the price tag — a four-year, $68MM contract — makes that rather unsurprising. Though Martinez had interest from a number of other clubs coming off a monster season, the combination of a contract of that length at his age (36) and a familiar environment appealed enough to get a contract worked out at the GM Meetings. That decision looked perhaps questionable at the time, and naysayers had plenty of fuel for that opinion just a few months later, when Martinez underwent knee surgery to repair a torn meniscus. He's expected to be ready for Opening Day, but knee surgery for a 36-year-old catcher-turned-DH is hardly the way team or player would have liked to kick off the new four-year pact.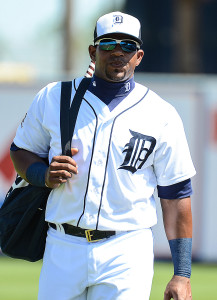 The Tigers entered the 2014 season with a rotation of Scherzer, Justin Verlander, Anibal Sanchez, Rick Porcello and Drew Smyly, but just two of that quintet remain in the Motor City. Scherzer is with the Nationals after inking a seven-year, $210MM deal, while Smyly was sent to Tampa in the David Price trade. Porcello's departure came this offseason, as he was flipped to the Red Sox in a trade that netted Yoenis Cespedes and a pair of relatively fringy relief prospects. The move found a younger replacement for the departing Torii Hunter and ultimately saved the Tigers a couple million dollars, as Cespedes' $10.5MM salary is a bit less steep than the $12.5MM Porcello received to avoid arbitration.
Replacing Porcello and Scherzer will be righties Shane Greene and Alfredo Simon. In Greene, the Tigers were able to flip Robbie Ray — acquired in the widely panned Doug Fister trade from the 2013-14 offseason — and a well-regarded but low-level infield prospect for a controllable, affordable rotation option. Greene is entering his age-26 season after a nice rookie campaign with the Yankees in which he posted a 3.78 ERA in 78 2/3 innings. He'll need to prove himself capable of holding down that role in the long run, as Greene has little minor league track record of which to speak and ranked among Baseball America's Top 30 Tigers prospects just once (No. 16 prior to the 2014 season).
The move to acquire Simon was particularly surprising, in my eyes, not because the Tigers targeted him but because of the steep price Detroit paid for one year of Simon, who is eligible for free agency next winter. Simon fills the fifth slot in the rotation but at the steep price of Eugenio Suarez — at least a serviceable utility infielder, if not something more — and a power-armed prospect, Jonathon Crawford, that could've served as a long-term option in Detroit's perennially questionable bullpen somewhere down the line. (Crawford was their first-round selection in the 2013 draft.)
Having traded Austin Jackson to the Mariners in the three-team Price deal, the Tigers lacked an everyday option in center field, but they addressed that by picking up Anthony Gose in exchange for prospect Devon Travis. Travis was blocked long-term by Ian Kinsler anyhow and has drawn some questionable reviews from some evaluators (others do feel he can be a big league second baseman), so moving him to acquire a defensively-gifted platoon partner for Rajai Davis made some sense. Gose has never hit much in the Majors but he covers quite a bit of ground in center field (+2 DRS and +13.6 UZR/150 in 901 MLB innings) and can hold his own in platoon situations (.241/.316/.350 career vs. RHP).
Joba Chamberlain was re-signed late in the offseason, and the team will hope that his 2015 looks more like last season's first half than second half. Newcomer Tom Gorzelanny represents the only other addition to the bullpen, although the $7MM option on July acquisition Joakim Soria was exercised as well.
Questions Remaining
Detroit's bullpen seems to be the team's biggest flaw every season, and it is again a significant question mark heading into 2015. Joe Nathan endured his worst season since becoming a closer (with the possible exception of 2011 — his first back from Tommy John surgery) and will return along with a $10MM price tag to prove that he still has something left in the tank. Joakim Soria, one of the best setup men available on last year's summer trade market, was a tremendous letdown with the Tigers, though that was at least partially due to an oblique strain that limited him to 11 unsightly innings with the club.
However, despite a series of bullpen meltdowns that resulted in the team's exit from the 2014 playoffs, the only real change was swapping Gorzelanny out for the departed Phil Coke (who signed with the Cubs earlier this month). The Tigers are counting on big things from flamethrowing Bruce Rondon in his return from Tommy John surgery, but if he struggles in his first year back — which is highly possible, especially considering the fact that he's thrown just 28 2/3 Major League innings — the Tigers could be in for a long season full of bullpen-driven headaches.
The rotation, too, is anything but certain. While we know which five starters will comprise the group — Price, Verlander, Sanchez, Greene and Simon — the effectiveness of that group is far from a guarantee. Verlander struggled all season in 2014 after undergoing core muscle surgery. He told ESPN's Jayson Stark this spring that the residual effect of that operation was pain in his shoulder from an inability to use his core properly, adding that he was well behind schedule to open the year. Greene, as noted above, has little Major League experience and lacks any form of minor league track record. And Simon, who was excellent for the Reds in the first half of 2014, wilted in the second half somewhat predictably. Simon's first-half dominance in Cincinnati (2.70 ERA in 116 2/3 innings) was driven by a .232 average on balls in play and an 85.1 percent strand rate. He didn't come close to sustaining either and saw his ERA spike to 4.52 in the second half. Simon entered the 2014 season with just 19 career starts and was somewhat surprisingly able to make 32 last year, but whether or not he can do it again remains to be seen. He also averaged just 5.8 K/9, and a move to the American League isn't going to help in that regard.
Looking at the rest of the roster, both Miguel Cabrera and Alex Avila have some health question marks, while the world will be watching J.D. Martinez intently to see if he can sustain last season's incredible breakout campaign. If he falters, Steven Moya could get a look this summer. Nick Castellanos was below average at the plate but historically bad from a defensive standpoint, at least per Defensive Runs Saved (-30), so it's conceivable that third base will eventually be an issue as well. At shortstop, the team is banking on Jose Iglesias return to health after stress fractures in both shins cost him the entire 2014 season. His importance is even more crucial following the trade of Suarez to Cincinnati.
The largest question surrounding the team this spring, however, may have nothing to do with on-field production at all. Rather, all eyes will be on Price, as he's said on multiple occasions that he is open to an extension with Detroit and expects the team to engage him in talks before he hits free agency. One would imagine that the Tigers may be comfortable offering Price something similar to the six-year, $144MM deal they offered Scherzer last year, but Price and agent Bo McKinnis undoubtedly took notice of the Scherzer contract and have to feel confident that they could at least secure a Jon Lester-like $155MM over six years.
Deal of Note
The acquisition of Cespedes was perhaps more interesting than it appeared on the surface. The Tigers and Red Sox essentially swapped comparably priced, above-average though not-quite-star players who have one year of team control remaining. However, Cespedes, unlike Porcello, is ineligible to receive a qualifying offer at season's end, so the Tigers also parted with the ability to receive draft pick compensation.
Detroit did save about $2MM in the trade, which is probably in the neighborhood of the slot value the Sox would receive in a 2016 pick, should Porcello reject a qualifying offer and sign elsewhere. (And, one would presume that as a 27-year-old free agent, if he performs well enough to receive a QO, it'll be a no-brainer to reject it.)
Overview
It's become almost cliche to say that the Tigers are nearing the end of their window of contention, but that may very well be the case when looking at their long-term payroll. Detroit already has $101MM committed to Verlander, Cabrera, Martinez, Sanchez and Kinsler for the 2017 season, and the first three of that trio will earn a combined $76MM in 2018. On top of that, the team is considered to have one of league's worst farm systems. Clearly, the Tigers are attempting to win now, perhaps knowing that their core will be more expensive than productive in the not-too-distant future.
The current group is considered by many a favorite in the AL Central, but there's some very real uncertainty at the back of the rotation, in the bullpen and on the left side of the infield (to say nothing of health concerns for nearly all of the team's top players).
Still, the star power and talent on this team is undeniable, and if Cabrera, Verlander and Martinez are healthy, it's tough to envision them falling out of the race in the AL Central. However with Price, Simon and Cespedes among the players currently on pace to hit the open market next winter, it'll be interesting to see how the team approaches future seasons, especially if the remnants of an already depleted farm system are stripped down even further for trades this summer. Of course, one World Series win would likely make it all worth it for the Tigers and their fans.
Photo courtesy of USA Today Sports Images.