Is there ever a good reason for a team to put their MLB-ready top prospect on the Opening Day roster, as the Diamondbacks recently did with Archie Bradley?  As we've seen with the Cubs and Kris Bryant, waiting at least 12 days into the season ensures the team will control the player for a seventh season.  Forward-looking teams that are willing to wait before calling up their phenom can delay his free agency by a year, and that extra year of control is generally more valuable than having the player for the first two weeks of April.  However, we found 11 examples in the last decade of top MLB prospects who did make the Opening Day roster.  You might say these players conquered the service time issue, or at least were lucky enough to have GMs who disregarded it.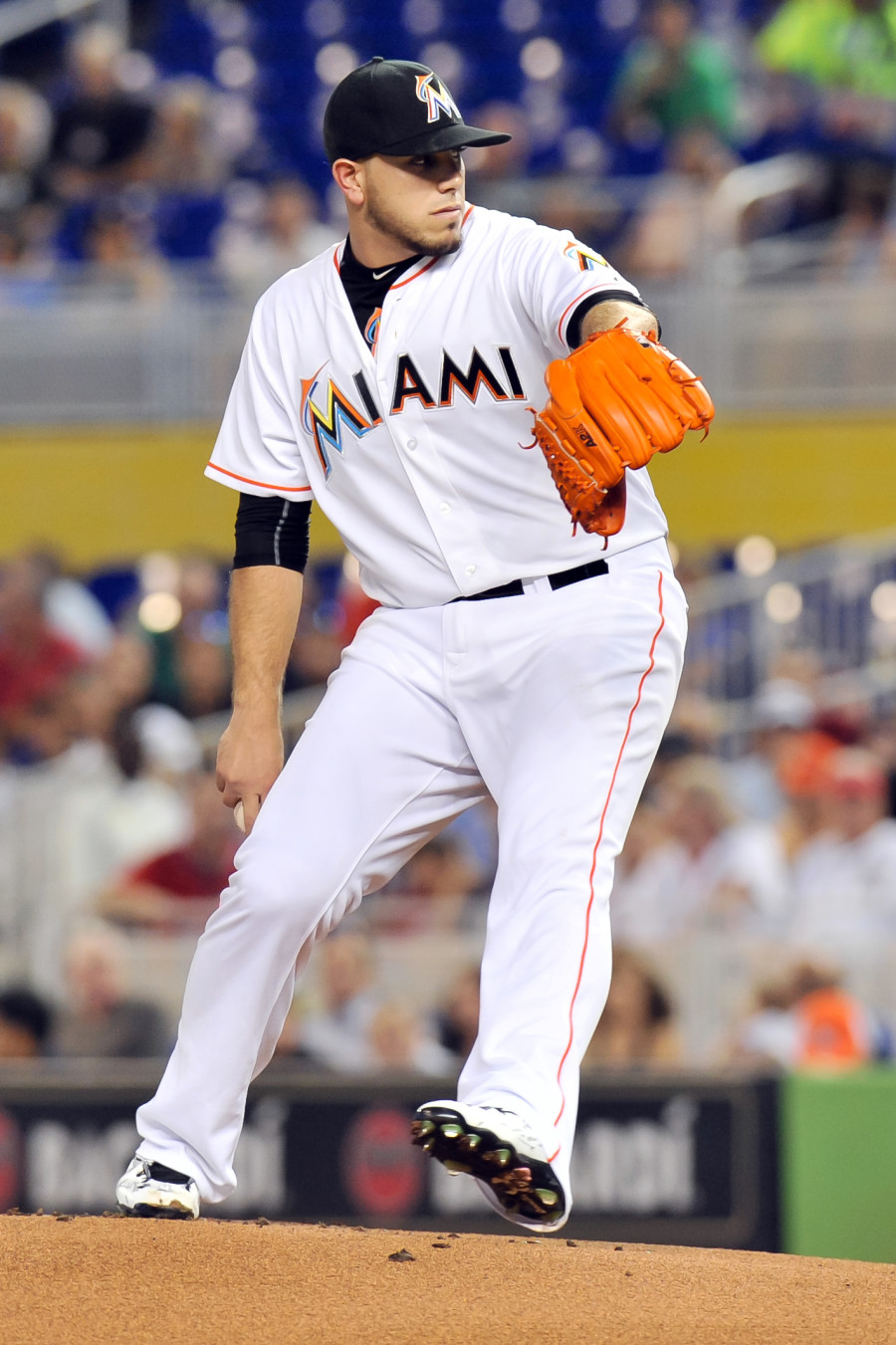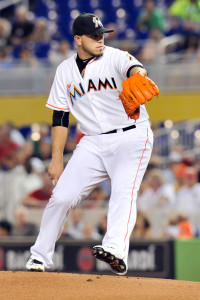 1.  Jose Fernandez, Marlins SP.  Marlins President of Baseball Operations Larry Beinfest certainly would have been justified giving Fernandez a little more minor league seasoning in 2013.  The game's #5 overall prospect according to Baseball America, Fernandez was just 20 years old and had never pitched above A ball.  But when Marlins starters Nathan Eovaldi and Henderson Alvarez got hurt, Fernandez surprisingly made the team.
Was it worth it?  Fernandez didn't make his Marlins debut until April 7th, 2013, so they ultimately traded his five-inning debut for control of his age-26 season, which will happen in 2019.  He was clearly ready to make the jump, as Fernandez won the National League Rookie of the Year award.  However, over a year of the Marlins' control of their young ace was lost when he went under the knife for Tommy John surgery the following season.  The team put him on the 2013 Opening Day roster even with the knowledge that he was represented by notorious agent Scott Boras, who generally encourages players to avoid extensions that delay free agency.  In December, the Marlins reportedly made a six-year offer (with two club options) worth close to $40MM, but no deal was reached.  Even if they do reach some kind of precedent-shattering deal, five extra innings from Fernandez as part of a 100-loss season was not worth it for the Marlins.
2.  Jedd Gyorko, Padres 2B.  Gyorko came into 2013 as BA's #71-ranked prospect, and he spent Spring Training working on the transition from third to second base.  Injuries to Chase Headley and Logan Forsythe helped open the door for GM Josh Byrnes to put Gyorko on the Opening Day roster.
Was it worth it?  It's possible that the goodwill from Byrnes' lack of regard for service time helped encourage Gyorko to sign a six-year, $35.5MM extension with a club option with the Padres a year later.  In that contract the Padres paid a free agent price for the 2019 season ($13MM), which potentially could have been cheaper had that represented his fourth year of arbitration.  Or, an extra year of control might have convinced Byrnes to wait another season before proposing an extension.  Gyorko struggled mightily with injuries and performance as a sophomore in 2014, and the extension might end up being regrettable.
3.  Mike Leake, Reds SP.  The Reds drafted Leake eighth overall in 2009 out of Arizona State, and with nothing more than an Arizona Fall League stint under his belt as a pro, he beat Travis Wood for the fifth starter job to begin the 2010 season.  He pitched well enough as a rookie, but was moved to the bullpen in August and his season ended on the 24th of that month.
Was it worth it?  The Reds won the division by five games in 2010, and Leake was a part of that.  Leake was wild on his April 11th debut, but still beat the Cubs.  Since GM Walt Jocketty could have easily let him make his debut a few days later, it was not worth it.  Controlling Leake for 2016, his age 28 season, would have been valuable, even if he would have cost $14MM through arbitration.
4.  Austin Jackson, Tigers CF.  Tigers GM Dave Dombrowski acquired Jackson in the epic three-team December 2009 trade that also included Max Scherzer, Curtis Granderson, Ian Kennedy, Edwin Jackson, Phil Coke, and Daniel Schlereth.  Jackson was regarded as the #76 prospect in baseball, and he became the Tigers' Opening Day center fielder.
Was it worth it?  Jackson hit quite well in his first dozen games or so, and his performance easily could have led to an additional win or two.  It wasn't worth it in that the Tigers finished at .500, but at the time Dombrowski's decision was defensible.  Jackson was again part of a big three-team deal at the 2014 trade deadline.  He would have carried more trade value with 2016 control, though teams will be down on him for next year if his current struggles persist.
5.  Jason Heyward, Braves RF.  In a situation analogous to Bryant, the Braves had the game's best prospect prior to the 2010 season in Heyward.  Heyward had just three games of Triple-A experience, but GM Frank Wren couldn't resist putting the 20-year-old on the Opening Day roster after a legendary Spring Training.
Was it worth it?  The Braves won the Wild Card by one game and Heyward had a very strong start, so this is a rare case where it was worth it.  The Braves traded Heyward to the Cardinals last November with Jordan Walden for Shelby Miller and Tyrell Jenkins.  That was a solid return, but of course the Braves would have done better if they controlled Heyward for '16 as well.
6.  Colby Rasmus, Cardinals CF.  Rasmus was Baseball America's #3 prospect prior to the 2009 season.  He made GM John Mozeliak's Opening Day roster, but wasn't in the outfield when the Cards battled Pittsburgh on April 5th.
Was it worth it?  The Cardinals won the Central Division handily in '09, but since Rasmus didn't start every game those first few weeks, it probably wasn't worth putting him on the Opening Day roster.  When Mozeliak traded Rasmus to the Blue Jays in an eight-player deal in July 2011, the outfielder had three-plus seasons of control remaining.  It was well-known by that point that Rasmus had worn out his welcome in St. Louis, so while the additional year of control always increases a player's trade value, it might not have made a huge difference here.
7.  Elvis Andrus, Rangers SS.  In December 2008, Rangers GM Jon Daniels and manager Ron Washington told face of the franchise Michael Young he'd be shifting from shortstop to third base in 2009, paving the way for one of the game's top 40 prospects in Andrus.
Was it worth it?  Andrus hit quite well in those first few weeks, and surely made some plays at shortstop Young would not have.  The Rangers won 87 games and fell short of the Wild Card, but at the time the decision was made, it was defensible.  Three years later Andrus signed a deal buying out only his arbitration years, and then a year after that Andrus asked agent Scott Boras to get him a long-term extension, even though it meant missing the chance at being the rare 26-year-old free agent.  Boras got Andrus a huge deal with a pair of opt-outs.  If in spring 2013 the Rangers already controlled Andrus through 2015, they would have at least approached those extension talks differently.
8.  Brett Anderson, Athletics SP.  Savvy GMs had no problem putting top prospects on Opening Day rosters back in 2009.  Even Billy Beane did it with Anderson, the game's #7 prospect heading into that season, even though the lefty had made only six starts above A ball.  Anderson was the team's fourth starter out of the gate, losing his first couple of starts.
Was it worth it?  With a starting pitcher it's almost never "worth it," since the extra MLB time amounts to one or two starts.  Anderson had a solid rookie year for the A's, and maybe Beane's gesture of putting him on the Opening Day roster was a factor in him signing a four-year, $12.5MM deal with two club options a year later.  The contract bought back the potential year of control the A's lost (2015), and that $12MM club option probably still had a bit of value to the Rockies when they acquired Anderson in December 2013.  They ultimately chose a $1.5MM buyout instead, as Anderson's injury woes continued in Colorado.
9.  Johnny Cueto, Reds SP.  Cueto was BA's #34 prospect prior to the 2008 season,  and he broke camp as part of the Reds' rotation.  Cueto dazzled in his first couple of the starts, and the Reds won his debut by one run.
Was it worth it?  That extra Cueto-related win didn't matter much for the Reds, who finished in fifth place in '08.  It's possible that some goodwill from GM Wayne Krivsky's decision came into play in January 2011, when new GM Walt Jocketty signed Cueto to a four-year deal with a club option for '15 (an easy choice to exercise last fall).  If Cueto was held in Triple-A for a few weeks to begin '08, would he have chosen not to sign an extension later?  In that scenario, he would have reached free agency after 2014.  It's also possible that a few weeks as a rookie wouldn't have mattered to him, and controlling him through '14 could have meant signing him to an extension running through '16.
10.  John Danks, White Sox SP.  White Sox GM Kenny Williams acquired Danks from the Rangers in December 2006, sending Brandon McCarthy to Texas.  Like Dave Dombrowski with Austin Jackson, Williams couldn't wait to get his new acquisition on the big league club.  It's kind of like a kid getting a new toy and opening the box on the ride home.
Was it worth it?  Danks would have benefited from additional Triple-A seasoning, as he posted a 5.50 ERA as a rookie.  He was decent in his first couple of starts, though the White Sox lost both games en route to a fourth place finish.  Williams' decision set Danks up for free agency after 2012, but he signed a five-year, $65MM extension prior to his walk year.   Danks wound up needing shoulder surgery in 2012.  An extra year of control might have prevented the White Sox from extending Danks in general, in which case they wouldn't have him on the books currently.
11.  Nick Markakis, Orioles RF/LF.  Top Orioles exec Mike Flanagan put Markakis on the team's Opening Day roster back in 2006.  The 22-year-old had played just 33 games above A ball.
Was it worth it?  Markakis didn't play every day in the season's first few weeks and the Orioles finished in fourth place.  Flanagan's roster decision had Markakis on track for free agency after 2011, but in January 2009 Andy MacPhail signed him to a six-year, $66.1MM extension with a club option for 2015.  I don't think much would have changed with the contract had Flanagan waited a few weeks in '06 to call Markakis up.
What have we learned?  Two weeks of a rookie in April is rarely directly worth trading for a seventh year of control, but the tradeoff can be defensible for certain teams and players.  Also, the extra year of control could impact extensions in multiple ways.  On one hand, it's possible some players signed extensions partially because of the goodwill from being placed on the Opening Day roster.  On the other hand, an additional year of control might have bought GMs more time to gather data on whether certain extensions were worth pursuing in the first place.
Please note that we looked for examples within the last ten seasons, omitting players like Joe Mauer, and we also left out relievers such as Joel Zumaya and Huston Street.