Longtime MLB veteran Bruce Chen joins the show to talk about his decision to bring an end to a distinguished career after throwing more than 1,500 big league innings over 17 seasons. Though he ended his career with the Indians, Chen saw action with eleven big league teams — most prominently, the Royals, Orioles, and Braves. The consummate crafty lefty, Chen has a fascinating story both personally and as a ballplayer.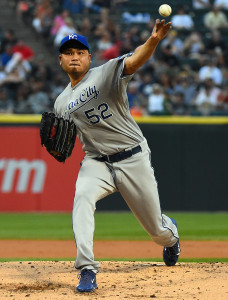 Also hopping on with MLBTR is Cubs beat writer Patrick Mooney of CSN Chicago, who stops by to discuss the team's most recent moves and to break down how things are shaping up for the trade deadline.
This episode comes to you courtesy of DraftKings.com, who invite you to use promo code "MLBTR" for a free shot at playing fantasy baseball for cash prizes!
Click here to subscribe to the podcast on iTunes, and please leave a review! The podcast is also available via Stitcher at this link.
The MLB Trade Rumors Podcast runs weekly on Thursdays.