The Astros and Brewers are announced a blockbuster trade on Thursday that will send center fielder Carlos Gomez, right-hander Mike Fiers and an international bonus slot (valued at $287,500) to Houston in exchange for outfield prospects Brett Phillips and Domingo Santana, right-hander Adrian Houser and lefty Josh Hader. The Astros did not have to make a 40-man move to add either player, as they had an open spot, and Santana was already on the 40-man.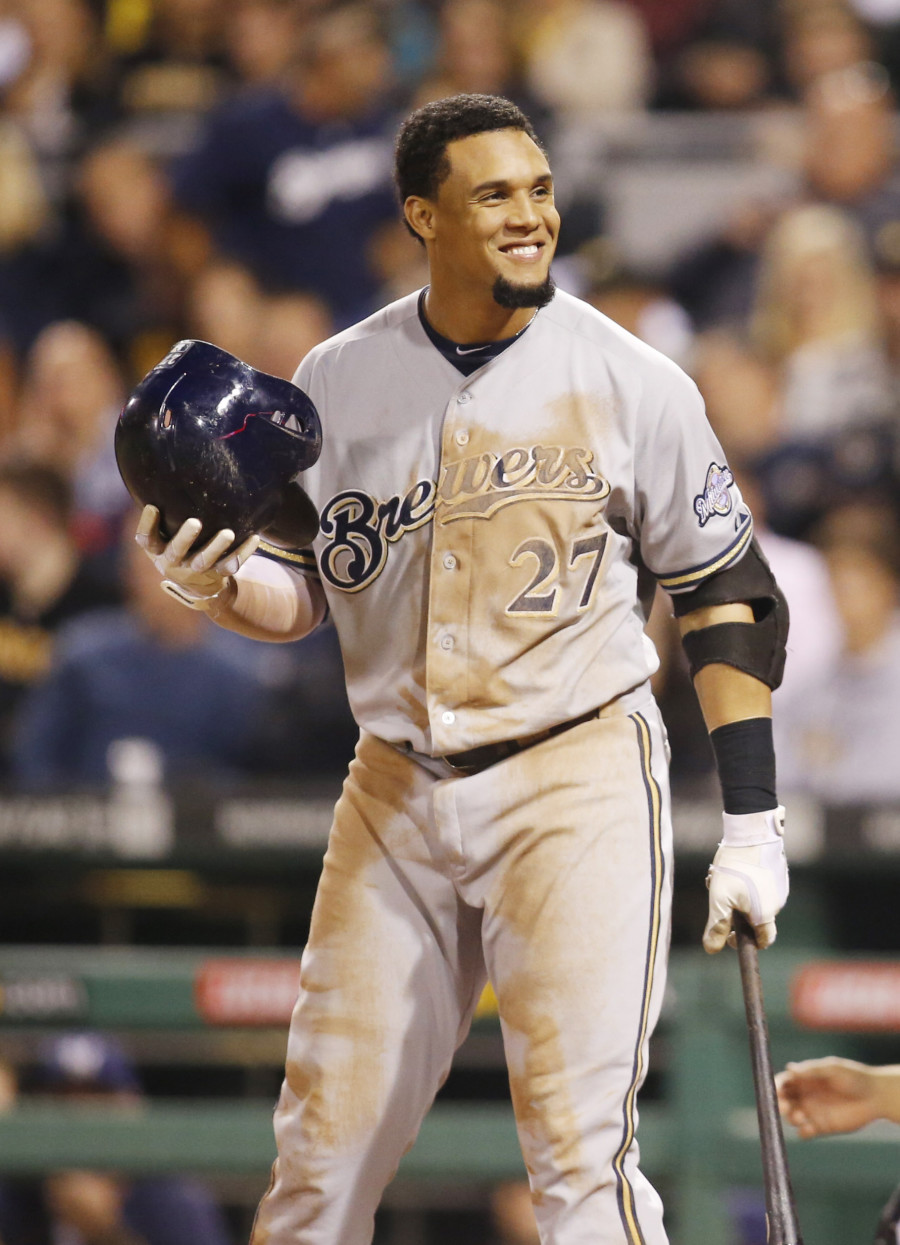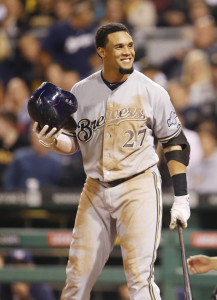 Gomez, of course, was believed to be headed back to the Mets last night in a swap that would've sent Zack Wheeler and Wilmer Flores to the Brewers, but the trade fell through after names were agreed upon due to a combination of medical concerns pertaining to his hip and perhaps financial elements as well.
Adding Gomez to the outfield mix should result in a significant improvement for the Astros over the remainder of the season. Despite hamstring issues that cost him three weeks earlier in the year, Gomez's defense remains above average, and if he's 100 percent healthy, he has a track record as one of the best defensive outfielders in baseball.
Plus defense has long been part of Gomez's game due to his excellent range, but Gomez over the past three-plus seasons has turned himself into a genuine offensive weapon at the plate as well. Dating back to Opening Day 2012, Gomez is a .275/.335/.474 hitter that has averaged 24 homers and 38 stolen bases per 162 games played. Wins above replacement pegs Gomez at an average of five to five-and-a-half wins per year in that time, depending on your preferred version of the metric. Houston center fielders have been sound from a defensive standpoint this season, but they've combined to bat just .226/.285/.370, making Gomez an upgrade on both sides of the ball.
In addition to his strong all-around game, though, Gomez made for an appealing trade candidate due to his contractual situation. He's the rare Scott Boras client that took an extension as opposed to waiting for free agency, and while he should still secure a $100MM+ contract with ease following the 2016 season, he's currently in the midst of a three-year, $24MM pact that has worked out beautifully for the Brewers. Gomez is earning $8MM in 2015 — of which about $3.02MM remains — and he'll earn $9MM in 2016. Provided he remains healthy, the Astros will pay about $12MM for as many as 221 games of Gomez's career.
And of course, Gomez isn't the only piece the Astros are receiving in this deal. By persuading the Brewers to include Fiers in the contract, they've landed a rotation piece that can potentially be controlled through the 2019 season. In fact, he won't even be eligible for arbitration until after the 2016 season, meaning that Houston can control him for roughly the league minimum.
Fiers, 30, is a soft-tossing righty and a pronounced fly-ball pitcher, but he's performed well overall despite an average of just 88.8 mph on his fastball. He's somewhat of a late bloomer but has a 3.89 ERA in 118 innings this season and a lifetime 3.66 mark in 341 2/3 innings as a Major Leaguer. Fiers has averaged 9.2 K/9 despite his pedestrian heater, and he's paired that ability to rack up K's with solid control (2.8 BB/9). He should step directly into the Houston rotation behind ace Dallas Keuchel, rental acquisition Scott Kazmir and right-handers Collin McHugh and Scott Feldman. Fiers drew quite a bit of interest from the Blue Jays earlier this month, though Toronto has obviously gone a different route and made a splash of their own with the acquisition of David Price.
From the Brewers' perspective, Phillips is the clear prize of the deal. A sixth-round pick by the Astros out of high school in 2012, the 21-year-old has risen to the Double-A level and shown no signs of being overmatched by the pitching he's faced. Phillips is hitting .320/.377/.548 with 16 homers and 16 stolen bases this season while appearing primarily in center field. He entered the season as one of the Astros' top prospects, but his excellent first half propelled him to rank 21st on Baseball America's midseason Top 50, 35th on the midseason Top 50 of ESPN's Keith Law and 39th on the midseason edition of MLB.com's Top 100 prospects. Law calls him a "true five-tool" player with the potential to remain in center field, and MLB.com gives him above-average tools across the board, with his speed and arm rating as the top tools in his profile. He should immediately become the club's No. 2 prospect behind shortstop Orlando Arcia.
The 22-year-old Santana, originally acquired by the Astros in the 2011 Hunter Pence trade with the Phillies, went hitless in a 17-at-bat big league debut in 2014 but has fared better in another limited sample in 2015, hitting .256/.310/.462 with a couple of homers in 42 plate appearances. A corner outfielder by trade, he could potentially step right onto the Brewers' big league roster. He's slashed .305/.400/.515 in 195 Triple-A games — part of the reason for his No. 7 ranking on MLB.com's midseason Top 30 for the Astros and No. 87 on their overall Top 100. Santana has everyday upside but there are plenty that worry about his penchant for strikeouts; he's whiffed at a 29.9 percent rate throughout his minor league career.
Hader came to Houston alongside L.J. Hoes from the Orioles in the 2013 trade that sent Bud Norris to Baltimore. He ranked eighth among Astros farmhands at the time of the swap, per BA, and 14th on MLB.com's list. BA notes that Hader's delivery at times draws comparisons to Chris Sale, and MLB.com writes that his velocity gets up to 96 mph but is paired with inconsistent secondary pitches. Hader has a 3.17 ERA with 69 strikeouts and 24 walks in 65 1/3 innings at Double-A as a 21-year-old this season.
Houser has a 5.10 ERA split across two levels (Class-A Advanced and Double-A) this season, and he's worked as both a starter and a reliever. He's averaged 8.5 K/9 and 3.8 BB/9 this year, and MLB.com rated him 21st among Houston prospects prior to the trade. Their scouting report praises his mid-90s fastball and ability to generate grounders but notes that the 22-year-old's control has plenty of room for improvement.
Jon Heyman of CBS Sports first reported (via Twitter) that Gomez and Fiers were going to Houston. The Houston Chronicle's Evan Drellich reported that there would be four to five prospects in the return (Twitter link). Lookout Landing's Nathan Bishop nailed the return (on Twitter), and Heyman added that all of the medicals had been approved.
Photo courtesy of USA Today Sports Images.