This is the latest entry in MLBTR's Offseason In Review series. The full index of Offseason In Review posts can be found here.
The Giants failed to defend their World Series crown with an 84-win season in 2015, but added some significant pieces to a still-excellent core this winter.
Major League Signings
Trades and Claims
Extensions
Notable Minor League Signings
Notable Losses
Jeremy Affeldt (retired), Nori Aoki (declined option), Joaquin Arias, Marlon Byrd (declined option), Alejandro De Aza, Tim Hudson (retired), Mike Leake, Tim Lincecum, Yusmeiro Petit (non-tendered), Hector Sanchez (non-tendered), Marco Scutaro (retired), Ryan Vogelsong
Needs Addressed
An offseason can be approached in many ways. Organizations can hunt for value, explore creative trades, work the waiver wire, find options from within, and look to create competition with minor league signings.
But the most straightforward way for a contender to fill holes is through free agency, and the Giants did exactly that this winter. GM Bobby Evans and his front office entered the offseason with a clear need in the rotation — with Tim Hudson retiring, mid-season acquisition Mike Leake departing, and Tim Lincecum finally ending his fascinating tenure with the club (barring a late surprise) — along with an arguable need in the outfield. San Francisco took a direct route to addressing those areas, adding three high-priced players on the open market.
Johnny Cueto and Jeff Samardzija finished their 2015 seasons with some uncertainty, and were among the most variable major free agents, but still commanded big dollars from San Francisco. The former was a typical ace, for the most part, with the Reds. But some questions about his health cropped up, and he wasn't quite himself after being traded to the Royals, posting a 4.76 ERA in his final 13 regular season starts and then mixing gems and duds in the postseason. His contract looks to be something of a compromise. There's a fair share of risk, but Cueto would be a bargain if he pitches like the front-of-the-rotation starter he's long been, as the team only owes him $46MM over the two seasons before his opt-out applies.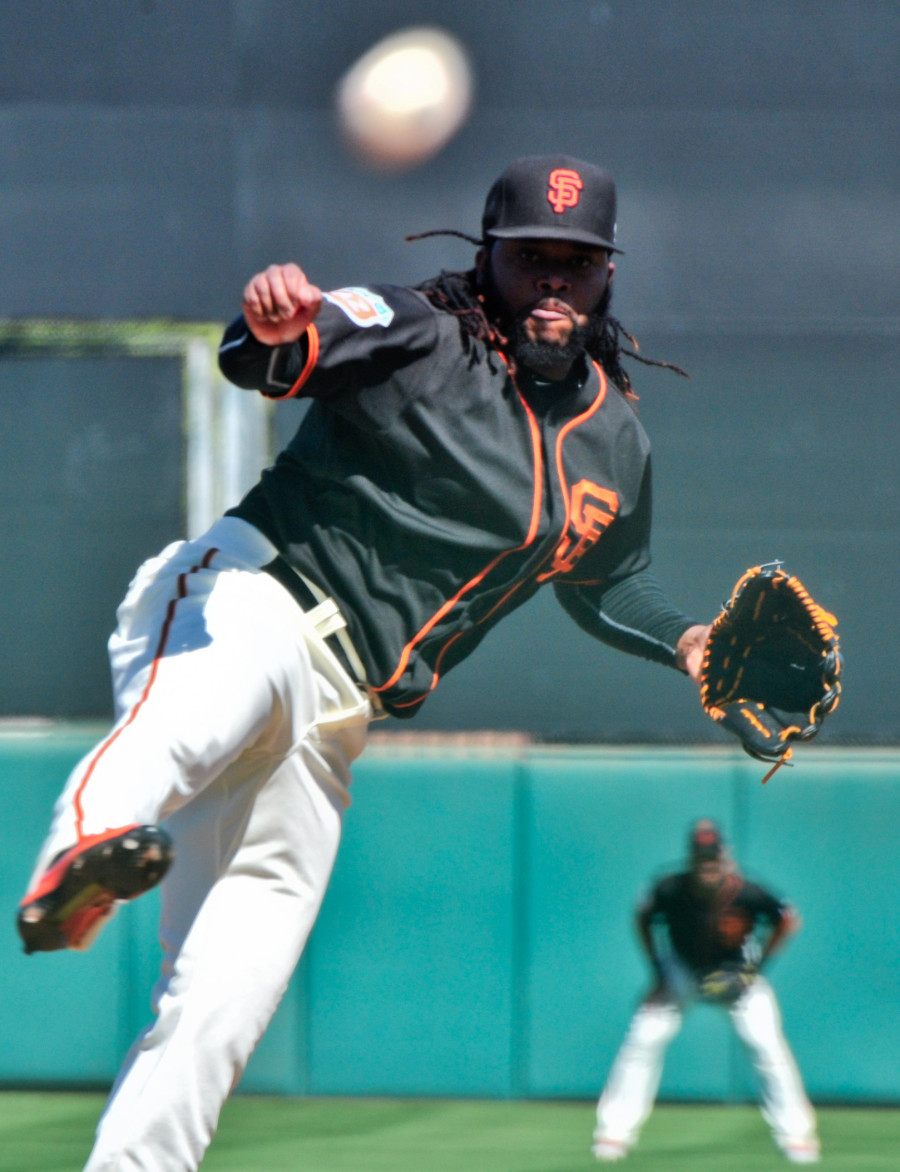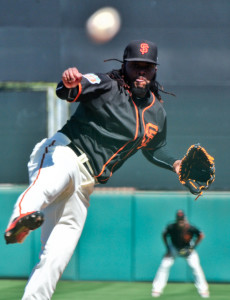 Samardzija, meanwhile, never settled in with the White Sox, following up his breakout 2014 with a 4.96 ERA campaign. His strikeouts and groundballs fell off a cliff, to 6.9 K/9 and a 39.0% GB%, though he maintained his velocity. The 31-year-old has a solid history of health and innings, though, having racked up over 200 frames in each of the last three years. And he's long been a favorite among scouts, who love his big frame and bulldog demeanor. San Francisco doesn't need Samardzija to return to his career ceiling to justify the contract, though he'll obviously be expected to provide at least a large volume of solid, mid-rotation innings over the next several campaigns.
If those two pitchers were risks of sorts, then there's an argument to be made that the Giants took an even greater leap of faith with Denard Span, who'll bump Angel Pagan into left field and relegate Gregor Blanco to his typically active fourth outfielder role. The depth was obviously welcome, but Span has endured recent core muscle and hip surgeries. If he can return to full health, the deal could well be a coup, as Span's high-contact bat makes for a nice fit at the top of the lineup. He'll also provide value on the bases and is generally well-regarded defensively, though he rated poorly when he was on the field last year.
Beyond that, it was a largely uneventful winter from an acquisition standpoint. Among the minor league free agents added, only Kyle Blanks looks to have much of a chance of breaking camp on the 25-man roster; if he can stay healthy — a big if — then he'd add to the outfield depth and provide a power right-handed bat off the bench. Otherwise, the Giants focused on bringing in a host of infielders to provide some options if a need arises, but it would probably rate as a disappointment if any are required to play much in the majors this season.
Questions Remaining
On paper, the Giants simply filled the needs they had entering the winter. Really, though, it was and is a fair bit more complicated. While Cueto and Samardzija will slot in behind ace Madison Bumgarner, both Jake Peavy and Matt Cain have a lot to prove. Peavy provided a 3.58 ERA last year, but he's nearly 35 and only made 19 starts due to back issues. Meawhile, ERA estimators were less impressed with his output (3.87 FIP/4.47 xFIP/4.33 SIERA). There's even more uncertainty with Cain, who hasn't reached 100 innings in either of the last two years and owns a 4.37 ERA dating back to the start of 2013. Given those questions, as well as those facing Cueto and Samardzija, there was perhaps an argument to be made that the club should have preferred the younger and perhaps safer option of bringing back Mike Leake, who ultimately landed with the Cardinals.
There are options behind that group, to be sure. The organization is said to be high on some of its young arms, and just added a bevy of pitchers to the 40-man over the winter, including Ty Blach, Clayton Blackburn, Kyle Crick, Ian Gardeck, Adalberto Mejia, Steven Okert, Jake Smith, and Chris Stratton. And it's easy to forget that Chris Heston was a revelation early in 2015, even spinning a no-hitter, before he faded late. Several of those arms could be called upon if a rotation need arises, and the club will hope to see some strides made as it looks ahead to replacing Peavy when he returns to free agency after the season.
Ultimately, that bunch of arms also helps to explain why the Giants were inactive on the reliever front this winter. Josh Osich will step into shoes of retiree Jeremy Affeldt after a strong (albeit BABIP-aided) debut season, and he'll pair with the reliable Javier Lopez to form a southpaw duo. Hunter Strickland could eventually supplant Santiago Casilla as the closer, and of course Sergio Romo will group with those two righties in the late innings. George Kontos is another fixture, though he outperformed his peripherals rather notably in 2015.
It's worth looking more closely at the position player side of things as well. The Giants turned down a seemingly reasonable $5.5MM option over Nori Aoki, who missed time with a concussion last year, and also turned down a chance to retain Marlon Byrd for $8MM (after making sure his option didn't vest down the stretch). There was certainly some cause to stick with Aoki for such a limited commitment, even if another player was added. Pagan's health and performance remain to be seen, and the typical workhorse Hunter Pence only managed a third of a season while dealing with his own injury issues.
Ultimately, it seems, the Giants preferred to explore a bigger upgrade via free agency. There were conflicting reports as to whether top-tier options like Justin Upton and Yoenis Cespedes were ever in play. Reports were more clear that the club was one of many to push to sign Ben Zobrist, who is said to have preferred to play second base. The team also looked at Ian Desmond as an option to play in the outfield while providing infield depth. Going with Span ultimately makes sense, as he provides a table-setting offensive presence and is obviously capable of playing center, but he adds to the list of health situations to watch. It bears noting, too, that in addition to the players discussed above, the club has fairly well-regarded young options in Jarrett Parker and Mac Williamson. Both will likely return to Triple-A, where they played well enough last year to earn some MLB time late in the season.
The idea of adding options on the dirt certainly seemed to have some appeal, at least as a secondary consideration, despite the fact that the Giants' infield was perhaps the best overall unit in the game last year. Starting with the outstanding Buster Posey behind the dish (with intriguing young #2 Andrew Susac), San Francisco received nothing but excellence all the way around the horn in 2015. Brandon Crawford turned into one of the game's best shortstops (more on him below) and Brandon Belt had a typically strong campaign (though he dealt with concussion issues and meniscus surgery), while relative newcomers Joe Panik and Matt Duffy both racked up 4+ WAR. In spite of that group's inspiring effort and evident promise, Panik dealt with back issues late in the year — though he told me on the MLBTR Podcast that he doesn't expect to be limited moving forward — and Duffy still only has one year of major league productivity on his ledger.
Indeed, after trying for Zobrist and Desmond, San Francisco reportedly dabbled in the market for pure infielders as well. Both Jimmy Rollins and Juan Uribe were said to be under consideration, though it never seemed as if the Giants were willing to make much of a commitment to add either veteran. Instead the club settled on some less established minor league free agents, with players like Conor Gillaspie, Grant Green, Ramiro Pena, and former top prospect Hak-Ju Lee brought in over the winter.
Deal Of Note
The Giants are among the more loyal teams in the game when it comes to locking up their own established players, and Crawford became the latest player to sign on for the long haul back in November. His six-year deal buys out four would-be free agent campaigns and will keep him in San Francisco through his age-34 season. (He also picks up full no-trade protection in the pact.)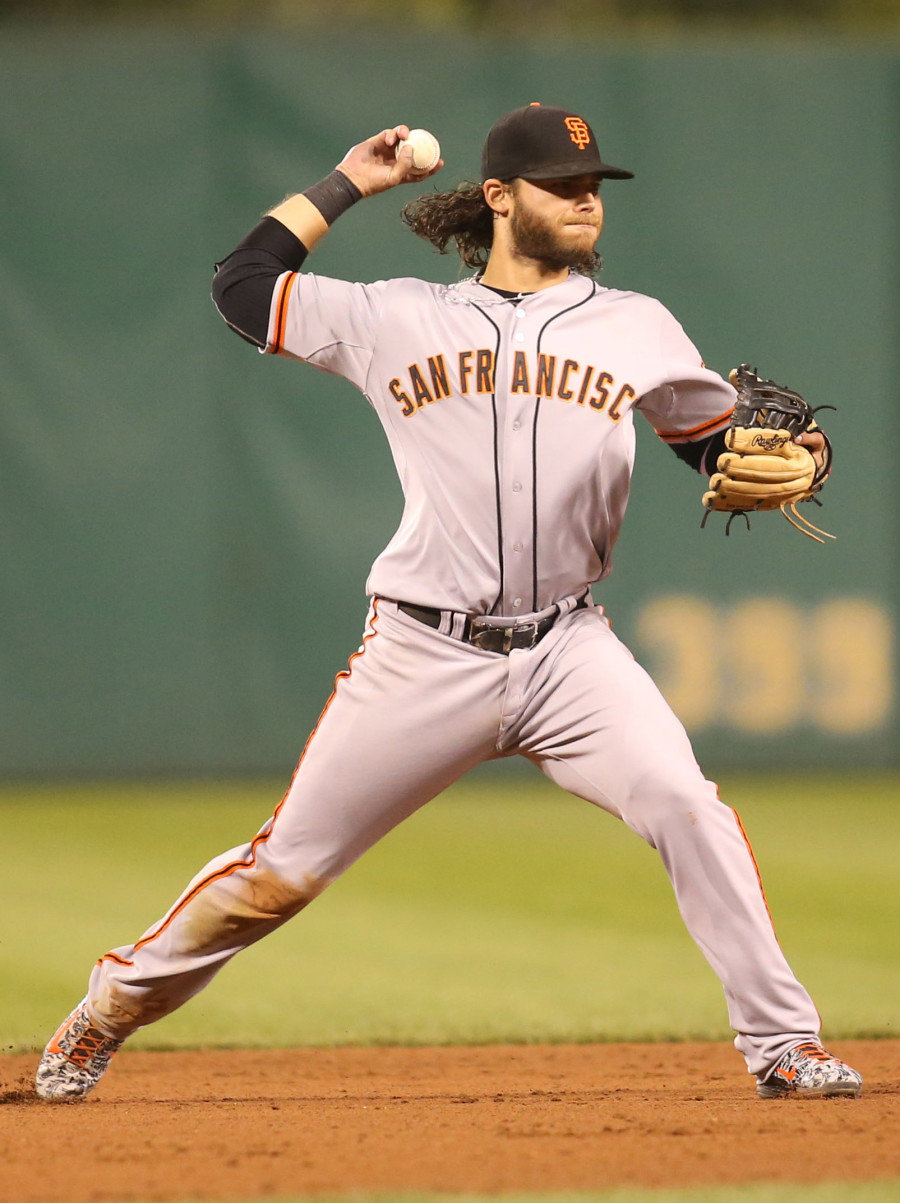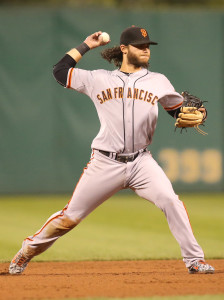 Crawford is a classic Giants success story, as he has rewarded the organization's faith with steadily increasing offensive output. Always a quality defender, Crawford not only has improved with the glove but has gone from a below-average hitter, to an average one, to a surprising power threat. While he still isn't great in the on-base department, Crawford put up an ISO north of .200 last year while launching 21 long balls. The overall package added up to 4.7 fWAR and 5.6 rWAR in 2015.
Even if Crawford can't quite maintain that level of production, he seems like a good bet to profile as a steady three to four-win performer going forward. He doesn't have drastic platoon splits over his career, though much of his recent outburst came against right-handed pitching. And Crawford's fielding prowess seems to set a nice floor. There's still some risk, of course, but Crawford has been durable and even the $15MM salary promised over the four free agent seasons covered in the deal doesn't set a terribly high bar for him to meet to make good on the contract.
While the additions of Cueto and Samardzija were more sexy, this contract best encapsulates the organization's philosophy and helps to explain its rather remarkable recent run of success. Players such as Panik and Duffy could well follow Crawford — a fourth-round pick who never generated a ton of buzz as a prospect — as relatively unheralded draft-and-development success stories. And Crawford's deal could be a precursor for a long-term pact with Belt, another mid-round draft pick who shares a service class with the shortstop. San Francisco has suggested continued interest in exploring an extension with him after agreeing to avoid arbitration this year for $6.2MM. (For those interested in further reading on the subject, Steve Adams took a stab at valuing a Belt extension in a recent MLBTR mailbag.)
Overview
Despite the heavy spending, the Giants will face a tough road to the postseason. The division-rival Dodgers are still loaded with talent, while the Diamondbacks hope to make a push as well. And the N.L. Wild Card competition could be fierce, as the top two or three clubs in the other divisions all look like strong contenders.
While it's easy to see plenty of upside in the San Francisco roster, there's still plenty of uncertainty for veteran skipper Bruce Bochy to manage. That includes the new rotation additions, the team's oft-injured outfield mix, as well as the still relatively untested (but quite promising) group of infielders.
Looking down the line a bit, it'll also be fascinating to see whether the organization can prepare to graduate some arms and outfielders to slot in alongside the players already in place at the major league level. There's already well over $100MM on the books for 2017 and 2018, so another big outlay in next year's market may not be in the offing if too many holes open up. Then again, it's never wise to count out this particular organization when it comes to finding diamonds in the rough.
So, how would you grade the Giants' offseason? (link to poll for mobile app users)
Photos courtesy of USA Today Sports Images