As a part of the Diamondbacks' efforts to remold themselves into a contender, they sent one of their starters off to a rebuilding club.  In November, the D-backs shipped Jeremy Hellickson to the Phillies in exchange for 20-year-old righty Sam McWilliams.  Hellickson, unlike McWilliams, comes with a lengthy track record at the big league level — something that could theoretically have appealed to the win-now Diamondbacks — but he's struggled in recent seasons, logging a 4.73 ERA over the past three seasons after an outstanding start to his career.  The Diamondbacks decided to use his relatively sizable projected salary elsewhere.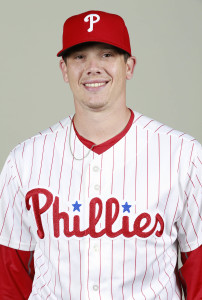 Leading up to the deal, Hellickson says that he didn't get a phone call from anyone in the organization indicating that a move might be coming down.  However, he sensed that he could be traded at any moment.  "I didn't have any indication [that a deal could happen], you just kind of get a feeling with the direction that they're going in," Hellickson said in Clearwater, Fla. late last week. "I didn't know that they were going to sign guys for that much money after trading me, but I just got the feeling that was going to happen."
After Hellickson's departure, the Diamondbacks spent $206.5MM on Zack Greinke; paid a hefty premium in terms of player personnel to acquire Shelby Miller (Ender Inciarte, Dansby Swanson and Aaron Blair); signed Tyler Clippard to a two-year, $12.25MM deal; and acquired Jean Segura and righty Tyler Wagner from the Brewers for Chase Anderson, Isan Diaz and Aaron Hill.  Now, after winning 79 games in 2015, the D-backs could very well contend for the NL West crown.  Even though the Phillies seem more likely to wind up in the cellar of the NL East than at the top, Hellickson says that he isn't bothering to concern himself with his former club's dealings.
At the age of 28, Hellickson is one of the team's "veteran" starters, along with 32-year-old Charlie Morton (a fellow offseason trade acquisition).  Hellickson admits that it's an odd role to play for someone who is on the right side of 30.
"It is a little bit weird being one of the veteran guys on this rotation," said Hellickson.  "It was kind of the same situation alst year [in Arizona] but the game is getting younger.  There are guys getting called up at 21 or 22 years old.  I don't feel old at 28, but 28 is kind of old in this game right now."
Hellickson and the Phillies avoided arbitration back in January with the right-hander getting $7MM instead of his projected $6.6MM salary.  After this season, the Scott Boras client is headed towards free agency.  Hellickson may or may not rack up wins this season, but the former American League Rookie of the Year could position himself for a nice payday with a rebound campaign in 2016.
Photo courtesy of USA Today Sports Images.