Ryan Braun was already into the fourth year of an eight-year, $45MM extension with the Brewers when he signed another extension that theoretically made him a Brewer for life.  That deal, signed in April 2011, only just began this season — a five-year, $105MM extension covering the 2016-20 seasons that also includes a $15MM mutual option for 2021 (that can be bought out for $4MM).
The Brewers reached the NLCS in 2011 on the strength of Braun's NL MVP numbers, though it's been a rougher ride for both player and team ever since.  Braun's MVP was called into question after he tested positive for PEDs following the season, though that positive test was overturned in very controversial fashion.  The outfielder then did face suspension for his part in the Biogenesis PED scandal, accepting a 65-game ban that prematurely cut short his 2013 season.  Beyond the disciplinary issues, Braun has also had his share of injury problems, including a nagging nerve injury in his right thumb, a bad back that required surgery last offseason and some wrist and neck soreness this season.
So with Braun now in his age-32 season, there's no question that he carries a fair amount of baggage for potential trade suitors.  Beyond the salary, injury history and PED history, there's also the fact that Braun wields a great deal of control over his movement via a 23-team no-trade clause.  For 2016, the only six teams not on his list are the Angels, Diamondbacks, Dodgers, Giants, Marlins and Padres.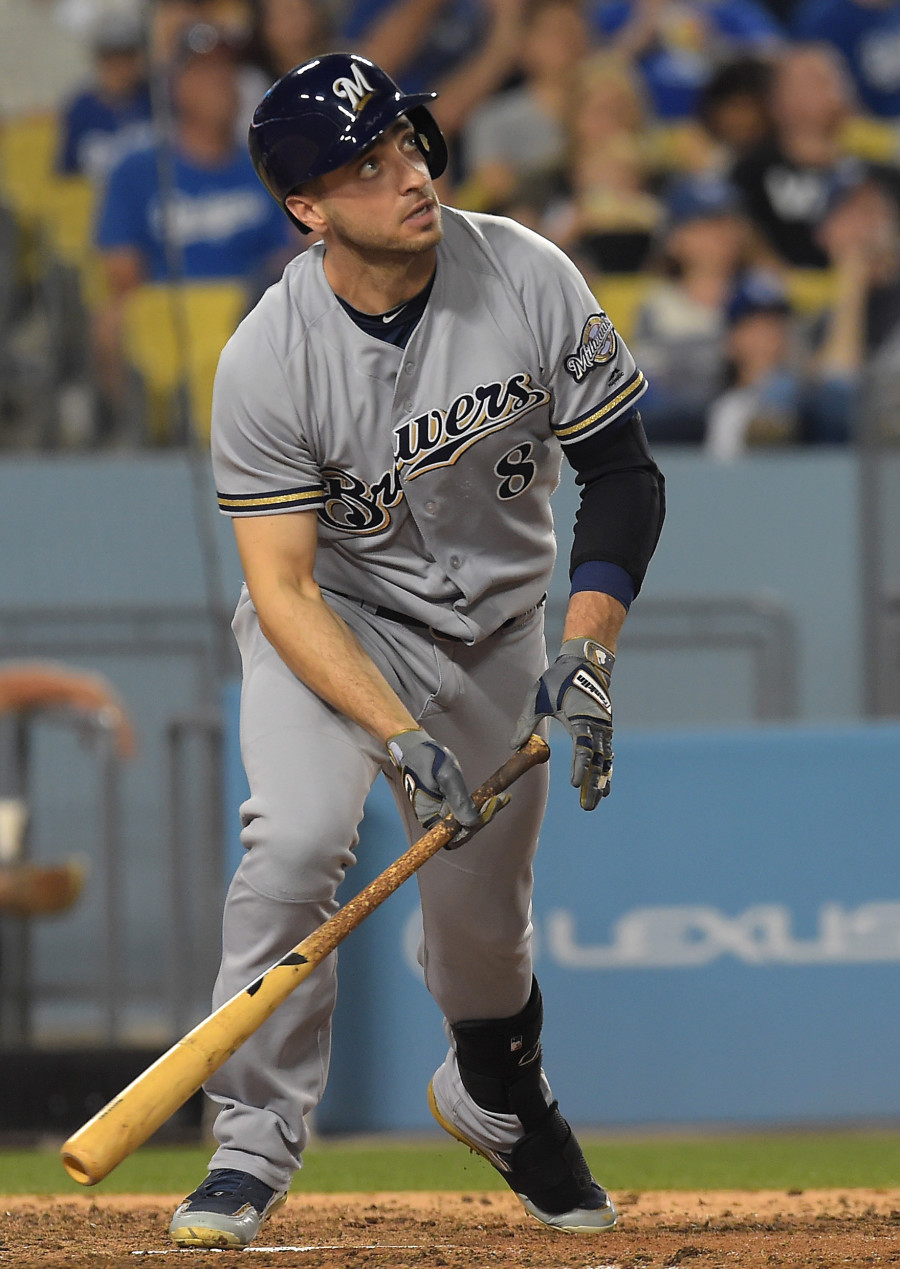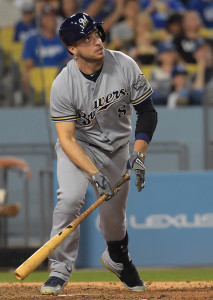 With all of this in mind, Braun is nonetheless one of baseball's top trade candidates as we approach the August 1 deadline because he can still flat-out hit.  He has cooled off a bit in June after a blazing-hot start, yet Braun is still hitting .325/.381/.557 with 13 homers in 270 plate appearances this season.  When healthy, Braun is still a very dangerous bat who could improve virtually any contender's lineup.
The Brewers find themselves in something of a kingmaker's position this deadline, as they not only have Braun, but also perhaps the single biggest trade chip of all in catcher Jonathan Lucroy.  I examined Lucroy's trade market earlier in June and speculated that Milwaukee GM David Stearns could look to kill two birds with one stone by packaging Braun and Lucroy in the same trade; Lucroy's team-friendly contract could make a team more willing to absorb all of Braun's deal, leaving the Brew Crew with tons of future payroll flexibility.
Owner Mark Attanasio, however, is reportedly more focused on adding blue chip young talent to his organization than he is about getting Braun's contract off the books.  There are also relatively few teams that could realistically meet what would still be a substantial asking price for a Braun/Lucroy combo.  It's a fun idea from a blockbuster standpoint, though it's probably not in the cards.
Focusing just on Braun, then, let's go through the teams that could use corner outfield help.  Braun shifted back to left field this season after playing right primarily in 2014-15, though his defensive metrics as a right fielder (minus-9 Defensive Runs Saved and -7.7 UZR/150) aren't pretty.  He could return to the position in a pinch with a new team, though it's rather clear that Braun is more serviceable in left, where the metrics are split (31 DRS but -4.0 UZR/150 over his career in left field) on his glove.
Let's begin with the six teams exempt from Braun's no-trade list…
As I noted back in May, geography and personal ties likely played a role in Braun's choices — he played college ball at the University of Miami and the other five teams are either in or near his hometown of Los Angeles.  The Angels, Padres and Diamondbacks are more likely to be selling than adding at the deadline, while the Marlins are already set for star outfielders.
The Dodgers have plenty of outfield options but none who have consistently delivered in 2016, which could be why they've reportedly shown some interest in Jay Bruce.  The Reds outfielder, however, is a better fit for L.A. as a left-handed hitter, plus he's three years younger than Braun and is only under contract through this season (with a $13MM club option for 2017).  So interest in Bruce doesn't necessarily equate to interest in Braun for the Dodgers, though they have both the financial means to add Braun and the strong minor league system that would interest the Brewers.
The Giants have already touched base with the Brewers about Braun, though they lack the Dodgers' minor league depth and could face a luxury tax crunch by adding Braun's deal.  Adding Braun would solidify left field for San Francisco, or he could play right until Hunter Pence returns (with the Angel Pagan/Gregor Blanco duo continuing to handle left).  Looking beyond 2016, however, the Giants may not be keen on a Braun/Denard Span/Pence outfield given the injury histories and defensive limitations of all three veterans.  While the Giants haven't been shy in making big deadline additions under Brian Sabean and Bobby Evans, Braun doesn't seem like an ideal fit.
Braun is also an imperfect fit for both NL contenders like the Cubs and Nationals, though you *could* make a case for either club with a bit of effort.  Left field may technically be a weak spot for Chicago but they have plenty of internal options on hand.  The Nats could address their center field problem by moving Bryce Harper back to center and adding Braun to play right, or perhaps left if Jayson Werth also switches corner spots.  Washington, however, has so much future payroll already tied up in veteran players that acquiring Braun seems like a tall order, especially when you consider that the Nats face big arbitration raises for Harper and Anthony Rendon, if not contract extensions.  The Nationals' recent big expenditures have also contained millions in deferred payments (a nod to the club's dispute with the Orioles over MASN broadcasting rights), so Braun's contract is particularly undesirable for them.
This pretty much wraps up the NL for potential Braun suitors, as everyone else is either rebuilding or set in the outfield.  The Mets now have a need in left with Michael Conforto's demotion and rookie Brandon Nimmo holding the fort, though given how the Mets have been wary about adding salary in recent years, it'd be a shocker if they made a big push for Braun.
Given how a move to first base or DH may be in Braun's long-term defensive future, an American League team could perhaps be an ideal fit for Braun through the rest of the decade.  We've already written off the Angels, and (barring injury) the A's, Blue Jays, Indians, Rangers, Rays, Royals, Tigers, Twins and Yankees can likely also be counted out of the Braun market due to payroll limitations, rebuilding or lack of a positional fit.
The Red Sox have both the money and the prospect depth to swing a deal for Braun, though offense isn't really a need now or in the near-future.  That being said, injuries have turned left field into a problem area — Blake Swihart is out until August with a nasty ankle sprain, Brock Holt has missed over a month with concussion symptoms and Chris Young's return from a hamstring strain may be up in the air.  Dave Dombrowski is no stranger to moving prospects for established stars, though if the Sox are indeed swayed to move one of their many highly-touted minor leaguers, it will probably be a trade for pitching instead of another bat.  Speaking of blue chip prospects, the Red Sox also have left field earmarked for Andrew Benintendi perhaps as early as 2017, so they may not see the value in dealing for a pricey left fielder.
The Orioles could use a long-term power solution with Mark Trumbo and Matt Wieters potentially leaving in free agency this winter, and adding Braun would make an already-dangerous O's lineup even scarier.  Baltimore's front office already surprised many with an uncharacteristic offseason spending spree, so maybe the O's can raise more eyebrows by adding another big contract on August 1.  With Hyun Soo Kim hitting well, however, it's more probable that the O's stick with the Kim/Nolan Reimold/Joey Rickard mix in left field and instead focus on adding pitching at the trade deadline.  Baltimore's low-rated farm system is also short on elite prospects that could get Milwaukee's attention.
Like the O's, the Mariners and White Sox also have thin farm systems (particularly if Chicago minor leaguers Tim Anderson and Carson Fulmer are indeed virtually untouchable in trade talks) but possess far more glaring needs in the outfield.  Sox GM Rick Hahn has already made several aggressive moves to keep his team in the AL Central race, so targeting Braun can't be entirely ruled out, especially with right fielder Avisail Garcia continuing to post sub-replacement level numbers in the majors.
The Mariners recently optioned Nori Aoki to Triple-A in the wake of a dismal season, leaving Seth Smith, Franklin Gutierrez, Nelson Cruz and Shawn O'Malley getting starts in the corner outfield spots.  If Braun was obtained to play left, the M's would suddenly have a very strong collection of a Smith/Gutierrez platoon in right, Leonys Martin's defensive brilliance in center and Cruz mashing in his ideal DH spot.  Seattle's new ownership group is willing to increase payroll, though it remains to be seen if that extends to a Braun-sized financial commitment.
After spending almost three years as the Astros' assistant GM, Stearns is very familiar with Houston's deep farm system.  The Astros have so few financial commitments beyond this season that Braun's contract would easily fit, even if his addition would create a crowded outfield this season (Colby Rasmus probably supplants Evan Gattis at DH and could also get some time in center, though Carlos Gomez is turning things around after a brutal start).  Going forward, Houston could let Rasmus walk in free agency and then have Braun hold things down in left until top prospect Kyle Tucker is ready for the majors.
As you can see, the list of teams willing and able to trade for a player on a nine-figure contract through his mid-30's seasons is not a long one.  Braun's ability to keep producing, however, has revived his trade value despite the skeletons in his closet.  Given that the Brewers are apparently open to eating some money to get better prospects, if Braun stays healthy and keeps hitting through July, it only takes one team to find Milwaukee's sweet spot between salary owed and a strong minor league trade package.
Photo courtesy of Jayne Kamin-Oncea/USA Today Sports Images