2015 was essentially a lost season for Jonathan Lucroy.  The Brewers catcher was limited to 103 games thanks to a concussion and a fractured toe, and he posted his worst numbers in four seasons by hitting only .264/.326/.391 with seven homers over 415 plate appearances.  Down year notwithstanding, it's still quite possible that had Lucroy could be wearing a different uniform today had he stayed healthy — the former All-Star garnered some trade buzz last winter as rivals teams looked to buy low.  Brewers GM David Stearns didn't pull the trigger on a deal, which looks like a shrewd decision given how Lucroy has thoroughly rebuilt his value.
Lucroy has been nothing less than baseball's best all-around catcher in 2016.  In addition to hitting .304/.361/.515 with nine home runs through 227 PA, Lucroy is also posting above-average pitch-framing numbers and has thrown out 24 of 32 runners trying to steal.  Since fWAR doesn't include framing value, there's an argument that Lucroy has been even more valuable than his already-impressive 2.1 fWAR, which leads all qualified catchers by a healthy margin and ranks him within the top 30 of all players.
If that output wasn't enough, Lucroy is also on one of the game's most team-friendly contracts.  He has roughly $2.7MM still owed to him in salary for this season, and he is controllable through 2017 on a $5.25MM club option (with a $250K buyout, though the option is a no-brainer to be exercised).  Between the superstar production and the small salary commitment, it's no surprise that Jeff Todd placed Lucroy atop both installments of the MLBTR Top 10 Trade Candidates rankings.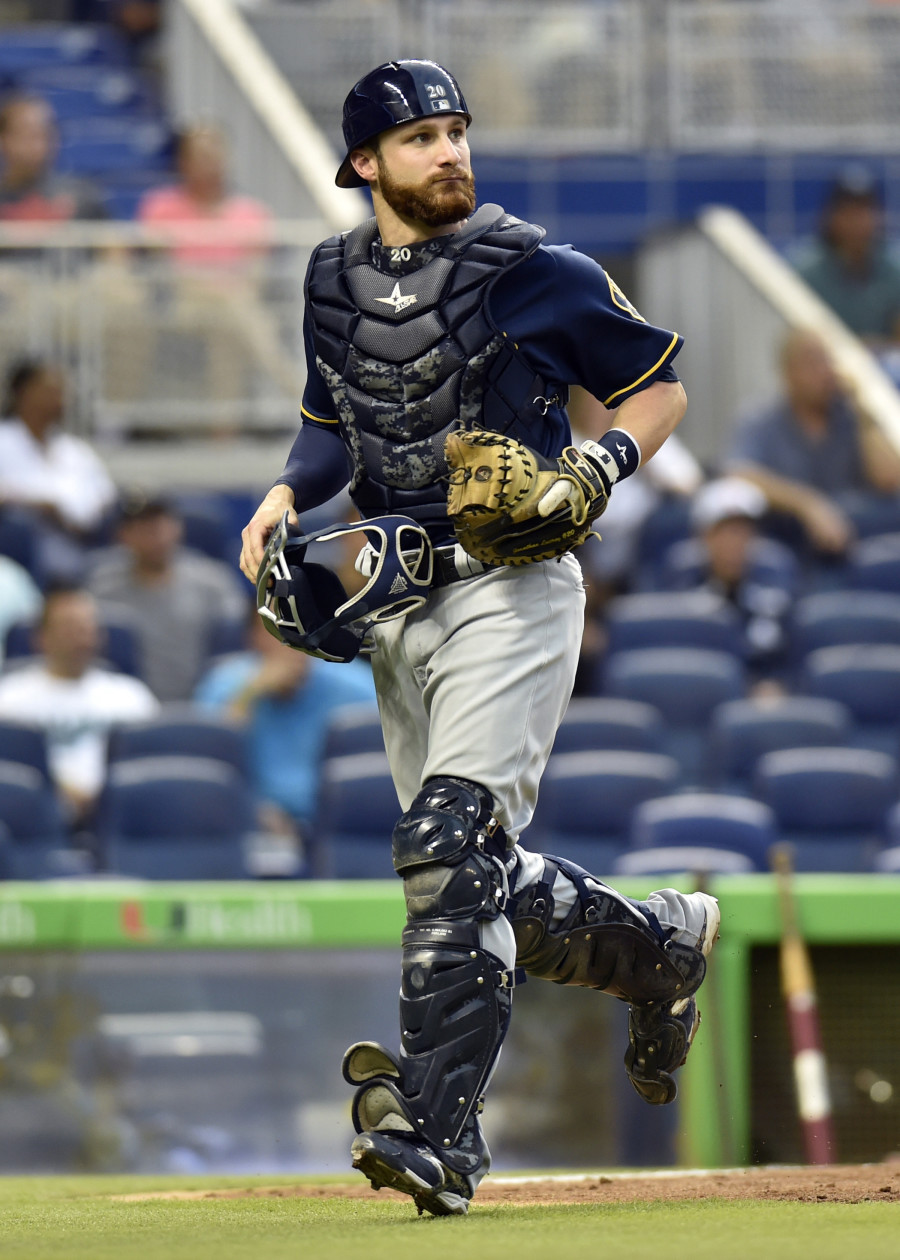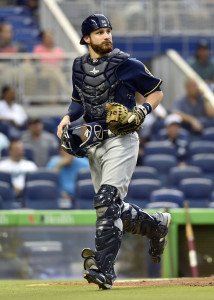 One wrinkle to Lucroy's trade candidacy is his partial no-trade clause, which allows him to block deals to eight teams each season.  Lucroy quite openly discussed his desire to play for a winning team during an interview in January, so it doesn't seem like he'd stand in the way of a move to a contender, though he could obviously ask for some financial incentive to waive his clause if Milwaukee worked out a deal with one of those eight teams.  The Nationals are the only team known to be on Lucroy's list and while D.C. has shown interest in Lucroy in the past, they have no need for a catcher upgrade thanks to Wilson Ramos' huge season.
So if not Washington, who else could be Lucroy's new team?  We can probably eliminate these teams since they're either rebuilding, out of the race or are already set at catcher: Athletics, Blue Jays, Braves, Cardinals, Diamondbacks, Dodgers, Giants, Marlins, Orioles, Padres, Pirates, Reds, Rockies, Royals, Twins.
As I mentioned earlier, Lucroy (who turns 30 on Monday next week) won't come at a big payroll cost, but the Brewers will surely ask for multiple blue-chip prospects and/or MLB-ready young players in return.  This type of price tag definitely narrows the field, as some teams simply may not have the young talent to meet Milwaukee's demands.  Teams like the Angels, Mariners, Tigers and White Sox could all use a catcher upgrade but are hamstrung by thin farm systems.
The Mets' farm system is more highly-regarded than the aforementioned teams, though they might well have to offer one of the young starters in their current rotation to get Milwaukee's attention in a Lucroy trade.  (Given the questionable health of Travis d'Arnaud and Lucas Duda, Lucroy would give the Mets a much-needed bat at catcher or first.)  The Phillies can probably also be counted out, as while it's fun to imagine them pausing their rebuild plans to capitalize on their surprising proximity to the wild card race, it's probably unlikely that Philadelphia will trade some of the young talent it has amassed over the last year-plus.
The Indians have Yan Gomes locked up on a contract extension that could run through the 2021 season, though Gomes has been hampered by both injuries and inconsistency over the last two years, making him a weak link on a Cleveland team challenging for the AL Central.  If you really look outside the box, you could conceive of a scenario where Cleveland offers two of their "untouchable" prospects in Clint Frazier, Bradley Zimmer or Bobby Bradley for Lucroy, then either trades Gomes in the offseason or uses Lucroy at first in 2017.  (Gomes could also go to the Brewers in a Lucroy trade.)  I would think it's much more likely, however, that the Tribe focuses on outfield help at the deadline.
The Yankees don't stand out as an obvious Lucroy landing spot given Brian McCann's presence, though if Mark Teixeira's knee injury ends up requiring season-ending surgery, Lucroy and McCann could split time between catcher and first base.  (This timeshare could continue into 2017 if Teixeira leaves in free agency, or the Yankees could look to deal Lucroy or McCann in the offseason.)  Lucroy's bat would be a huge boost to a Yankees team that is hanging around the race despite a severe lack of offense.  On the flip side, New York's farm system is also not very deep, and GM Brian Cashman has thus far resisted trade offers for young pieces like Aaron Judge, Luis Severino, Jorge Mateo or Gary Sanchez.
The Cubs have the prospect depth to get involved in any trade market, though they don't have a pressing need at catcher.  Chicago ranks ninth among all teams in cumulative catcher bWAR for the season, as Miguel Montero and David Ross have both been very good defensively if below-average at the plate.  Montero's hitting may well pick up as he fully recovers from some back issues, though given how well the Cubs' catching tandem is fielding the position and handing their spectacular rotation, Theo Epstein and Jed Hoyer could easily stand pat at catcher. Plus, top prospect Willson Contreras is raking at Triple-A.
The Astros and Rays are in similar positions as teams with a clear need at catcher and some good young talent to offer, yet their biggest issue at the moment is just getting to .500.  Even if a pennant run this season is questionable, either club could acquire Lucroy with an eye towards contending again in 2017.  Houston asked about Lucroy last winter, and though Jason Castro's minor revival at the plate has somewhat lessened the Astros' need at catcher, Lucroy is obviously still a big upgrade.  The Astros could also use Lucroy at first base in case top prospect A.J. Reed isn't quite ready for the bigs.  Tampa Bay may not be so eager to deal from its vaunted pitching depth given how Chris Archer, Matt Moore and Drew Smyly have all had their ups and downs this year, though Lucroy would definitively solve the Rays' longstanding catcher problem.
The Rangers have been linked to Lucroy in trade rumors for months, yet recent reports suggest Texas may instead focus on pitching upgrades at the deadline.  Robinson Chirinos has just been activated from the DL, plus the Bryan Holaday/Bobby Wilson combo has performed very well in Chirinos' almost season-long absence.  If Texas was interested in Lucroy over mostly this same catching corps last winter, however, they're probably still interested in him now.  The Rangers have as much young talent at both the major and minor league levels as anyone, and they're one of the few clubs that could put together a package of four or even five young players without cleaning out their system.
The Red Sox could deal from their own minor league surplus to address their catching situation, as Christian Vazquez has been an excellent defender but a sub-replacement level hitter thus far in his MLB career.  Boston's catching depth has been thinned by Ryan Hanigan and Blake Swihart both hitting the DL, and Swihart had already been moved to left field due to defensive concerns.  The Sox are another team that could acquire Lucroy and shift him to first next season if they want to give Vazquez another chance to catch, as Hanley Ramirez will get most of the DH duties once David Ortiz retires.  It's also possible Vazquez himself could be sent to Milwaukee as part of the Lucroy trade package, though clearly not as the headliner — the Brewers would demand at least one (or even two) of Yoan Moncada, Andrew Benintendi, Rafael Devers or Anderson Espinoza.
Catcher is not a deep position around the game, and Lucroy's market could still develop quite a bit more before the trade deadline if a contender suffers an injury to its starting backstop.  Lucroy's ability to play first base also allows for some positional creativity for teams looking to jump into his market (as I noted earlier in a few examples).  It's possible the Brewers themselves could look to capitalize Lucroy's high trade value by packaging him in a deal with Ryan Braun, who's also hitting well but who is a tougher sell due to his pricey contract, injury history and PED baggage.  There aren't many teams who would be willing or able to absorb all of Braun's deal, though pairing him with Lucroy would be a creative way for Stearns to clear Milwaukee's biggest future payroll commitment.
All things considered, Lucroy is probably the most fascinating trade candidate to watch leading up to the deadline.  It's not often that a catcher is the centerpiece of the summer trade season, yet Lucroy is the perfect storm of a star catcher with a very reasonable contract who's playing for a rebuilding club.
Photo courtesy of Steve Mitchell/USA Today Sports Images