Something as small as a blister could have a huge impact on this year's trade deadline.  Rich Hill was forced to leave Sunday's start against the Blue Jays after just five pitches due to a popped blister on the middle finger of his throwing hand, disappointing the many scouts in attendance and bringing into question the status of perhaps the most hotly-pursued starter heading into August 1.
Injury may have been the only thing that could've lowered Hill's trade value at this point.  The 36-year-old lefty already missed a month recovering from a groin strain, though he looked good in his first two outings back from the DL.  This blister issue already caused Hill's first post-break start to be pushed back two days, and now Hill believes it will at least a few days before the blister heals well enough for him to throw again.  It could be a full week before Hill takes the mound again, leaving him time for perhaps two starts before the trade deadline.
Needless to say, this isn't a welcome development for an A's team that was looking to cash in on Hill's unexpected dominance.  Between his four-start emergence for the Red Sox in 2015 and his continued terrific work in 2016, Hill has posted a 2.06 ERA, 10.8 K/9 and 3.82 K/BB over his past 105 innings.  Hill is a free agent this winter and is owed around $2.3MM for the remainder of the season, making him an easily affordable rental for teams in both large and small markets.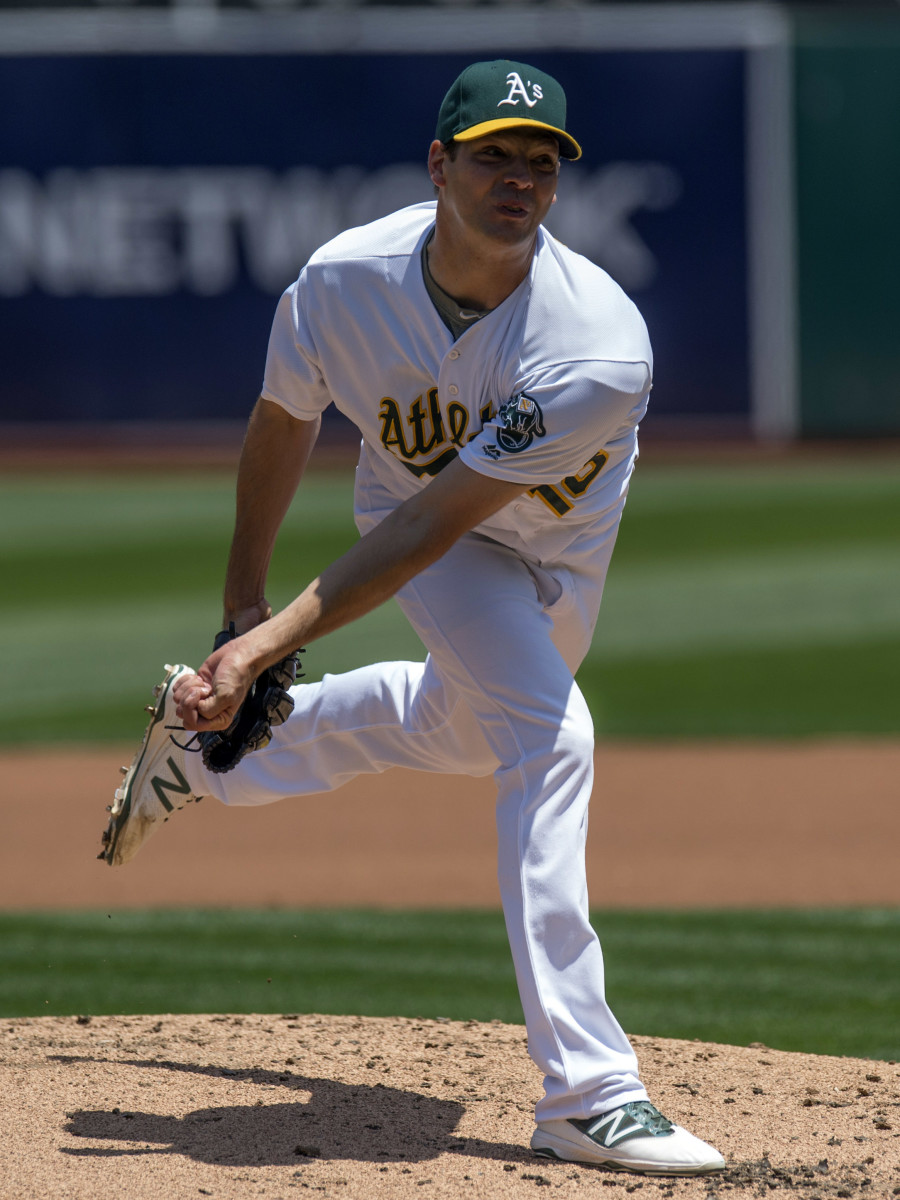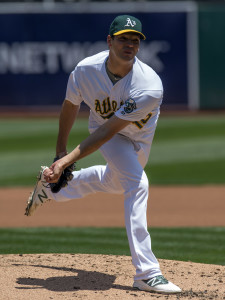 Affordable in salary, that is — not necessarily affordable in terms of the return it will take to pry him out of Oakland.  Hill has pitched so well that the A's could justify issuing him a qualifying offer in order to recoup a first-round compensation draft pick back if Hill signed elsewhere.  (Though it's an interesting question if Hill would accept the QO to lock in a one-year deal in the $16MM range, which would certainly impact the A's decision to issue the offer.)  That means the Athletics' absolute minimum asking price will be a prospect graded as equal to the value of that comp pick, and the asking price to this point has been much higher; the A's reportedly initially wanted Anderson Espinoza when the Red Sox inquired about Hill.
The blister and groin strain underline the great unknown that is Hill's durability, as the 76 innings he's thrown this year is already the third-highest innings total of his 12-year career.  This being said, in a very thin summer market for starting pitching, Hill may still emerge as the top arm available if he is able to recover from his blister and deliver at least one more quality start before the deadline.  There's been so much interest in Hill that the A's should still be able to find a trade partner, even if their hopes of landing a top-tier prospect may not be realized.
Billy Beane, David Forst and company will probably take the usual route of looking for the best talent available when shopping Hill, Josh Reddick, Danny Valencia or other trade chips before Aug. 1.  If the A's do prioritize a need, Baseball America's Jim Shonerd (BA subscription required) recently noted that the A's are thin on minor league outfield talent.  That could be a particular area of focus in trade talks, especially if Reddick is also dealt.  It's also not out of the question that Oakland looks to add a Major League player, given that the Athletics have been loath to fully rebuild in the Beane era.  While the A's have struggled over the last two seasons, recent history suggests that they have their eye on rebounding in 2017.
Over a third of the league has been scouting Hill or has been otherwise connected to him in trade rumors, and you can make a case that a few other postseason contenders could also be a fit for the 36-year-old lefty.  Let's try to figure out who might be best-positioned to trade for Hill, beginning with the 11 teams who have already shown interest…
If Hill's blister impacts Oakland's price tag, that bodes well for the six clubs (the Blue Jays, Royals, Tigers, Marlins, Orioles and Yankees) who don't have as much minor league depth as other interested parties.  These clubs would probably have lost a pure bidding war for prospects, though if the A's now look to acquire perhaps just one player they particularly like, that opens up the field.  These six are also in relative win-now mode (with the possible exception of the Yankees), which could influence their thinking for a big push for Hill.
The Blue Jays, for instance, have many big names (i.e. Jose Bautista, Edwin Encarnacion, Michael Saunders, R.A. Dickey) scheduled for free agency, so if this is the Jays' last run at contention with this core group, counting on Drew Hutchison or a stretched-out Jesse Chavez to replace Aaron Sanchez seems especially risky.  Sanchez has a team-high 2.5 fWAR in his breakout season, so if the Jays stick to their plan of shifting the young righty to the bullpen to limit his innings, it leaves a big hole in the rotation that Hutchison and Chavez are unlikely to fill.
The Jays dealt so many top prospects in their 2015 deadline moves that the cupboard is a little bare, plus it was former GM Alex Anthopoulos who made those moves, not the current front office led by Mark Shapiro and Ross Atkins.  That being said, it's not uncommon for new management to deal prospects drafted by an old regime; Shapiro/Atkins may have a lower opinion of some Toronto minor leaguers than Anthopoulos did, so those youngsters could be shopped.  Likewise, the four free agents I mentioned earlier could all be issued qualifying offers, so while the Jays could lose some current prospects now to land Hill, they could reload with at least a couple of compensation picks in the 2017 draft.
The Royals will face a potential free agent exodus of similar proportions after the 2017 season, when the likes of Eric Hosmer, Lorenzo Cain, Wade Davis and Mike Moustakas can all hit the open market.  So K.C. has, realistically, a two-year window of contention with its current group, and to even further capitalize on this terrific chapter in club history, the Royals could look to replicate last year's big deadline moves for Johnny Cueto and Ben Zobrist.  This is just my speculation, but since the Royals have also been linked to Reddick, a blockbuster that brings both Hill and Reddick to Kansas City at the cost of multiple top prospects could be worth exploring for both the Royals and A's.  A mid-market team like the Royals can hardly afford to be cavalier with its prospects, of course, so it really comes down to whether or not the club is prepared to more or less rebuild after 2017 in the name of chasing another pennant or World Series this year and next.
The Tigers know a few things about mortgaging the future in search of immediate contention, and years of dealing prospects has left their farm system in unimpressive shape — neither Baseball America or MLB.com has any Detroit players in their rankings of the game's top 100 minor leaguers.  It's hard to totally count the Tigers out on Hill given their history of veteran additions but it's possible their system may now simply be too depleted to outbid anyone.  Obviously, Detroit isn't going to part with a young player like Michael Fulmer who is already making a huge contribution at the MLB level.
The Marlins are only "all-in" in the sense that Jeffrey Loria is rather unpredictable, and he may be particularly keen to make a deadline push now that his team finally looks to be back in contention.  Miami's young core is (on paper) impressive enough to keep the Fish in the NL East race for years, so dealing one or two of their few highly-touted minor leaguers for Hill in a 2016 run might not make sense, and that's assuming that the Marlins have enough trade bait to get Oakland's attention.
The Orioles don't have the short window of the Jays or Royals, though Mark Trumbo and Matt Wieters are free agents this offseason.  Like Toronto, the O's could let at least one of their free agents walk to gain a compensation pick, thus perhaps freeing them up to deal one of their few top-tier prospects now for Hill.
Baltimore's powerful lineup has put it atop the AL East even with one of the game's worst rotations, so adding Hill (who also provides some balance within the all-righty O's staff) could give them just enough starting help to slug their way into World Series contention.  Dan Duquette hasn't shied away from adding rental players (Gerardo Parra, Andrew Miller, Francisco Rodriguez, Scott Feldman) at the deadline over the last few seasons.  That said, Hill's health issues are surely red flags for a franchise that has been so infamously picky about pitchers' injury histories.
The biggest question facing the Yankees, of course, isn't whether or not they'll pursue Hill, but rather if they'll be deadline buyers whatsoever.  It may be at least another week before New York decides if it is selling or buying on Aug. 1, though if they did decide to go for it, Hill — who briefly pitched for the Yankees in 2014 — would greatly boost a rotation that has shown a lot of inconsistency behind Masahiro Tanaka.  At this point, I'm leaning towards the Yankees selling, so let's move onto the teams with more significant prospect depth.
The Cubs and A's have collaborated on four trades since Theo Epstein came to Wrigleyville, including one summer blockbuster.  Between the two clubs' familiarity and all of the prospects the Cubs can offer, Chicago would seem like the favorite for Hill….except for the fact that starting depth isn't exactly a priority.  Jake Arrieta, Jon Lester, John Lackey, Kyle Hendricks and Jason Hammel comprise one of the game's best rotations, plus Adam Warren is on hand as a swingman.  Durability isn't an issue, as the top five have made all but one start in the first half.  The Cubs' scouting of Hill could be a case of due diligence rather than a distinct need, unless they want to have as much starting depth as possible on hand as they pursue a championship.
The Dodgers' interest in Hill could also be somewhat exploratory since L.A. has several starting options on hand once everyone gets healthy.  Clayton Kershaw's return from the DL will be the biggest boost of all, and Alex Wood and Brett Anderson are also scheduled to be back in August.  Hyun-jin Ryu and Brandon McCarthy are already back pitching after lengthy absences, so if anything, the Dodgers could have a bit of a rotation logjam.
The Rangers and Athletics have had a rather healthy trade history in recent years, which is unusual for division rivals.  None of those deals involved swapping top prospects for an established player, however, so Texas could certainly have some misgivings about seeing one of their minor league stars in a green-and-yellow jersey, haunting them for years to come.  Since the Rangers are looking at virtually every available pitcher leading up to the deadline, they could prefer a pitcher who is controlled beyond 2016 (like, for instance, Jake Odorizzi or Matt Moore) rather than a rental like Hill.
The Pirates are in the strange position of trying to both add and trade starting pitchers at the same time.  Jeff Locke and Jon Niese are being shopped, as the Bucs are hopeful that young arms like Jameson Taillon, Tyler Glasnow, Steven Brault and Chad Kuhl can beef up the back of the rotation.  Of course, the front of the rotation isn't exactly in solid shape either thanks to injuries (particularly to Gerrit Cole) and Francisco Liriano's struggles.  Hill would add some much-needed stability to what has been a disappointing Pirates staff.  Pittsburgh is another smaller-market team that would think hard before dealing a notable prospect for a deadline rental, and Locke/Niese would have limited trade appeal for the A's as part of a package for Hill.  Taillon and Glasnow aren't going anywhere, though perhaps lesser-regarded minor leaguers like Brault or Kuhl could be involved.
Though the Red Sox addressed their pitching woes by acquiring Drew Pomeranz from the Padres for Espinoza, it's still possible Boston could seek out a reunion with Hill by dealing from deeper within their stockpile of quality prospects.  Installing Hill and Pomeranz as the fourth and fifth starters would allow the Sox to give Eduardo Rodriguez more minor league seasoning, or use him in the bullpen along with other relief-relegated starters Clay Buchholz and Joe Kelly.
Looking at the teams who aren't known to have interest in Hill, the Cardinals and Indians can very probably be eliminated from contention since their rotations are already set.  The Nationals can also likely be added to this group, provided that Joe Ross makes his expected return from the DL before the end of the month.  The White Sox could use Hill with Carlos Rodon out of action, though Chicago doesn't have much in minor league trade chips.  If the White Sox do pursue a deadline upgrade, it is perhaps more likely to be a bat than an arm.
The Mets are said to be more focused on bullpen additions than rotation help at the deadline, plus they could be another team hesitant about dealing minor league pieces for a rental player.  That said, Noah Syndergaard and Steven Matz are both dealing with bone spurs in their elbows, and if either of those situations worsen, the Mets might suddenly look at adding a starter (especially with Matt Harvey already out for the season).
The inter-division trade hesitation I mentioned earlier in regards to the Rangers could also apply to the Mariners and Astros, though Seattle may not have the prospect depth to land Hill and Houston may not have the need.  The M's have Felix Hernandez and (Seattle hopes) Taijuan Walker both soon returning from the DL to help their ailing rotation, so the Mariners could pursue a reliever or a hitter rather than Hill, if they end up being buyers at all.  The Astros' rotation has been more sturdy than impressive this season, though they have enough starting options on hand that they probably won't bid on Hill.
That leaves the Giants, and there's probably a better chance of the A's dealing Hill within the AL West than there is of dealing him within the Bay Area.  Oakland and San Francisco are very infrequent trade partners, which could explain why we haven't heard about a link between Hill and the Giants despite their search for starting pitching.  (The ongoing territorial rights dispute about the Athletics' attempted move to San Jose surely doesn't help relations.)
If the two local rivals did decide to collaborate, the Giants would be a good fit as a trade partner.  The Giants have enough interesting prospects that they could afford to move one as the headliner of a Hill trade package, plus they have a rotation hole since Matt Cain is far from a sure thing at this point in his career.  Reddick is already getting some attention for the Giants' outfield, so who knows, maybe there's a chance of a mega-deal between the two clubs if the A's can stomach the idea of watching another #EvenYear celebration.
With two weeks until the deadline, pretty much every scenario is still in play at this point.  Hill could end up being dealt for a surprisingly large return, or it's just as possible that injuries scuttle his market and the A's will have to shop him in the August waiver period.  Since everything about Hill's career over the last 11 months has been so unpredictable, it's perhaps only fitting that his trade value is still totally up in the air.
Photo courtesy of Kenny Karst/USA Today Sports Images