For the first time in his career, Carlos Gomez enters the offseason as a free agent. He'll receive far less money than anyone would've expected 16 months ago, when he was still in the midst of a terrific three-year run as one of the best outfielders in the game. He's also in line for more than anyone could've anticipated when the Astros, unable to find much interest on the trade market, released him outright in mid-August.
Had Gomez continued to struggle as he had during his time with the Astros, he'd be lucky to find a one-year deal in the $8MM range this offseason. But after slashing .284/.362/.543 with eight homers over his final 130 regular season plate appearances after catching on with the Rangers, it's a near certainty that the soon-to-be 31-year-old will command a multi-year deal (though he could still opt for a one-year pillow contract).
Pros/Strengths
Gomez's end-of-season production with Texas is, if nothing else, a firm reminder that the talent is still there. At age 30—he'll be 31 next month—it's highly unlikely that his skills have eroded completely. From all indications, Gomez made a few adjustments at the plate once he arrived in Texas with the help of hitting coaches Anthony Iapoce and Justin Mashore. A few weeks into his stint, his confidence was soaring after his first multi-homer game since July 8, 2015 (when he was still with the Brewers):
"Keeping my weight on my back leg allows me stay back and recognize the pitch better and I can drive the ball easier and with less effort. I've been doing some stuff I've never done in my life. The way I feel, If I'm here for a full season, I think I'm going to do the stuff that I believe that I can do."
Not only did Gomez finish on a strong note, he also had a very good month with the Astros that has gone unnoticed. In 109 plate appearances from June 5th through July 6th, Gomez slashed .289/.367/.495 with four homers and six doubles. This is not the kind of production you'd expect from a guy who would be released only six weeks later.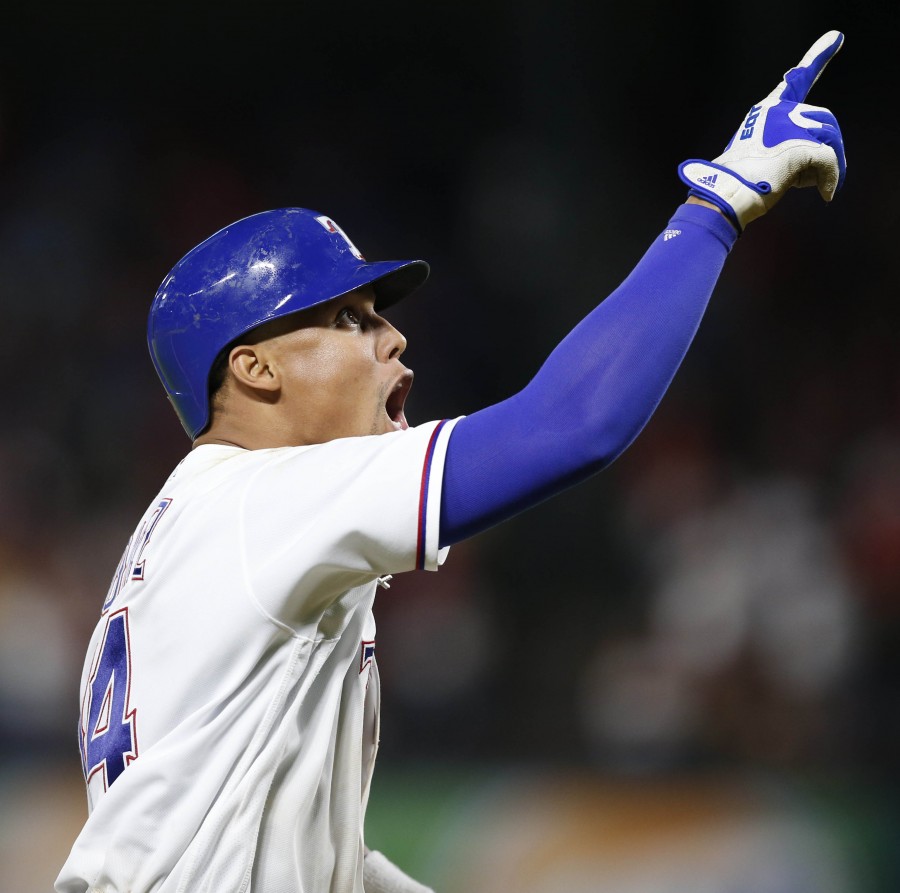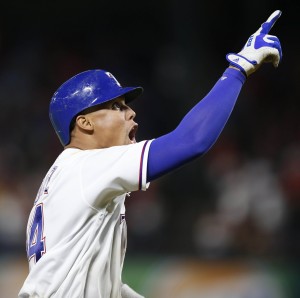 While his release and lack of interest from other teams wasn't unwarranted—he finished his Astros career with only 10 hits in his final 70 plate appearances, including one homer, one walk and 20 strikeouts—it's hard to overlook the fact that Gomez was an elite hitter during a majority of his final 309 plate appearances. It would be easier to shrug the late run as a sample blip if it weren't for the fact that he carried a .284/.347/.491 batting line over 2013 and 2014.
Gomez also popped 47 home runs and swiped 74 bases in those two peak seasons; while those days are probably over, he's still capable of making an impact in both areas. He managed only 25 long balls in the past two seasons, but as noted at the outset, he turned things on once he arrived in Texas. And he stole 18 bases in just 118 games of action last year, suggesting that there's still life in his legs.
The continued athleticism also speaks to his defensive abilities, which have generally drawn strong reviews from metrics. Gomez probably won't be viewed any longer as a difference-maker with the glove, but an optimist would note that he graded as a plus center fielder as recently as 2015. He still has a strong throwing arm, so if he can fix some mental mistakes and perhaps show that the drop in range was a bit of a sample blip, Gomez could be a quality up-the-middle defender for another few seasons.
Cons/Weaknesses
The high strikeout and low walk rates that have always been part of Gomez's game were less magnified when he was hitting more than twenty dingers a year while bouncing all over the outfield and the basepaths. But they seem decidedly less appealing when the other areas aren't clicking.
In 2016, Gomez had the highest strikeout rate of his career, landing at an even 30%. Previously, he had never gone down by strikes in even a quarter of his plate appearances. There was some improvement after the move to Texas, but Gomez still whiffed at a higher-than-usual level. On the flip side, he also carried a career-best 7.5% walk rate, so the plate discipline numbers weren't all bad, but the sudden burst of strikeouts rates as a significant concern.
That's all the more true given that Gomez has struggled more generally with contact. His overall contact rate dropped drastically from 76.5% in 2015 to 69.5% in 2016, so we know that the K's aren't just coming on called strikes. 74% was his previous low, established in 2013. And when Gomez did put bat to ball, the barrel wasn't always squared. He posted a 30.2% hard contact rate in each of the past two seasons, a significant departure from his best years, while coming up with soft contact in over a fifth of his trips to the plate — which is more in line with his numbers during his early career struggles.
There is also evidence of decline on the bases and in the field. While he's still a useful stolen-base threat, Gomez rated merely as average in overall baserunning and fielding in 2016. That was a significant change from even his lackluster 2015 campaign, during which he was still a top-quality runner and above-average center fielder.
Given the lack of evident physical fall-off, and Gomez's relative youth, it may be that Gomez's broader struggles at the plate played a role in his lack of focus in the field. If he can maintain his swing mechanics from the end of the season, there's reason to believe that Gomez could be able to maintain the focus and confidence necessary to have a good season in all regards — and, hopefully, be a boisterous and positive influence in a clubhouse. But there's also quite a fair chance that he doesn't, in which case a signing team may be left holding the bag.
Background
Gomez was born in the Dominican Republic and signed by the Mets as a 16-year-old in July 2002. He was ranked by Baseball America as the 3rd best prospect in the organization when he made his MLB debut in 2007. The following offseason, he was traded to the Minnesota Twins along with pitchers Philip Humber (No. 4 prospect), Deolis Guerra (No. 5) and Kevin Mulvey (No. 6) for two-time Cy Young winner Johan Santana.
After two disappointing seasons in Minnesota, Gomez was traded to the Brewers for shortstop J.J. Hardy. It took approximately two-and-a-half more seasons, but the Brewers' patience paid off when the raw potential finally turned into on-field production.
Prior to the 2013 season, Gomez inked a four-year, $28.3MM contract extension, which looked like a bargain after he posted back-to-back seasons that earned him NL MVP votes—he came in 9th place in 2013 and 16th place in 2014.
With a season-and-a-half remaining on his deal, the rebuilding Brewers decided to cash in one of their top trade chips prior to the 2015 trade deadline. After a deal fell through that would've sent him back to the Mets for Zack Wheeler and Wilmer Flores—the Mets reportedly backed out because of concerns over Gomez's hip—he was sent to the Houston Astros with Mike Fiers on July 30th, 2015.
On August 18th, 2016, the Astros released the struggling outfielder. Two days later, he signed a minor league deal with the Texas Rangers and was added to the roster five days later.
Market
It's a case of "buyer beware" with Gomez, who has the ceiling to be one of the most productive players to sign this offseason and the potential to be one of the biggest busts. Dexter Fowler and Ian Desmond also factor into the free agent market, with players like Charlie Blackmon and A.J. Pollock potentially available via trade, but all figure to be much costlier to acquire. (Notably, unlike Fowler and Desmond, Gomez won't require draft compensation from a signing team.)
Several teams are in need of outfield help, specifically an upgrade in center field. The Rangers have to be the favorite based on their need and Gomez's comfort level with the organization. They're more familiar with Desmond, their starting center fielder in 2016, but he's almost as unpredictable and will almost certainly be more expensive.
Texas certainly won't be a lone. Organizations that are inclined to take a bit of a risk — contenders and dark horses alike — could well pursue Gomez in earnest. Other teams that are in need of a center fielder include the White Sox, Mets, Athletics, Cardinals and Nationals. The Orioles, Giants and Blue Jays could pursue Gomez as a starting corner outfielder.
Expected Contract
MLBTR predicts that Gomez, our 19th ranked free agent, will land a three-year, $36MM deal with the Rangers, pushing his total earnings for his ages 27-33 seasons to $64.3MM. If his production hadn't taken a complete nosedive from August 2015 through August 2016, it wouldn't be a stretch to think he'd currently be receiving top-of-the-market billing. Given his established ceiling as a big leaguer, there's plenty of potential for creative contract offers, potentially including an opt-out clause that would give Gomez an opportunity to re-enter the market — with the incentive to play well enough to do just that.
Photo courtesy of USA Today Sports Images.