Edwin Encarnacion delivered another big season in 2016 and even added a signature postseason moment (his walkoff homer in the Blue Jays' wild card win over the Orioles) to his resume.  After five straight years of excellent numbers, he is well-positioned to land one of the offseason's biggest contracts.
Strengths/Pros
Encarnacion's signature elbow extension during his home run trot has become known around Canada as "taking the parrot for a walk," and Polly has gotten more than her share of exercise over the last five years.  Since breaking out during the 2012 season, Encarnacion has been nothing less than one of the best hitters in baseball, batting .272/.367/.544 with 193 homers (the second-highest total in baseball in that span), 550 RBI (also second), a 146 wRC+ (seventh) and 451 runs scored (tied for eighth).  He has generated 20.2 fWAR in that stretch based almost entirely on his potent right-handed bat.  As one might expect, Encarnacion draws a large number of walks (12.5 percent since 2012).  Unlike many sluggers, though, Encarnacion isn't especially strikeout prone, as he's punched out in just 15.1 percent of his plate appearances dating back to that 2012 breakout.
Encarnacion's emergence as the plate more or less coincided with his being moved off third base and into a first base/DH role, as he was able to more completely focus on hitting and no longer had to worry about his infamous glovework. (When your actual nickname is "E5," a position change is long overdue.)  While Encarnacion posted subpar defensive metrics in his first few years at first, he has actually been a passable first baseman over the last two seasons as per the UZR/150 metric (+4.1).  Paul Kinzer, Encarnacion's agent, believes his client has proven himself as "a solid first baseman," and a viable option for National League teams.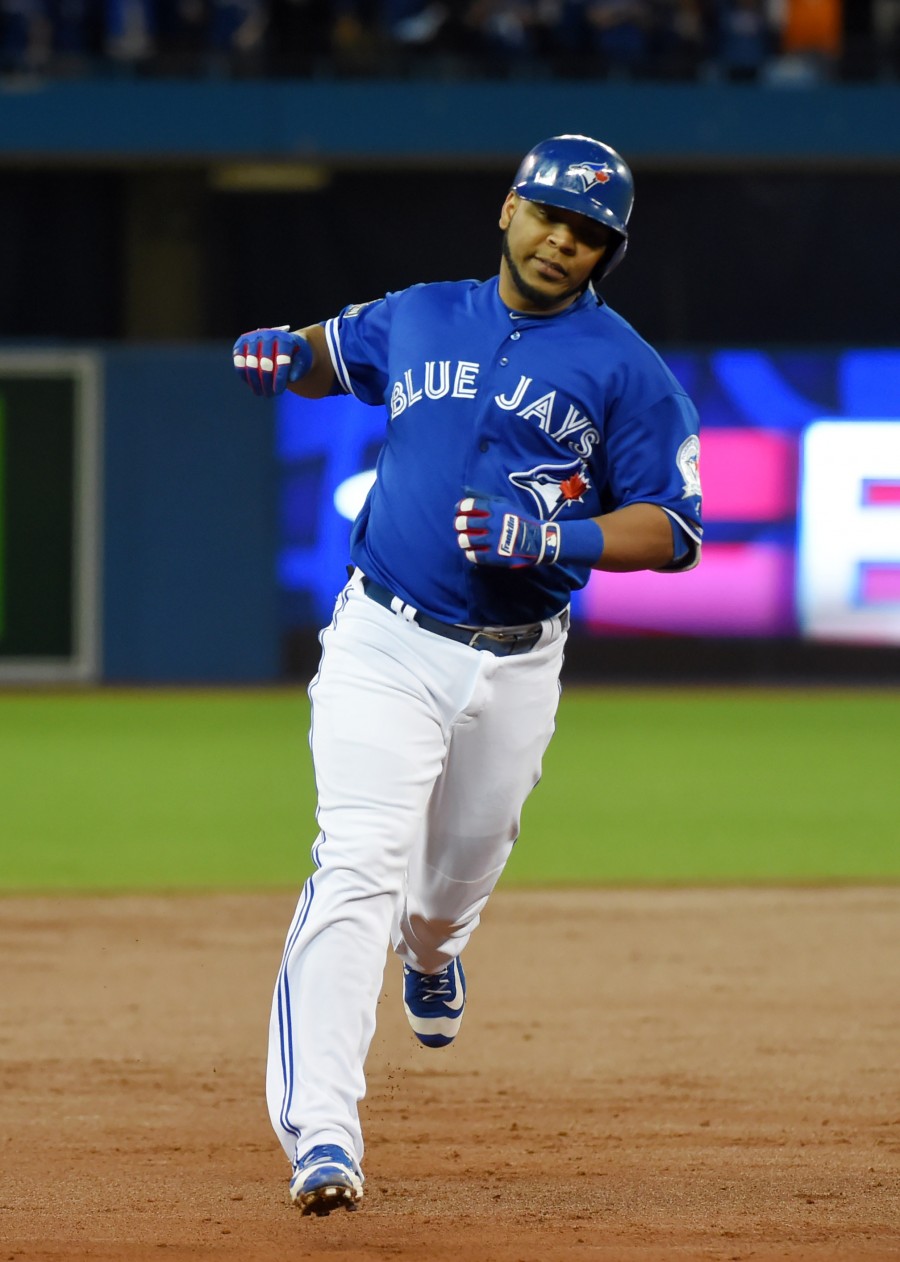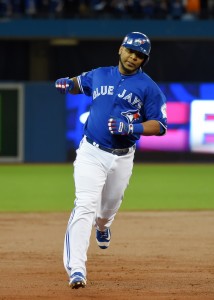 Yoenis Cespedes is three years younger than Encarnacion and has more defensive value as a left fielder, which is why he topped MLBTR's list of the top 50 free agents of the 2016-17 offseason.  Encarnacion, however, finished second on that list, a rarity for a player of his age.
Weaknesses/Cons
As Encarnacion enters his age-34 season, the most obvious question is simple: how long can he keep up his elite production?  Traditionally quite good at putting the bat on the ball, Encarnacion's contact rate has dropped rather sharply over the last two years while his swinging strike rate has risen.  He posted the second-highest strikeout rate (19.7%) of his career last season, finishing well above his 16.2% career average.  Encarnacion's 134 wRC+ was also his lowest in five years, though obviously that's still an excellent number and only a borderline sign of "decline."
A sneaky-good stolen base threat early in his career, Encarnacion has been a below-average baserunner in each of the last two seasons.  Without much speed and fringy defensive worth, Encarnacion's value is almost entirely tied up in his bat.  Teams need to decide if they're willing to risk giving a $20MM+ average annual value to a player who may not be worth that money even in 2017 if he takes even a small step back at the plate.
His recent UZR/150 performance aside, it's rather hard to imagine Encarnacion suddenly becoming a reliable defender at this point in his career, especially if he doesn't have the security of the DH spot for regular rest.  Many bat-first players gradually shift from being regular defenders to taking more and more time in the DH slot as they move into their mid-30s, so it would be rather unusual to see Encarnacion take the opposite route by signing with an NL team.
Encarnacion has undergone two wrist surgeries during his career, missed about five weeks with a quad strain in 2014 and has battled some shoulder and finger ailments.  He did play in a career-high 160 games last season, though again, that was with the help of the DH spot to give him plenty of recovery time.  An NL team would be taking a risk in counting on Encarnacion to stay both healthy and productive playing every day as a first baseman.
Personal
Encarnacion and his partner Jennifer have one child, who bears his father's name. A native of the Dominican Republic, Encarnacion ended up attending high school in Puerto Rico, making him eligible for the draft. He was taken in the ninth round by the Rangers in 2000, ended up being dealt to the Reds in 2001, and broke into the bigs with Cincinnati in 2005.
Though he showed glimpses of his eventual power potential as a Red, Encarnacion's lack of prowess at third base made him a liability (a move to first base wasn't an option in Cincy thanks to Sean Casey and then Joey Votto).  The Reds dealt Encarnacion to the Blue Jays as part of a three-player package for Scott Rolen at the 2009 trade deadline, though Encarnacion was included not because Toronto wanted him, but to offset Rolen's salary. He wasn't an immediate hit in Toronto, either.  In fact, the Jays actually let Encarnacion go to the A's on a waiver claim after the 2010 season, though Oakland non-tendered him a month later and the Jays re-signed the slugger.
Midway through his breakout 2012 season, Encarnacion signed a $27MM extension covering the 2013-15 seasons, plus a $10MM club option for 2016.  That extension ended up being a marvelous bargain for the Jays, though given how unsettled Encarnacion's career had been to that point, it's hard to fault him for wanting to lock in a healthy guaranteed deal.
Last August, a lawsuit was brought against Encarnacion, alleging that he knowingly infected a woman with two sexually-transmitted diseases.  Kinzer described the lawsuit as "completely inappropriate and meritless," and Encarnacion's attorneys sought to have the motion thrown out of court in October.  As Blue Jays Nation's John Lott noted, the incident could technically fall under the purview of MLB's domestic violence policy, though it isn't known whether or not the league is investigating the situation.  Such lawsuits have been known to take years to be resolved or settled, so it's hard to gauge whether or not the civil suit will have an impact on Encarnacion's free agency.
Market
Encarnacion unsurprisingly rejected the Blue Jays' qualifying offer, so any club that signs him will have to surrender a draft pick as compensation.  That's a small price to pay for a suitor, as players at the top of the market rarely have to worry about the QO's effect on their asking price.  While there are several notable first basemen and designated hitters on the open market this winter (Mark Trumbo, Carlos Beltran, Mike Napoli, Brandon Moss and perhaps even long-time teammate Jose Bautista if right field is no longer in Bautista's future), Encarnacion is a clear cut above the pack in terms of recent production.
The Blue Jays reportedly made Encarnacion a four-year offer in the neighborhood of $80MM prior to their signing of Kendrys Morales, and even with Morales now in the fold for regular DH/first base duty, the Jays are still reportedly exploring the possibility of bringing Encarnacion back.  The two sides discussed an extension during Spring Training, though since the Jays were reportedly only willing to give Encarnacion two guaranteed years (and multiple club options), talks didn't get very far.
The Red Sox have long been linked to Encarnacion, who fits as either a straight replacement for David Ortiz at DH or rotating between both DH and first base with Hanley Ramirez so both sluggers can stay fresh.  Boston, however, has yet to begin its rumored pursuit of Encarnacion, whether due to uncertainty about the luxury tax limit in the new collective bargaining agreement or perhaps simply out of a preference to not lock up the DH spot to an aging player on a long-term deal.  MLBTR's Tim Dierkes predicted that Encarnacion would wind up in a Red Sox uniform, and it's hard to rule Boston out entirely until either the team makes an alternate move or Encarnacion puts pen to paper elsewhere.
The Yankees, Astros, Rangers (all with holes to fill at first and/or DH) have all reportedly made contact with Encarnacion.  Looking at speculative fits, the Orioles or White Sox could also offer first base/DH time-shares, teaming Encarnacion up with Chris Davis and Jose Abreu, respectively.  Chicago is probably a long shot, however, since the Sox could be a seller rather than a buyer this winter.
Looking to the National League, the Rockies and Marlins have needs at first but may not be able to meet Encarnacion's asking price.  There actually aren't that many NL clubs that can both afford Encarnacion and have a need at first base, so the lack of a clear fit may be a bigger issue for Encarnacion in the Senior Circuit than the lack of the DH spot.  A mystery NL team could emerge as a suitor due to a trade, injury or position switch, though for now, I'd expect Encarnacion to remain in the American League.
Expected Contract
Mid-30's sluggers such as Victor Martinez and Nelson Cruz have managed to land pricey four-year deals in free agency, and Encarnacion should be no different, though his track record will score him significantly more guaranteed money than Cruz or V-Mart.  A five-year deal isn't out of the question, though with the majority of Encarnacion's interest likely to be limited to just American League teams, it's probably safer to just project a four-year deal that will take Encarnacion through his age-37 season.  MLBTR projects Encarnacion to sign a four-year, $92MM deal.
Photo courtesy of Dan Hamilton/USA Today Sports Images