MLBTR is publishing Offseason Outlooks for all 30 teams. Click here for the other entries in this series.
Myriad injuries helped jeopardize the Mets' postseason chances in 2016, but the team went on a tear over the final month and a half to secure its second straight playoff berth. Another World Series appearance wasn't in the cards, though, as the Mets ran into October buzzsaw Madison Bumgarner and fell to the Giants in the National League wild-card game. Now, for the second offseason in a row, New York is in danger of losing lineup cornerstone Yoenis Cespedes.
Guaranteed Contracts
Arbitration-Eligible Players (service time in parentheses; projections via MLB Trade Rumors)
Free Agents
Mets Depth Chart; Mets Payroll Information
When the Mets acquired Cespedes from Detroit prior to the 2015 non-waiver trade deadline, they were three games above .500 and at risk of missing the playoffs for an eighth consecutive season. After his move to New York, Cespedes slashed an outstanding .287/.337/.604 to help lead the club to a 37-22 regular-season finish and an NL East title. Cespedes' bat cooled off in the playoffs, particularly during the Mets' five-game World Series loss to the Royals, but the outfielder was nonetheless instrumental in their return to relevance and would have been a significant loss had he signed elsewhere as a free agent. It appeared that would happen, but after he couldn't find any offers to his liking on the market, Cespedes shockingly re-signed with the Mets on a three-year, $75MM deal in late January. That agreement came with a catch for the Mets, though: They had to give Cespedes a three-day opt-out window after this year's World Series.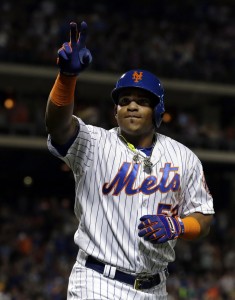 Shortly after the Fall Classic between the Cubs and Indians concluded, Cespedes unsurprisingly voided what was left of his contract in order to take another shot at free agency. Having batted .280/.354./530 with 31 home runs in 534 plate appearances this past season, the 31-year-old likely has a better chance than any other impending free agent to land an accord worth upward of nine figures. Cespedes has expressed a desire to spend the rest of his career with the Mets, but it's difficult to envision him falling into their laps again on a deal similar to the one he just vacated.
This winter's class of free agents is far less enticing than the group from last year, when fellow outfielders Jason Heyward and Justin Upton were among seven players to secure pacts well in excess of $100MM. That should drive up the price to sign Cespedes, for whom the Mets reportedly aren't willing to engage in a bidding war or go past the three-year mark on a new contract. Between Cespedes' opt-out and his latest foray into free agency, the Mets will issue him a qualifying offer. If he signs elsewhere, they'll receive a first-round draft pick as compensation.
Predictably, what happens with Cespedes is going to have an enormous effect on how Mets general manager Sandy Alderson approaches the offseason. If he does go unsigned for a while and the Mets wait for a resolution, it could impact their ability to reel in other free agents. Cespedes' departure would still leave the team with a few satisfactory corner outfield options in Curtis Granderson, Jay Bruce and Michael Conforto, though all are left-handed hitters. Thus, finding a competent right-handed bat like utilityman Steve Pearce – in whom the Mets had summer interest – or Sean Rodriguez via free agency would make sense.
The top center fielder on the roster is defensive standout Juan Lagares, but he hasn't shown much offensively. With that in mind, pursuing one of the proven free agent center fielders – Dexter Fowler, Ian Desmond or ex-Met Carlos Gomez – could be in the offing. All three are either right-handed or switch-hitters who will cost much less than Cespedes. But the Mets would likely have to act quickly to lock up any of them, which would perhaps mean moving on from Cespedes in the event he delays signing. The trade market could also feature intriguing right-handed options in Andrew McCutchen (Pirates), Lorenzo Cain (Royals), though neither will be easy to acquire if their teams do shop them.
Shifting to the infield, the Mets unsurprisingly plan to tender Duda a contract for 2017. The 30-year-old slugger missed most of 2016 with a stress fracture in his lower back, but a healthy version was an important part of New York's offense from 2011-15. Re-signing Cespedes or acquiring another high-profile outfielder (the Tigers' J.D. Martinez is another trade possibility) could lead the Mets to shop Duda, though, as Conforto would perhaps move to first base. Conforto has already acknowledged the possibility, but he's coming off a discouraging season and still has minor league options remaining. While the Mets might not want to send the promising youngster back to Triple-A Las Vegas, where he mashed over 143 PAs this year, it's doubtful he would be an upgrade at first over an uninjured Duda.
The Mets may also have to consider third baseman David Wright as at least an occasional right-handed complement to the lefty-swinging Duda or Conforto at first. The seven-time All-Star and longtime face of the franchise combined for a meager 75 appearances over the past two seasons while dealing with spinal stenosis and other issues. Wright underwent neck surgery in June and said earlier this month he's "really positive and really confident" he'll be OK, but counting on his health going forward would be risky.
Using a combination of Wilmer Flores, Jose Reyes, Kelly Johnson (an impending free agent), T.J. Rivera and Ty Kelly, the Mets got by fine this year without Wright. But whether they'll re-sign Johnson or add other insurance at third could depend on what happens at the keystone, as keeping their second-best free agent, Neil Walker, or finding another proven commodity would enable the Mets to deploy their reserves at the hot corner if Wright's injuries persist. Not re-signing Walker could also put Reyes in position to take over as the full-time second baseman, which would give the Mets one fewer capable infield reserve.
Despite his September back surgery, the Mets do intend to issue Walker a qualifying offer. If Walker exits the Big Apple in the coming weeks, he'd join Daniel Murphy as the second quality second baseman to leave the Mets since last winter. Murphy signed with the Nationals, with whom he starred, paving the way for the Mets to acquire Walker from Pittsburgh. A year later, it's not hard to imagine a Walker-less Mets team attempting to go the trade route again and inquiring on Brandon Phillips (Reds), Ian Kinsler (Tigers) or Brian Dozier (Twins). That isn't to imply any will switch uniforms in advance of next season, however: Phillips has a no-trade clause that he used multiple times last offseason; Kinsler, 34, is too important and reasonably priced to ship out if the Tigers plan to contend, though they do want to get younger; and the Mets would have to trade a haul of youthful talent for Dozier (including high-end shortstop prospect Amed Rosario, perhaps) if the Twins were to place him on the block. In terms of free agency, unless the Mets are open to replacing Walker with Public Enemy No. 1 Chase Utley, there won't be much available.
As is the case with most of its infield (the exception being shortstop, where Asdrubal Cabrera was terrific in his first year as a Met), it's unclear what the team will do behind the plate in the coming months. Injury-prone starter Travis d'Arnaud took massive steps backward during his 75-game campaign, including losing playing time to light-hitting journeyman Rene Rivera down the stretch. That carried into the Mets' lone playoff game, in which Rivera started over d'Arnaud. Between his shrinking role this year and the Mets' summer attempt to trade d'Arnaud for Jonathan Lucroy, they no longer seem sold on the former highly regarded prospect.
Potential upgrades over d'Arnaud will be scarce in free agency, where Matt Wieters, Wilson Ramos, Nick Hundley and Jason Castro lead the pack. Each could pique the Mets' interest (FOX Sports' Ken Rosenthal has already mentioned Wieters as a possibility), though Ramos carries an especially high amount of risk after tearing his ACL in late September. Ramos seems like a strong candidate to end up in the American League, where he would be able to serve as a designated hitter until he's healthy enough to catch regularly. Thus, one of d'Arnaud, Wieters, Hundley or Castro is probably the best bet to start for the Mets next year, as there won't be a lot of help on the trade market. While the Yankees could move Brian McCann, transactions between them and their crosstown rivals have been few and far between. Derek Norris of the Padres might be likelier than McCann to change homes in a trade, but he's fresh off an even worse year than d'Arnaud.
Whether it'll be d'Arnaud, Rivera, Kevin Plawecki or an outsider doing most of the work behind the plate for the Mets in 2017, he'll be the receiver for an elite-caliber rotation. Injuries tore through the Mets' staff in 2016, yet their starters still finished first in the majors in fWAR (18.3) and third in ERA (3.61). Only two Mets (ace Noah Syndergaard and Bartolo Colon) exceeded 180 innings along the way. Syndergaard pitched through bone spurs, while Jacob deGrom, Matt Harvey and Steven Matz all saw their seasons conclude prematurely because of various surgeries. Moreover, Zack Wheeler missed his second straight full campaign.
DeGrom and Matz should be ready for spring after undergoing elbow procedures, but Harvey's situation seems harder to predict. After establishing himself as a superstar hurler over his first two-plus years in the majors, Harvey stumbled to 92 2/3 mediocre innings this past season and opted in July for thoracic outlet surgery on his right shoulder. Fortunately for the Mets (and those who enjoy world-class pitching), the medical outlook on Harvey is currently optimistic. As for Wheeler, who hasn't pitched in the majors since 2014 after undergoing March 2015 Tommy John surgery, manager Terry Collins expects the 26-year-old to be ready for spring training.
While it would perhaps be unrealistic to think all of the Mets' injury cases will avoid setbacks leading up to next April, there's still enviable starting depth on hand with that group joining Syndergaard and a pair of unexpected 2016 success stories in Seth Lugo and Robert Gsellman. Those starters make the Mets seven deep on paper, which would theoretically increase the odds of Colon's exit in free agency. However, the fan favorite has been such a stabilizing presence in his three seasons with the Mets that it would be tough for them to lose him. Plus, even a healthy Mets squad would have room for the innings eater in their rotation with Lugo, Gsellman and Wheeler still having minor league options. The Mets would like Colon back, but the soon-to-be 44-year-old wants a two-year deal, per Matthew Cerrone of SNY. Despite his age, the durable and steady Colon just might get a multiyear contract in such a weak market for starters.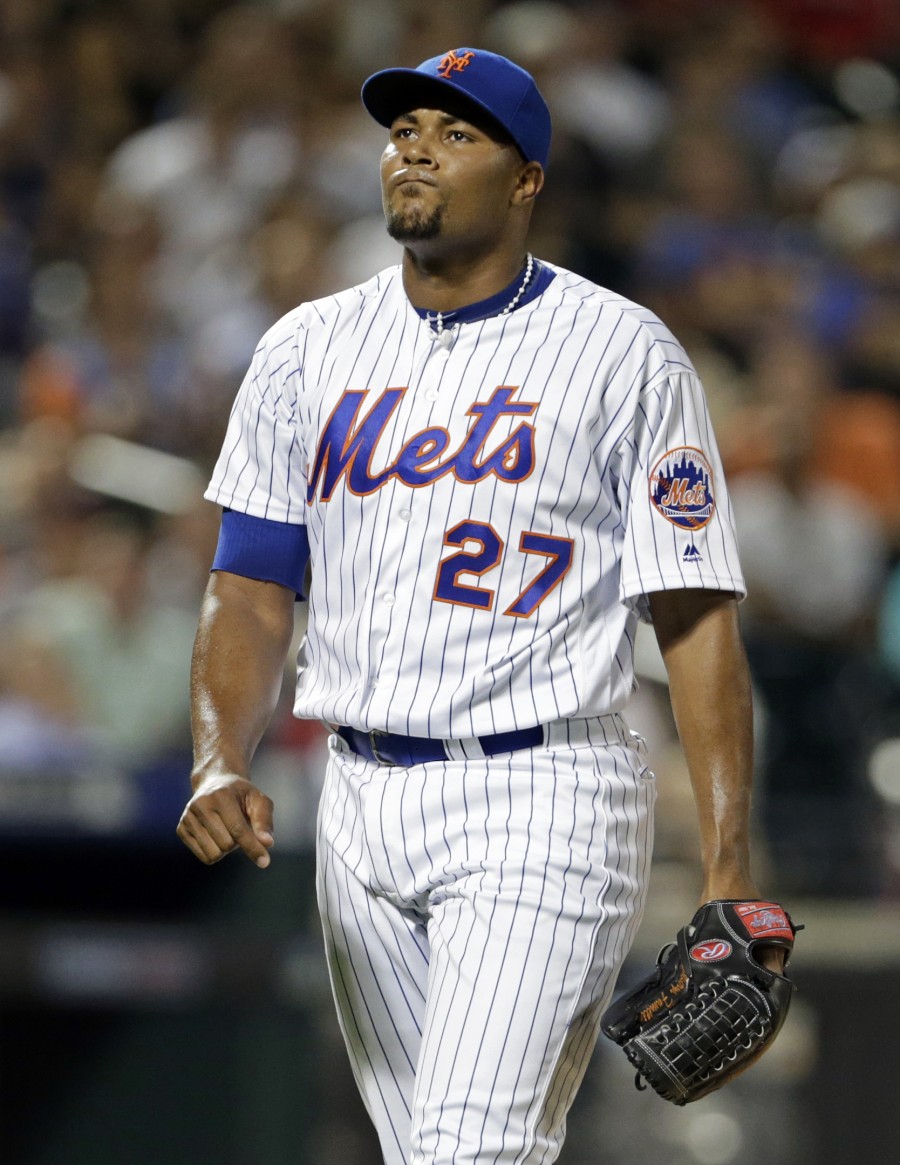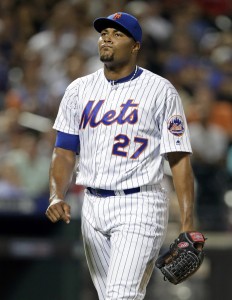 The Mets' relief corps isn't as well off as their rotation, and closer Jeurys Familia's domestic violence arrest is extremely concerning for obvious off-the-field reasons. From a baseball standpoint, it will complicate Alderson's plans for configuring the roster. Familia is due a sizable raise in arbitration, and it would have been a no-brainer before his arrest to tender the 27-year-old a contract for next season and continue with him and Addison Reed forming one of the sport's most dominant late-game tandems. Now, depending on further legal developments prior to the upcoming non-tender deadline, it's fair to wonder if this incident will end up severe enough for the club to move on from him. The Mets have been content to employ Reyes – a domestic violence offender – but his matter was no longer a legal issue by the time they signed him in June, and the 51-game suspension the league handed him had already expired. Further, Reyes came at a pittance. That won't be true for Familia.
In the admittedly unlikely event the Mets cut the cord on Familia (or in the more plausible case of a lengthy suspension), it could put them in the market for Kenley Jansen or Mark Melancon – two of the best soon-to-be available closers. Fellow ninth-inning ace Aroldis Chapman is at the top of the free agent heap, but would the Mets really add another player associated with domestic violence? Wade Davis (Royals) and/or David Robertson (White Sox) might hit the trade block, and either would be worth looking into in light of Familia's situation.
Even if Familia remains with the Mets and escapes an austere brand of discipline from commissioner Rob Manfred, there will still be questions about the Mets' bullpen heading into 2017. Familia, Reed and fellow righty Hansel Robles each threw 77 2/3 effective innings this season, but the rest of the group isn't nearly as settled.
Left-hander Jerry Blevins and late-season pickup Fernando Salas are going to the open market after thriving in New York this year. Neither two-time Met Jon Niese, who did anything but thrive in 2016, nor Jim Henderson will return. Erik Goeddel, Logan Verrett, Sean Gilmartin all struggled over a fair amount of innings (Verrett's 2.84 ERA as a reliever looks much better than his 5.17 FIP), while Gabriel Ynoa had trouble across a smaller sample size. There's also Josh Edgin, whose numbers in 10 1/3 frames weren't great. It was his first action since March 2015 Tommy John procedure, however, and he closed the year on an encouraging note with 10 scoreless appearances over his final 11 outings. He'll probably factor into the Mets' plans again next year as a cheap lefty. Fellow southpaw Josh Smoker could be in the mix, too, as he overcame a couple woeful weeks from late August to early September to log 11 scoreless showings in his last 12. Lugo could take another bullpen spot, though earning a big league rotation job or starting in the minors seem like more realistic outcomes. Regardless, he was superb in his 17 innings as a reliever in 2016, notching a 2.65 ERA, 8.47 K/9 and 3.18 BB/9 in nine appearances.
If the Mets try to to bolster the back end of their bullpen with free agents other than Jansen or Melancon, they could opt for Salas, Joe Blanton, Santiago Casilla, Greg Holland, Sergio Romo or Brad Ziegler, among others, from the right side. Some of the non-Chapman lefties on the market will include Blevins, Brett Cecil, Mike Dunn and Boone Logan.
In terms of building a team, Familia has clearly made Alderson's job harder. On the bright side for the longtime executive, the Mets still have one of the league's foremost starting staffs and Reed, who was phenomenal this year. Therefore, whatever happens with Familia, the club should remain better than most at preventing runs next season. In the meantime, with the Mets potentially losing their offensive centerpiece, Cespedes, and Walker, Alderson will have to assemble a lineup capable of supporting the club's array of talented pitchers. As Alderson indicated after re-signing Cespedes last winter, the franchise is willing to spend to put a championship contender on the field. So, whether it means winning the Cespedes sweepstakes again or making some other notable splash(es), it's going to be an active offseason for the Mets.
Photo courtesy of USA Today Sports Images.