Greg Genske, the agent for Astros phenom Carlos Correa, made news this week when he told FanRag's Jon Heyman his client "is never going to do an multiyear contract" before he becomes eligible for free agency following the 2021 season. Correa later responded that he was unaware of Genske's comments and said he would consider an extension, although he noted that "the price has got to be right."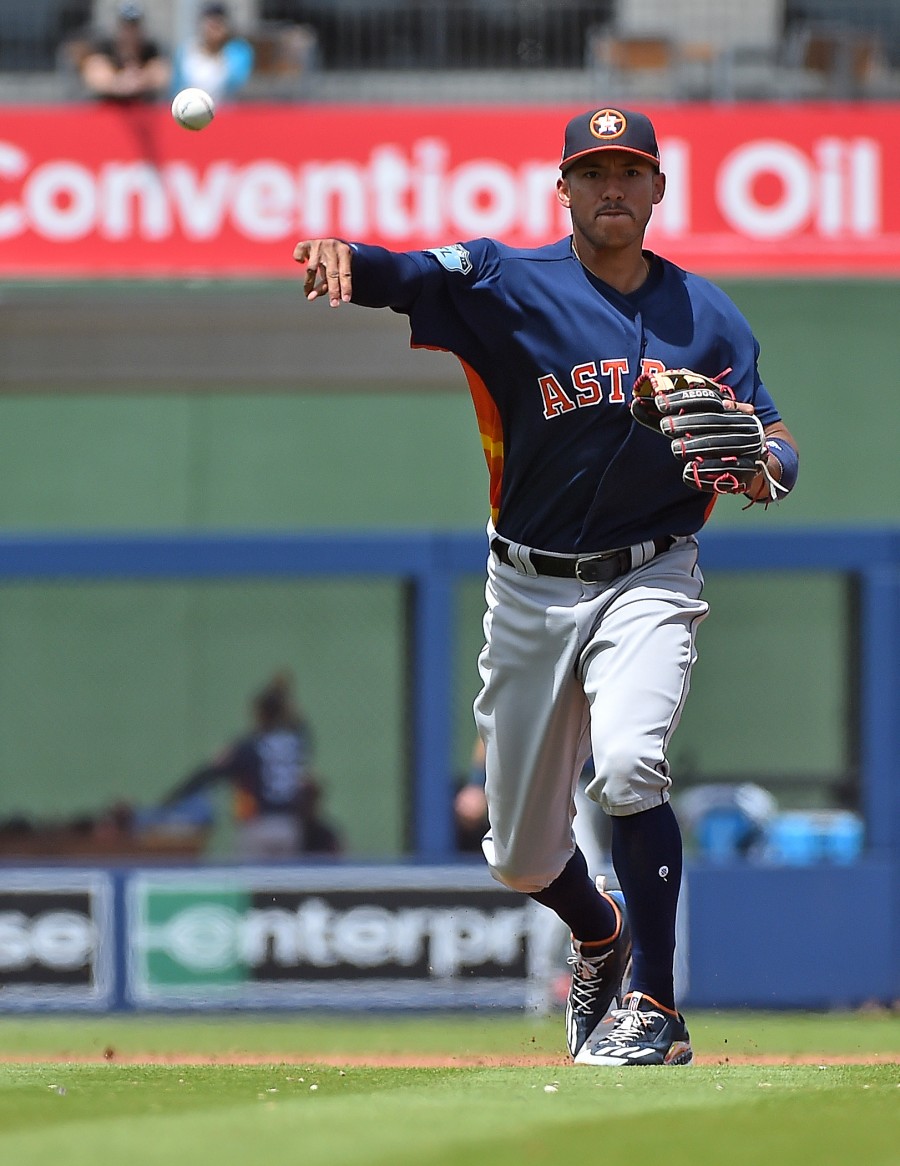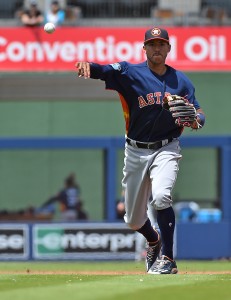 As a former first overall pick in the draft, Correa has already received a significant upfront payday in the form of a $4.8MM bonus, and as Heyman notes, he also has an endorsement deal with Adidas. He might therefore not be desperate to sign away future free-agent years to secure a guarantee.
In the end, then, we don't know much more about the likelihood of Correa signing an extension than we did a week ago, although it seems fair to say he and the Astros won't be announcing one anytime soon. Just for kicks, though, let's imagine what an extension for Correa might look like.
When trying to assess the likely shape of a pre-agency extension, MLBTR's Extension Tracker is usually a great starting point. Extensions tend to be based on precedents set by previous extensions, which is probably one reason why, for example, Jay Bruce, Justin Upton, Andrew McCutchen, Matt Carpenter and Jason Kipnis all got pre-free agency six-year deals that guaranteed $51MM-$52.5MM when each of them had between two and three years of service time, and why each's new signee's deal was worth a few hundred thousand dollars more than the previous one. (All of the deals except Upton's contained one option, as well.)
So let's look for potential precedents for a Correa deal based on his talent and upon his service class. Correa headed into the season with 1.119 years of service. Here, then, are the two most expensive extensions in our tracker for players with between one and two years of service time.
Andrelton Simmons: seven years, $58MM
Christian Yelich: seven years, $49.5MM plus one team option
We can see here that a Correa extension will probably require more creative thinking than merely looking at precedents. As good as Simmons and Yelich are, they don't shine as brightly as Correa one day could, and particularly in Simmons' case, they wouldn't have been likely to produce the arbitration paydays Correa one day might.
Also, Correa is a year younger than Yelich was at the time of his extension, and two years younger than Simmons when he signed his. Correa is currently on pace to hit free agency just after he turns 27. His youth could make him particularly valuable on the free agent market, as Jason Heyward — who got $184MM and two opt-outs after becoming a free agent at 26 — can probably attest. Correa and Genske might well see the combination of Correa's talent and youth as such special characteristics that they'd be especially unlikely to forgo Correa's opportunity to explore free agency entering his age-27 season, particularly since he'll hit the market after the signings of what might prove to be precedent-setting new deals for very young superstars like Bryce Harper and Manny Machado, both of whom are set for free agency after 2018.
With that in mind, let's see if there are other, less obvious, precedents that might help shape an offer that could make Correa think twice.
Buster Posey, 2.161 years of service time (Super Two): eight years, $159MM plus team option
Mike Trout, 2.070: six years, $144.5MM
It seems reasonable to imagine that a Correa extension of a typical length of, say, seven years should fall somewhere in the wide gulf between the Simmons deal and the Trout deal. It's hard to imagine Correa approaching Posey/Trout territory on any deal of reasonable length — he doesn't have the service time they did at the time of their extensions, and the Astros are already set to pay Correa near the league minimum salary for each of the next two seasons. He also frankly doesn't yet have the track record Posey and Trout had at the times of their deals. Posey had won the NL MVP award the year prior to his extension, and Trout finished second in AL MVP balloting in each of the two seasons preceding his.
Another possibility might be for the Astros to sign Correa to a way-outside-the-box extension, offering him a guarantee of ten years or more, a bit like the Marlins did for Giancarlo Stanton or the Reds did for Joey Votto. Both Correa and the Astros would surely see such a deal as risky, and it's a hard to see the sabermetrically inclined Astros organization taking such a decisive risk on a single player. Correa's camp might also ask for an opt-out along the lines of the one Stanton got. If there were ever a good candidate for such a lengthy extension, though, Correa would seem to fit the bill, as he's extremely young, talented and athletic.
Alternately, it's also possible the two sides could reach a simpler deal that would buy out some or all of Correa's arbitration seasons while still allowing him to become a free agent following the 2021 campaign. Such a deal seems somewhat unlikely, however, given Correa's existing sources of income and the absence of a good reason for the Astros to agree to such a pact without getting a significant discount on what they believe Correa's arbitration-year payouts might be.
There doesn't currently appear to be much motivation on Correa's side to sign a deal, and it might be best for their side to wait a year before talking about an extension with the Astros, if they ever do. Allowing Correa to play an extra year might allow his camp to strengthen their argument for giving Correa a deal closer to Posey's or Trout's. Correa said this week, though, that he's not interested in a deal once he hits his arbitration seasons, which begin in 2019. And if he does emerge as a Posey- or Trout-level superstar by then, the possibility of a Harper- or Machado-like payday in his future might be too tempting to resist.
Photo courtesy of USA Today Sports Images.