For the third consecutive July, Sonny Gray's name figures to permeate headlines at MLBTR and throughout the industry, as the Athletics are well out of the race for the American League West and for an American League Wild Card spot.
Interest in Gray figures to be heightened in 2017 given that he's looked more impressive on the mound than he did in an injury-shortened 2016 season. While it has to be noted that Gray did miss the month of April due to a strained lat muscle, the 27-year-old has returned to throw 64 2/3 innings of 4.45 ERA ball. Obviously, that's not an especially appealing number, but most front offices in today's game aren't overly swayed by ERA, and the underlying stats with Gray are considerably more intriguing.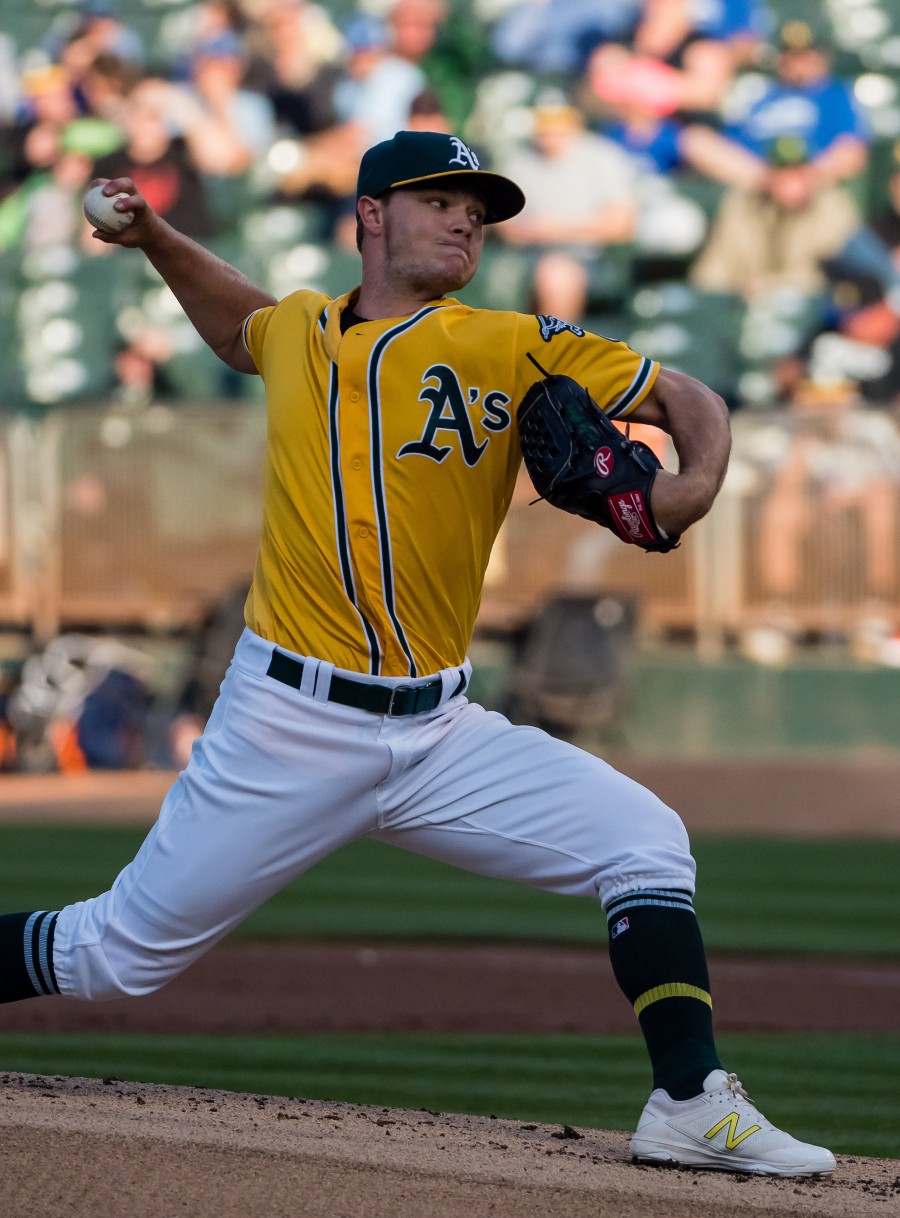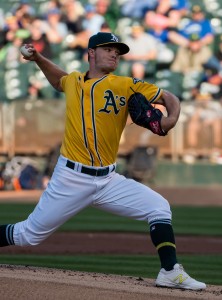 Gray has averaged 9.1 strikeouts (his highest since his rookie season) and 3.1 walks per nine innings pitched while inducing grounders at a 54.9 percent clip thus far in the season. His 93.4 mph average fastball velocity is still strong, and he's inducing more chasing outside the strike zone (31.4 percent) than he ever has in his career. Perhaps unsurprisingly, his swinging-strike rate (12 percent) and opponents' contact rate (74.2 percent) have both improved accordingly. Each of those marks is also a career-best for Gray.
Moreover, while Gray gets some benefit from playing in the spacious O.Co Coliseum, whatever help he receives is largely mitigated by the fact that the Athletics are the worst defensive team in baseball. Oakland's -47 mark in Defensive Runs Saved is eight runs worse than the closest team (the Giants) and 19 runs worse than the 28th-ranked Blue Jays. Ultimate Zone Rating tells a similar story, grading the A's at an MLB-worst -31.7. All of that has played prominently in his elevated ERA, as Gray's .320 BABIP is the highest mark of his career to date.
Last year's health troubles obviously have to be a concern to interested teams, but there's a small silver lining: Gray's price in arbitration was dramatically impacted both by his lack of innings in 2016 and his substandard results. He's earning at an eminently affordable $3.575MM rate in 2017 and is controllable for two more years, through his age-29 season, before hitting free agency.
All of this is to say, of course, that the asking price for Gray will be steep. In spite of recent injury troubles, the paucity of controllable starters that will be available on the market and the vast number of teams looking to swing a deal for a player that can help their rotation beyond 2017 figure to result in a huge return for the A's if they ultimately decide to move their ace.
Any team that's seriously considering a run at Gray will have to have a fairly strong farm system and/or some young, MLB-ready talent with less than a year of club control on the table in talks. The A's almost certainly aren't going to move Gray for anyone that's within arm's reach of arbitration eligibility. The endgame here is to pick up multiple long-term assets that won't have any real earning power for several more years.
Oakland, after all, has a wave of young prospects hitting the Majors right now and undoubtedly hopes that those assets can quickly help to form the core of a contender. Ryon Healy arrived on the scene last year, while this season has brought forth names like Matt Chapman, Matt Olson, Franklin Barreto, Jaycob Brugman and Bruce Maxwell, among others. It doesn't seem likely that the A's would be open to moving Gray for a package of high-ceiling 19-year-olds that are three years away from the Majors.
All of that probably puts fringe contenders like the Orioles, Angels, Mariners and Royals at a disadvantage. It's feasible that Seattle could make a run in the wake of Drew Smyly's Tommy John surgery, but their system is pretty light on top-end talent, the A's are a division rival, and their lone shot in 2017 is to get into the playoffs via Wild Card. That Gray is controlled through 2019 no doubt appeals to them, but I have to imagine that other clubs could put together more enticing offers.
It's likely fair to also cross off any of the Giants, Padres, Reds, Phillies, Mets, Tigers, Marlins and White Sox. Each is well under .500, and many of those clubs are in the midst of a rebuild. Looking to some clear contenders that are in win-now mode, however, there are lots of readily apparent suitors for Gray…
Astros: Houston has been the most oft-linked team to Gray, as many pundits expect that they'll add a front-line arm to join Dallas Keuchel and Lance McCullers in the playoff rotation. The Astros have plenty of high-end pitching prospects that aren't yet proven in the big leagues (e.g. Francis Martes, David Paulino) as well as upper-level position prospects that don't necessarily have a clear path to regular at-bats in the Majors (e.g. Kyle Tucker, Derek Fisher, Teoscar Hernandez). Houston also spent very aggressively on this past year's international market, so they'll have some potential impact talent rising through the ranks to replenish the system if they trade from their upper levels.
Cubs: Virtually the entire Chicago rotation has taken a step back in 2017, and whether it's due to a potential "hangover" effect of last year's lengthy postseason run or simply the year-to-year volatility that comes with pitchers, they're in need of help. The Cubs entered the year with a questionable fifth slot in the rotation to begin with, and they've now lost Kyle Hendricks to the DL while Jake Arrieta, John Lackey and Jon Lester are all offering reduced production, to varying extents. Chicago is rife with young position players that could appeal to the A's, though they're reportedly not especially amenable to trading any of their young big league bats.
Yankees: The Yankees will be without CC Sabathia for awhile, and Masahiro Tanaka has struggled for much of the season. Michael Pineda's home run problems are more pronounced than ever, though he's still managed to turn in solid overall results. However, the Yankees could lose Pineda, Sabathia and Tanaka at season's end, leaving them with significant holes to fill in the rotation. Jordan Montgomery may very well be emerging as a long-term option, but he also threw just 139 innings last year, so at some point they'll want to monitor his workload. Like the Cubs, the Yankees' farm is stuffed with intriguing prospects. And for New York, there's an additional (albeit entirely speculative) scenario to consider: with first base being a clear point of weakness, could they line up a package deal to land both Gray and Yonder Alonso in the same trade?
Dodgers: Rich Hill hasn't looked like the 2015-16 version of himself this year, and Julio Urias will miss this season and possibly much of next year due to an ominous shoulder surgery. Gray would slot directly into a playoff rotation alongside Clayton Kershaw and breakout star Alex Wood, and the Dodgers aren't lacking for appealing trade chips. Cody Bellinger is assuredly off limits, but prospects like Alex Verdugo, Willie Calhoun and others would likely pique Oakland's interest.
Rockies: Colorado has leaned heavily on young pitching this season, but those inexperienced arms have begun to labor in recent weeks. Antonio Senzatela and Kyle Freeland come with some rather dubious peripherals, and lefty Tyler Anderson is now out for a month or so due to arthroscopic knee surgery. Jon Gray is returning from the DL, and Jeff Hoffman looks terrific, but there's virtually no experience in the rotation beyond Tyler Chatwood and, to a lesser extent, the other Gray (Jon). Perhaps some of the young but raw arms that Colorado has leaned upon this year (e.g. German Marquez) could entice the A's, and Colorado has prospects like outfielder Raimel Tapia and infielder Ryan McMahon that are somewhat blocked at the big league level. Per Nick Groke of the Denver Post, however, Brendan Rodgers is almost entirely off limits.
Diamondbacks: The rotation isn't a clear area of need for the D-backs. In fact, it's been one of the team's strengths. They also have a weak farm system and may prefer to simply stick with the arms that have gotten them this far, so  perhaps this is too much of a long shot for serious consideration. But, there also aren't many holes on the Diamondbacks' roster, and they'd currently turn to one of Zack Godley, Patrick Corbin or Taijuan Walker as the third starter behind Zack Greinke and Robbie Ray in a playoff rotation. Arizona might not have expected to be in this position, but they're firmly in the hunt for the division and look, at worst, to be a Wild Card favorite. The core that's propelled them will be around through at least 2018 — and most of it through at least 2019 — meaning Gray aligns well with the rest of their roster.
Indians: Like the Cubs, the Indians have seen a number of their pitchers take a step back in 2017. They, too, entered the year with a questionable setup at the very back of the rotation, and Danny Salazar's sharp decline, paired with the struggles of Trevor Bauer and Josh Tomlin, creates a need for rotation help as Cleveland finds itself in a surprising race with the Twins and Royals for top billing in the AL Central. Last year's deal for Andrew Miller thinned out the farm, but they're hardly hurting for top-end prospects. Bradley Zimmer's impressive play in the Majors probably removes him as a consideration in trades, but Cleveland has some potentially blocked assets in Tyler Naquin and Yandy Diaz as well as a number of upper-level prospects that have yet to break into the bigs.
Red Sox: Third base will probably be Boston's primary area of focus, but they've already been linked to Gray on the rumor circuit. The Boston rotation is already stacked with high-profile names, but David Price's elbow issues and early struggles make him something of a question mark, and Rick Porcello hasn't replicated his 2016 Cy Young form yet. Eduardo Rodriguez, meanwhile, is dealing with knee issues, while Steven Wright is out for the season and Doug Fister is a wild card. Chris Sale will join Price and Porcello in a potential playoff rotation for the Sox, though, so the notion of adding Gray to the mix might be a stretch, especially with the aforementioned greater need at the hot corner.
Each of those clubs looks to be firmly in "win-now" mode, but there are also a few teams that are walking the line between winning in the present while also building for the future. They may be a bit more of a stretch, but each has reason to at least explore the possibility of pursuing Gray.
Twins/Brewers: These two teams are in a fairly similar position. Both entered the year with a long-term outlook in mind, but both now surprisingly find themselves contending sooner than expected. Mortgaging the future wouldn't be prudent if it meant acquiring a rental piece, but adding an affordable arm that can be controlled through 2019, when each team's core has gained more experience, could hold appeal. Milwaukee has the better farm system of the two and has more outfielders than it knows what to do with, but the Twins still have some Top 100 prospects as well as some younger pieces that have yet to solidify themselves in the Majors. It's worth noting, too, that Minnesota GM Thad Levine has already expressed an openness to acquiring long-term assets.
Braves: David O'Brien of the Atlanta Journal-Constitution recently linked the Braves to Gray, and while he's reportedly not atop their wish list, his controllable nature should hold appeal to GM John Coppolella, who has never been shy about brokering trades. Depending on your prospect list of choice, the Braves have roughly 10 percent of the game's Top 100 prospects in their ranks, so if they do decide that Gray is worth the considerable price, they'll have plenty of pieces to entice Oakland president Billy Beane and GM David Forst.
Photo courtesy of USA Today Sports Images.