The Indians' ALDS loss to the Yankees may well go down as Carlos Santana's last hurrah in Cleveland, an organization he has been a member of since 2008. The soon-to-be 32-year-old is slated to reach free agency next month and has the credentials to rake in one of the richest paydays of the offseason. It's possible Santana's next contract will come from the Tribe, of course, but the small-market club is only a year removed from handing fellow first baseman/designated hitter Edwin Encarnacion a substantial deal. The Indians could opt for a cheaper free agent to replace Santana, then, or perhaps they'll turn to someone already on their talent-rich roster for aid.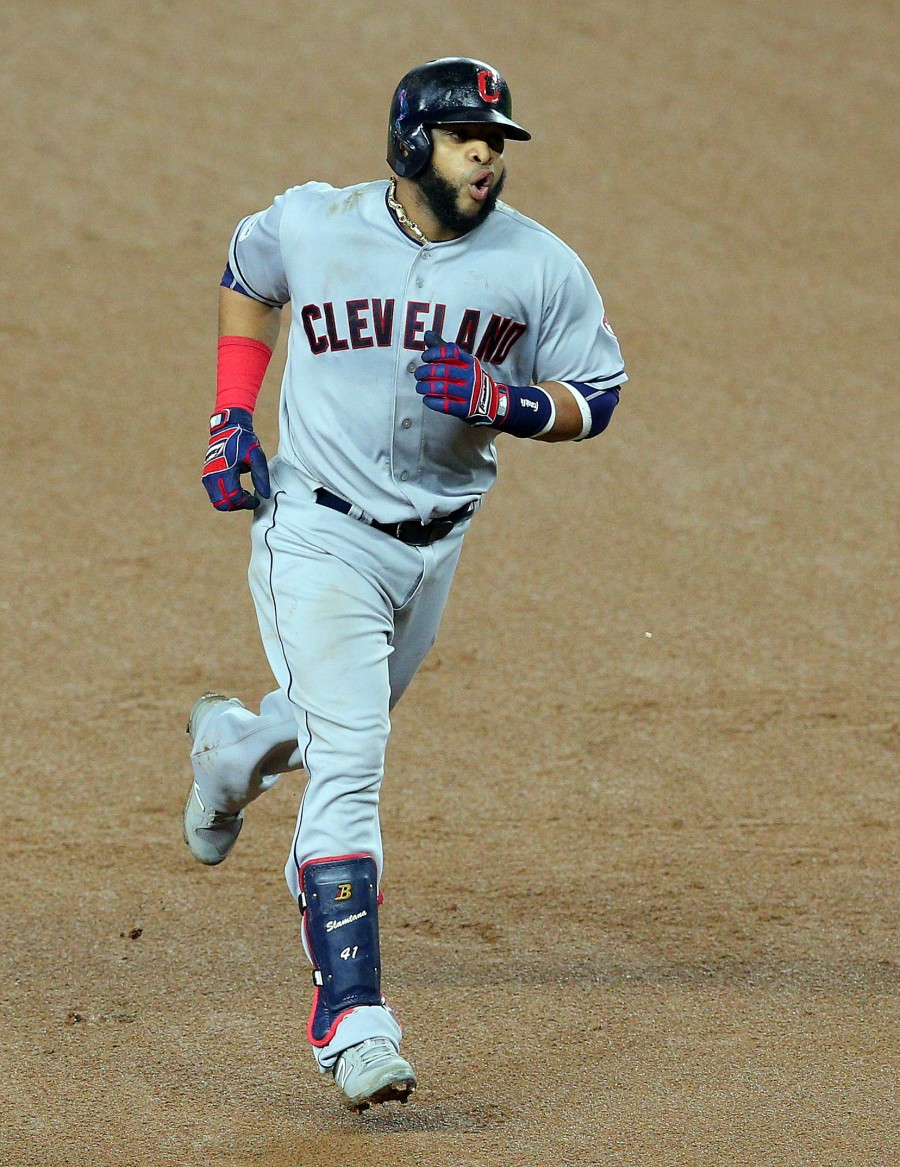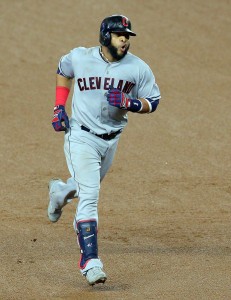 If Santana has played his last game as an Indian, the Octagon client's void will be a difficult one for the team to fill. Not only is he a switch-hitter who has consistently provided above-average offensive production from both sides of the plate dating back to his 2010 debut, but Santana has also been quite durable. Since 2011, his first full season, Santana has appeared in no fewer than 143 games in any individual campaign. He played in 154 games this year, giving him six seasons with at least 150 appearances.
The 2017 season, in which he earned $12MM to close out a bargain contract (six years, $33MM-plus), didn't begin in ideal fashion for Santana. His production was down through June, somewhat mirroring his team's win-loss output. The Indians sat a mildly disappointing 42-36 through the season's first three months before going on a 60-24 tear to wind up as the AL's top seed.
Santana played a key role in the Tribe's memorable second-half run, as he posted a wRC+ of 169 in July, 161 in August and 119 in September. For the year, he put up a 117 mark and slashed .259/.363/.455 with 23 home runs and a .196 ISO across 667 plate appearances. Santana continued to show off his signature plate discipline along way, walking in 13.2 percent of trips and striking out only 14.1 percent of the time. It was the second straight year in which Santana struck out in under 15 percent of PAs, making him one of the few hitters trending in the right direction in a league with skyrocketing K totals.
Including his most recent output, Santana has batted .249/.365/.445 with a .196 ISO, to go with a 15.2 percent strikeout rate against a 17 percent walk mark, in his 4,782-PA career. And while Santana's not known for his glove work, the former catcher excelled at first this season, setting career highs in games (140), Defensive Runs Saved (10) and Ultimate Zone Rating (4.8). Between his work at the plate and in the field, Santana was worth 3.0 or more fWAR for the second straight year and the fourth time in his career. He has never registered a worse fWAR than 2.1 during a full season and has accrued 23.0 in Cleveland.
To this point, Santana's numbers look rather similar to the production former teammate Nick Swisher logged before signing a four-year, $56MM contract with the Indians as a 32-year-old in January 2013. In 5,013 PAs from 2004-12, the switch-hitting Swisher racked up 25.0 fWAR and hit a Santana-like .256/.361/.467, adding a .211 ISO and solid walk and strikeout rates (13.3 percent and 21.1 percent, respectively). Of course, the Swisher experiment failed miserably in Cleveland, which is a reminder that even free agents with seemingly safe skillsets can rapidly decline.
Although the Swisher signing came almost a half-decade ago, something in the vicinity of his contract still looks like a fair benchmark for Santana's next deal. While the Indians, Red Sox, Mariners and Angels are among a few potential fits, it's worth noting that most teams were averse to spending big on first base/DH types a year ago. The leaguewide reluctance to splurge on those positions played a part in the Indians unexpectedly reeling in Encarnacion for a three-year, $65MM guarantee, and if it carries into this winter, it might enable them to re-up Santana at a reasonable rate. Further, it probably won't help Santana's cause that fellow first base options Eric Hosmer, Logan Morrison, Yonder Alonso, Lucas Duda and teammate Jay Bruce will join him in free agency after quality seasons of their own.
Hosmer and Santana are the class of the group and the only two who figure to garner qualifying offers, which could also drive down their appeal on the market. But if Santana rejects a $17.4MM qualifying offer from the Tribe and manages to land a guarantee of at least $50MM from another team, the Indians would be entitled to a compensatory pick after the first round because they're a revenue-sharing recipient. So, while losing Santana would be a tough blow for Cleveland, at least there's a chance the franchise would get a nice consolation prize in return.
Photo courtesy of USA Today Sports Images.