Giancarlo Stanton was a star before 2017, but he elevated his profile even further with a huge campaign. As was just announced, the burly slugger is among the three finalists for the National League's Most Valuable Player Award after a season in which he fell just shy of the 60 home run threshold.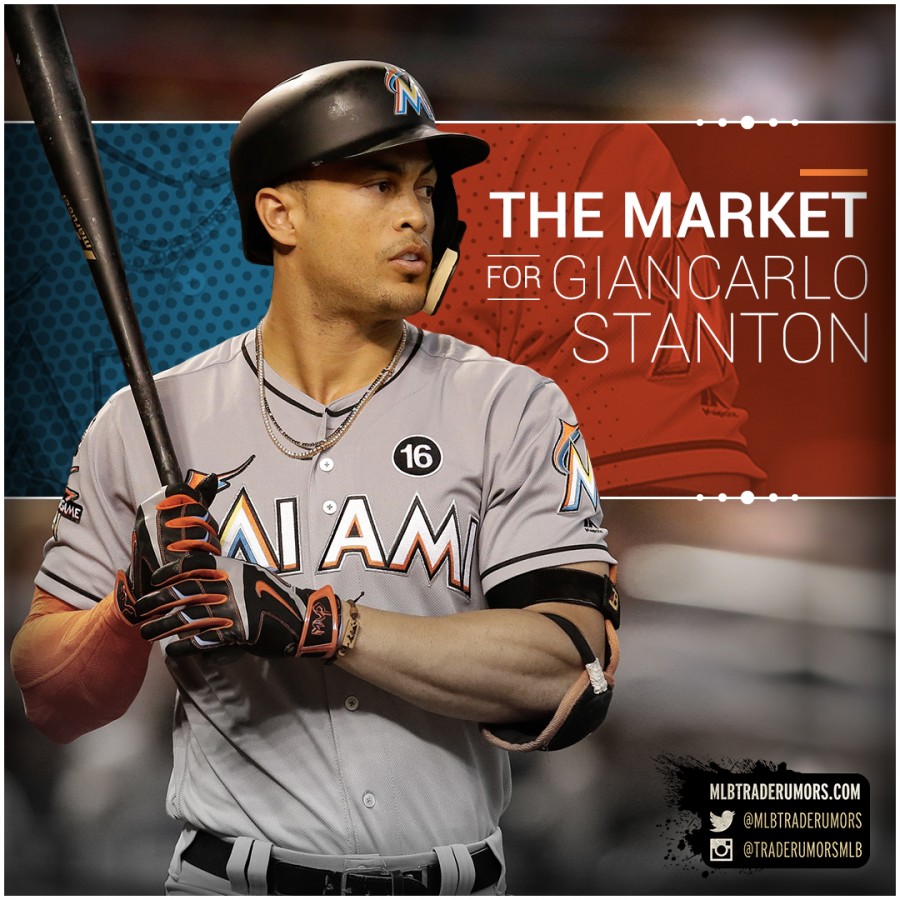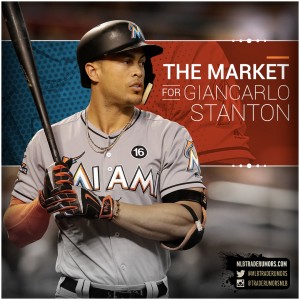 On the whole, Stanton's 2017 performance — a .281/.376/.631 slash and 156 wRC+ — wasn't actually all that different from his prior high-water marks in 2012, 2014, and 2015 (by measure of wRC+). It's promising that he was able to post a personal-low 23.6% strikeout rate while swatting 59 long balls and a .350 ISO. On the other hand, it also seems a bit unlikely that Stanton will sustain a monster 34.3% HR/FB rate and his lofty 16.9% infield fly rate is perhaps cause for some concern. What's most important, though, is that he was able to demonstrate that an injury-plagued 2016 was mostly a blip.
Stanton, clearly, is among the game's best hitters. Unlike some other top sluggers, he's also a quality fielder, making him a legitimate organizational centerpiece. He also just marked his 28th birthday. That relative youth is particularly important given his checkered injury history. Stanton's 159 games played in 2017 not only sets a personal high, but represents only the third season in which he has appeared in more than 123 contests. While the looming Stanton is a paragon of fitness, and does not have a specific health issue of particular concern, he's also a very large man who could face some challenges as he ages.
If Stanton was a free agent, he'd unquestionably be the top player available. How much might he get? That's debatable, but $295MM — the amount left on his contract — isn't a terrible guess. Opt-outs are de rigueur these days, so Stanton's post-2020 opportunity would be a reasonable addition, as would be no-trade protection.
Instead of a free-agent bidding war, though, we'll be treated to one of the trade variety — assuming the Marlins follow through on their intentions to deal Stanton — that'll hinge upon myriad questions. How much will the opt-out function as a deterrent? What about the availability of other quality power bats this year (J.D. Martinez) and next (Bryce Harper, et al.) in free agency? Is there surplus value in the contract? Can the Marlins get a team to give something significant up for the right to pay Stanton at roughly his market rate?
The answers to those queries will ultimately flow from the demand side. Stanton's own preferences, of course, represent a critical — and largely unknown — factor. He'll have to be involved given his veto power. Stanton is from the west coast, though the strength of the geographic pull isn't entirely clear. All that's really clear at this point is that he has a strong desire to avoid a rebuilding situation. Let's take a look, then, at which rival organizations might show interest, and how strong that interest might be:
Best Matches (alphabetical order)
Cardinals
[Depth Chart – Payroll]
Why it works

: The Cards' need for a big bat is probably overstated — after all, the team was right at league average in hitting last year — but the team clearly wants to add pop. More importantly, St. Louis has a broad base of talent at or near the MLB level, but perhaps lacks sufficient premium players on its roster. Swapping out some of that affordable depth for higher-quality players holds obvious appeal, and the Cardinals are even said to be willing to dangle quality young pitching talent. St. Louis also has excess young outfield talent to work with. That would unquestionably hold appeal to Miami, though indications are that the Cards would also be looking for some cost savings on Stanton's contract if its top young arms are in play.

Why it doesn't

: Stanton wouldn't bust the Cardinals' payroll, but he'd come close. The team has not gone north of $150MM to start a season yet, and already has $116MM allotted to salaries for 2018 entering the offseason. Perhaps that payroll line could go up, but it's notable that the early chatter already involves considerations of financial tweaks that may not be to the Marlins' liking. After all, the Fish are already swallowing hard to consider trading such a star player, and are motivated to do so primarily by payroll pressures.

Outlook

: The Cards will surely take a long look at Stanton, though they'll no doubt also be looking into the Marlins' two other talented outfielders, Marcell Ozuna and Christian Yelich. There are plenty of imaginable scenarios that make decent sense on paper between these organizations, but getting something done will require a lot of careful balancing.
Dodgers
[Depth Chart – Payroll]
Why it works

: If you just look at positional openings and payroll, this feels like an obvious fit. The Dodgers' best outfielders last year — Chris Taylor and Cody Bellinger — are both infielders by training, and at least one is likely to return there for 2018. Yasiel Puig is one year away from free agency. While there are a variety of other quality options — including Joc Pederson, Enrique Hernandez, a rehabbing Andrew Toles, and top prospect Alex Verdugo — the Dodgers could easily stand to plug in a superstar. Arguably, they should, after coming up one game shy of an elusive World Series title. Sure, the team has a lot committed to payroll already in 2018, but it can probably afford more, and the books are fairly clear in the future. If the team previously had interest in Ryan Braun, why not now go after a better and younger option in Stanton?

Why it doesn't

: It hardly needs to be said, but these aren't your older sibling's pre-Friedman Dodgers. This is an organization that has focused, first and foremost, on bringing in and developing amateur talent (Puig, Bellinger, Corey Seager, etc.) while finding and polishing diamonds in the rough at the MLB level (Taylor, Justin Turner, etc.). The administration has paid in dollars and prospects in some circumstances, such as for international amateur talent, somewhat risky veteran starting pitching, veteran bench pieces, retention of stars (Turner, Kenley Jansen), and mid-season rental acquisitions. A splashy outside acquisition, though, would be new territory. There's a reason, too, beyond the thrill of finding value in hard-to-find places. While the Dodgers can out-spend most organizations, that doesn't mean they prefer to from a business perspective. Creating a sustainable, annual contender also means avoiding cycles of contractual inefficiencies, and the club needs to consider a future in which Clayton Kershaw and others will command massive new contracts to remain in place.

Outlook

: Los Angeles probably won't over-extend itself unless it really feels Stanton is a critical piece of the puzzle. But if the Dodgers do think that plugging in an everyday star in the corner outfield is the way to go, they'd likely be the odds-on favorite to make a deal.
Red Sox
[Depth Chart – Payroll]
Why it works

: Boston president of baseball operations Dave Dombrowski is no stranger to swinging big deals and the Sox offense was out-homered by all but three teams last year. Cost isn't much of an impediment, as the team has now re-set its luxury tax level and has a payroll capacity likely exceeded by only two other teams. While adding Stanton would likely mean going on to trade rangy center fielder Jackie Bradley Jr. to create space, that's essentially the scenario we posited in predicting that Boston would land top free agent slugger J.D. Martinez. Bradley, certainly, would also be quite an attractive trade piece that would allow the organization to address another need. (Three-team scenarios are especially fun to ponder.) In the long run, Stanton could find a soft landing at DH.

Why it doesn't

: The Red Sox' payroll isn't limitless — it actually has never topped $200MM to open a season — and the club already has some risky long-term commitments. Plus, in the mid-term the pitching staff is arguably the greater concern, as several top arms will hit the open market over the coming years. Bradley is no slouch; he's younger and cheaper than Stanton and handily outperformed him in a 5-WAR season in 2016. Perhaps re-arranging the deck chairs in this manner isn't the most efficient way to improve in the near term and isn't worth the long-term risk. The club might find it easier simply to acquire a shiny new first baseman, with Jose Abreu representing a particularly interesting trade candidate. And the Sox aren't exactly overflowing with expendable, quality young players at or near the majors in the way that the Cardinals are; that doesn't preclude a deal, but makes it a bit more difficult to see how the sides would line up if there's competition in the market.

Outlook

: Getting Stanton would make for something of a classic Dombrowski move, but it's not a perfect fit. Boston has other options for adding the power it desires, though it also must be considered one of the chief possibilities until we hear otherwise.
Other Possibilities (alphabetical order)
Astros
[Depth Chart – Payroll]
Why it works

: The Astros, you may have heard, are fresh off of a World Series victory. Staying at the top of the hill, though, means always looking for the next opportunity. The team has a fair bit of money committed to its 2017 payroll, but relatively little beyond it. And it's easy to imagine freeing some added salary by non-tendering or trading players such as Evan Gattis and Mike Fiers. While Marwin Gonzalez was a revelation and Josh Reddick had a strong season in the first year of his contract, the corner outfield is a clear spot for the 'Stros to make strides. Putting Stanton's bat in the middle of the lineup might also free the organization to dangle young players such as Derek Fisher and Kyle Tucker in a bid to add controllable, high-quality pitching. This is the sort of move that could represent an appropriate tradeoff given the fact that the team is obviously at or near a high point of MLB talent. And we do know there has been some past interest on Houston's behalf.

Why it doesn't

: Houston had the game's best offense, by a wide margin, in 2017. So this isn't really a target area, particularly with Fisher, Tucker, and others on the rise. It's arguable that the Houston front office would be wiser to target shorter-term role players that fit in with the current roster core, rather than taking some risky gambit at adding another central piece. Pitching, though, can always be improved; the Astros could instead look to spend their money to pursue a quality starter, top-end closer, and/or bullpen depth. Plus, we don't really know how high the payroll can go. And the future money would remove resources that might be used if the team tries to strike long-term deals with current stars such as George Springer, Carlos Correa, Jose Altuve, and Dallas Keuchel.

Outlook

: Once the confetti is swept up, the Astros will be left facing a tough but enviable question of how to build upon the success. Stanton will have to be a name that's at least considered, but it's anybody's guess whether he's seriously pursued.
Blue Jays
[Depth Chart – Payroll]
Why it works: If you look past the current season, the Blue Jays have loads of free payroll. With Edwin Encarnacion gone and Jose Bautista on his way back to free agency, there's a need for a slugging corner outfielder. The Jays did make a fairly significant offer to Encarnacion early last winter, so there's some willingness to commit cash to a power bat. Adding Stanton would give the team a major lineup threat to pair with Josh Donaldson for 2018 and replace him if he departs via free agency next winter.

Why it doesn't

: The Toronto balance sheet isn't quite as favorable for 2018 as it is beyond. And GM Ross Atkins and president Mark Shapiro haven't yet taken on or handed out a major, long-term deal since taking over the front office in 2016. Indeed, they allowed Encarnacion to depart and did not extend Bautista before he hit free agency (though he ultimately returned). The biggest barrier here, though, is probably Stanton's no-trade rights. We have no way of knowing whether he'd be inclined to go to Toronto, but the tax implications for his contract could make it a much harder sell. (Analyses reach different conclusions, and this point is perhaps generally overstated, but it seems that highly compensated athletes in Canada should expect to pay at least as much or more than they would in any U.S. state. Estimates from the major Jays-Marlins trade of 2012 suggest a significant financial difference between playing in Canada and Florida.)
Outlook: These organizations have a history of swapping major contracts, but Stanton will call the shots here. If he is truly willing to go north, and the Jays are open to considering that kind of contract, then they make as good a fit as any team.
Braves
[Depth Chart – Payroll]
Why it works

: Atlanta is looking to a future in which aging corner outfielders Nick Markakis and Matt Kemp are replaced by top youngster Ronald Acuna and … a player to be determined. Plugging Stanton into the mix would be an emphatic move to boost the club into contention and settle a long-term need. He and Acuna, surely, would be quite pleasing additions to a lineup rooted by Freddie Freeman. And the Braves are overflowing with the kind of pitching talent that the Marlins so desperately need. After opening a new park in 2017, perhaps the Braves could consider trying to keep the good times rolling by stunning the baseball world with a Stanton deal.

Why it doesn't

: The Braves' ownership group, Liberty Media, may or may not be willing to boost payroll, but it surely won't operate the way a megarich individual owner would — in some cases, at least, throwing profits to the wind in the hunt for a title. That makes a Stanton-level commitment feel steep for this organization. And then there's the front office uncertainty. At this point, it's unclear who'll be running the show and what kind of advisers will be around to dole out opinions. Pulling off a move of this magnitude in this particular winter may be asking too much. Beyond all that, patience is often a virtue in a rebuilding effort; the organization may be better served by waiting to see how its internal assets develop before committing to a major outside move. And the team would need to convince Stanton that it's ready to contend.

Outlook

: If the Marlins decide to push for a Stanton deal early in the offseason, it's tough to see the Braves as a plausible suitor. But perhaps if the process drags out, Atlanta could get involved.
Cubs
[Depth Chart – Payroll]
Why it works: Chicago is a big-market team with a mandate to win, which gets you much of the way to understanding why this can't be ruled out. The Cubs have room to spend and are far from settled in the outfield corners, where Kyle Schwarber, Jason Heyward, Ben Zobrist, and Ian Happ are all imperfect options. While the big need is pitching, Chicago could conceivably strike a deal for Stanton, then spin off a few other assets to land the rotation and pen help that's lacking. Since Zobrist and Happ can play in the outfield or at second base, there are plenty of ways the pieces could be shuffled to make it all work.
Why it doesn't: To some extent, Heyward already represents the team's big move in the outfield. That he hasn't worked out as hoped represents a major problem for the organization and could preclude another big bet on a younger, high-end outfielder. There are only so many huge salaries a given team can carry, after all, and Chicago needs to keep some powder dry to accommodate pitching additions, allow for contingencies, and eventually, perhaps, enable the organization to retain still-cheap stars Anthony Rizzo, Kris Bryant, and Willson Contreras. Plus, the Cubs have already moved most of the upper-level talent they are willing to trade, making it tough to structure a deal that would appeal to Miami.
Outlook: This would be a more plausible scenario were it not for Heyward's contract. As it stands, it's hardly an impossibility, but doesn't seem like the best match.
Giants
[Depth Chart – Payroll]
Why it works

: Lots of chatter has linked the Giants to Stanton, who is just the type of player they want to add. With a notable power outage in 2017, Stanton would provide an immediate upgrade. He's capable of fielding the spacious outfield in AT&T Park, too. For an organization that is in need of some excitement, a big move for the game's best-known slugger would surely do it. And unlike many big free agent moves, adding Stanton wouldn't mean parting with draft picks and international money — a particular consideration given the Giants' excellent amateur position next summer.

Why it doesn't

: Frankly, it's still not entirely clear how the San Francisco organization is going to proceed with a tricky offseason. The team's future balance sheets are riddled with questionable commitments to older, often injury-plagued players. Adding a commitment of this magnitude just feels awfully dangerous and would almost certainly mean another year of luxury tax payments. Plus, the Giants would really prefer to add a new center fielder, while mostly relying upon Hunter Pence and Denard Span in the corners. That's not going to dictate a decision on Stanton, but will factor into the calculus. The team has to be looking to improve in other areas, too, and making this kind of blockbuster might limit the more budget-friendly means of getting better. Then there's the matter of the return; what pieces would work to make a match with Miami?

Outlook

: This may well be the move the Giants want to make. But it would take quite a leap of faith to do it, and it's frankly difficult to imagine that taking place.
Mariners
[Depth Chart – Payroll]
Why it works: The M's have found themselves within six games of .500 (in either direction) in each of the past four seasons. Breaking out of that magnetic field of mediocrity could require a bold move. While GM Jerry Dipoto's many trades have focused mostly on enhancing the team's youth and control rather than on taking shots on veteran players, perhaps those efforts make it plausible to imagine the addition of another major salary. With Nelson Cruz entering his walk season and two more years left on Felix Hernandez's contract, two of the club's bigger payroll slots will be opening — and there'll be a need to fill in for Cruz's power production. The corner outfield would certainly be a nice spot to target for a power bat, as Seattle could utilize Mitch Haniger in center with Ben Gamel and Guillermo Heredia sharing left field and spelling the others.

Why it doesn't

: In the near term, Seattle may not have much room to spend. The club opened last year with a club-record $154MM payroll and is already pushing that tally before filling out a 2018 roster. In the long run, the team owes Robinson Cano $24MM annually through 2023. It's worth remembering, too, that #HelloCano hasn't quite panned out as hoped; while he has mostly played at a high level, it wasn't enough to put the M's over the top. In any event, there's a bigger hole at first base, where the club could hope to find a highly productive bat at a much lower cost. There's an argument to be made that the team's rotation should be targeted if there's to be a bold investment. And the Mariners surely won't be interested in parting with the controllable pitching that the Marlins will likely seek in a deal — to the extent it can even be said that they possess it in the first place.
Outlook: The Mariners have been incredibly active on the trade market under Dipoto, but haven't pursued prospects-for-stars deals of this type. While that could always change, a bold move for Stanton doesn't feel like it fits the m.o. of this iteration of the organization's leadership.
Nationals
[Depth Chart – Payroll]
Why it works

: As with the Yanks, there's no hole that needs to be filled, but there are arguments for doing it anyway. In this case, upon landing Stanton, the Nats would presumably keep Adam Eaton in center field while utilizing Michael Taylor as a quality fourth outfielder (or, instead, as part of this trade or in another). While the DH angle isn't available here, the addition of Stanton would function to give the team a ready replacement for Bryce Harper, who's entering his final season of control. And the Nats don't really have many glaring needs that are susceptible of being addressed anyway, leaving the team free this winter to act in an opportunistic way to make good on an ownership mandate to win a World Series.

Why it doesn't

: While the Nats' long-term commitments aren't too great in total, they mostly reflect two major obligations to veteran starters (Stephen Strasburg and Max Scherzer). It could be too risky to add another premium salary. And if the team is going to do so, perhaps it first ought to exhaust every possibility of making a deal with Harper, who is a homegrown star and a younger player — even if he may prefer to seek a gobstopping deal on the open market. (Daniel Murphy and Anthony Rendon are also nearing their own free agencies; the latter, in particular, seems to be an extension candidate — and one that won't be cheap.) Regardless of the long-term outlook, adding Stanton would mean blowing past the luxury tax line and all prior payroll highpoints for 2018. The Lerner family has deep enough pockets to do that, but it would be a big step for an organization that has already reached new spending heights in recent years. Top prospect Victor Robles is also a factor; while he could coexist with Stanton and Eaton in a hypothetical post-Harper outfield, his presence (and perhaps also that of fellow young outfielder Juan Soto) arguably reduces the need to take this kind of drastic action.

Outlook

: Again, you can see an avenue to a fit, but it's far from a slam dunk. The fact that the Nats share a division with the Marlins may complicate things a bit, too, since the incoming ownership group will no doubt be sensitive to its fans watching Stanton launch bombs in Marlins Park in a different uniform.
Phillies
[Depth Chart – Payroll]
Why it works

: Don't sleep on the Phillies, because they may be nearing an awakening. Let's focus less on the solid second-half record than on the pieces this organization has compiled. With Rhys Hoskins showing himself to be a fearsome young slugger, J.P. Crawford reaching the majors, and Aaron Nola pitching like an ace, quite a lot of the team's best young talent is now at or near the majors. The club had established itself as one of the league's biggest spenders before reaching a new TV deal that locked in big money for decades to come, and the future payroll is virtually devoid of commitments. If GM Matt Klentak and President Andy MacPhail decide it's time to ramp things up and land a superstar, the reasonably youthful Stanton is a nice target. And the team has quite a few solid young players that could be sent to Miami in return; like the Cardinals, the upper-level depth situation seems favorable to aiding the Fish in what will be a tough transition.

Why it doesn't

: The Phillies have practiced their pitch on fans, but they'll need it to convince Stanton that they are ready to win. After all, the club was significantly worse than the Marlins last year. But should they even bother? There's a strong case to be made that the club would be better served spending its cash on pitching assets — or, perhaps, keeping it dry to pursue yet younger premium free agents next winter. Plus, corner outfielders Nick Williams and Aaron Altherr joined Odubel Herrera to make a productive trio last year, so it would be sensible for the team to give them a longer leash.

Outlook

: There's just somewhat less urgency for the Phillies than for the other teams listed in this grouping. While the club would no doubt like to begin competing, and would see Stanton as a near and long-term asset, there are questions whether they'd extend themselves this far, this soon, for this player.
Rangers
[Depth Chart – Payroll]
Why it works: Texas is no stranger to significant splashes and could have a fair bit of open payroll space to work with — for 2018 and into the future. While Nomar Mazara is still viewed as the answer at one corner outfield spot, the other is unsettled. The team's most promising offensive possibilities — expensive veteran Shin-Soo Choo, Darvish deal headliner Willie Calhoun, and all-or-nothing slugger Joey Gallo — are all best written into the lineup at first base or DH. Adding Stanton might increase the team's desire to move on from Choo, both to avoid a logjam and to clear some of his salary, but that's probably not going to drive any decisions here.
Why it doesn't: As with the Cubs, the chief need for the Rangers is pitching. And on offense, power wasn't exactly in short supply; in fact, the club posted the third-highest homer tally in the majors. Making this kind of financial commitment for a slugger — even one as well-rounded as Stanton — would be a debatable approach with the pitching staff looking so rough. As importantly, Texas would likely be served much better by adding a center fielder if the team is going to spend on a hitter. With payroll likely to move south, there's not a lot of free space to fit this kind of contract.
Outlook: This isn't a terrible fit, despite some logistical impediments, but it would be tough to make this kind of acquisition while also sufficiently improving the team's unappealing pitching staff.
Rockies
[Depth Chart – Payroll]
Why it works: We all would love to see Stanton driving baseballs out toward the organization's namesake mountains, but might the Rockies really consider it? He could replace the presence and former power of Carlos Gonzalez while helping the team prepare for the eventual loss of Charlie Blackmon. The Rox finally made it back to the postseason in 2017 but are hardly guaranteed a return. While the bullpen is a need, the rotation may mostly be set, so this represents a reasonable area in which to improve. Plus, Colorado's best prospect talent is made up of pitchers and infielders, reducing concerns over blocking the youngsters and leaving the Rox with plenty of trade chips to entice the Marlins.
Why it doesn't: The Rockies have never struggled to produce bats, and ought to be able to find quality short-term candidates for a reasonable rate, so perhaps there's no real cause to make a major acquisition in the outfield. Plus, the Rockies have a less problematic version of the Heyward difficulty in Ian Desmond's contract. He will presumably shift to the outfield next year, for one. And he's still owed $62MM over four years (including a 2022 option buyout) under his backloaded contract. That deal represents a bit of an impediment and a cautionary tale for an organization that is only just moving into a new payroll bracket. And supposing Miami does want to recoup some young pitching, is that really the type of asset the Rockies should be willing to part with?
Outlook: If the Rockies are going to trade for a big hitter, Jose Abreu could make for a better fit.
Twins
[Depth Chart – Payroll]
Why it works: The Twins raced back into contention last year and have a lot of talented younger players — as well as an unspoiled balance sheet after 2019. Eddie Rosario had a big season last year in left, but Max Kepler was not quite as exciting in right. And primary DH Robbie Grossman has been more solid than spectacular. Adding Stanton would transform the lineup, plugging in a star bat alongside Miguel Sano while reducing the roles of some of those players to the betterment of the entire lineup.
Why it doesn't: Again, the need for pitching suggests that's where any big investment would and should go. For an organization that is trying to build something sustainable, this sort of splash would constitute a monumental — and quite likely unnecessary — level of risk. The Minnesota org has never opened a season with over $113MM on its books (way back in 2011), so Stanton's average annual salary would gobble up something on the order of a quarter of the team's peak Opening Day payroll. As the team's homegrown stars reach and proceed through arbitration, they'll increasingly be expensive, and the club will no doubt also find it necessary to spend on both the rotation and the bullpen.
Outlook: In the end, it's just hard to make it all work. If chief baseball officer Derek Falvey is to push the pedal to the floor, it's much more likely to happen with the pitching staff.
Yankees
[Depth Chart – Payroll]
Why it works

: Some might say that the emergence of Aaron Judge precludes the need for Stanton; for others, perhaps recalling the addition of A-Rod to an infield already featuring Jeter, it's all the more tantalizing to consider a lineup that features both otherworldly sluggers. Strictly speaking, New York doesn't need to do this. But it can, especially if the team opens a roster spot and clears some payroll by shipping out Jacoby Ellsbury. Aaron Hicks and Brett Gardner would still fit quite comfortably, allowing the organization to rotate players through the DH slot to keep everyone fresh. And it should not be forgotten that the Yankees have a lot of open future payroll space.

Why it doesn't

: The organization is trying to dip under the luxury tax line to reset its tax rate. While it's possible to do that while adding Stanton, there wouldn't be much room for other additions (or, rather, for mid-season acquisitions). It's plenty arguable that, if the organization is going to take on a major commitment, the better risk would be on a premium starter. Even if resources will go to the lineup, the infield could be upgraded in several ways and/or the team could plug a bat-only player into the DH slot for a much lower price. And then there's the question whether the Yanks would rather wait to make a run at Bryce Harper, Manny Machado, or another big-time free agent next winter, once the luxury tax limbo has been accomplished.

Outlook

: GM Brian Cashman and owner Hal Steinbrenner have legitimately changed how things run in New York. As with the Dodgers, though, that only makes for a more fearsome market presence. It's far from clear that a big move for Stanton is the right play, but it's not out of the question.