The Reds have already parted out most of the components of their most recently competitive roster. It seems the inclination now is to begin climbing the hill rather than continue to strip away veterans. That being said, this is a club that won just 68 games in 2017 and has shown no real indication of ramping up spending.
In short, the Reds are in no position to decline to consider trades involving shorter-term veteran assets. At the same time, indications are that they have fairly hefty asking prices affixed to some of their most notable trade pieces.
[Related: Cincinnati Reds depth chart and Reds payroll outlook]
Two Years of Control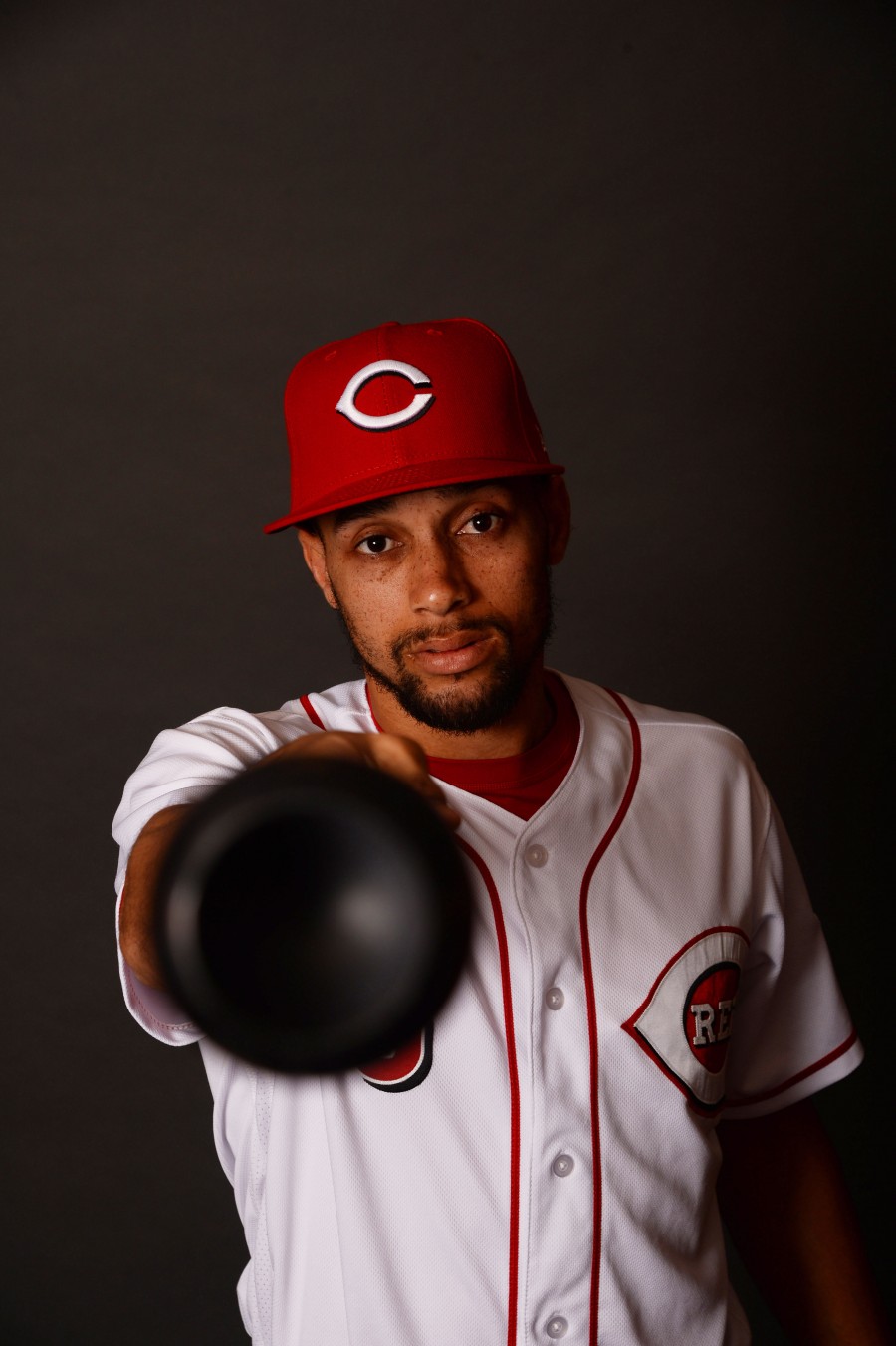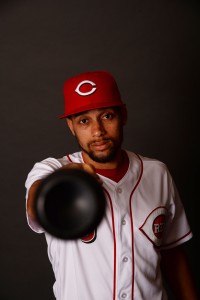 Billy Hamilton, CF (projected $5.0MM arbitration salary; arb-eligible thru 2019): The game's preeminent burner, Hamilton has drawn a steady drumbeat of trade chatter all winter. Thus far, nothing has come together, but it still feels reasonably likely that another organization will make a significant enough offer to tempt the Reds. After all, though Hamilton has yet to show he can consistently reach base, his lofty baserunning and defensive value make him a highly useful player even if his career ceiling with the bat is still about twenty percent below league average. Dealing Hamilton would clear room in the outfield rotation for youngster Jesse Winker, who showed well in his 2017 debut.
Scooter Gennett, 2B (projected $6.1MM arbitration salary; arb-eligible thru 2019): The Cinci front office made good on its surprising claim of Gennett before the 2017 campaign. He rewarded the faith with 497 plate appearances of .295/.342/.531 hitting and 27 home runs — far and away his best full-season output. That said, Gennett has never hit lefties much and is generally graded as a below-average defender at second, limiting his value. There has been little reported interest to this point, though perhaps it still wouldn't surprise if he ends up on the move.
Longer-Term Assets
Joey Votto, 1B ($157MM thru 2023; includes buyout on 2024 club option): Sure, he's 34 years of age, but Votto has been the second-best hitter in baseball over the past three years. That makes the remainder of his massive extension seem quite a bit less onerous than might have been feared. Odds are, though, we won't get a chance to see how the rest of the league values Votto. All indications are that Votto is not interested in waiving his full no-trade protection and the Reds seem happy to keep him around.
Raisel Iglesias, RP ($13.5MM thru 2020; may opt into arbitration; arb-eligible thru 2021); The Reds' most obviously marketable player, Iglesias has blossomed into one of the game's better young late-inning relievers. He's capable of functioning as a traditional closer or multi-inning stopper. Though he'll ultimately have a chance to boost his earnings by opting into arbitration, Iglesias remains a controllable bargain. While we analyzed his possible market earlier in the offseason, indications are that the Reds have advertised such a high and firm asking price that interested parties aren't even coming onto the lot to kick the tires.
Eugenio Suarez, INF (projected $4.4MM arbitration salary; arb-eligible thru 2020): With three years of control remaining, the Reds don't need to deal Suarez. But they could conceivably find it an opportune time to move the 26-year-old, who is fresh off of an excellent .260/.367/.461 campaign, with top prospect Nick Senzel nearing MLB readiness. That said, Suarez is capable of playing elsewhere in the infield, and it seems likelier that the Reds will explore a long-term contract than try to work out a deal for a player who could well be a key part of the organization's next contender.
Tucker Barnhart, C ($16MM through 2021; includes buyout on 2022 club option): A quality defender who has increasingly shown he can hit at a useful rate, Barnhart only signed his contract in September. It'd rank as quite a surprise were he to be moved at this point.
Adam Duvall, OF (pre-arb eligible): Though he has swatted over thirty home runs in each of the past two seasons, Duvall has been a roughly league-average hitter due to his inability to get on base (career .296 OBP). That said, highly-rated glovework in the gives Duvall the profile of a solid average regular in the corner. There'd be interest if the Reds make him available, but it still seems likely he'll be kept in the fold.
Scott Schebler, OF (pre-arb eligible): You can basically take exactly what was written about Duvall and apply it to Schebler. While the latter did not grade as a top-end right fielder in 2017, he did show he can palatably patrol center. With just 1.132 years of service to this point, though, Schebler is likely to remain in Cincinnati for the time being.
Anthony DeSclafani, SP (projected $1.1MM arbitration salary; arb-eligible thru 2020): Elbow troubles robbed all of 2017 from DeSclafani. He remains an exciting pitcher when healthy, and the Reds are all but certain to hold onto his upside this winter.
Brandon Finnegan, SP (pre-arb eligible): Similarly, Finnegan is coming off of a season in which entered with big expectations but managed only four outings. Cinci has little choice but to hope for better health. It's worth noting, too, that other controllable starters — most notably, eye-opening 2017 debutante Luis Castillo — are likely to be kept in the stable.
Michael Lorenzen, RP  (projected $1.4MM arbitration salary; arb-eligible thru 2021): Perhaps the Reds would at least listen to offers on Lorenzen, who did not produce results to match his big-time stuff in 2017. He'd surely draw interest after showing a personal-high 10.4% swinging-strike rate and strong 54.6% groundball rate in heavy usage (83 innings over seventy appearances). But for the Reds, the hope remains that he'll join Iglesias to form a dominant late-inning duo. It's even less likely that the club will end up dealing other relief assets, though perhaps there could be some interest in Wandy Peralta, who turned in a solid (if hardly dominant) rookie season.
Jose Peraza, INF (pre-arb eligible): Unless the Reds decide to give up on Peraza, he'll remain on hand to fill out the infield. But the team is no doubt concerned with what it saw over his 518 plate appearances in 2017, as Peraza managed 23 stolen bases but otherwise produced a marginal .259/.297/.324 batting line.
Salary Dump Candidates
Homer Bailey, SP ($49MM through 2019; includes buyout of 2020 mutual option): If you're looking for positives, you'd note that Bailey showed velocity in the range of his career peak (94 mph or so) over 91 frames in 2017 — his most extensive action since 2014. But he managed only a 6.43 ERA in that span, with just 6.6 K/9 against 4.2 BB/9. Given that the Reds have a need for innings, and no doubt still have some hope that Bailey will find his way, it seems likeliest this contract will remain on the books for the time being.
Devin Mesoraco, C ($13.125MM in 2018): Just as he was finally showing some signs of health and productivity with a .260/.345/.600 output last June, Mesoraco hit the DL with a shoulder strain. He scarcely hit at all upon returning and ended up suffering a season-ending foot fracture in mid-August. In the aggregate, the Reds have received virtually nothing for the $28MM they committed to Mesoraco via extension: he has provided just 271 plate appearances of 61 OPS+ hitting over the past three seasons. With nearly half of that outlay still left to be paid in the final year of the deal, it's hard to see Mesoraco as anything but a potential salary dump candidate at this stage. In all likelihood, the Reds will carry him into the season and see what they can get — with the idea of a mid-season trade still carrying at least some potential for saving a bit of cash.
Photo courtesy of USA Today Sports Images.