While the overall free-agent market continues to lag, relievers have moved freely thus far. And that hasn't been the result of settling for lesser contracts, either. As a group, in fact, those relievers that ranked among MLBTR's top 50 free agents have signed for nearly exactly the projected amount of guaranteed money. And a handful of other relievers (some of whom were listed by MLBTR as honorable mentions) have also scored significant contracts.
Take a look (link for app users; results compiled utilizing MLBTR's 2017-18 free agent tracker):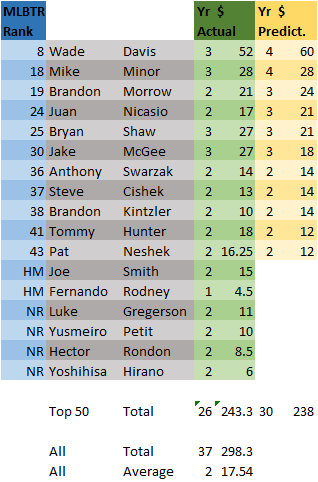 (Yes, Minor is likely slated for rotation work with the Rangers, but he spent 2017 as a reliever and was pursued by many organizations in that capacity. Click here to view all the relievers that have signed thus far.)
Quite a few matches have obviously been made already, but some yet remain. Notably, the trade market has been rather quiet with regard to relievers. The biggest names to move are players such as Jim Johnson and Thyago Vieira. That leaves a host of significant potential trade targets.
Still, many organizations will first consider the possibility of obtaining a needed arm for the cost of cash alone. Teams venturing back onto the open market for relievers will find a depleted stock, but still some possibility of finding impact, depth, or both. You can scroll through all of the relievers still available in free agency, but we'll run through some of the most notable names below …
Premium Relievers
Two of the three top pen men are still available. Former Royals and Rockies closer Greg Holland, who MLBTR predicted would earn $50MM over four years, is certainly the biggest name left. After seeing his former teammate, Wade Davis, settle for three years (albeit at a record AAV), it seems reasonable to downgrade expectations a bit for Holland, though there's no reason to think he won't cash in.
Likewise, the much younger Addison Reed is still available. He has succeeded as a closer and setup man in recent years, with impeccable control and recent health. We guessed he'd secure a fourth guaranteed season and earn a total $36MM contract, though it's arguable he could yet be worthy of more (or that he'd need to settle for less).
Either of those two pitchers would represent major additions for teams looking to shore up their late-inning units. But they aren't the only useful relievers left …
Quality Performers
Just one top fifty free agent, lefty Tony Watson, remains unsigned. That's rather remarkable, really, given the dearth of signings for players at other positions. In any event, Watson ought to draw strong interest. He has ample late-game experience, including as a closer, and turned in twenty strong frames with the Dodgers after a mid-season trade. MLBTR predicted a two-year, $12MM deal.
Otherwise, the top remaining lefty is Brian Duensing, who rewarded the Cubs' faith in him with 62 1/3 innings of 2.74 ERA pitching. Notably, Duensing was about as effective when pitching with and without the platoon advantage in 2017, though that hasn't been the case over the duration of his career. It doesn't help his cause that he's nearing his 35th birthday, though Duensing ought to do well on a one or two-year deal.
On the right-handed side, former closers Sergio Romo and Koji Uehara both showed signs of life in 2017. The former was lights-out after a mid-season trade, allowing just five earned runs in his 30 2/3 innings (over 25 appearances) with the Rays. And though Uehara posted the second-worst ERA of his career (3.98) and is already 42 years of age, he also averaged 10.5 K/9 against 2.5 BB/9. Both of these hurlers maintained swinging-strike rates in the range of fifteen percent. Of course, Uehara's future is unclear, particularly given that he missed time late in the year with a neck issue.
Meanwhile, one of the game's best relievers in terms of results was Matt Albers. Soon to turn 35, Albers recorded a 1.62 ERA over 61 stunning innings. He benefited from some good fortune, to be sure, but his peripherals (including 9.3 K/9, 2.5 BB/9, and a 51.0% groundball rate) also gave evidence of a quality performance. Likewise, 32-year-old David Hernandez produced all year long, ending the season with 55 frames of 3.11 ERA ball and 8.5 K/9 against 1.5 BB/9. Neither of these two pitchers is likely to clean up in free agency, but both seem likely to draw interest from contenders as middle relievers and stood out somewhat from some of the others covered below.
Some of the Best of the Rest
There's quite an arbitrary dividing line between some of the names just listed and some of those yet to come (not to mention those not listed at all), but we had to draw them somewhere. Here are a few of the other notable hurlers who have also yet to sign (by handedness and alphabetical order):
Righties
Lefties