The name of Marlins' outfielder Christian Yelich is one that has popped up frequently in both trade rumors and trade speculation so far this offseason. The topic has certainly been covered at length (four links) here at MLBTR, and the frequency of Yelich mentions has continued to rise with each major trade Miami has made this winter. Save for maybe the Yankees, there isn't a team in MLB who wouldn't benefit from adding Yelich to their lineup and outfield. Therefore, the search for an ideal trade partner for the Marlins seems quite simple: any team with a farm system strong enough to pry him out of their grasp.
And yet, things are not nearly that simple in reality. Yelich is one of the top performers in baseball. Across the past four seasons combined, he ranks within MLB's top 30 in batting average, on-base percentage and fWAR, and is within the top 50 in wOBA and wRC+. He's a serviceable option in center field, as well, though DRS (-6 for 2017) and UZR/150 (-0.7 for 2017) don't quite agree on his defensive value there. Regardless, Yelich ought to be considered a fantastic offensive talent at a premium defensive position. That makes his trade candidacy incredibly complicated when we factor in the team-friendly nature of his contract, which has four years and just $43.25MM remaining along with a $15MM option for 2023 ($1.25MM buyout).
Needless to say, Yelich would provide immense value to any club with the means to acquire him. After producing 15.9 fWAR over the past four seasons combined, he's likely to be viewed as one of the most reliable outfielders in existence. The problem (which I'm sure you've inferred by now) is that the cost to trade for him would be absolutely enormous.
The best comp in my eyes for a potential Yelich deal is last offseason's Adam Eaton trade. Eaton had produced 13.1 fWAR over the course of three full seasons with the White Sox while posting very similar batting averages and on-base percentages to those of Yelich. At the time, his contract had three years and just under $20MM remaining, plus two club options that could bring the total value of the deal to $38.4MM across five seasons. In order to swing a deal, the Nationals sent a deluge of minor-league talent to the White Sox. The headliner of the package was righty Lucas Giolito, who at the time was a consensus top-five prospect in baseball. Supplementing the return were fellow right-handed pitchers Reynaldo Lopez (then MLB.com's #38 overall prospect) and Dane Dunning, whom the Nats had selected in the first round of the draft earlier that year.
On the surface, the return for Chicago appears to be one of the best prospect packages exchanged for a single player in recent memory. Were we to assume Yelich must warrant a similar return, at least half of the teams in MLB would be immediately eliminated from the Marlins' pool of suitors simply because they don't own that caliber of minor-league talent. Most of the others are rebuilding clubs who don't have the kind of urgency that would motivate them to relinquish such a plethora of prospects.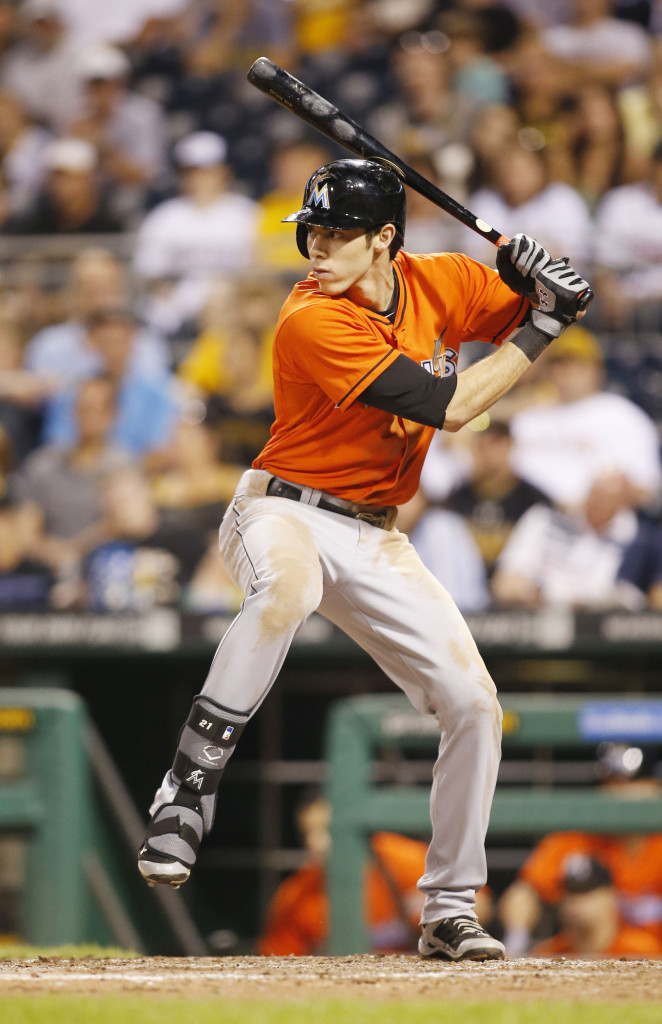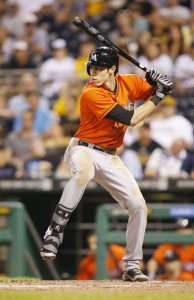 The caveat of all this is that Yelich may be an even more valuable trade asset than Eaton. At the time of his trade, Eaton was 28 years old, meaning he'll be playing with the Nationals through his age-32 season. While that's certainly not a prohibitive age, a large portion of Eaton's value is tied up in his stolen base ability and his outfield defense. It's not uncommon for those skills to begin a gradual decline at the age of 30. Yelich. on the other hand, will enter the 2018 season at the age of just 26, and he won't even turn 31 until after the end of the 2022 season. Yelich's on-base and power capabilities are far less likely to decline by that time. And the fact that he's just now entering his prime implies that there could even be room for improvement on his career outputs. While I should caution that this is all just conjecture, it's based on trends we've observed in baseball for some time. The overall point I'm trying to make is that there seems to be more upside in Yelich's contract than there was in Eaton's at the time he was traded.
Obviously, it's difficult to imagine any team forking over a package better than the one the White Sox received for Eaton, but that's likely the kind of return the Fish will be looking for, particularly in light of reports that they'd need to be blown away by an offer. Now, it's not like legitimate trade partners don't exist. Teams like the Indians, Astros, Blue Jays and Braves, for instance, have both the prospects to get a deal done and a role for Yelich available in their outfield. But the prospects those teams would probably need to part with (Kyle Tucker, Forrest Whitley and J.B. Bukauskas, as a purely hypothetical reference point) have plenty of upside themselves, and trading them for Yelich would prove the equivalent of putting an awful lot of eggs in one basket.
In the end, Yelich may simply be a player for whom no team would be willing to pay a fair price. And even if a team decides to step up and offer to obliterate their farm system, there's still a chance the Marlins would hold onto Yelich for other reasons. For example, Atlanta and Miami were reportedly gaining some traction in trade talks during the winter meetings, but the Marlins pulled back following some PR backlash about the sale of other valuable assets. Additionally, with five years left on his contract, there's a chance that Yelich could still be under team control during the next season in which the Marlins have a reasonable shot to contend.
A deal involving Yelich this offseason is surely not out of the question. But the complexities of his trade candidacy will, at the very least, mean that trade talks will require immense commitments of time and energy from front office personnel. Even if the barriers of the trade aren't insurmountable, reaching an agreement to ship Yelich to another club will be a very difficult task for the Marlins to accomplish.
Photo Courtesy of USA Today Sports Images