MONDAY: The deal is official, with the Padres announcing the signing of Hosmer as well as the key terms.
SATURDAY: The Padres have agreed to sign first baseman Eric Hosmer, Kevin Acee of the San Diego Union-Tribune reports.  The contract is an eight-year deal that includes an opt-out clause after the fifth season, according to MLB Network's Jon Morosi (via Twitter).  The deal contains a full no-trade clause for the first three seasons and then limited no-trade protection afterwards, Bleacher Report's Scott Miller reports (Twitter links).  Hosmer will be paid $20MM in each of the first five seasons and $13MM in the three remaining years, plus a $5MM signing bonus.  The $144MM total figure represents the largest contract in the history of the Padres franchise.  Hosmer is represented by the Boras Corporation.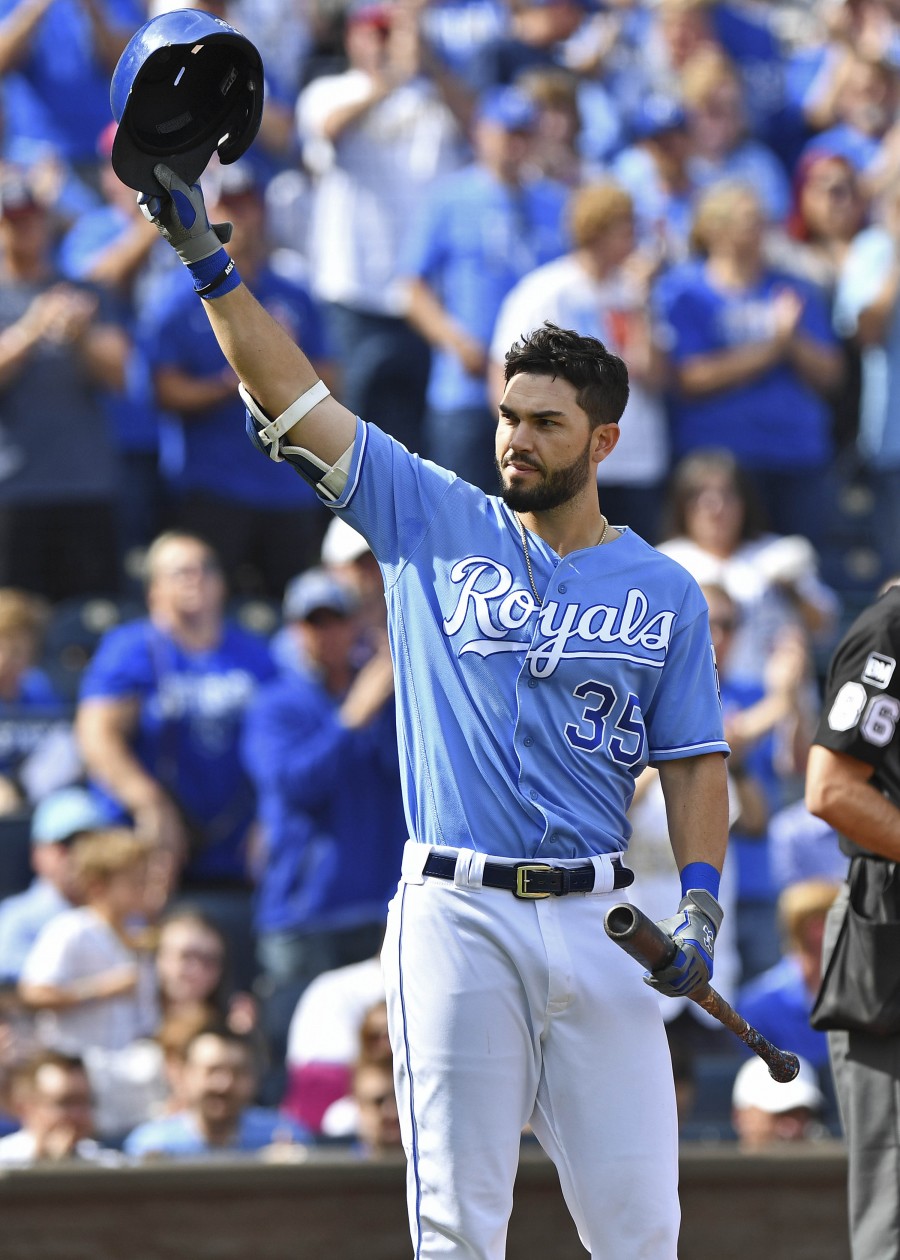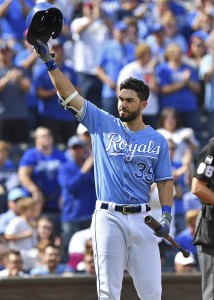 The agreement concludes a rather unusual trip through the open market for Hosmer, and he winds up on a team that nobody could've predicted as a potential suitor last fall.  With a rebuild underway and Wil Myers safely locked in at first base, the Padres didn't at all appear to fit as a landing spot for Hosmer's services.  Instead, San Diego rather quickly emerged as an interested party in Hosmer, as the team felt that his young age (he turned 28 last October) indicated that he could still be a productive cornerstone player when the Padres were again ready to contend.  With Hosmer now signed, in fact, it's possible that the Friars could push that contention timeline forward by at least one season.
[Updated Padres depth chart at Roster Resource]
Hosmer is the second major free agent first baseman to join a surprise team this winter, after Carlos Santana's deal with the Phillies.  Both signings represent aggressive moves by rebuilding clubs, and while Philadelphia has been widely expected to kickstart their ride back into contention with a big splurge in the 2018-19 free agent market, the Padres were seen to be at least a couple of years away since most of the top names in their well-regarded farm system were still in the lower minors.  General manager A.J. Preller is no stranger to aggressive moves, so it wouldn't be surprising if he tried to deal some of those young blue-chippers for players that could help the Padres as soon as 2019.
The lackluster San Diego lineup has now added three notable veteran upgrades this offseason, though obviously Hosmer is a long-term asset in a way that Chase Headley and Freddy Galvis (potential trade chips and both signed through only 2018) are not.  Myers will shift into a corner outfield spot, leaving Jose Pirela, Hunter Renfroe, Alex Dickerson, Cory Spangenberg, and Matt Szczur all battling for regular at-bats in the other corner position or in bench roles.  The Padres could also look to deal from this surplus to add pitching depth in the rotation or bullpen.
Hosmer entered free agency on the heels of a career year that saw him hit .318/.385/.498 (all career bests) with 25 homers and 98 runs scored over 671 plate appearances with the Royals last season, and he was also one of five players who appeared in all 162 of his team's games in 2017.  As good as he was, however, Hosmer is still looking to string together consecutive quality seasons as a big leaguer — he has alternated between strong years and replacement-level performances in each of the last six seasons.  Hosmer's grounder-heavy offensive attack seems to leave him prone to a wide variance in production, as he has been pretty average in the power and walks department.  It has been theorized that Hosmer's approach at the plate would differ if he left Kauffman Stadium, though moving to another pitcher-friendly stadium in Petco Park will make it interesting to see what adjustments, if any, Hosmer makes.
These question marks surrounding Hosmer's status as a top-tier player, plus the general chill surrounding the free agent class as a whole this offseason, may have contributed to a relative lack of teams in his market.  With other possible first base-needy teams (i.e. the Red Sox, Mariners, Cardinals) turning to other lineup options, Hosmer's market was seemingly limited to just the Padres and Royals.
A Hosmer reunion also seemed somewhat curious for a K.C. team that appears to be entering a rebuild stage, though the Royals also valued Hosmer's youth and potential as a long-term building block, particularly since he has already contributed to one World Series title and is hugely popular within both the Kansas City community and the Royals' clubhouse.  The Royals had reportedly offered Hosmer a seven-year deal in the nine-figure range, though the exact dollar figure wasn't quite certain.
Instead, the Royals will now receive an extra pick after the first round of the June amateur draft as compensation for Hosmer (who rejected a qualifying offer) signing elsewhere for more than $50MM.  Combined with their other compensation pick for Lorenzo Cain's deal with the Brewers, plus their Competitive Balance Draft selection, the Royals currently have four of the top 40 picks in the draft, setting them up for a strong reload of their farm system.  Another pick will be coming their way if Mike Moustakas signs elsewhere, as well.  For the Padres, since they are revenue-sharing recipients and didn't exceed the luxury tax, they'll only have to surrender their third-highest draft pick as penalty for signing Hosmer.
The Padres had reportedly issued a seven-year offer worth under $140MM to Hosmer, so it looks like the extra year and the extra bit of cash sealed the deal.  Hosmer is guaranteed to make at least $105MM as a Padre, and he'll have the option of testing the free agent market again after his age-32 season.  MLBTR projected Hosmer for a six-year, $132MM deal this winter (ranking third on our list of the offseason's top 50 free agents), so Hosmer's actual deal fell short in average annual value ($18MM per year to our $22MM per year) but contained more potential years and a larger overall dollar figure.  If Hosmer does opt out, he'll have earned an average of $21MM per season over the first five years.
Photo courtesy of USA Today Sports Images