All of our top 50 free agents from the 2017-18 offseason have signed, concluding a free agent freeze the likes of which we've never seen in MLBTR's 12-year history.  With Masahiro Tanaka choosing not to opt out and the Indians picking up their option on Michael Brantley, here are the grisly numbers on the 48 free agents from our list.
Predicted total dollars: $1,650,000,000.  Actual total dollars: $1,275,000,000.  These 48 free agents received 77.3% of what was predicted for them.
37.5% of players received fewer years than expected, 54.2% received exactly as many years as expected, and 8.3% received more years than expected.  Mike Moustakas, Lance Lynn, Greg Holland, Logan Morrison, and Addison Reed received at least two fewer years than expected.
64.6% of players received fewer total dollars than expected, 6.3% received exactly as many dollars as expected, and 29.2% received more dollars than expected.  Tyler Chatwood, Carlos Santana, Eric Hosmer, and Lorenzo Cain exceeded their projections by $10MM or more.  14 players fell at least $10MM short of projections, led by Moustakas ($78.5MM short), Lynn ($44MM short), and J.D. Martinez ($40MM short).
These seven players had to settle for one-year deals in the $3-6.5MM range despite projections of at least $12MM: Moustakas, Morrison, Jonathan Lucroy, Carlos Gonzalez, Carlos Gomez, Neil Walker, and Jon Jay.
For a laugh, check out the image I had made up on March 14th, 2017 of my top projected free agents.  Masahiro Tanaka and Johnny Cueto wisely chose not to opt out after questionable seasons, Lucroy signed for peanuts, and top pitchers Yu Darvish and Jake Arrieta fell short of expectations.  At least we had J.D. Martinez and Eric Hosmer at #6-7.
The 2018-19 free agent market will be different.  I do think there is an unfortunate new reality for most good-but-not-great veteran free agents.  Rockies center fielder Charlie Blackmon, 32 in July, recognized the downside risk and accepted an extension worth five years and $94MM in new money.   But this class still looks legendary because of the talent at the top.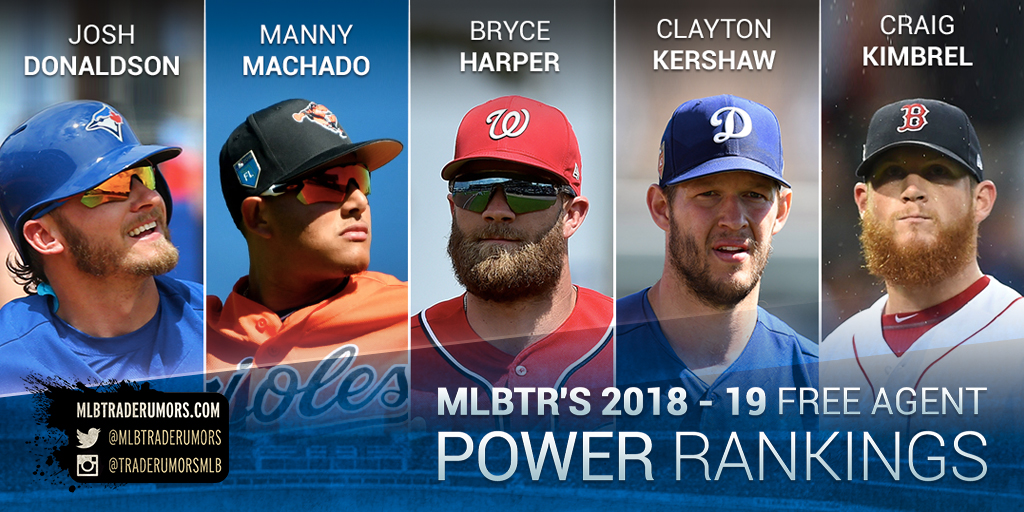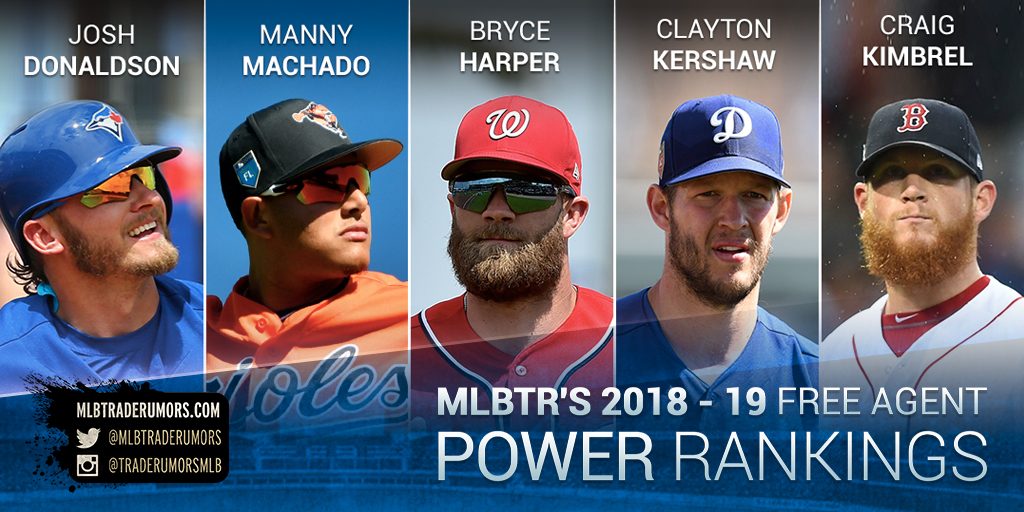 1.  Bryce Harper.  Before his 2012 Rookie of the Year season, Baseball America called Harper "the most hyped position player prospect in baseball history."  Seemingly groomed for MLB stardom from birth, Harper graduated high school early and fast-tracked himself to make his debut with the Nationals at age 19.  He's only missed the All-Star team once in his career, and won the NL MVP in 2015.  Harper stands alongside Mike Trout and Joey Votto as one of the best hitters in baseball, combining power and patience from the left side of the plate.  Due to his early debut and avoidance of contract extensions, Harper stands to reach free agency as a 26-year-old.
Aside from the sky-high price tag, only Harper's injury history could give teams pause.  Harper has gone on the disabled list three times in his career, missing anywhere from 35-65 days with each injury.  He suffered knee and thumb injuries in 2013 and '14, respectively, that resulted from his all-out style of play.  Both ultimately required surgery.  Harper rebounded to play in 300 games from 2015-16, but suffered a bone bruise in his left knee last August that kept him out for a month and a half.  Harper is healthy and raking early in 2018, and something close to 150 games played should quiet injury concerns.
Though he understandably refuses to discuss his free agency with reporters this year, MLB fans expect an epic experience with the Winter Meetings taking place in Harper's hometown Las Vegas.  18 years after opinionated agent Scott Boras brokered Alex Rodriguez's precedent-shattering 10-year, $252MM free agent contract with the Rangers, he'll attempt to raise the bar with Harper.  Harper figures to easily surpass the current record contract, Giancarlo Stanton's 13-year, $325MM deal from November 2014.  Aside from beating that total by more than $100MM, Boras will also aim to destroy the current average annual value record, the $34.4MM Zack Greinke is earning.  A half billion dollars could be in play.  Harper could land anywhere from $400-500MM over 10-14 years.  Opt-out clauses will likely be scattered throughout, allowing Harper the opportunity to later break his own record.
2.  Manny Machado.  About three months after Harper debuted in 2012, Machado reached the Majors as the Orioles' third baseman.  Just a few months older than Harper, Machado was also a first-round prodigy.  Machado's bat took longer to blossom, with a power surge in his fourth season.  Machado is well-known for his defense on the left side of the infield.  He came up as a shortstop, but began his big league career at third base to accommodate J.J. Hardy.  Machado became an elite defender at the hot corner, winning three Gold Gloves.  His ascent was interrupted when he tore the medial patellar ligament in his left knee in September 2013, pushing his 2014 debut into May. Several months later, Machado sprained a ligament in the other knee, also necessitating surgery.  The knee injuries are behind him, as Machado averaged 158 games from 2015-17.  He played a couple months of shortstop in the summer of 2016 when Hardy got hurt, and convinced the Orioles to shift him back to his natural position for the 2018 season.  In addition to establishing himself as an above-average defensive shortstop, Machado must shake off mediocre offensive output from 2017, when he posted a .310 OBP.
Machado endured trade rumors throughout the offseason, and could be dealt this summer if the Orioles fall out of contention.  Though he'll fall short of Harper's contract, some teams may consider Machado a more balanced player with lower health risk.  Since he doesn't turn 26 until July, Machado is also set up for a monster contract that could top $300MM.
3.  Clayton Kershaw.  Already an all-time great at age 30, Kershaw has been slowed only by his balky back.  He lost 74 days to a back injury in 2016 and another 39 last summer.  Kershaw otherwise remains at the top of his game.  He's got three Cy Young awards (and an MVP) under his belt and even finished fifth in the Cy voting in 2016 (149 innings) and second last year (175 innings).  By measure of Wins Above Replacement, Kershaw ranks fourth in baseball among pitchers from 2016-17 despite pitching about 100 innings fewer than the three hurlers ranked ahead of him.  Logically, barring an in-season extension with the Dodgers, Kershaw will opt out of the remaining two years and $65MM left on his contract and explore free agency for the first time.  For teams formulating an offer, the primary forecasting question will be more about Kershaw's health than his abilities.  How much time will the future Hall of Famer miss within the next seven or eight seasons?  Will he require back surgery at some point?  If Kershaw makes it through this season mostly unscathed, he'll be primed to sign the largest contract ever for a starting pitcher, topping David Price's seven-year, $217MM pact and Greinke's $34.4MM average annual value.
4.  Josh Donaldson.  The Cubs drafted Donaldson 48th overall in 2007 as compensation for the loss of free agent Juan Pierre.  Donaldson had switched from third base to catcher during college, and Baseball America said he projected "as a .280 hitter with 15-20 homers a season."  He was soon shipped to Oakland in the Rich Harden trade, and before the '08 season BA noted that "some scouts question if he'll hit enough to be a big league regular."  Donaldson got a big league look in 2010, but he was still buried on the Athletics' catching depth chart in 2011 at age 25.  His opportunity finally came in 2012 with a preseason injury to A's third baseman Scott Sizemore.  Donaldson bounced up and down that year but started to emerge in the season's final two months.  Finally, in 2013 at age 27, Donaldson established himself as one of the best third basemen in baseball.  He combined strong defense with increasing power to become a perennial MVP candidate.  The A's traded him to Toronto in the 2014-15 offseason, and Donaldson won the MVP in his first season with his new team.  Last year marked his first appearance on the DL, as he lost more than a month to a calf injury.  Currently, he's on the DL for right shoulder inflammation.  As a late bloomer, Donaldson will play his first season on his next contract as a 33-year-old.  In discussing his free agency with my MLBTR colleagues, I was the low man on his contract, not fully convinced a player with this profile can secure a four-year deal.  At the least, he's a candidate for an AAV in the $25MM range.
5.  Craig Kimbrel.  A third round pick of the Braves in 2008, Kimbrel emerged as the best closer in baseball beginning in 2011.  Kimbrel racked up 185 saves for the Braves from 2011-14, inking an extension along the way that bought out his first two free agent years.  The Padres acquired him in 2015 in a rare April trade, capping off their ill-fated push for contention under A.J. Preller.  Seven months later Preller turned around and dealt Kimbrel to the Red Sox.  Kimbrel made his fifth All-Star game in his first season with Boston, though his walk rate spiked up to a dangerous level.  He more than corrected that problem in a dominant 2017, finishing sixth in the Cy Young voting.  Another vintage Kimbrel season may result in the largest reliever contract in baseball history.  Aroldis Chapman's five-year, $86MM deal is the record, while Wade Davis set the high water mark for AAV at $17.3MM in December winter.  Kimbrel will likely be striving for a five-year deal, though he'll pitch most of 2019 at age 31 (as opposed to Chapman and Kenley Jansen beginning their recent free agent deals at age 29).
6.  Patrick Corbin.  Corbin, a 28-year-old lefty, was a second-round pick of the Angels in 2009.  Near the trade deadline in 2010, he became the third piece headed to the Diamondbacks in the Dan Haren trade.  Corbin bounced up and down with Arizona in 2012 and won the team's fifth starter job out of camp in 2013.  At age 23, Corbin authored an excellent All-Star campaign over 208 1/3 innings.  In line to start Opening Day 2014, Corbin instead wound up getting Tommy John surgery in March that year.  About 15 months later, he was back on a Major League mound and acquitted himself well in 16 starts.  Corbin had a surprisingly rough 2016, losing his rotation job in mid-August after seeing his walk and home run rates spike.  He bounced back with a healthy 3.0 WAR season in 2017 and is off to a nice start this year.  Since that 2016 bottoming out, Corbin has increased his slider usage to the current 46.8%, throwing the pitch more often than any starter other than Chris Archer.  Corbin has youth on his side and will compete with Dallas Keuchel to be considered the best free agent starting pitcher, Non-Kershaw Division.  At nearly 19 months younger than Keuchel, age is on Corbin's side.  After the 2015-16 free agent starting pitcher bonanza, in which seven pitchers signed for at least five years (excluding Kenta Maeda), only one starting pitcher, Yu Darvish, has reached five years in the past two offseasons.  That will likely be Corbin's goal.
7.  Dallas Keuchel.  Compared to Corbin, Keuchel has age working against him, but the Astros lefty also has a Cy Young Award on his shelf from 2015.  Keuchel is a ground-ball machine when he's on, including a 66.8% rate last year that was tops among starters with at least 140 innings.  Neck injuries caused Keuchel to miss more than two months in 2017, and a healthy season would increase his chances at a strong multi-year deal in free agency.  Keuchel's profile as a soft-tossing southpaw who relies heavily on ground-balls could be spun either way — it's not as exciting as a power arm with a more strikeout-oriented approach, but it could also be seen as a skill set that will age better than his peers who rely more on premium velocity.
8.  Brian Dozier.  The Twins drafted Dozier in the eighth round in 2009.  In his first Baseball America profile in 2011, they wrote, "His biggest weakness is his lack of power, as he doesn't project to hit more than 5-10 homers annually."  BA didn't rate any of Dozier's tools as above-average at the time, so he was even more of an underdog than Donaldson.  Dozier became the Twins' Minor League Player of the Year that season, and was upgraded to a future Jamey Carroll type.  Twins manager Ron Gardenhire championed Dozier as more than a utility man, however, and indeed he took over for Carroll as the team's starting shortstop in May 2012.  The 25-year-old rookie was demoted in August but bounced back to win the Twins' starting second base job out of camp in 2013.  Dozier never looked back, hitting 17 home runs in his final 108 games that year.  The second baseman continued ramping up his power output over the years, peaking with 42 bombs in 2016.  By WAR, he was the 11th-best position player in baseball from 2016-17, exceeding the output of players like Nolan Arenado and Paul Goldschmidt.  Dozier will play most of 2019 at 32, so like Donaldson, his age will work against him in free agency.  Alex Gordon's four-year, $72MM deal could be a target.
9.  A.J. Pollock.  Pollock, 30, was taken 17th overall by the Diamondbacks as part of their productive 2009 draft.  He made his Major League debut in 2012 upon an injury to Chris Young.  A spring 2013 injury to Adam Eaton opened up a door for Pollock, who logged most of the team's innings in center field that year.  Eaton was traded that winter, further cementing Pollock's position until a Johnny Cueto pitch broke his hand in late May, costing him three months.  Health was not a problem in Pollock's incredible 2015 season, a .315/.367/.498 effort worth 6.8 WAR and MVP votes.  In 2016, an elbow injury derailed Pollock's ascent to stardom.  The elbow fracture required surgery, as did a similar injury suffered by Pollock when he was in the minors in 2010.  Pollock appeared in just 12 games in 2016, and then lost 50 days in 2017 with a groin injury.  A healthy contract year is crucial as Pollock looks to achieve the five-year, $80MM center fielder standard set by Dexter Fowler and Lorenzo Cain.
10.  Elvis Andrus.  Though Andrus is in his ninth season with the Rangers, he still hasn't reached his 30th birthday.  Signed as an amateur free agent out of Venezuela by the Braves, the Rangers acquired Andrus in the legendary Mark Teixeira trade near the July 2007 deadline.  Andrus became the Rangers' starting shortstop as a 20-year-old in 2009, with Michael Young moving to third base to accommodate the rookie.  Renowned for his defense, speed, and makeup, Andrus settled in as a 2-3 WAR shortstop.  In April 2013, the Rangers signed Andrus to what GM Jon Daniels called "an unusual deal," a record extension worth $120MM over eight years.  The contract allows Andrus to opt out after the 2018 or '19 seasons.  He's guaranteed $58MM over the next four years, so opting out this winter isn't a slam dunk.  After serving as an iron man for nine seasons, Andrus will miss 6-8 weeks with a broken elbow that will not require surgery.  It's the first DL trip of his career.  Further complicating Andrus' value is his newfound power.  Though Andrus jumped up to a career-high 20 home runs last year, that plateau isn't as special when 116 other players also accomplished it.  The result was a 110 wRC+, which contributed to a career-best 4.3 WAR.  Andrus' safest move might be to avoid free agency, and instead convince the Rangers to guarantee his club/vesting option for 2023.
In addition to these ten players, another eight have a good shot at exceeding a $40MM free agent contract: Garrett Richards, Yasmani Grandal, Daniel Murphy, Cody Allen, Andrew McCutchen, Gio Gonzalez, Drew Pomeranz, and Andrew Miller.  Others may very well join that mix as the season progresses.  I'll update these power rankings monthly, and I'm sure they'll look very different by the time free agency actually begins.