This is the latest entry in MLBTR's 2017-18 Offseason In Review series.  Click hereto read the other completed reviews from around the league.
The Twins had a quiet winter in the 2016-17 offseason under newly hired chief baseball officer Derek Falvey and general manager Thad Levine, but Minnesota's new executive duo was much more aggressive following last season's surprise Wild Card berth.
Major League Signings
Addison Reed, RHP: Two years, $16.75MM
Lance Lynn, RHP: One year, $12MM
Michael Pineda, RHP: Two years, $10MM
Logan Morrison, 1B/DH: One year, $6.5MM (plus 2019 vesting option)
Fernando Rodney, RHP: One year, $4.5MM
Zach Duke, LHP: One year, $2.15MM
Anibal Sanchez, RHP: One year, $2.5MM (Sanchez's salary was not guaranteed. The Twins released him and paid him $419K in termination pay in Spring Training upon signing Lynn)
Total spend: $52.3MM
Trades and Claims
Notable Minor League Signings
Ryan LaMarre (made Opening Day roster), Bobby Wilson, Erick Aybar (since released), Chris Heisey (since released), Taylor Featherston, Nick Buss, Matt Magill, James Ramsey, Brock Stassi, Gregorio Petit, Jordan Pacheco
Notable Losses
[Minnesota Twins depth chart | Minnesota Twins payroll]
Needs Addressed
The Twins boast a homegrown core of position players, with Byron Buxton, Miguel Sano, Eddie Rosario, Max Kepler and Jorge Polanco all being drafted/signed and developed by the organization and all under control for another four-plus seasons. With that group in place, plus veterans Brian Dozier, Joe Mauer and Jason Castro penciled into the lineup, the emphasis for chief baseball officer Derek Falvey, general manager Thad Levine and the rest of the front office was understandably on pitching.
In 2017, Twins starters collectively ranked 19th in the Majors with a 4.73 ERA, 23rd with a 4.85 FIP and 27th with a 4.92 xFIP. Equally damning, the Twins ranked 24th in baseball with 869 2/3 innings from their rotation despite the fact that Ervin Santana was one of just 15 pitchers to top 200 innings (and one of only two in all of baseball to top 210 frames). In fact, if you subtract the contributions of Santana and Jose Berrios from the 2017 Twins, their starters logged a disastrous 5.55 ERA.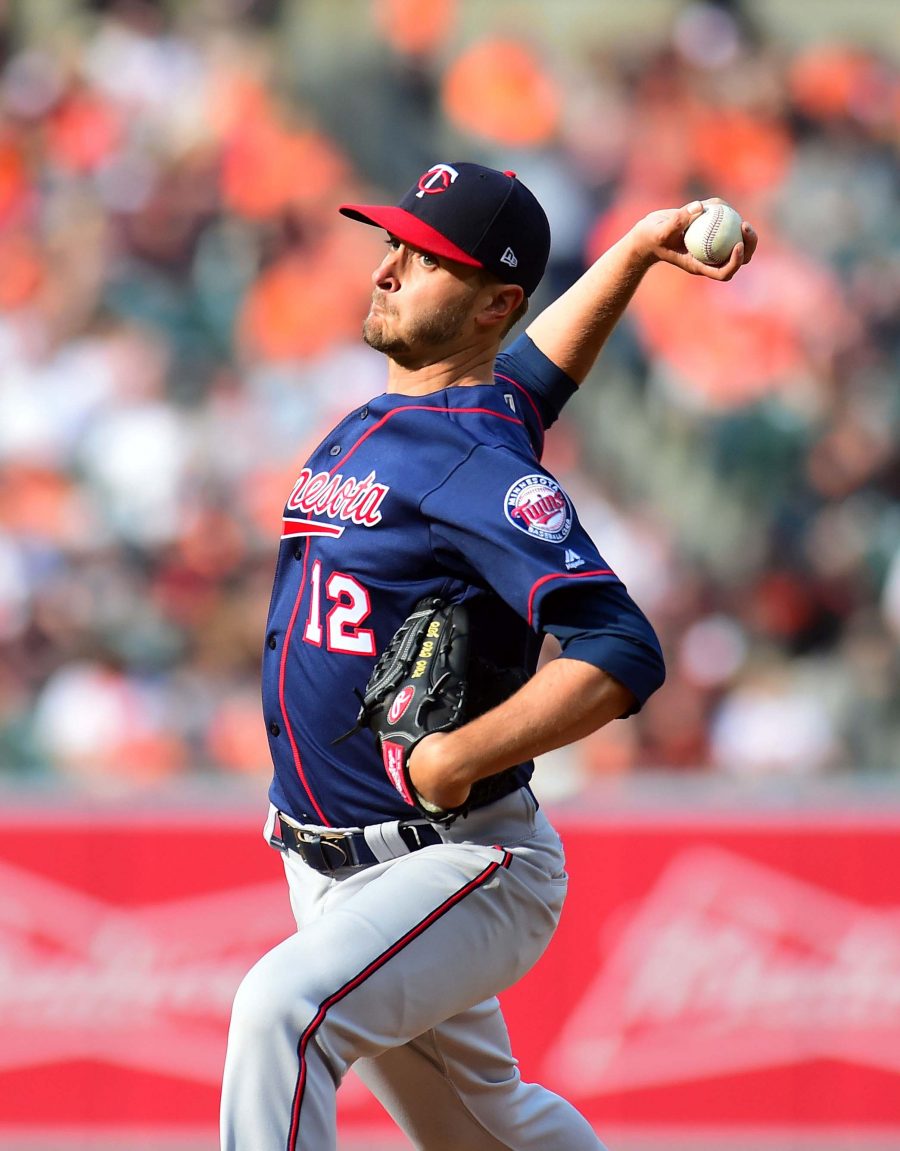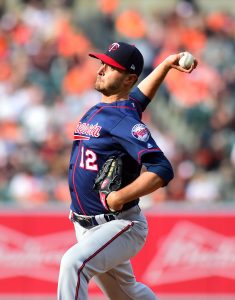 Minnesota has help on the near horizon in the form of top 100 prospects Stephen Gonsalves and Fernando Romero, but as a club with postseason aspirations, they never seemed likely to rely solely on in-house options. Minnesota made a strong run at Yu Darvish, reportedly offering him a contract worth $100MM+ before he ultimately signed a six-year deal with the Cubs. It was apparent back in November that the Twins were poised to spend at a much more aggressive rate than we've historically seen, but it nonetheless felt a bit unusual to see them in the mix for the market's top free agent right until the close of bidding.
A finger injury to Ervin Santana, which required surgery and will shelve him for at least the month of April, only exacerbated the club's need to add arms to the rotation. Minnesota capitalized on the Rays' need to cut payroll and a stagnant free-agent market to acquire Jake Odorizzi on the cheap and to sign Lance Lynn to a one-year, $12MM deal that seemed unthinkable just four months prior.
While both Odorizzi and Lynn are likely mid-rotation arms, at best, they'll play a critical role in stabilizing the starting staff — especially now that Santana's injury may sideline him longer than initially had been hoped. Odorizzi is controllable through the 2019 season, and while Lynn will presumably depart after his lone season in Minneapolis, he can potentially be replaced by Michael Pineda, whom the Twins guaranteed $10MM with an eye toward their 2019 rotation.
The bullpen, too, was in dire need of augmentation. Minnesota relievers ranked 20th in the Majors with a 4.40 ERA last season and weren't any better in terms of FIP (4.50, 23rd) or xFIP (4.49, 22nd). Beyond that, the departure of veteran Matt Belisle, who quietly rebounded from a dismal month of May to post terrific numbers down the stretch, only thinned out the relief unit.
Addison Reed looked poised to secure at least a three-year pact in free agency, but his market stalled a bit. While relievers were flying off the board and cashing in on significant annual paydays at the Winter Meetings — the relief market was the one facet of free agency that was mostly healthy this winter — Reed remained unsigned. Roughly a month later, he inked a surprising two-year deal with the Twins, though he's openly acknowledged that geographic limitations impacted his market. Specifically, Reed had his sights set on signing with a team in the Midwest, he told the Boston Globe's Alex Speier last month.
The Twins also brought in a pair of veterans on affordable one-year deals, inking Fernando Rodney to serve as the closer and Zach Duke to help counteract opposing lefties. While Rodney had a characteristic up-and-down season with the D-backs last year, his velocity and ability to miss bats held strong. Bringing him in to work the ninth inning frees up the Twins to use their best relievers — Reed and 2017 breakout rookie Trevor Hildenberger — more flexibly in high-leverage setup spots.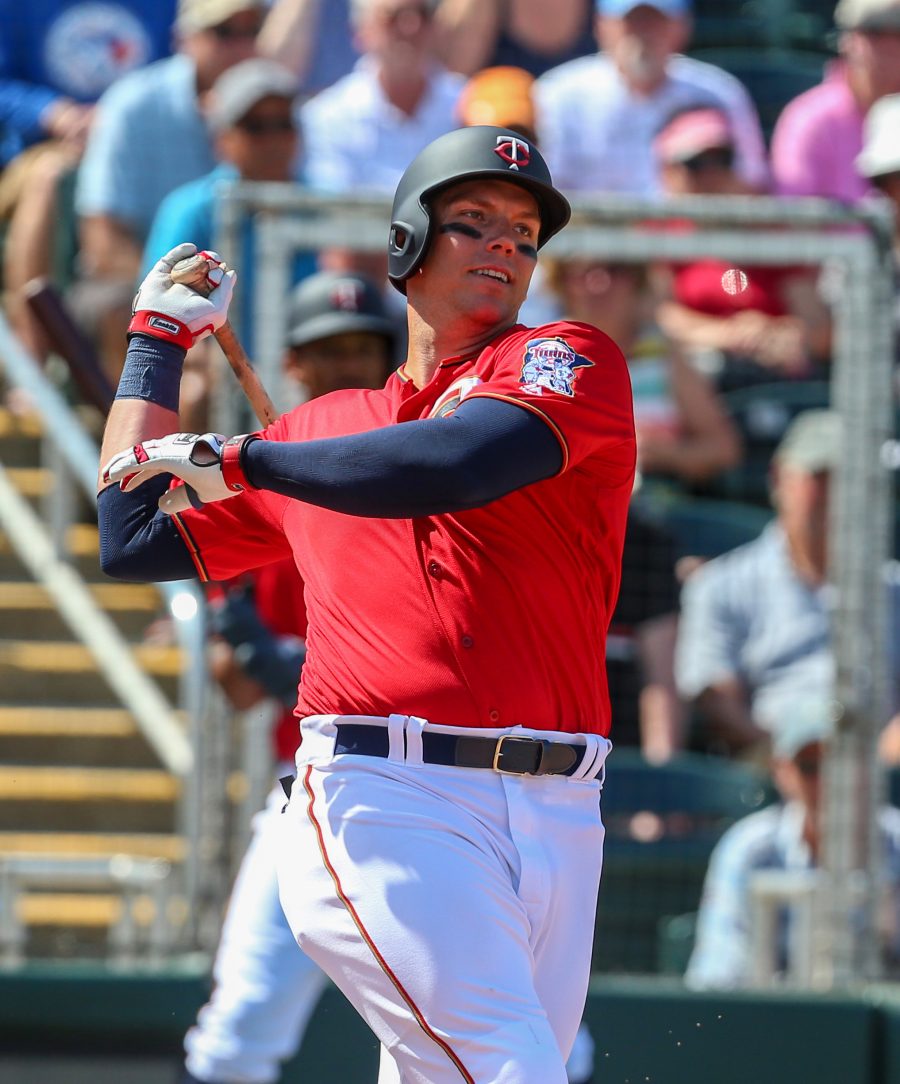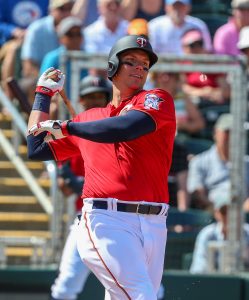 Despite a clear need for pitching, though, the Twins had one spot in their lineup that looked questionable. Minnesota designated hitters combined for just a .237/.328/.383 slash last season, and for much of the winter it looked as if OBP-challenged slugger Kennys Vargas and light-hitting on-base machine Robbie Grossman would receive the bulk of the duties there.
A match with Logan Morrison looked more and more like an on-paper fit as the slugger's market failed to develop, though, and the Twins were able to scoop him up at a reasonable rate for the 2018 season. If Morrison can come anywhere close to last year's .353 OBP and 38 homers, the Twins will be happy to see his $8MM option vest.
Questions Remaining
For as much as Minnesota accomplished this offseason, there are still plenty of questions surrounding the club. Odorizzi and Lynn are quality additions to the rotation at a reasonable price, but the starting unit as a whole still looks shaky — especially without Santana's consistency. Jose Berrios tossed his first career shutout to kick off what the Twins hope will be a breakout season, but he's the team's best shot at having a true upper-echelon pitcher. If he takes only a small step forward (or worse), then the collection of Berrios, Odorizzi, Lynn, Kyle Gibson and (eventually) Santana looks more like a collection of fourth starters than a legitimately competitive playoff rotation.
Odorizzi and Lynn have been much more than that in the past, but both pitchers saw their walk and home-run rates spike last season. Fielding-independent pitching metrics pegged both Lynn and Odorizzi's actual run-prevention skills more than a full run worse than their otherwise appealing ERA totals. The Twins have plenty of options in the upper minors, and perhaps Gonsalves, Romero or a sleeper prospect will burst onto the scene and strengthen the group. But as it stands, the rotation looks improved but hardly overpowering.
Minnesota also received a tough blow late in Spring Training with the news that starting shortstop Jorge Polanco tested positive for a PED and will miss the first half of the season while serving an 80-game suspension. The former top 100 prospect had a huge second half last season and was being counted on as a significant factor in the team's lineup. Instead, utility man Eduardo Escobar will get the lion's share of reps at short to begin the year. Escobar packs more punch than most utility options, but he's struggled to remain consistent. Light-hitting defensive specialist Ehire Adrianza will receive more at-bats as well in Polanco's absence.
Questions persist throughout the young core of position players as well, though that reportedly didn't stop the team from trying (without success) to broker some extensions. Can Buxton hit like he did over the final four and a half months of the 2017 season and truly establish himself as one of the American League's star players? Is Rosario capable of repeating his 2017 power surge? Will Kepler figure out how to hit left-handed pitching or is he primarily a platoon option with above-average glovework? There was a cloud hanging over Sano's head all offseason in the wake of troubling assault allegations brought forth by a former Twins photographer, though MLB deemed that there wasn't sufficient evidence to issue a suspension. He'll now need to put that past him and remain healthy for a full season for the first time in his young big league career.
Perhaps the greatest question facing the Twins, though, is what will become of Brian Dozier and Joe Mauer following the '18 season. Both are set to hit free agency, and Dozier in particular sounded frustrated by the team's lack of engagement in extension talks. The former eighth-round pick has broken out as a legitimate star in recent seasons but somewhat bluntly told reporters that the team doesn't seem especially interested in talking long-term. Whether that's because of Dozier's asking price or because Minnesota is wary of his age and prefers to turn the middle infield over to Polanco and top prospect Nick Gordon (and, eventually, 2017 No. 1 overall pick Royce Lewis) isn't clear. But Dozier has very arguably become the face of this franchise, and the lack of extension talks already didn't sit well with fans. He'll assuredly receive a qualifying offer if he posts a typical season, which he'll almost certainly reject. The question then will become if the Twins are willing to match the top open-market bid he receives.
The decision on Mauer, who quietly had a strong rebound season in 2017, is also difficult. The 35-year-old won't break the bank in free agency considering the devaluation of corner bats, his age and his strong preference to remain in Minnesota — where he was born, raised and starred in high school before being drafted first overall in 2001. But the Twins have to weigh whether they're better off retaining Mauer into his late 30s, even if it's at a limited rate of pay, or instead turning things over to a younger player — be it Morrison or perhaps Sano, following a shift across the diamond.
Perhaps Mauer would sign on for a part-time role, but teams are increasingly reluctant to dedicate bench spots to players who can only fill one position on the diamond. Mauer has briefly dabbled in the outfield in the past, but he certainly won't return to catching following the concussion issues that prompted his initial move to first base.
Overview
While their pursuit of the biggest fish in the free-agent pond didn't prove fruitful, the Twins capitalized on the weak market for free agents as well or better than any team in the league and entered the 2018 campaign with a considerably deeper roster. They'll play more than 50 games against the trio of the Tigers, Royals and White Sox as they chase the Indians for the AL Central crown. The weakness of the division alone should help the Twins to remain in the Wild Card race, but they'll need some big steps forward from the likes of Berrios, Buxton, Rosario, Kepler and Sano to be a legitimate division threat.
That's certainly possible, and if any of that group falters or falls to injury, the Twins will likely have the capacity to further stretch payroll and bolster the roster midseason. Taking on longer-term deals won't be a major issue, as their long-term payroll ledger is among the cleanest in baseball (zero dollars guaranteed beyond 2019). Paired with a quality farm system and the aforementioned young core, the Twins look poised to be contenders in the Central for the foreseeable future as several of their rivals rebuild.
How do you think the offseason went for Minnesota? (Link to poll for Trade Rumors app users.) 
Photos courtesy of USA Today Sports Images.