In a trade that has been widely expected since last night, the Athletics have officially acquired right-hander Jeurys Familia from the Mets. In exchange, the Athletics have sent a pair of minor leaguers back to New York: third baseman William Toffey and right-hander Bobby Wahl. The Mets will also receive $1MM in international bonus money, while the Athletics will take on all of Familia's ~$3MM remaining salary.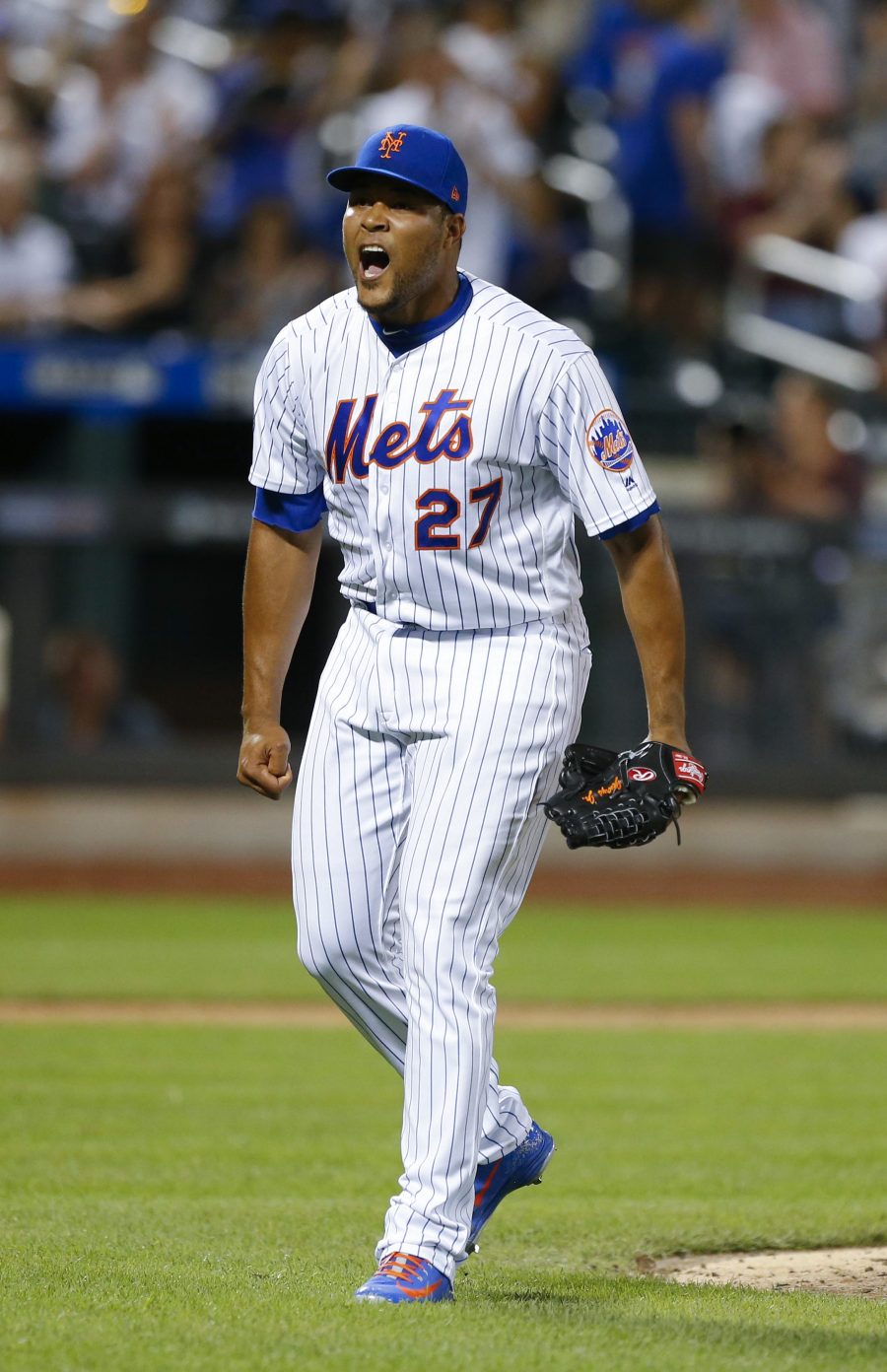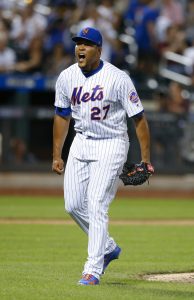 With Familia set to reach free agency at season's end, and the Mets suffering through a miserable 40-55 season thus far on the year, the closer's ticket out of Queens has been all but purchased for weeks. Familia earned the number two spot on our Top 75 Trade Candidates At The All-Star Break list owing in part to the above factors as well as his excellent start to the 2018 season. Thus far, Familia's managed an excellent 2.88 ERA and 17 saves to go along with 9.52 K/9 and a 50.5% ground ball rate.
Familia's excellence goes beyond the common surface stats, too. His peripherals have earned him a 2.54 FIP, for one. He's also been excellent at limiting homers, with a minuscule 2.8% homer-to-fly-ball rate on the season. An even deeper dive reveals that Familia has allowed hard contact at just a 26.8% clip during a season in which hard contact is up on the whole, and he's also managed to induce swinging strikes on 12% of his pitches. According to Statcast, the batted ball profile of hitters against Familia gives him an xwOBA of just .289, which is only a few points above his actual wOBA (.273).
The excellent figures above are a well-timed bounce back from a miserable 2017 season for Familia that began with a 15-game domestic violence suspension and got even worse when it was revealed that the righty had an arterial clot in his right shoulder that would ultimately require surgery to repair. By the time he was finally able to return on August 26th, he looked nothing like himself, posting a 4.70 ERA while walking 4.11 batters per nine and not even notching a strikeout per inning. His 2018 comeback not only allowed the team who signed and developed him to capitalize on his success and reap a prospect return, but it also earned Familia a trade to a contending team, and the promise of pitching in meaningful games by which he can boost his free agent pay day.
That team, the Athletics, didn't look like a serious player for the American League West crown early on in the season. But thanks to a torrid stretch during which they've gone 21-7, the Athletics have vaulted themselves into contender status and currently sit just four games out of the second AL Wild Card spot currently owned by the division rival Mariners. A breakout season from third baseman Matt Chapman, a career year from infielder Jed Lowrie, and the continued success from young core players such as Matt Olson and Sean Manaea are all contributing factors to the A's owning an impressive 55-43 record at this juncture.
Familia will join an elite-level A's bullpen that's already 38-0 this season when leading after seven innings. That group includes breakout closer Blake Treinen along with other excellent 2018 performers such as Lou Trivino, Chris Hatcher, Ryan Buchter and Yusmeiro Petit. There's no word on who will handle the closing duties in the Familia era in Oakland, but it seems quite possible that Familia could supplant the incumbent Treinen in order to suppress his saves, a stat that holds an inordinate amount of weight in baseball's arbitration process and would therefore help to drive up Treinen's price tag in future seasons.
As for the Mets, it signals the waving of a white flag on the 2018 season. It's not clear yet, however, whether the move signals a short retooling phase or a longer-term, larger-scale rebuilding process that could drive them to ship out players with longer-term club control such as Jacob deGrom, Noah Syndergaard and Michael Conforto. With the meteoric rises of the division-rival Braves and Phillies, and the Nationals unlikely to go south anytime soon, the NL East doesn't figure to get any easier in the ensuing seasons. Add to that uncertainty surrounding the future of the injured Yoenis Cespedes (who will likely require surgery and a nine-month rehab period), and the development of young players like Amed Rosario and Dominic Smith not working out as planned, it's possible the Amazins could be motivated to tear down the major league roster and start from scratch.
Though manager Mickey Callaway stated this morning that the Mets would go with a closer-by-committee approach in the post-Familia era, it's worth noting that he made the exact same comment at the beginning of the season before proceeding to use Familia as his 9th-inning hurler almost exclusively. During times when Familia was unavailable, Callaway turned to multi-inning workhorse Robert Gsellman, who's earned five saves on the season (including one last night when Familia was kept on the pine amidst trade discussions).
With Familia headed to Oakland, the market figures to focus its attention on Zach Britton, who earlier today was deemed "the next Oriole out the door" by beat reporter Roch Kubatko of MASNsports.com. In a concurring report, Buster Olney of ESPN tweeted that Baltimore is expected to move Britton as soon as this weekend. Joakim Soria, Raisel Iglesias and Fernando Rodney represent some right-handed alternatives to Familia who could now garner increased attention from the Cubs, Diamondbacks, Indians, Red Sox and Braves (Jon Heyman of Fancred reports that those clubs were all players for Familia). Meanwhile, Zach Duke and Felipe Vazquez could earn the focus of clubs looking for a southpaw.
The trade of Familia marks the latest development in a surprisingly fast-moving trade market for relief pitchers. The Mariners acquired Alex Colome from the Rays back in May, the Nationals landed Kelvin Herrera from the Royals in June, the Indians pried Brad Hand from the Padres before the All-Star break came to a close, and the Cubs traded for Jesse Chavez later that night; and it's still ten days in advance of the actual trade deadline. It falls in line with a trend we saw this past offseason in which teams are aggressively pursuing reliable relievers, perhaps because they seem to be more valuable than ever before.
Toffey, 23, is a left-handed-hitting third baseman who came to the Athletics by way of their fourth-round pick in the 2017 draft. In 197 plate appearances at Class A Advanced this season, he's hit .244/.357/.384. Baseball America ranked him as Oakland's 19th-best prospect headed into the 2018 season, noting his excellent plate discipline. Though he doesn't possess any serious raw power, scouts believe it's possible he'll be able to hit some bombs simply by virtue of his ability to wait and swing at his pitch. Toffey's best tool, perhaps, is his glove, though his fringe-average speed may prevent his defense from reaching its true ceiling.
Wahl is perhaps the better of the two prospects in this deal. Though his September cup of coffee last season was average at best (four earned runs, eight strikeouts and four walks in 7 2/3 innings), Wahl's been mowing down opponents at Triple-A Nashville so far this season. Across 39 2/3 innings, the right-hander owns a 14.75 K/9 figure against 3.86 BB/9 and has posted a 2.27 ERA that's not too far below his 2.52 FIP. If he's able to produce something close to those numbers at the major-league level, he could be a fixture in the Mets' bullpen for years to come.
Despite the interesting upside for Wahl, the general consensus in the industry is that the prospect return in this trade isn't particularly impressive, especially considering the trade value of Familia. It could be that the $1MM in international bonus money is the true prize in this deal, and if that's the case, we could see the Mets come to terms with one of the top remaining international prospects in the coming days; high-upside Cuban righty Osiel Rodriguez currently tops the list of unsigned players.
Jane Lee of MLB.com was the first to report that two sides had come to an agreement involving two prospects and international bonus pool money. Shortly thereafter Joel Sherman of the New York Post revealed which prospects were headed back to the Mets. Susan Slusser of the San Francisco Chronicle first noted that the international bonus pool amount was $1MM, and Ken Rosenthal of The Athletic made first mention that the A's were taking on all of Familia's remaining salary. Photo courtesy of USA Today Sports Images.