Cole Hamels and Yu Darvish are teammates once again, as the Cubs and Rangers announced a Friday morning trade sending Hamels from Texas to Chicago. The Rangers will send cash to Chicago as part of the deal and will receive right-hander Eddie Butler, right-handed pitching prospect Rollie Lacy and a player to be named later in return. The Cubs will reportedly take on $5MM of the $13.86MM still owed to Hamels ($7.86MM of his $22.5MM salary plus at least a $6MM buyout on next season's $20MM club option).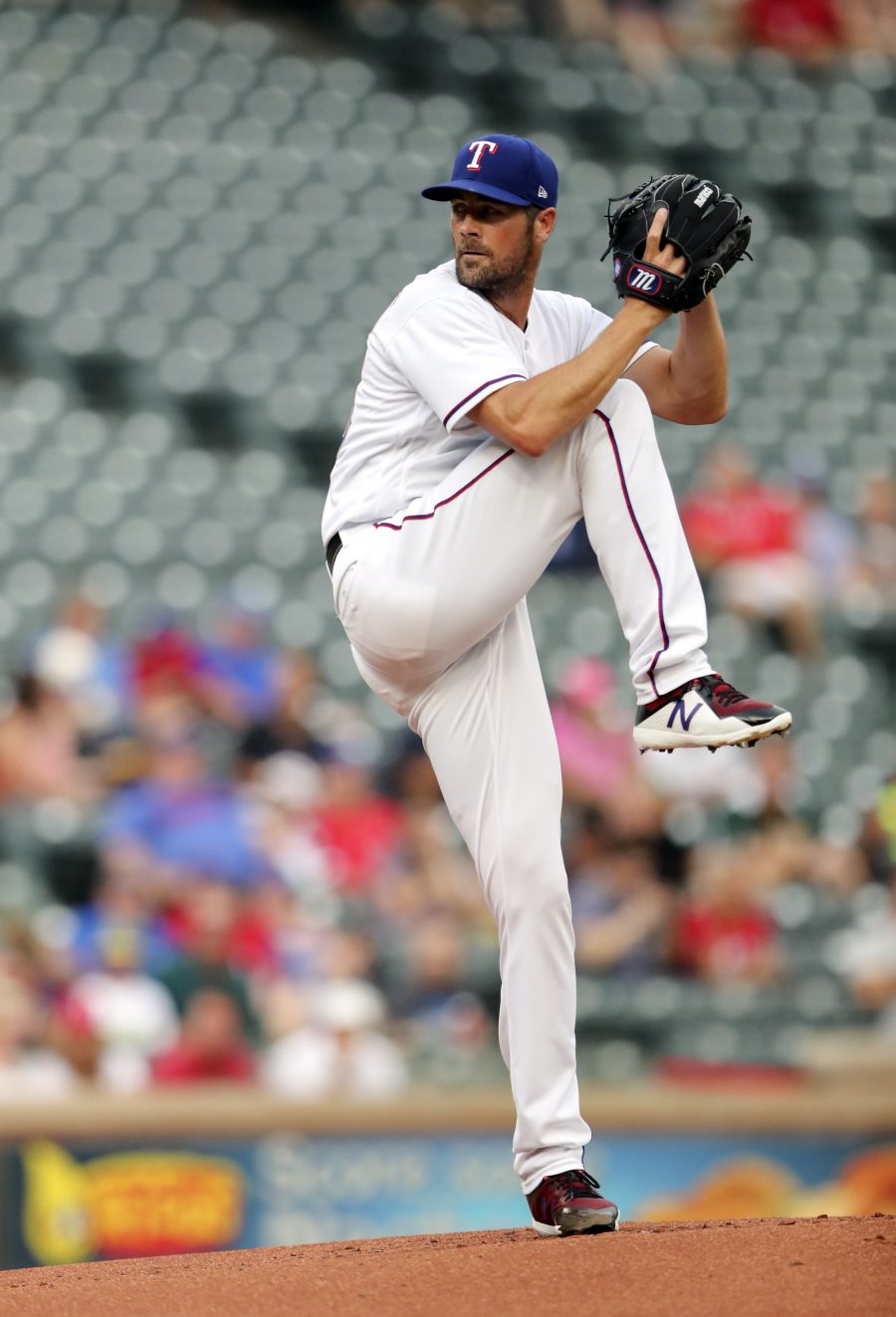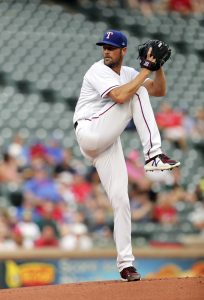 The 34-year-old Hamels isn't the ace that he once was, and he's had his share of struggles in 2018 — albeit nearly all of them coming at his homer-happy home stadium in Arlington. Hamels is surrendering home runs at a career-worst rate, but it's somewhat telling that 16 of the 23 round-trippers he's yielded have come at Globe Life Park. Hamels has a 6.41 ERA, a 6.16 FIP and a 4.49 xFIP when pitching at home this season but a 2.93 ERA, 4.17 FIP and 3.83 xFIP on the road.
Early in the season, there was some concern over a decline in Hamels' velocity, but he's regained nearly all of the lost zip on his heater — an encouraging sign for he Cubs, who'll hope that a move to the National League and a more pitcher-friendly stadium will improve Hamels' results. Starting pitching wasn't supposed to be a significant concern for Chicago after spending a combined $164MM to sign right-handers Yu Darvish and Tyler Chatwood this offseason. Unfortunately for Theo Epstein & Co., Darvish has been hampered by triceps injuries throughout the season, while Chatwood has alarmingly walked more hitters than any pitcher in baseball.
It's not clear exactly how Hamels will fit into the Chicago rotation, but he'll surely be guaranteed a starting job. Mike Montgomery has stepped up beautifully with Darvish on the disabled list and may very well have forced Chicago's hand in keeping him in the rotation. Then again, Montgomery has also been effective as a reliever and could help to strengthen the bullpen if it's him, not Chatwood, who is dropped to a relief role. Alternatively, the Cubs could simply look to deploy a six-man rotation consisting of Jon Lester, Jose Quintana, Kyle Hendricks, Hamels, Montgomery and Chatwood — though they'd certainly need to shuffle that arrangement when Darvish returns from the disabled list.
The Cubs currently sit about $14MM south of the $197MM luxury tax threshold, so there's still room for the team to add even after acquiring Hamels — especially if it proves accurate that Chicago is only taking on about $4MM of salary in the deal. Chicago already added right-hander Jesse Chavez to its bullpen in a separate swap with the Rangers, but they were also linked to bigger-name relief targets in recent days, including Zach Britton and Jeurys Familia. Each, of course, has since been traded elsewhere, though it stands to reason that the Cubs will continue to monitor the market for bullpen help now that they've fortified their rotation a bit.
It's not yet clear how the Rangers will utilize Butler, who has worked as both a starter and reliever in recent seasons. Texas will need to replace Hamels in the rotation, of course, though Butler's ability to pitch multiple innings could also make him a natural candidate to step into the long relief role that was vacated when Chavez was traded to Chicago last week.
The 27-year-old Butler once rated as one of the game's best pitching prospects during his days as a minor leaguer with the Rockies, but he never fully realized that potential. He's shown potential at times in the Majors but owns a lifetime 5.71 ERA with 5.2 K/9, 4.1 BB/9, 1.28 HR/9 and a 48.4 percent ground-ball rate. Butler is not yet arbitration-eligible and can be controlled through the 2022 season if the Rangers wish, though he'll likely be arb-eligible as a Super Two player for the first time this offseason. Of course, considering his minimal track record and the fact that he's spent the vast majority of the 2018 season on the disabled list due to a groin strain, Butler won't command much of a salary in arbitration just yet.
Lacy, meanwhile, didn't rank among the top 30 prospects in a thin Chicago farm system on today's updated Top 30 rankings from Jim Callis and Jonathan Mayo of MLB.com. That said, he's in the midst of a terrific season in the minors so far and has performed similarly well since being selected in the 11th round of the 2017 draft.
Lacy has pitched to identical 2.45 ERAs in both 2017 and so far in 2018, and he was recently moved from the Class-A Midwest League to the Class-A Advanced Florida State League. In a total of 80 2/3 innings this year, he's averaged 10.5 K/9 against 2.7 BB/9 with a ground-ball rate north of 60 percent. The 23-year-old Creighton product is only just now starting to face older competition, but his results to date are certainly encouraging.
Ultimately, the trade for the Rangers looks to have been more about cost savings than anything else. Lacy has shown some promise in the minors, and Butler gives them a lottery ticket who the Rangers hope can emerge as a viable big league arm, while the PTBNL could yet prove to be interesting as well. But at present, the likeliest outcome is that the money saved in this trade will represent the most valuable component of the swap for Texas.
Joel Sherman of the New York Post first made a strong connection between the Cubs and Hamels. Evan Grant of the Dallas Morning News reported (via Twitter) that an agreement had been reached. The Athletic's Patrick Mooney first noted that Lacy had been scratched from his start, and Yahoo's Jeff Passan reported more definitively that Lacy and a PTBNL were in the deal (Twitter link). Jeff Wilson of the Fort Worth Star-Telegram tweeted that the Rangers would receive a second pitcher who is "not a prospect" (which proved to be Butler). Fancred's Jon Heyman reported (on Twitter) that the Cubs would take on $5MM of the remaining money owed to Hamels.