In shortstop Didi Gregorius and center fielder Aaron Hicks, the Yankees entered the offseason with two obvious extension candidates among their position players. But since the Yankees' season ended Oct. 9, when the Red Sox bounced them from the ALDS, Gregorius underwent Tommy John surgery on his right elbow. Consequently, Gregorius will miss a large chunk of next season – his contract year – which could make him a more logical non-tender candidate than someone who's up for an extension. That leaves Hicks, who's also set to become a free agent a year from now. Considering Hicks' production over the past couple seasons, perhaps the Yankees will work to prevent him from reaching the open market any time soon.
New York bought fairly low on Hicks in 2015, seven years after he went 14th overall in the 2008 draft, when it acquired him from Minnesota for backup catcher John Ryan Murphy. MLBTR's Jeff Todd noted at the time that it was a surprise the Twins gave up on Hicks on the heels of an encouraging season. After Hicks was essentially a non-factor in a combined 150 games from 2013-14, he managed 2.0 fWAR in 97 contests and 390 plate appearances in his final season as a Twin. Along the way, the switch-hitter mixed approximately league-average offensive production (.256/.323/.398 with 11 home runs – good for a 96 wRC+) with quality base running (13 steals on 16 attempts) and plus defense in center field (two DRS, 6.9 UZR).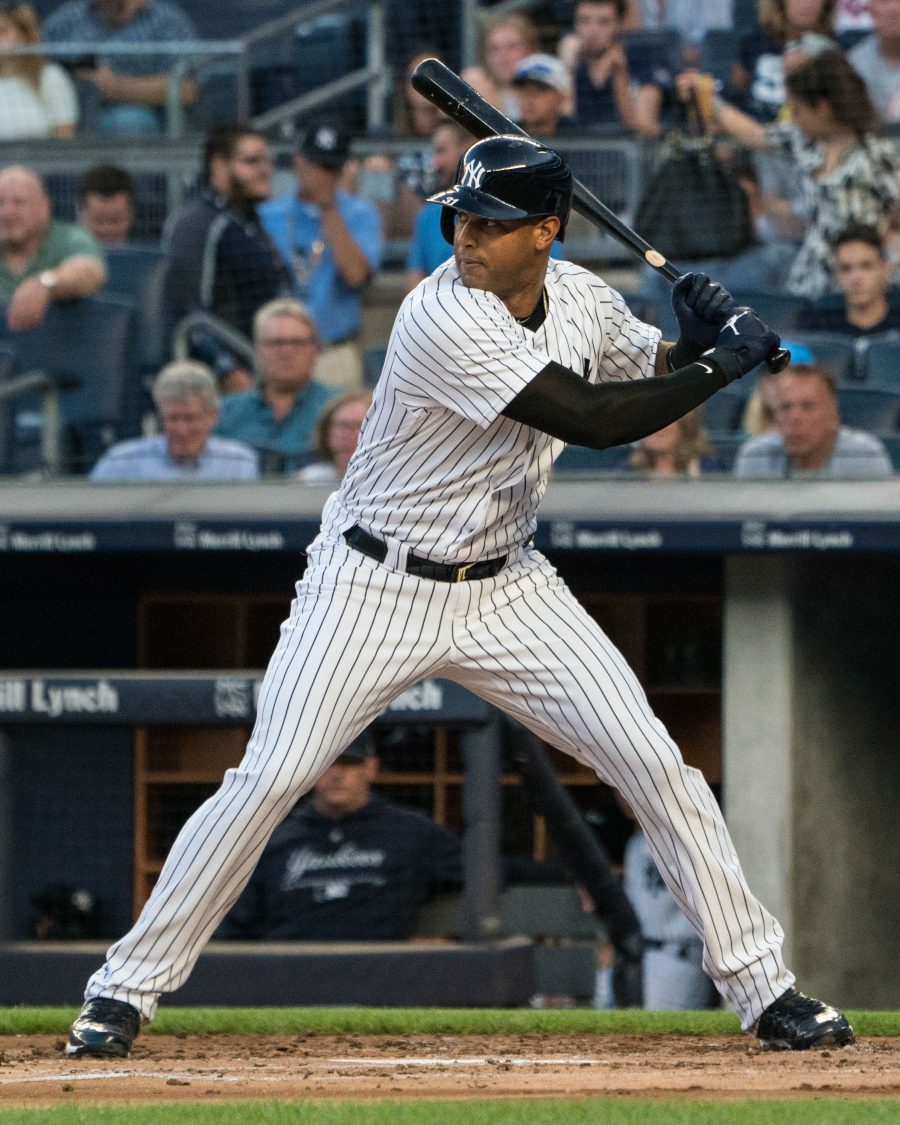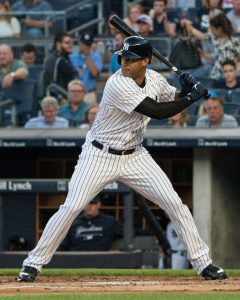 Upon landing Hicks – who was then 26 years old – Yankees general manager Brian Cashman declared, "We think Aaron Hicks is an everyday player."
Cashman's assessment looked wildly optimistic in Hicks' first season in the Bronx, though, as he endured a horrid campaign in which he managed minus-0.2 fWAR in 361 PA. While Hicks was fine in the field, his offensive production plummeted. Among MLB hitters who racked up at least 350 PA, Hicks logged the eighth-worst wRC+ (64), batting a weak .217/.281/.336. And when he did get on base, Hicks swiped just three bags on seven tries.
To Hicks' credit, he put 2016 way behind him in the ensuing season, even though he wasn't a regular at the outset of the campaign. All told, Hicks slashed an outstanding .266/.372/.475 (126 wRC+) and offered easily above-average production against both right- and left-handed pitchers. He also registered solid power numbers (15 homers, .209 ISO) with appealing walk and strikeout rates (14.1 percent BB, 18.6 percent K), and chipped in 10 steals on 15 attempts. With another season of high-end defense factored in, the big-armed Hicks was worth 3.3 fWAR over 361 PA. The only problem? He went on the disabled list with an oblique strain on two occasions, thus limiting him to 88 games.
Until 2018, Hicks only had one 100-game season on his resume. However, Hicks is now coming off a career-best 137-game, 581-PA campaign in which he truly emerged as the full-time player Cashman thought the Yankees were getting when they landed him. Hicks essentially matched his 2017 rates and continued to fare nicely against both righties and lefties, but he did so over a much larger sample en route to a 4.9-fWAR showing. While Hicks' slash line dropped a tad to .248/.366/.467, his wRC+ increased to 127. Statcast data backs up that production, as there was little difference between Hicks' weighted on-base average (.360) and his xwOBA (.365). The 29-year-old helped the Yankees' cause by mashing 27 homers with a .219 ISO, putting up terrific K/BB numbers (15.5 percent and 19.1 percent, respectively), stealing 11 of 13 bags and, per FanGraphs, contributing elite base running in general.
If there's one statistical gripe with Hicks' season, it's that the advanced metrics didn't particularly like his defense. After he totaled a whopping 15 DRS – including 12 in center – in 2017, he fell to minus-3 this past season. UZR (0.7) and Outs Above Average (minus-3) weren't all that bullish on Hicks' work, either. No matter, Hicks was still one of the game's most valuable outfielders in 2018, and if the Yankees expect that to continue, they may try to lock him up in the coming months.
The question: How much might it cost New York to extend Hicks? Although several outfielders have signed extensions over the past couple years, none are that comparable to Hicks in production and/or his closeness to free agency. One possible exception is Charlie Blackmon, who – like Hicks now – had five-plus years of service time and was only a season away from free agency at this time a year ago. Blackmon ended up inking a five-year, $94MM guarantee to stay in Colorado last spring, when he had just begun his age-31/32 season. While Blackmon garnered that contract as a player who was a couple years older than Hicks is now, the former also offered a more accomplished track record. Blackmon was a two-time All-Star, a two-time Silver Slugger recipient, an NL batting champion and a past MVP candidate when the Rockies ponied up for him. Hicks doesn't have any such honors on his resume.
If Blackmon's deal is out of reach for Hicks, perhaps one of the recent big-money contracts given to a center fielder in free agency would be more realistic. A pair of center fielders – the Cardinals' Dexter Fowler and the Brewers' Lorenzo Cain – scored five-year contracts worth $82.5MM and $85MM, respectively, on the open market over the previous two winters. Fowler inked his pact on the brink of his age-31 season, while Cain signed his as a soon-to-be 32-year-old. Age is on Hicks' side in both cases, then; however, like Blackmon, both Fowler and Cain had more established track records than Hicks when they signed, and it helped that they had multiple teams bidding on them in free agency.
While the comparisons are imperfect, Hicks' reps at CAA Sports likely wouldn't be out of their depth to push for an extension in the neighborhood of the contracts Fowler and Cain received. He still has another full season to play before he turns 30, after all, and is fresh off back-to-back years in which he was among the game's premier center fielders. Whether the Yankees will consider an extension for Hicks this offseason is unclear, especially considering fellow outfielders Aaron Judge, Giancarlo Stanton and Clint Frazier are under long-term control, and they may pursue Bryce Harper in free agency. For now, Hicks is projected to play 2019 for $6.2MM – a bargain in light of what he brought to the table from 2017-18.
Photo courtesy of USA Today Sports Images.