Earlier this week, Ken Rosenthal of The Athletic reported via a rival executive that the Phillies are "shopping the hell" out of first baseman Carlos Santana.  The Rhys Hoskins left field experiment went poorly this year, so it's logical for GM Matt Klentak to attempt to trade the veteran Santana to allow Hoskins to move back to first base in 2019.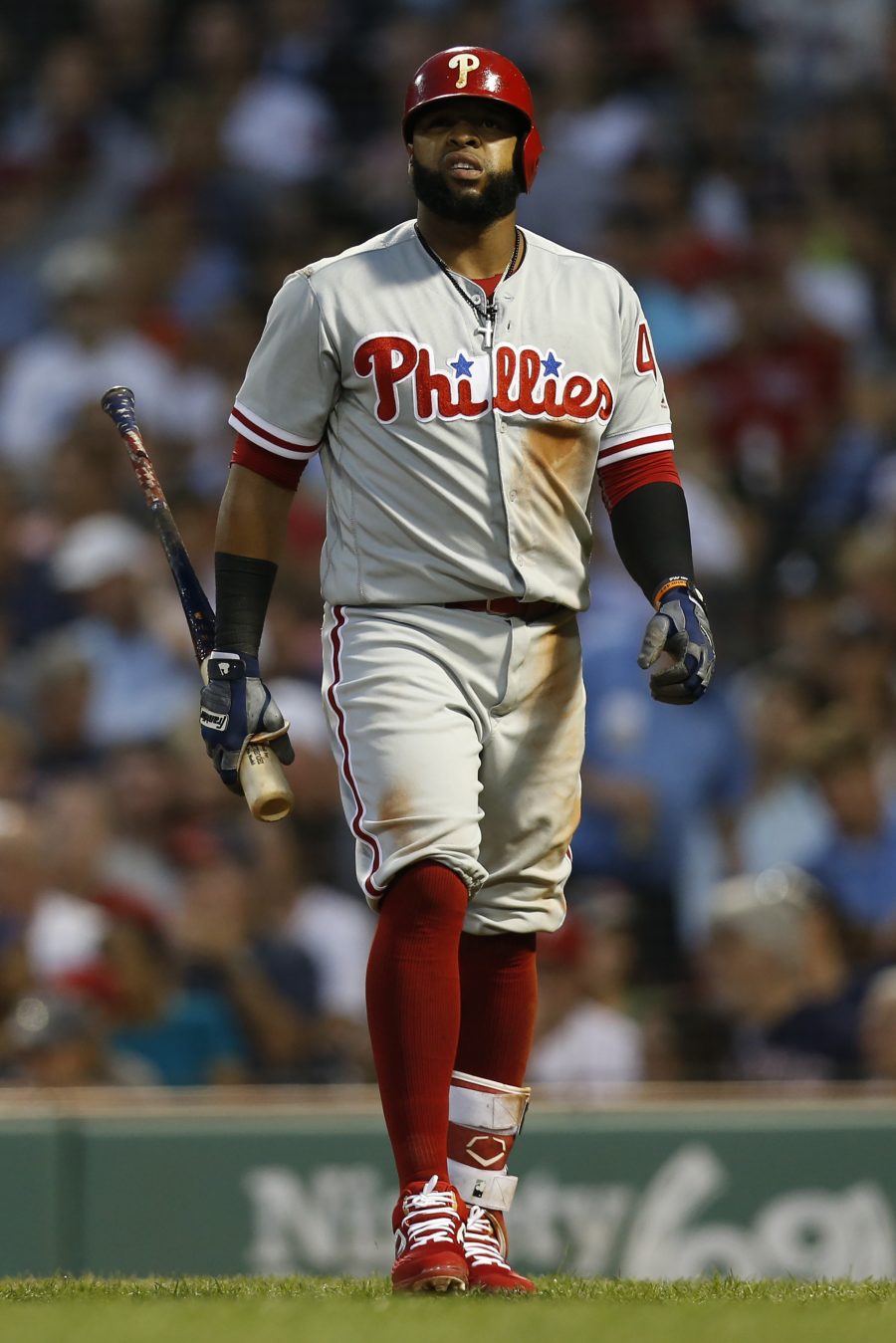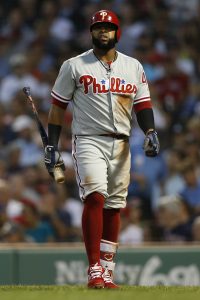 First, let's take a look at what Santana is in this stage of his career.  He's a switch-hitting walk machine with modest power.  He put up a 109 wRC+ for the Phillies this year, and 119 from May onward.  Steamer projects a 119 mark on the whole for Santana next year.  That's a level he's reached only once in the last four seasons, so it would be fair to question such optimism.
Though it's an unscientific and more conservative guess, I'd expect 110-115.  Certainly if you're a rival GM and Santana is being shopped to you, you'd take my position on his expected offense.  Santana has spent most of his time as a first baseman in recent years with the Phillies and Indians, and of course he's an option at designated hitter as well.
Santana's contract is a major factor in any potential trade.  He's owed $35MM over the next two years.  Given Santana's strong projection for next year, a case can be made that the Phillies shouldn't need to pay his contract down significantly.  However, I think in reality there are enough cheaper alternatives on the market that the Phillies will have to kick in at least $10MM, or else take back a contract or attach a prospect.
For a look at the other first basemen available this winter, check out Jeff Todd's market snapshot from last month.  The free agent market doesn't offer any first baseman who qualifies as a definite regular, but the trade market could be robust.  Paul Goldschmidt is obviously superior to Santana, while Justin Smoak is a fairly similar hitter who is earning only $8MM in 2019.  Though better suited at DH, the Cardinals' Jose Martinez is also in Santana's class as a hitter.  Martinez has yet to reach arbitration and can be controlled for four more years.  I'm not convinced Jose Abreu and Brandon Belt will be on the move this winter.  The trade market at first base could also feature a variety of more flawed options, such as Justin Bour (now on waivers), Eric Thames, or Wil Myers.  The bottom line: the presence of Goldschmidt, Smoak, and perhaps Martinez could clog Santana's market, as Goldy is an impact hitter and the others have more desirable contract situations.
There's also the idea that a team with an established first baseman could acquire Santana to serve primarily as its designated hitter.  The DH trade market could include Kendrys Morales, Mark Trumbo, Shin-Soo Choo, C.J. Cron, Matt Davidson, and Miguel Cabrera.  As a hitter, only Cabrera is on Santana's level, and he's basically immovable due to his hefty contract.  The free agent market does offer one option that is superior to Santana as a DH: Nelson Cruz.  Cruz projects at a 132 wRC+ next year, and we expect him to sign for less than the $35MM owed to Santana.  So if you're looking to fill a DH spot, you would talk to Cruz's agent before you'd worry about trading for Santana – unless the Phillies offer to pay down Santana's contract significantly.  You might also look at a player like Daniel Murphy, who carries a similar projection to Santana and should sign for less than $30MM.
If the Phillies are viewing Santana as mainly a contract dump, they might need to kick in $15MM to get him down to the equivalent of a two year, $20MM deal.  If the commitment was reduced that far, Santana might start to rise up on teams' lists above someone like Murphy.  Here's a look at the teams that could be a match for Santana this winter:
Twins: With Joe Mauer retiring and Logan Morrison reaching free agency, the Twins have an opening at first base and the need for a bat like Santana.  They also have room in the payroll for most of his contract.  It's a reasonable match.
Astros: The Astros make a lot of sense for Santana.  He's a better hitter than their incumbent first baseman, Yuli Gurriel, and they're open at DH with Evan Gattis reaching free agency.  Still, it would be easier for the Astros or Twins to just sign Cruz, so the Phillies would have to make it worth their while.
Rays: Earlier this month, Marc Topkin of the Tampa Bay Times wrote that the Rays "seek more of a feared overall hitter" than the arbitration eligible C.J. Cron.  The Rays also have more payroll space than they've had in recent years, making Santana a pretty good fit.  The Rays also have Jake Bauers at first base.  27-year-old Ji-Man Choi pitched in at DH this year and should have a job against right-handed pitching.  The Rays are a sleeper pick for Santana, though like the Astros and Twins they'd need to be convinced he's a better option than Cruz.
Rockies: After giving the bulk of first base time to Ian Desmond this year and getting replacement level production, the Rockies could seek an upgrade.  GM Jeff Bridich spoke earlier this month of being "a little bit more focused on our offense this offseason as compared to last season," and Santana could give a boost compared to Desmond or Ryan McMahon.  However, the team's payroll appears fairly tight and they may also address deficiencies at catcher and in a corner outfield spot.
Cardinals: The Cardinals deployed the aforementioned Jose Martinez as well as Matt Carpenter at first base this year.  Carpenter could move to third base to accommodate a first base acquisition like Santana.  However, replacing Martinez with Santana would upgrade the defense more than anything, since they are hitters of similar ability.  I could see the Cards taking a look at Santana, but not as their first choice.
White Sox: The Sox appear likely to stick with Jose Abreu at first base, and could run out a Daniel Palka-Matt Davidson DH platoon.  Palka is an option at an outfield corner, so the White Sox could feasibly add Santana as a primary DH who also chips in at first base.  They've got plenty of payroll space as well.
Angels: The presence of both Shohei Ohtani and Albert Pujols make the Angels an unlikely match for Santana.  Still, the Halos should have some at-bats available at first base and DH, as Ohtani and Pujols are hardly locks for 150 games apiece.  And theoretically, Santana could try to fake it at third base as he did in 119 innings for the Phillies this year.
Rangers: With Shin-Soo Choo locked in at DH, the Rangers could acquire Santana as a replacement for first baseman Ronald Guzman.  It might be too early to give up on the 24-year-old Guzman, and the Rangers have stronger needs on the pitching staff and at catcher.  Still, if they're simply looking to get better next year in any way possible, replacing Guzman with Santana should at least be on the table.
Marlins: This is an outside the box option, since most of the focus with the Marlins is on which veteran pieces they'll sell off as their rebuild continues.  The team does have a few internal options at first base for next year such as Peter O'Brien and Garrett Cooper.  Marlins president of baseball operations Michael Hill said a month ago, "We're going to look at internal candidates, and we're going to look at external candidates."  Why not Santana?  For one thing, a trade can work well for a rebuilding club seeking a veteran boost, since free agents are typically reluctant to sign unless such a team overbids.  Plus, the Marlins arguably have the payroll space to take on Santana's entire contract, especially if they unload players like J.T. Realmuto, Dan Straily, and Derek Dietrich.  In taking on all $35MM, the Marlins could demand that the Phillies throw in a quality prospect.  It's still a long shot scenario for the division-mates to match up on a Santana deal, however.
Orioles: The Orioles are stuck with Chris Davis through 2022, unless they're willing to release him.  They've also got Trumbo under contract for one more year.  Adding Santana only makes sense in the same vein as the Marlins: take the entire contract, and get a quality veteran hitter plus a prospect.
Tigers: The Tigers could slot Miguel Cabrera in at DH and acquire Santana for first base.  They've got the payroll space for Santana, at least compared to historical spending.  But a bargain option makes more sense here unless the Phillies offer something enticing, putting the Tigers in the same group as fellow rebuilders like the Marlins and Orioles.
Red Sox: The Red Sox have first baseman Mitch Moreland under contract for $6.5MM for 2019 and J.D. Martinez locked in at DH.  The most likely path is just bringing back Steve Pearce as Moreland's right-handed hitting complement, but the Sox could theoretically acquire Santana and plug him in as the everyday first baseman.  Doing so would likely make the team better, though a first base switch doesn't appear to be an offseason priority.  Plus, acquiring Santana would worsen Boston's luxury tax penalty.
Yankees: The Yankees have Luke Voit and Greg Bird as first base options, and Giancarlo Stanton spending at least some of his time at DH.  There's no real point to replacing Voit with Santana, and the Yankees have bigger needs, so this match appears unlikely.
Royals: The Royals don't have anyone at first base or DH that would preclude an acquisition of Santana.  But with the team looking to cut payroll, trading for Santana hardly makes sense.