2:15pm: The Phillies have announced the trade, acquiring Realmuto in exchange for Alfaro, Sanchez, Stewart and international funds. It seems, then, that the bonus money was the fourth component of the deal, rather than an additional minor league talent.
1:30pm: One of the winter's biggest storylines has finally drawn to a close, as the Phillies and Marlins have agreed to a deal that will send star catcher J.T. Realmuto to Philadelphia, according to Jim Bowden of The Athletic (Twitter links). A four-player package will go to Miami in return, headlined by young backstop Jorge Alfaro and top pitching prospect Sixto Sanchez. Southpaw Will Stewart is one of the other pieces in the deal. The Marlins also acquire an international signing slot worth $250K, per ESPN.com's Jeff Passan and the New York Post's Joel Sherman (Twitter links).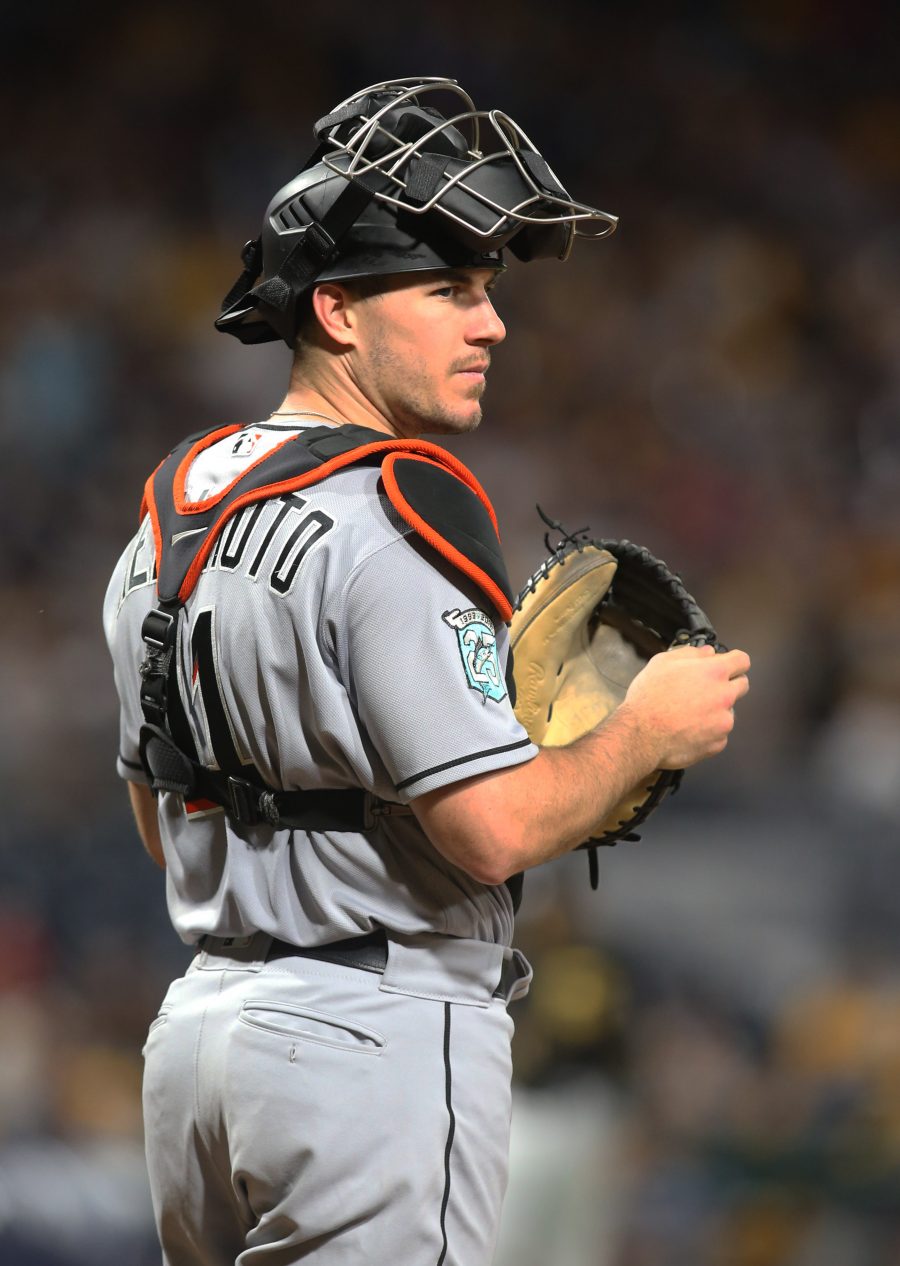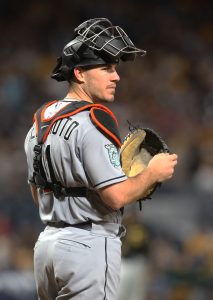 The course of negotiations surrounding Realmuto took many twists and turns. At various times, it seemed he'd end up at a variety of different teams, with the Dodgers, Padres, Reds, Braves and Astros all rumored to be involved to varying extents. Ultimately, the Phillies emerged late as the winning suitor, with their willingness to include Sanchez, one of the game's top-ranked pitching prospects, seemingly pushing things over the finish line.
With the move, the Phils will add two seasons of Realmuto, a player who has established himself as the game's best backstop. He's earning just $5.9MM in 2019 with one more season of arbitration eligibility still remaining. It's certainly possible that the Phils will pursue extension talks with the 27-year-old, though there is no indication that the possibility of a long-term contract is an element of today's transaction.
Some may wonder whether this represents an alternative to the Phils' longstanding pursuit of top free agents Bryce Harper and Manny Machado. Odds are, it only enhances the odds of such a major outlay. Parting with the years of cheap control over Alfaro and the upside of the two pitchers clearly positions the Phillies as a win-now club. And Realmuto is an affordable piece who won't remotely clog the still-wide-open current and future Philadelphia balance sheets. His addition only further underscores the Phillies' desire to win, which one would figure to be an appealing trait for either Machado or Harper. Of course, both are still expected to go to the highest bidder, but Philadelphia's aggressive commitment to winning this offseason could be a tipping point in its favor should either top free agent be weighing similar offers from the Phillies and another suitor.
Future maneuverings aside, Realmuto himself provides a significant boost to the Phillies' 2019 playoff chances. The 27-year-old missed the first few weeks of the 2018 campaign due to a minor back injury but came storming back with a terrific .277/.340/.484 batting line, 21 home runs, 30 doubles and three triples in 531 plate appearances. Realmuto's OPS+ (which is adjusted for home park and league) checked in at 139 — effectively indicating that he was 39 percent better than a league-average hitter. That's all the more impressive when considering that catchers, on the whole, were about 10 to 15 percent less effective than a league-average bat. Put simply — there are few, if any catchers in baseball who could upgrade a lineup more than Realmuto.
Defensively speaking, Realmuto is solid across the board. He's thrown out would-be base thieves at a 35 percent clip across the past three seasons and has turned in average or better pitch-blocking marks, per Baseball Prospectus, throughout his career. While Realmuto's framing efforts graded out poorly early in his big league tenure, he drew above-average marks in 2017 and average marks last season, so the Phillies can likely expect at least average output in that regard. Realmuto isn't the framer that Alfaro was in 2018, but he's a better blocker, and it's not unreasonable to think that he could be a three- or four-win upgrade over Alfaro on his own.
As one would expect for a player of Realmuto's caliber, the cost of acquisition was hardly cheap. Alfaro will step directly into the Marlins' lineup as the team's primary new backstop. While his bat is a work in progress, his framing in 2018 was excellent, and scouting reports on him as a prospect often pegged him with an 80-grade arm (top of the 20-80 scale).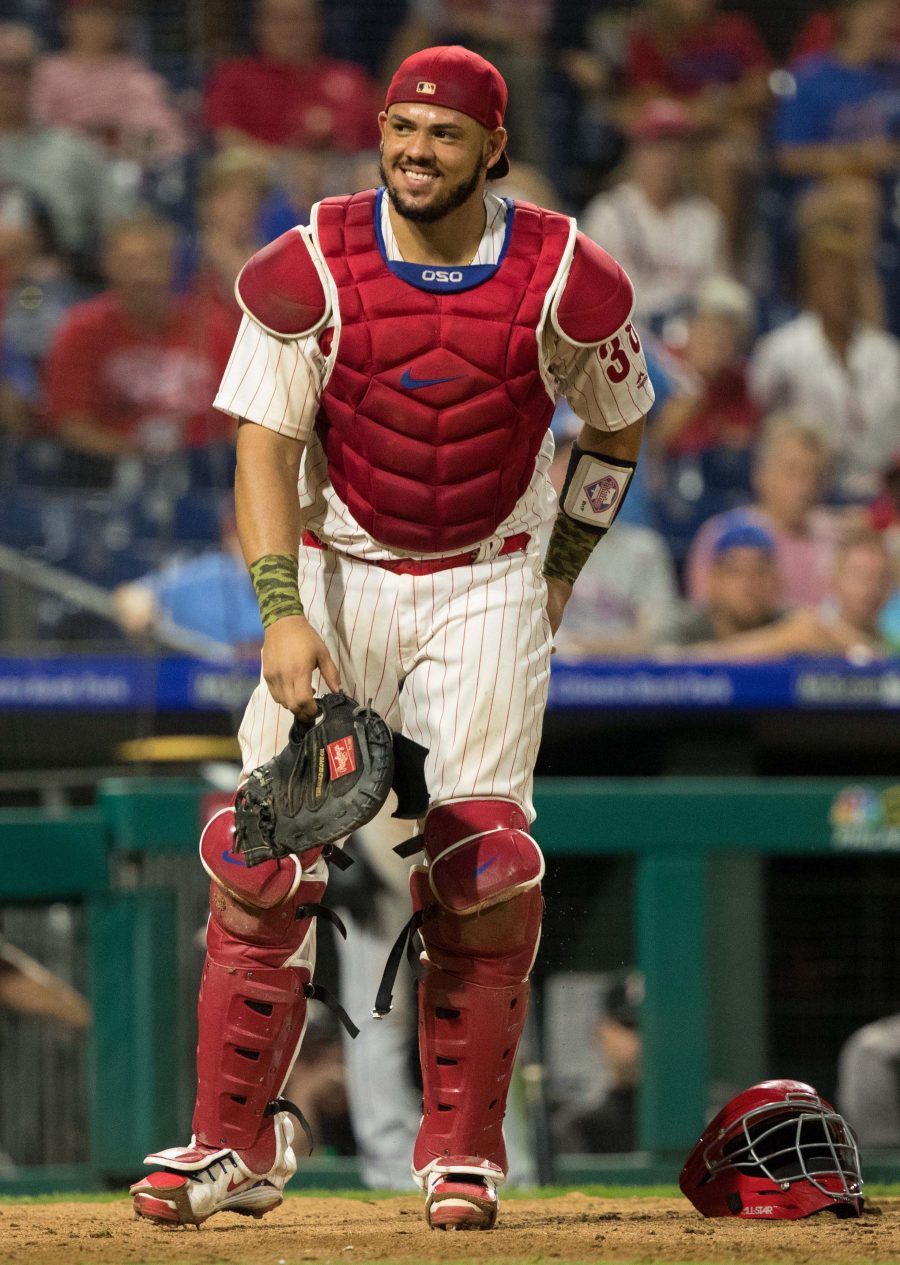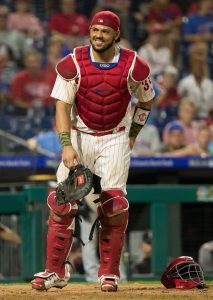 Alfaro hit .262/.324/.407 with 10 homers in 377 PAs last season, but there's reason to doubt his ability to replicate that output. Specifically, Alfaro whiffed in 36.6 percent of his plate appearances and benefited from an eye-popping (and clearly unsustainable) .406 average on balls in play. The 25-year-old will need to improve on his contact skills if he's to carve out a career as a regular, but the tools he possesses are undeniably enticing — particularly for a rebuilding club like Miami.
Sanchez, meanwhile, has rated among the game's top pitching prospects for the past couple of seasons thanks to a triple-digit fastball and the potential for three average or better secondary offerings. The biggest question with him is health, as the righty was limited to 46 2/3 innings last season thanks to arm troubles (though none that required surgery). Sanchez reached the Class-A Advanced Florida State League as a 19-year-old last year — making him about four years younger than the average player in that league. Despite facing more advanced and experienced hitters, Sanchez pitched to a pristine 2.51 ERA with a terrific 45-to-11 K/BB ratio and a 52.3 percent ground-ball rate in those 46 2/3 frames when healthy. He's likely at least a year away from MLB readiness, but he'll immediately become not just the most highly regarded pitcher in the Marlins organization but their clear-cut top prospect.
The addition of Stewart, 21, isn't a throwaway note for the Marlins, either. A 20th-round pick back in 2015, the lefty has elevated his status with a strong showing to this point in his pro career and was ranked 18th among Phillies farmhands by Eric Longenhagen and Kiley McDaniel of Fangraphs just last month. Stewart was two years younger than his average opponent in Class-A last season but nonetheless worked to a 2.06 ERA with 7.1 K/9, 1.7 BB/9 and a sensational 62.9 percent ground-ball rate in 113 2/3 innings as a starter. His sinker is complemented by a trio of potentially average offerings, and his significantly improved walk rate in '18 is reason for further encouragement. The ceiling on Stewart is certainly lower than on Sanchez, but as ground-ball oriented pitcher with solid control, he could function as a nice back-of-the-rotation piece in the Marlins' spacious home park if all pans out well.
In all, the Marlins have certainly positioned themselves to come away from the trade with a fair bit of value. While there's certainly risk to the assets which they acquired — as is the case when trading any star player for unproven talent — Alfaro was long one of the game's top catching prospects before debuting, and the most optimistic scouting reports on Sanchez peg him as a potential top-of-the-rotation starter. It's feasible that by mid-to-late 2020, both could be on the Marlins' big league roster, and the addition of a solid arm such as Stewart, even if he's more "high floor" than "high ceiling," deepens the farm and presents another potential rotation piece.
The Phillies traded a pair of high-upside players, Alfaro and Sanchez, who could prove to be dynamic pieces for a division rival down the line but did so at a time when the NL East could legitimately be seized by any of the division's top four teams. Realmuto will join new additions Jean Segura and Andrew McCutchen alongside holdover Rhys Hoskins in the top portion of the Phillies' lineup, and with the potential addition of Harper or Machado looming, his presence should be a key element in a dramatically improved lineup. The Phillies are aggressively looking to atone for last season's late collapse, and the moves they've made, to date, seem quite likely to help the organization achieve that goal.