We'll have 2019 Major League Baseball about two weeks from now, perhaps with Oakland's Mike Fiers throwing the season's first pitch to Seattle's Mallex Smith in Tokyo.  Though Dallas Keuchel, Craig Kimbrel, and others remain unsigned, I'm going to begin our monthly look ahead at the 2019-20 MLB free agent class.  These players are on track to become free agents after the 2019 season.
As you can see in MLBTR's Extension Tracker, we had three notable would-be free agents come off the board in February: Nolan Arenado, Miles Mikolas, and Aaron Hicks.  I feel that Arenado and Mikolas did about as well as they would have in free agency, while it's possible Hicks' deal reflects some trepidation toward the backwards trend in dollars per WAR that teams have instituted the last two winters.  There's a good chance some of the projected free agents listed here will also forgo the open market if a reasonable contract offer is presented.  As always, these players are ranked by my estimate of their 2019-20 open market earning power.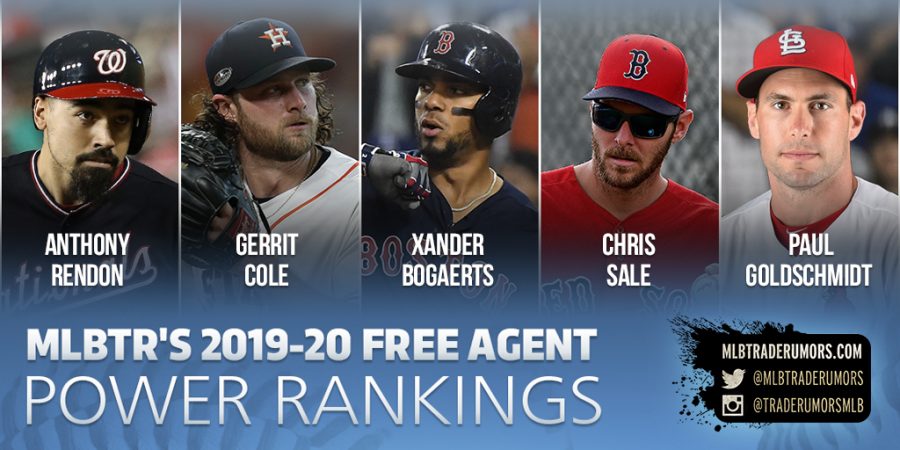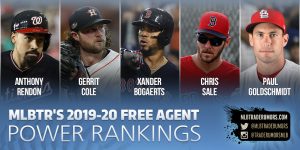 1.  Xander Bogaerts.  I didn't begin this exercise expecting Bogaerts to top the list, but if he manages another five win season as Boston's shortstop, his youth could result in the winter's longest contract.  Bogaerts, a client of the Boras Corporation, won't turn 27 until October.  He's gone year-to-year throughout his career after signing out of Aruba for $410K in 2009.  Bogaerts has now banked over $25MM in his career.  He's coming off his finest season yet, posting a 133 wRC+ that was second only to Manny Machado among qualified shortstops.  Bogaerts' defense has long rated as a plus.  While I don't expect Bogaerts to approach the $300MM contract Machado received, I do think he'll join the $200MM club with a strong 2019 season.
2.  Chris Sale.  Bogaerts' teammate Chris Sale has placed top six in the AL Cy Young voting for the last seven years.  The lefty joined the Red Sox in a December 2016 blockbuster trade with the White Sox.  Sale's dominance has continued in Boston, though he was limited to 158 regular season innings in 2018 due to two DL stints for shoulder inflammation.  Sale's earning power in free agency will depend on his health this season.  Six years ago, Sale signed a contract extension with the White Sox that has provided tremendous surplus value to both of his clubs.  While it had been standard practice for top free agent starters to be paid through age 36 – see Jon Lester, Max Scherzer, David Price, and Yu Darvish (and Zack Greinke, who was paid through 37), the old way of doing things in free agency may no longer apply.  So Sale, 30 this month, will likely seek a six-year contract, though he could have trouble getting there unless one team gets irrational or he accepts a reduced average annual value to max out the guarantee.  In the best case, Sale could inch his way past Greinke's six-year, $206.5MM deal, since Sale will be more than 17 months younger than Greinke was when he reached his historic pact.
3.  Gerrit Cole.  Cole, another Boras client, was drafted by the Yankees out of high school in the first round in 2008.  Cole's signability changed after the draft, and his family requested that the Yankees not even make an offer.  After three years at UCLA, Cole was drafted first overall by the Pirates.  He was generally solid for the Pirates, including one great season in 2015, before they traded him to the Astros in January 2018.  Cole posted the best season of his career in his first season as an Astro.  Including his record draft bonus, Cole has earned over $33MM in his MLB career on the year-to-year plan.  With another comparable campaign, he'll be fishing for the seven-year deal signed by Price, Scherzer, and Stephen Strasburg.  This would only take Cole through his age 35 season – a reasonable length even in this day and age.  Price's seven-year, $217MM deal will be four years old when Cole reaches free agency.  My guess is that Cole will fall short of that level but will still sign one of the five largest pitching contracts in baseball history.
4.  Anthony Rendon.  The Nationals let Harper defect to the Phillies on a record $330MM contract, but that might pave the way for a deal with yet another Boras client, Rendon.  Rendon has quietly amassed 13 WAR over the last two seasons, sixth in all of baseball for position players.  The Nationals' third baseman combines stellar defense with a 140 wRC+ bat, and the result is that he's every bit as valuable as Harper or Machado right now.  Rendon turns 29 in June, and he's amassed about $47MM already in his MLB career.  It's been rare lately that any top position player gets paid past age 35, as Machado and Eric Hosmer did, and many such as Nolan Arenado, Jose Altuve, J.D. Martinez, Justin Upton, and Yoenis Cespedes were only paid through 34.  We'll put Harper aside, as only drastically reducing his average annual value allowed for him to be paid through age 38.  This is my way of saying I think Rendon is looking at a six-year deal in the best case.  Back in January, Ken Rosenthal of The Athletic wrote that Rendon was seeking a contract comparable to Altuve, in his extension talks with the Nationals.  That deal was essentially $151MM over five years, though things have gotten worse for free agents in the year since then.  Also since then was Arenado's seven-year, $234MM extension with the Rockies, notable mainly for its $33.4MM AAV.  Rendon would certainly be within his rights to seek $30-33MM per year in his ongoing extension talks with the Nationals, which may continue into the season.
5.  Paul Goldschmidt.  Goldschmidt starred for the Diamondbacks for eight years until last December's trade to St. Louis.  Goldy inked what became a club-friendly six-year contract back in 2013.  So on the one hand, the slugging first baseman has banked $45MM in his MLB career.  On the other hand, he'll turn 32 in advance of his next contract.  These days, that probably caps him at a four-year deal unless he takes a light AAV.  The Cardinals clearly would like to make Goldschmidt, a client of Excel Sports Management, more than a rental.
6.  Zack Wheeler.  Wheeler, 29 in May, posted the best season of his career in 2018.  The righty was drafted sixth overall out of high school by the Giants in 2009 and was traded to the Mets for Carlos Beltran in 2011.  He made his MLB debut in 2013 and did solid work before going down for March 2015 Tommy John surgery.  Wheeler ended up going two and a half years between MLB starts, nearly getting traded to Milwaukee in the interim.  That Wheeler failed to return to the Mets in 2016 served as a reminder that Tommy John recovery is not always seamless.  Wheeler's 2017 season was abbreviated due to a stress fracture in his arm, and he actually began the 2018 season in the minors.  Wheeler, one of the hardest-throwing starting pitchers in the game, just kept getting better in the 2018 season.  He finished with a 2.06 ERA in his final 15 starts.  An encore performance could make Wheeler a sleeper Cy Young candidate, but it's all about stringing together a second consecutive healthy season for the first time in his career.  His ceiling would likely be a five-year deal taking him through age 34, the age through which Miles Mikolas, Jordan Zimmermann, Jake Arrieta, and Patrick Corbin were signed.  Both Wheeler and Chris Sale are represented by Jet Sports Management.
7.  J.D. Martinez.  Martinez, 32 in August, has been the second-best hitter in baseball over the last two seasons by measure of wRC+.  Though he's able to play the outfield, he's best-served as a designated hitter.  Martinez signed a five-year, $110MM deal with the Red Sox in late February last year, but the Boras client has the chance to opt out of the 2019 or 2020 seasons.  Given the way Martinez has been hitting, it stands to reason that even in this free agent climate, he will stand a good chance at topping the three years and $62.5MM he'll have remaining on his contract after 2019.  Since he'd probably only be looking at a four-year deal this time around, it's possible the Red Sox could simply tack on one more year to his current deal.
8.  Didi Gregorius.  Gregorius, 29, was signed by the Reds out of Curacao for $50K back in 2007.  A pair of three-team trades eventually led him to the Yankees' shortstop job in 2015, with the near-impossible task of succeeding Derek Jeter.  Gregorius' bat steadily improved over his four seasons with the Yankees.  Combined with strong defense, he's totaled 8.7 WAR over the past two seasons – on par with Machado and Bogaerts.  However, Gregorius went down for Tommy John surgery in October.  He could return anywhere from June to August, complicating his free agency picture.  Both Gregorius and the Yankees seem open to an extension, and the club did just prevent Aaron Hicks from exploring free agency by giving him a seven-year, $70MM deal.  Like Goldschmidt, Gregorius is represented by Excel Sports Management.
9.  Justin Verlander.  Verlander, 36, finished second in the AL Cy Young voting last year, in a dominant season that was every bit as good as his Cy/MVP 2011 campaign for the Tigers.  He's a likely Hall of Famer and is one of the game's best starting pitchers currently.  When it comes to the topic of Verlander's free agency, it's difficult to ignore his age.  I have to think it caps him at a three-year deal, albeit with a premium AAV in the $30MM range.  The Astros have difficult decisions on the horizon regarding their pair of aces.  Verlander is represented by ISE Baseball.
10.  Madison Bumgarner.  Like Verlander, Bumgarner was an ace for an extended period of time.  But with the Giants' lefty, it remains to be seen what his second act will look like.  An April 2017 dirt bike accident caused injuries to Bumgarner's ribs and shoulder, limiting him to 17 starts that year.  Then in March of last year, the pitcher's left hand was fractured during a Spring Training game, delaying his season debut until June.  Upon his return, he wasn't quite the Bumgarner of old, with his strikeout and walk rates going in the wrong direction.  Still, Bumgarner doesn't turn 30 until August, and by then we should know whether his 2018 season was a blip on the radar or the start of a trend.  His contract, which will be negotiated by The Legacy Agency, will depend on that question.
Honorable mentions: Marcell Ozuna, Yasiel Puig, Rick Porcello, Nick Castellanos, Josh Donaldson, Yasmani Grandal, Khris Davis, Scooter Gennett
Note: I'm currently operating under the assumption that club options for Corey Kluber, Anthony Rizzo, Jose Quintana, Chris Archer, Starling Marte, and Matt Carpenter will be exercised after the season, and that Stephen Strasburg and Yu Darvish will not opt out of their contracts.