This is the latest post of MLBTR's annual Offseason in Review series, in which we take stock of every team's winter dealings.
After surprising their way to the the majors' fourth-best record in 2018, the low-budget Athletics made a series of short-term commitments this past offseason.
Major League Signings
Options Exercised
Trades And Claims
Notable Minor League Signings
Notable Losses
Pagan, Jonathan Lucroy, Jed Lowrie, Matt Joyce, Trevor Cahill, Jeurys Familia, Shawn Kelley, Edwin Jackson (still unsigned), Richie Martin, Cory Gearrin, Danny Coulombe, Kendall Graveman, Chris Hatcher, Jake Smolinski
[Athletics Offseason Depth Chart | Athletics Payroll Information]
Needs Addressed
A spate of injuries devastated the A's rotation in 2018 and forced them to rely heavily on inexpensive signings Trevor Cahill, Edwin Jackson and Brett Anderson – three veterans whose best days looked long gone when the club added them. As it turned out, though, the trio held up reasonably well over a combined 282 1/3 innings and helped the upstart A's to a wild-card berth. Cahill, the most effective member of the group, parlayed his strong 2018 into a $9MM guarantee with the division-rival Angels over the winter. Oakland also waved goodbye to Jackson, who hasn't landed a deal with anyone despite his resurgent season, though it did bring back Anderson. Injuries have been a consistent problem during the 31-year-old Anderson's career, including during his 80 1/3-inning showing last season, yet the A's decided to gamble on him again for a mere $1.5MM salary.
Accompanying Anderson in the A's rotation are fellow free-agent signees Mike Fiers and Marco Estrada, who started the club's season-opening losses to the Mariners in Japan. The 33-year-old Fiers first joined the A's in a trade with the Tigers last August, after which he logged solid numbers across 53 frames. While Oakland then non-tendered Fiers in lieu of paying him a projected $9.7MM via arbitration, it quickly brought him back on what it regards as more team-friendly numbers (two years, $14.1MM).
Estrada took an even more palatable pact – a guaranteed $4MM – as he seeks a rebirth after a couple down seasons in Toronto. For a pitcher who posted an abysmal 5.64 ERA/5.44 FIP last season, Estrada looks like a shrewd signing for the Athletics, as his fly ball-heavy skill set should mesh with their cavernous home park. Among pitchers who threw at least 100 innings in 2018, no one managed a lower groundball percentage (24.0) than Estrada, who's now shifting to a stadium that was death on fly balls last year. Plus, having generated truckloads of infield pop-ups in recent years, Estrada stands to benefit from the enormous foul territory at the Oakland Coliseum.
Estrada and the other members of the A's revamped rotation will turn the ball over to a bullpen that was a premier unit in 2018, largely owing to elite closer Blake Treinen's presence. In-season acquisitions Jeurys Familia and Shawn Kelley also helped the cause, and even though the A's showed interest in re-signing both right-handers, they departed in free agency. Oakland still came away with a well-known bullpen prize on the open market, though, as its most expensive offseason deal went to longtime standout Joakim Soria. The 34-year-old looks as if he'll be the primary setup man for the team, which also features other established choices in Ryan Buchter, Fernando Rodney, Yusmeiro Petit and Lou Trivino. Unsurprisingly, then, ZIPS projects the A's to once again boast one of the majors' most formidable bullpens this year.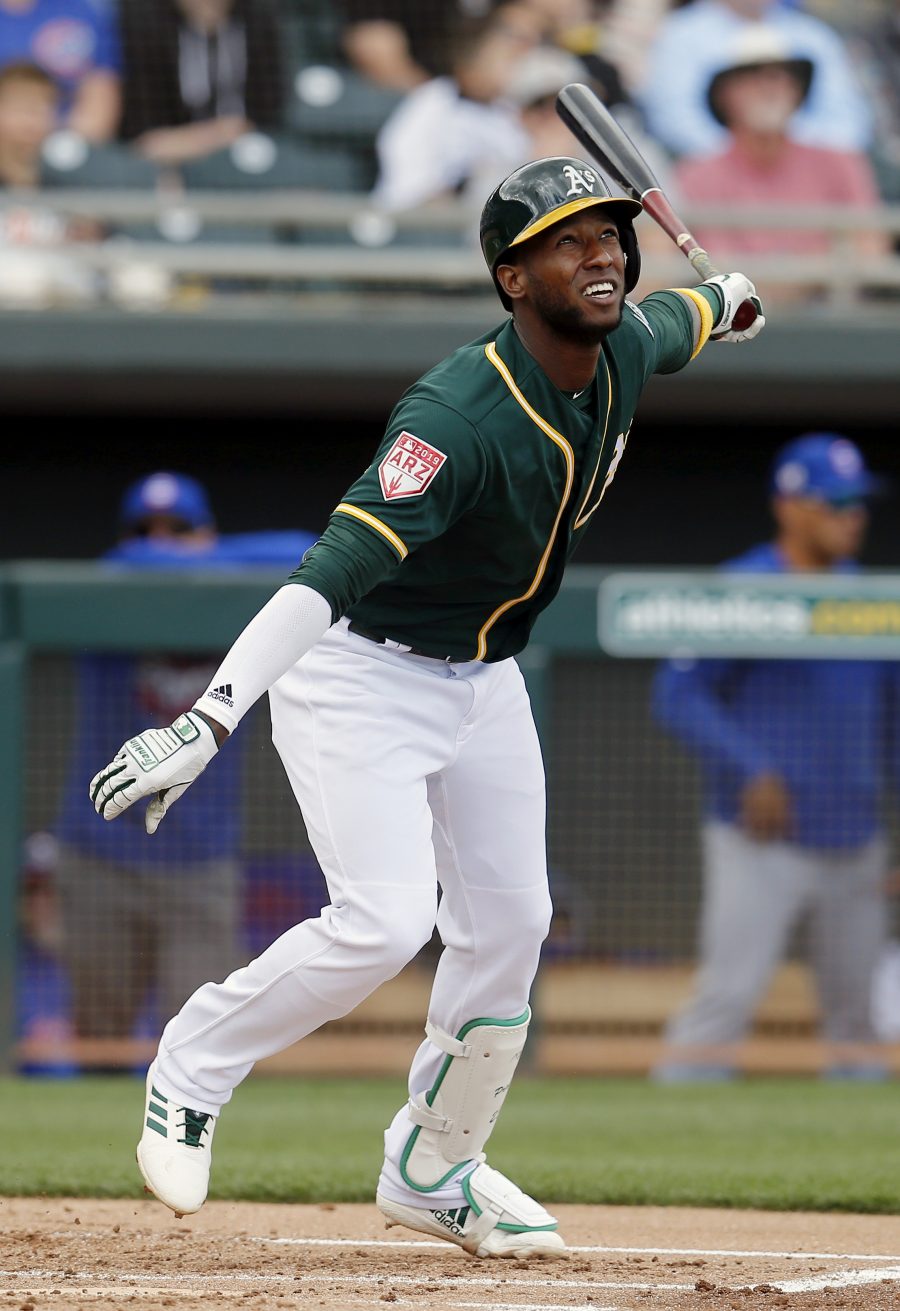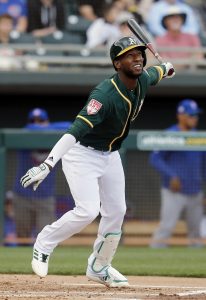 On the position player side, a particularly notable offseason change came at second base, where the A's bid adieu to Jed Lowrie in free agency but welcomed Jurickson Profar in a trade with the division-rival Rangers. Lowrie enjoyed an excellent pair of seasons in Oakland from 2017-18, though his age (34) and extensive injury history likely factored into the A's decision to switch things up at the keystone. A few weeks after the Athletics landed Profar, Lowrie accepted a two-year, $20MM offer from the Mets, with whom he is already battling an injury. Profar is also under control for the next two seasons – albeit at a much lower rate ($3.6MM) in the wake of a somewhat disappointing Texas tenure. Although Profar has struggled for the majority of his career thus far, the light bulb may have gone on in 2018. To close out his time in Arlington, the switch-hitting Profar accounted for 2.9 fWAR over 594 plate appearances, hit .254/.335/.458 with 20 home runs and 10 steals, and struck out in just 14.8 percent of PAs.
Oakland also welcomed new faces at catcher, where it brought in Chris Herrmann on a big league deal and Nick Hundley on a minors pact, as well as in the outfield (Robbie Grossman, $2MM). Herrmann underwent knee surgery earlier this month, though, meaning he'll open the season on the 60-day injured list. His absence paved the way for Hundley to earn a spot alongside holdover Josh Phegley. Now, the 35-year-old Hundley is filling the grizzled vet role Jonathan Lucroy took on last season. Lucroy joined Cahill in bolting for Anaheim in free agency, but the former's production should be easier to replace. The respected Lucroy was a hit behind the scenes in Oakland, but the ex-star's numbers on both ends left much to be desired. Of course, it's up in the air whether the unexciting trio of Herrmann (when healthy), Hundley and Phegley will provide much of an upgrade over Lucroy.
Similarly, Grossman isn't the most compelling addition. To the former Astro and Twin's credit, however, he gets on base – a skill everyone knows the Athletics have long valued – which should make him an improvement over the 2018 version of the now-departed Matt Joyce. Grossman compiled a superb .371 OBP during his 1,310-PA stint with the Twins, thanks mostly to a 13.9 percent walk rate. But the switch-hitting 29-year-old brings minimal power to the table, which was especially true in 2018 (five home runs, .111 ISO in 465 PAs), and historically hasn't provided much either in the field or on the bases. Despite his flaws, Grossman's likely to play an important role in the A's outfield – especially with Nick Martini recovering from a knee injury.
Questions Remaining
Concerns are plentiful in Oakland's rotation, which will rely on a series of iffy options to begin the season. At this point, there's nothing resembling a front-line starter among the quintet of Anderson, Fiers, Estrada, Frankie Montas and Chris Bassitt, though the 25-year-old Montas has at least provided reason for optimism this spring. More realistically, electrifying lefty Jesus Luzardo, 21, is the A's best hope to conjure up an ace from within. However, in what has become an all-too-typical occurrence for the A's, Luzardo's on the shelf with an arm injury (a rotator cuff strain, to be exact).
If healthy, Luzardo could have cracked the A's season-opening rotation, but he'll instead miss at least the first several weeks of the campaign. Likewise, Sean Manaea, A.J. Puk, Jharel Cotton, James Kaprielian and Daniel Gossett will sit out some or all of 2019, leaving Oakland in a similar position to last year. The A's still found a way to adapt and survive then, thanks in part to the decision to mimic the Rays' opener strategy down the stretch. The role proved beneficial for veteran reliever Liam Hendriks, who came back from a demotion off the A's 40-man roster late in the season to thrive (playoff loss to the Yankees notwithstanding). We could see more of Hendriks & Co. at the start of games in 2019 if Oakland's not content with its collection of traditional starters.
As mentioned earlier, the A's pitchers are slated to throw to a weak-looking mix of catchers. Relative to his position, Hundley has been fine at times with the bat, but his defensive numbers have been poor for the most part; Phegley has been one of the worst hitters in baseball since 2017 (59 wRC+); and Herrmann's a journeyman who hasn't offered much as either as a batter or a defender across 898 major league PAs. No matter, Oakland's leaning on that behind-the-plate trio as it counts down to the arrival of 24-year-old prospect Sean Murphy – a player Eric Longenhagen and Kiley McDaniel of FanGraphs believe could blossom into "an above-average regular" in the bigs. It's possible Murphy's forthcoming promotion prevented the A's from making a splashier offseason pickup behind the plate. They did show interest in Wilson Ramos and Kurt Suzuki, but both signed affordable deals elsewhere. Meanwhile, even though Yasmani Grandal languished on the market before settling for a shockingly reasonable guarantee (one year, $18.25MM with Milwaukee), Oakland never pursued the former Padre and Dodger.
Aside from catcher, it appeared the A's were going to enter the season without any massive concerns in their position player group. Unfortunately, that changed this week with the news that first baseman Matt Olson underwent right hand surgery, which will cost him at least the first month of the season. While manager Bob Melvin had the luxury of writing Olson's name into his lineup 162 times last year, he'll have to temporarily make do with a Profar-Mark Canha platoon at first, according to executive vice president Billy Beane. Profar's the team's No. 1 second baseman, though, which means it'll turn to Chad Pinder or Franklin Barreto at the keystone when he has to occupy Olson's spot. When Olson does come back, it's anyone's guess whether he'll suffer any ill effects from his injury; if not, an infield consisting of him, Profar, superstar third baseman Matt Chapman and shortstop Marcus Semien looks enviable on paper. Meanwhile, although the Athletics lack a Chapman-type franchise player or a Khris Davis-esque masher among their main outfielders, Stephen Piscotty, Ramon Laureano, Canha, Pinder, Grossman, Barreto, Martini, Luis Barrera, Skye Bolt and Dustin Fowler do comprise a deep and respectable group of 40-man possibilities.
2019 Season Outlook
Oakland has somewhat frequently overcome the odds during the long-running Beane era, and it'll have to do the same in 2019. Even before the Athletics lost Luzardo, Olson and the first two games of their season, they weren't a popular pick to repeat their 2018 success. Indeed, on the heels of a modest offseason, PECOTA projects the A's for just 78 victories – 19 fewer than last year's total.
How would you grade the Athletics' offseason moves? (Link for app users.)
Photo courtesy of USA Today Sports Images.