Even with Giants left-hander Madison Bumgarner factored in, Blue Jays righty Marcus Stroman may end up as the most valuable starter on the move before the July 31 trade deadline. Like Bumgarner, Stroman has established himself as a legitimate major league starter. But while Bumgarner's set to become a free agent after the season, the 28-year-old Stroman's under wraps through 2020. Furthermore, on a $6.3MM salary this season and a to-be-determined arbitration salary next year, Stroman doesn't come at a prohibitive price tag.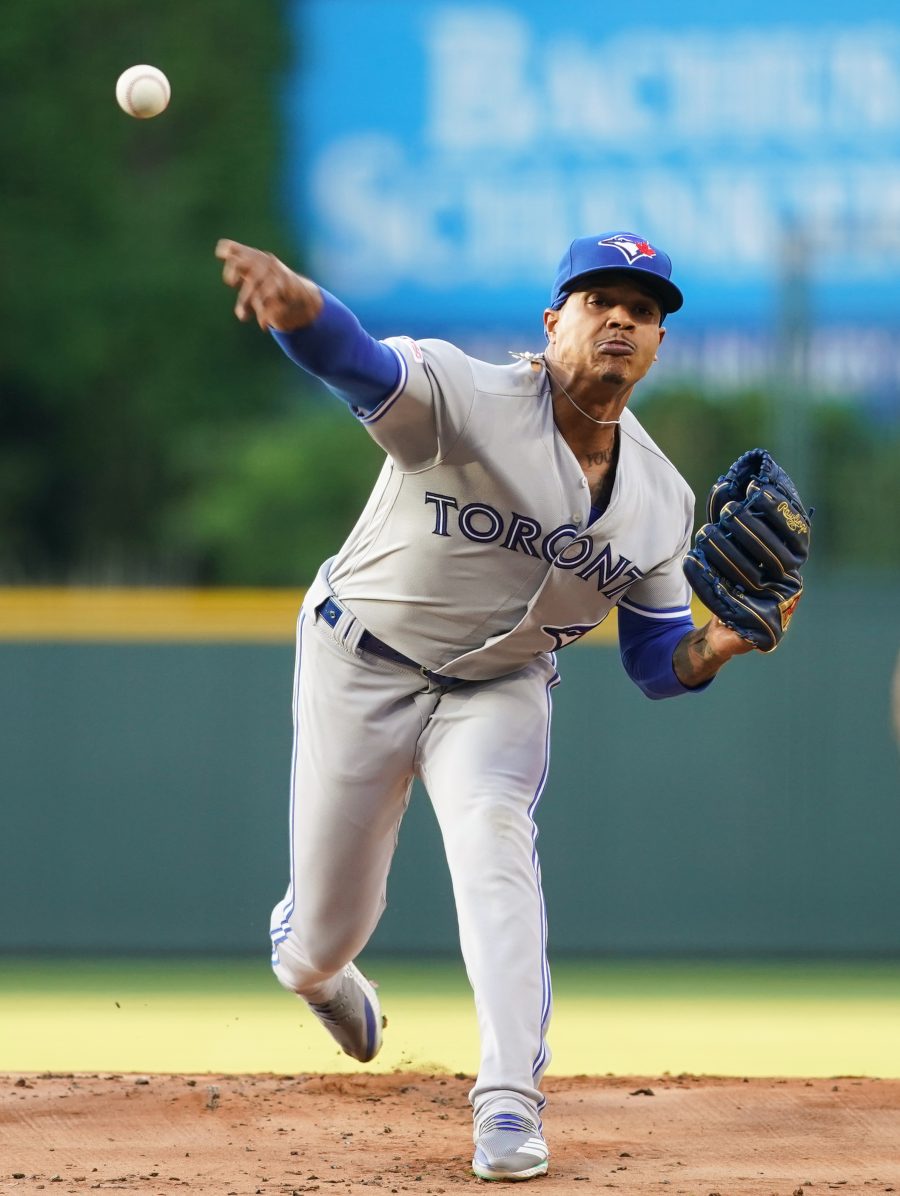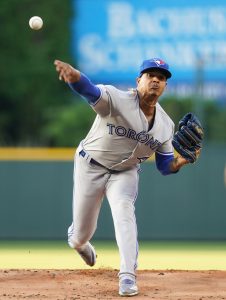 Since he debuted in 2014 with the Jays, who selected him 22nd overall in the 2012 draft, Stroman has pitched to a 3.80 ERA/3.61 FIP with 7.23 K/9 and 2.57 BB/9 in 127 appearances (121 starts) and 741 innings. Those numbers aren't going to blow anyone away, but Stroman's a two-time 200-inning pitcher whose groundball percentage (59.8) ranks second among starters over the course of his career. And Stroman's now amid a season in which he has recorded a terrific 2.84 ERA/3.48 FIP with 6.99 K/9, 3.08 BB/9 and a 58.1 percent grounder mark across 13 starts and 76 frames.
The fact that Stroman's on pace for another 200-inning season is key considering he amassed a mere 102 1/3 during an injury-shortened 2018. Stroman's also just a few years removed from missing nearly all of 2015 with a torn ACL in his left knee, but the good news is that he hasn't battled any significant arm problems in his time in the bigs.
With Toronto near the bottom of the league right now and unlikely to contend in 2020, Stroman stands out as its most logical trade chip. Stroman's time up north may conclude this summer as a result. With that being the case, we'll take a look at a slew of potential suitors (listed alphabetically). Based on the latest farm system rankings from Kiley McDaniel and Eric Longenhagen of FanGraphs, some of these teams are in better position than others to win a possible Stroman sweepstakes…
Angels: The 2020 Angels should get back injured starter Shohei Ohtani, who'd be a massive upgrade over what they have now, but they can't count on him to eat up a lot of innings in his return from Tommy John surgery. Meanwhile, Tyler Skaggs and Andrew Heaney haven't been the most durable starters either, and Griffin Canning, Jose Suarez and Jaime Barria are largely unproven in the majors. Based on all of that, Stroman would fit in the Angels' starting staff next year. He'd also aid in their push for a playoff spot this season.
Athletics: Injuries have sapped the Athletics of starters dating back to last year, but they still made the playoffs in 2018 and are within striking distance of wild-card position at the moment. The A's are scheduled to get some rotation reinforcements back in the coming months, which could dampen interest in Stroman, though he'd likely better their postseason chances this year while taking care of one-fifth of their starting staff for 2020. By then, free agents-to-be Brett Anderson and Marco Estrada could be out of the organization.
Astros: Despite its resounding success in the standings, Houston hasn't been able to find a capable fifth starter to slot in with Justin Verlander, Gerrit Cole, Wade Miley and Brad Peacock this year. Looking forward to 2020, Cole, Miley and Collin McHugh could leave in free agency. Lance McCullers Jr. should be back from 2018 Tommy John surgery by then, but there would still be a place for Stroman.
Braves: The good news is that the Braves aren't at risk of losing any starters in free agency during the winter. The bad news is that their current starting mix hasn't been all that effective outside of Mike Soroka. Even Max Fried, who burst out of the gates this year, has come to Earth of late. It's no wonder they're going after free-agent lefty Dallas Keuchel. Signing him may make a Stroman trade unnecessary in the estimation of Atlanta's front office.
Brewers: Even though their rotation has been less than stellar this year, the reigning NL Central champion Brewers have a realistic shot to win their division again. Stroman would help Milwaukee's cause for this season, and he'd take care of a rotation spot for the small-market club in 2020.
Cardinals: The Redbirds' rotation has been a disappointment this year, which explains their interest in Keuchel. Let's say the Cards do land Keuchel on a multiyear contract. Their rotation still wouldn't be set for this year or next season. No one from their starting quintet has been particularly good this season, and Adam Wainwright and Michael Wacha are each set to become free agents.
Cubs: Chicago wouldn't be in the driver's seat to acquire Stroman this summer because there's no clear opening in its rotation right now. Kyle Hendricks, Jon Lester, Cole Hamels, Jose Quintana and Yu Darvish are either locks or strong bets to retain their spots. But the Cubs may need to replace Hamels, an impending by free agent, by 2020. Stroman would offer comparable production for a much lower price. That's important for the luxury tax-minded Cubs.
Diamondbacks: Considering they probably won't make the playoffs, it's up in the air whether the Diamondbacks will buy this summer; if they do, though, a Stroman acquisition would make sense going into next year. He'd occupy a place in an impressive-looking 2020 staff with Zack Greinke, Robbie Ray and, if they return to health, Luke Weaver and Taijuan Walker. Otherwise, Merrill Kelly could continue in place of Weaver or Walker.
Dodgers: Considering the Dodgers are oozing with quality starters, don't count on a Stroman acquisition. Hyun-Jin Ryu and Rich Hill could leave as free agents thereafter, though, so let's not fully rule out LA.
Mets: Team management has stuck by much-maligned fifth starter Jason Vargas, who has been outstanding of late, so it may not feel the need to part with prospects for Stroman or any other rotation piece. Starting depth is lacking in New York right now, however, and both Vargas and Zack Wheeler might be gone by next season.
Nationals: Max Scherzer and Patrick Corbin are guaranteed to return in 2019, which locks in an elite one-two punch. And Stephen Strasburg will probably be back, though there's a chance he'll opt out of his contract. Even if Strasburg sticks around, there would be room for Stroman now and next season to slot in ahead of Anibal Sanchez at the back of the Nats' rotation.
Phillies: If the Phillies are going to maintain their lead in the NL East this season, they'll likely need more from their starting staff. Aaron Nola hasn't followed up on his exemplary 2018 performance, Jake Arrieta's not what he used to be, and nobody from the Zach Eflin–Nick Pivetta–Jerad Eickhoff trio inspires a ton of confidence.
Pirates: The Buccos have been active in the trade market for starters in recent years, evidenced by their Cole deal with the Astros and their acquisition of Chris Archer from the Rays. The low-budget team was able to swing a trade for Archer because of his affordability. Stroman would give the Pirates another reasonably priced option next year along with Archer, Jameson Taillon, Trevor Williams and perhaps Mitch Keller. However, whether it would be logical for a middling Pittsburgh team to rob from its farm system for just over a year of control over Stroman is highly debatable.
Rangers: As noted on Wednesday, the wild-card contending Rangers are getting by with a relatively untrustworthy rotation this season. Even if Texas isn't a real contender at the moment, it'll aim for a playoff berth in 2020. Stroman would contribute to its cause.
Rays: No one would accuse opener-loving Tampa Bay of having enough traditional starters, and even the low-budget Rays would likely be able to afford Stroman. If everyone's healthy, a rotation led by Blake Snell, Tyler Glasnow, Charlie Morton and Stroman could be a force.
Reds: Although Cincinnati can probably forget about a playoff spot for this year, Stroman would help replace impending free agents Tanner Roark and Alex Wood (who hasn't even pitched this season) in 2020. That said, Stroman to Cincy seems like a long shot because playoff-caliber teams need him more right now and would likely outbid the Reds.
Red Sox: Boston's rotation hasn't been great in 2019, nor is its starting five etched in stone for next year. Chris Sale, David Price, Nathan Eovaldi and Eduardo Rodriguez will return, but Rick Porcello's slated to reach free agency.
Rockies: Colorado's rotation has taken enormous steps backward since 2018, thanks in part to former Cy Young contender's Kyle Freeland's fall from grace. Even if the Rox expect the demoted Freeland to rebound by next year, there would still be a place for Stroman in their rotation. As of now, German Marquez and Jon Gray look like the only sure bets for 2020.
Padres: Not only has San Diego been connected to Stroman on the rumor mill dating back to the winter, but its rotation certainly hasn't been flawless since then. Considering those factors, the Padres may be the favorites to acquire Stroman.
Twins: Minnesota has sprinted to one of the league's best records this year thanks in part to righties Jake Odorizzi and Kyle Gibson, but they're headed toward free agency in the offseason. Stroman would replace one of them in 2020; in the meantime, he'd give the Twins another legit starter alongside Odorizzi, Gibson, Jose Berrios and Martin Perez. Michael Pineda hasn't really answered the bell in his return from Tommy John surgery, and he's yet another Twins starter who's not under control beyond this season.
White Sox: At 29-32, Chicago has been a surprisingly respectable team relative to expectations. The franchise's long-running playoff drought's still likely to continue, though it may push for contention next year. Enter Stroman? He'd offer a nice complement to Lucas Giolito, which has been sorely lacking this season. Free agent-to-be Ivan Nova may not return in 2020, while Reynaldo Lopez has failed to build on a promising 2018. Other than that, the White Sox are waiting for Carlos Rodon and Michael Kopech to recover from Tommy John surgery and for high-end prospect Dylan Cease to work his way to the majors.
Yankees: New York could use an upgrade in its rotation now, which Stroman might be able to provide, and its starting five may not be set for next year. Luis Severino, James Paxton, Masahiro Tanaka, J.A. Happ and Domingo German are on track to return. On paper, that's enough, but it would require general manager Brian Cashman to regard Happ and German as locks for 2020. Meanwhile, the retiring CC Sabathia won't be back.
Photo courtesy of USA Today Sports Images.