11:49pm: The trade has been officially announced by both teams.  Jake Barrett was moved to the Yankees' 60-day IL to make a 40-man roster spot for Encarnacion.
7:50pm: The Yankees have acquired first baseman/DH Edwin Encarnacion from the Mariners, ESPN.com's Jeff Passan reports (Twitter link).  Right-handed pitching prospect Juan Then is headed to the M's in the trade, Joel Sherman of the New York Post reports, and USA Today's Bob Nightengale adds that Then is the only player being acquired in exchange for Encarnacion.
According to The Athletic's Ken Rosenthal (Twitter link), the two teams are "essentially splitting the money" owed to Encarnacion for the remainder of his contract.  The slugger has roughly $9.25MM left on the $20MM owed to him this season, after accounting for the $5MM being covered by the Rays as per the terms of the three-team trade that brought Encarnacion to Seattle from Cleveland back in December.  Encarnacion also has a $5MM buyout of a $20MM club option for the 2020 season.
The Yankees had a projected luxury tax number of slightly over $227.6MM prior to the trade, as estimated by Roster Resource's Jason Martinez.  The addition of Encarnacion will all but guarantee that New York exceeds the second-highest luxury tax threshold ($226MM), though it still keeps them below the maximum penalty threshold of $246MM, as Joel Sherman tweets that Encarnacion's luxury tax hit is a modest $3.4MM.  Should the Yankees exceed that $246MM figure, they'd be taxed at a 62.5 percent surcharge on the overage of every dollar beyond $206MM, plus their top draft pick in 2020 would be dropped by ten slots.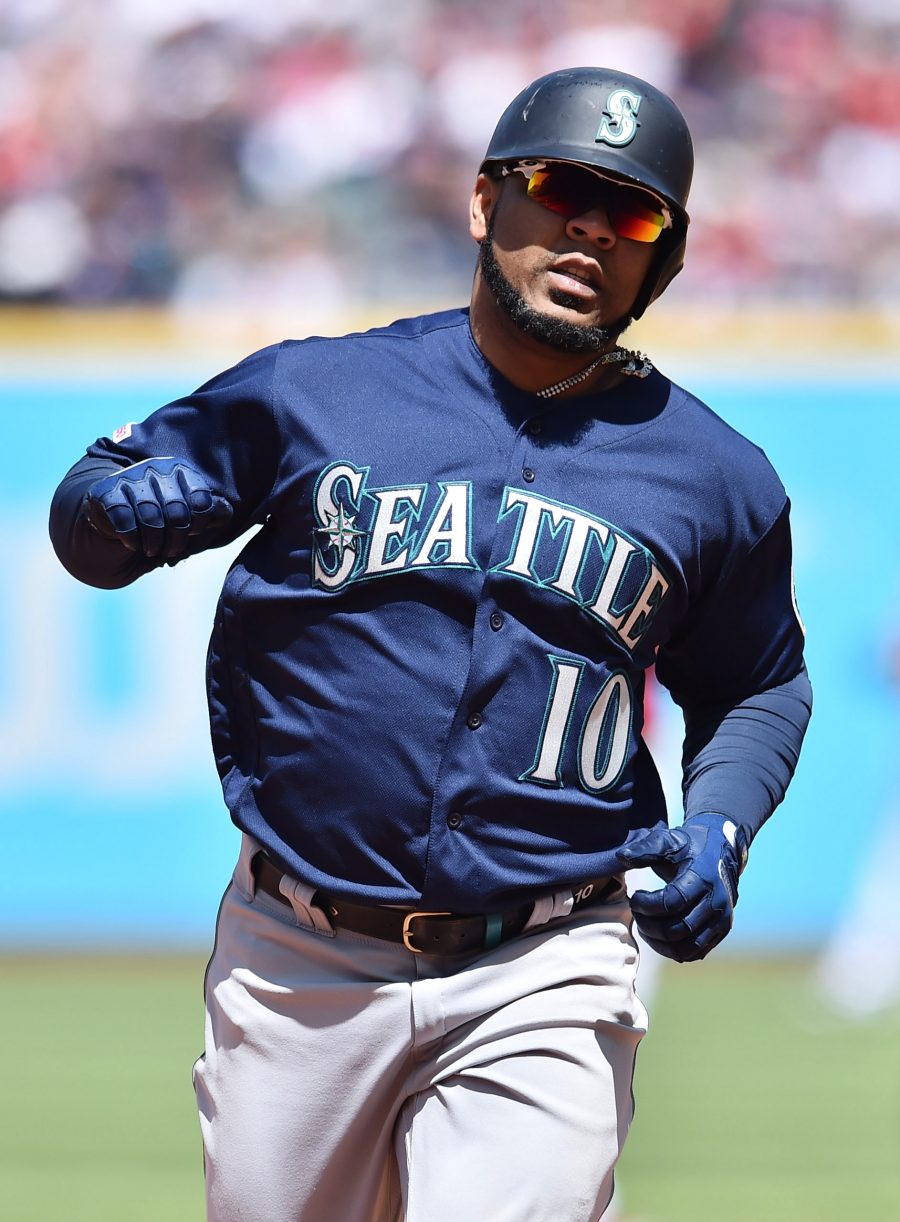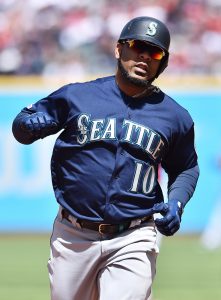 All in all, it's a more than reasonable price for the Yankees to pay to add the American League's leading home run hitter to their lineup.  After going through a bit of a down year by his standards in 2018 (though still producing a 115 wRC+), the 36-year-old Encarnacion was back in top form in Seattle, with a .241/.356/.531 slash line and 21 homers over 289 plate appearances.  Depending on how things go over the rest of the season, it's also quite possible that the Yankees could pick up Encarnacion's option for 2020, making him more than just a rental player.
With Encarnacion now in the fold to share first base and DH duties with Luke Voit, the Yankees have further boosted their already-strong lineup to near-Murderer's Row levels when everyone is healthy.  Encarnacion now joins an everyday mix that will include Voit, Gleyber Torres, Didi Gregorius, DJ LeMahieu, Giancarlo Stanton, Aaron Hicks, Aaron Judge, and Gary Sanchez, not to mention Brett Gardner, Clint Frazier, and Gio Urshela available off the bench.  With this much depth on hand, it increases the chance that Frazier (who isn't far removed from top-50 prospect status) could potentially become an expendable piece to acquire starting pitching at the deadline.
Encarnacion's revived production only made him more of a trade chip for a Mariners team that continues to drastically overhaul its roster, and is willing to absorb salary to accommodate these trades.  Daniel Vogelbach has already emerged as an everyday first baseman/DH in Seattle, leaving the Mariners free to deploy Ryon Healy in the other slot when he returns from the IL, or the M's can rotate multiple players through the DH role to keep everyone fresh.
Mariners fans may question the relative lack of a return for a decorated slugger like Encarnacion, though as MLBTR's Jeff Todd recently examined, the veteran's market was relatively slim.  He wasn't really an ideal fit for everyday first base duty, which eliminated most NL teams, and even the American League market was relatively limited simply because there aren't many teams still in realistic playoff contention.  Adding Encarnacion might have put the Red Sox over the maximum tax threshold for the second straight year, though for the Astros and even the small-payroll Rays, they could regret not topping the relatively small amount of money and prospect capital it apparently would've cost to pry Encarnacion away from a Mariners club that was open to offers.
Then, 19, is a familiar name for Mariners fans, as Seattle originally signed Then as a 16-year-old out of the Dominican Republic in 2016.  The Yankees acquired Then in November 2017 as part of the deal that sent Nick Rumbelow to the M's, and MLB.com ranked Then as the 27th-best prospect in New York's farm system.  Then has yet to pitch this season, but has a 2.67 ERA, 3.77 K/BB rate, and 7.9 K/9 over his first 111 1/3 innings as a professional.  According to MLB.com's scouting report, Then doesn't have a true plus pitch but "has a high floor" because of strong fastball command, a promising curveball, and "a changeup that's advanced for his age."
Photo courtesy of USA Today Sports Images