The A's have acquired Jake Diekman from the Royals, per ESPN's Jeff Passan. Kansas City will receive prospects Ismael Aquino and Dairon Blanco in return.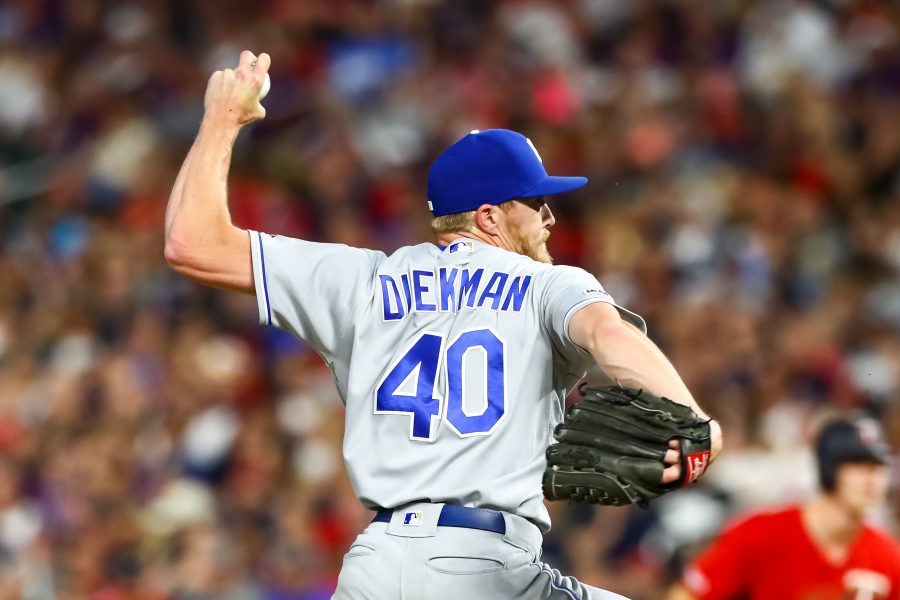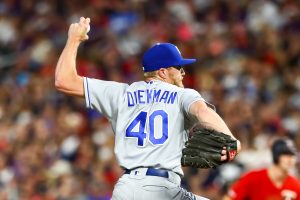 In its push for a second consecutive playoff appearance, the A's appear to again be double and tripling down on an already-staunch bullpen. The 32-year-old Diekman's long had issue with the free pass – the lefty hasn't walked under four per nine since 2013 – but is setting down hitters at a career-best rate: indeed, his 13.61 K/9 is over two batters per nine higher than his previous season best. Diekman's park-adjusted peripherals place him firmly within the game's top 30 relievers at present, and he'll join an Oakland pen that's already notched MLB's second-highest fWAR total, behind only the Yankees.
Diekman, who's owed approximately $700K over the remainder of the season, has a $5.75MM mutual option on his deal for 2020, a figure that'll likely be declined on the player's side if the lefty continues on his current pace. It should be no matter for the A's, who control each of bullpen stalwarts Joakim Soria, Yusmeiro Petit, Liam Hendriks, Blake Treinen, and Lou Trivino through at least next season.
As they did last season in the team's winner-take-all bout with the Yankees, the A's appear to be gearing up for a potential all-bullpen Wild Card alignment. After nominal ace Frankie Montas was suspended for a PED violation, it's been mostly hope-and-pray in the team's rotation. Mike Fiers has delivered quality outings, but deeper peripherals don't augur well for the season's close; ditto with Brett Anderson, who's also managed to avoid major injury for one of the few times in his career. Chris Bassitt and Daniel Mengden have had moments, but it may be white-flag time where the division is concerned for the A's, who sit 8.0 GB of Houston in the AL West despite just a half-game deficit in the second Wild-Card spot.

Blanco, 26, was an '18 Cuban signee who'd spent all of 2019 at AA-Midland, where the outfielder slashed .276/.342/.468. He didn't check in among the team's top 38 prospects at FanGraphs, who did note that the righty possesses "80 grade" speed, which could vault him into a potential fifth outfielder spot in the big leagues.
Aquino, 20, had appeared in 10 games for the A's Arizona League affiliate, mostly in relief. He didn't crack the team's top 30 prospects at either FanGraphs or MLB.com.