As the baseball world collectively waits for trade season to begin in earnest, the Giants may find more eyes on their team than at any other point in 2019. Entering the season, no one gave the club a chance in a stacked NL West division, and at 39-47, the team is predictably all but out of playoff contention. San Francisco may have the most appealing rental starter on the market in Madison Bumgarner and the most appealing rental reliever in Will Smith. Fellow left-hander Tony Watson is likely to be moved as well, and even Pablo Sandoval has hit his way back onto the rumor circuit.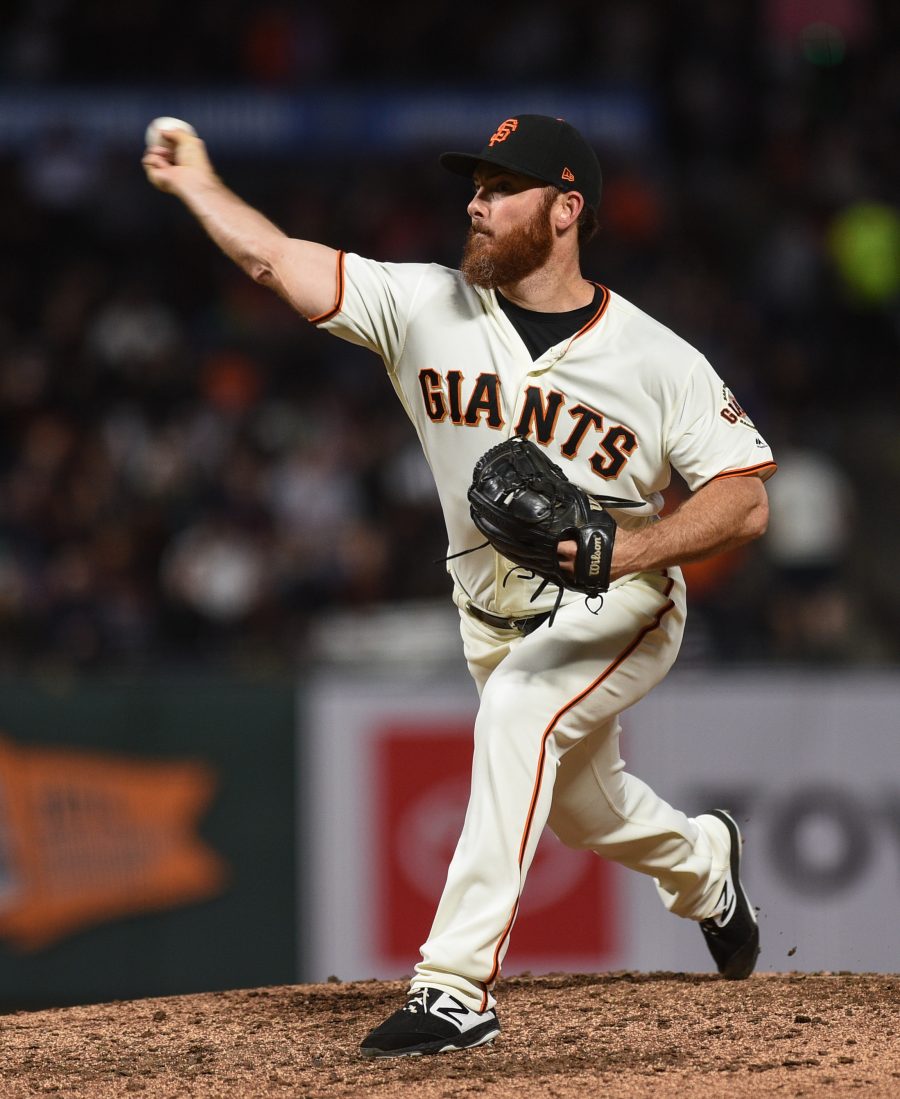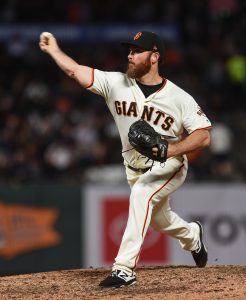 For all the attention placed on that group, righty Sam Dyson is nearly every bit as interesting. That's not to say that Dyson is an under-the-radar trade chip, as even casual onlookers are well aware that the rebuilding Giants have a wealth of interesting bullpen arms to market this month. But the extent of Dyson's appeal is somewhat overshadowed by the bigger names the Giants have to sell.
Dyson, who turned 31 back in May, is enjoying his best season since 2016 by virtually any measure and is arguably in the midst of the best year of his career. The ground-ball specialist has pitched to a 2.48 ERA with averages of 7.7 K/9, 1.4 BB/9 and 0.68 HR/9. His sinker's average velocity is down from its 96.5 mph peak but still sits at a comfortable 94.1 mph. And while Dyson's 57.3 percent grounder rate is somehow the lowest of his career, it's also still well above the league average of 43 percent among relievers.
The control Dyson has demonstrated in 2019 is not only the best of his career — it's among the best in baseball. Only eight qualified relievers have walked a smaller percentage of opponents than the 3.9 percent to whom Dyson has issued a free pass. He's appeared in 38 games this season, totaling 40 innings of work, and has not issued multiple walks in a single outing. Dyson's 63.6 percent first-pitch strike rate is a career-high.
Hard contact has also been difficult to come by for opponents of Dyson, as they've averaged an exit velocity of just 85.5 mph against him — a mark that puts Dyson in the 94th percentile of MLB pitchers. Right-handed opponents have mustered an awful .202/.237/.281 line against Dyson in 2019, while lefties have only managed a .226/.293/.377 output. Playing his games at San Francisco's Oracle Park as opposed to Arlington's Globe Life Park surely has helped Dyson limit homers, but his stinginess on round-trippers is nothing new (career 0.69 HR/9). It's also worth noting that balls in the air against Dyson in 2019 have averaged 91.2 mph off the bat — a decline even from his strong 2016 campaign (93.2 mph) and a huge departure from the outlier 2017 campaign that saw Texas give up on him (96 mph).
That his 2017 season was an outlier should also be a point of emphasis. It's tough for a player to shake the label of being traded in a salary dump as Dyson was in '17. However, the righty notched 70 1/3 innings of 2.69 ERA ball last season with a slightly lower strikeout rate, a higher walk rate and a higher ground-ball rate. More broadly looking at Dyson's track record dating back to 2014, the only point at which he's pitched particularly poorly was that 17-game stretch that prompted the Rangers to unload him. Dyson finished that year with an ERA just over 6.00, but he's checked in with a 2.70 or better in the other five seasons dating back to 2014 (this year included).
Unlike teammates Smith and Watson, Dyson is under club control through the 2020 season. (Well, Watson technically is as well, though he's unlikely to exercise the player option on his uniquely structured contract.) Dyson is being paid a $5MM salary this season, and while that means he'll have a relatively notable salary next year after an arbitration raise, even a jump into the $6-7MM range isn't exorbitant. For a team in need of bullpen help, buying a reasonably affordable second season of Dyson likely sounds better than rolling the dice on a multi-year deal for free-agent relievers — particularly when looking at how poorly this past winter's group of multi-year contracts for relievers has panned out.
At the same time, there's little reason for the Giants to hang onto Dyson at that price point when they're in the nascent stages of their rebuild. And, he'll have more value at this year's deadline than he would in the offseason. There's an argument to be made that the Giants should listen on all of their interesting relievers — even more controllable arms like Reyes Moronta and Trevor Gott — but neither will even be arbitration-eligible next year. Dyson, like Smith and Watson, should be a lock to be moved in the next 26 days barring some kind of injury.
The Giants find themselves in this rebuilding state in large part because of some missteps by the former front-office regime, but that group's acquisition of Dyson (in exchange for 26-year-old Hunter Cole, who has yet to see the Majors) proved to be a steal. Beyond the 148 innings of strong relief work Dyson has given the Giants since that trade, he now gives first-year president of baseball operations Farhan Zaidi and his staff a player who ought to net far more than what the Giants gave up to acquire him.