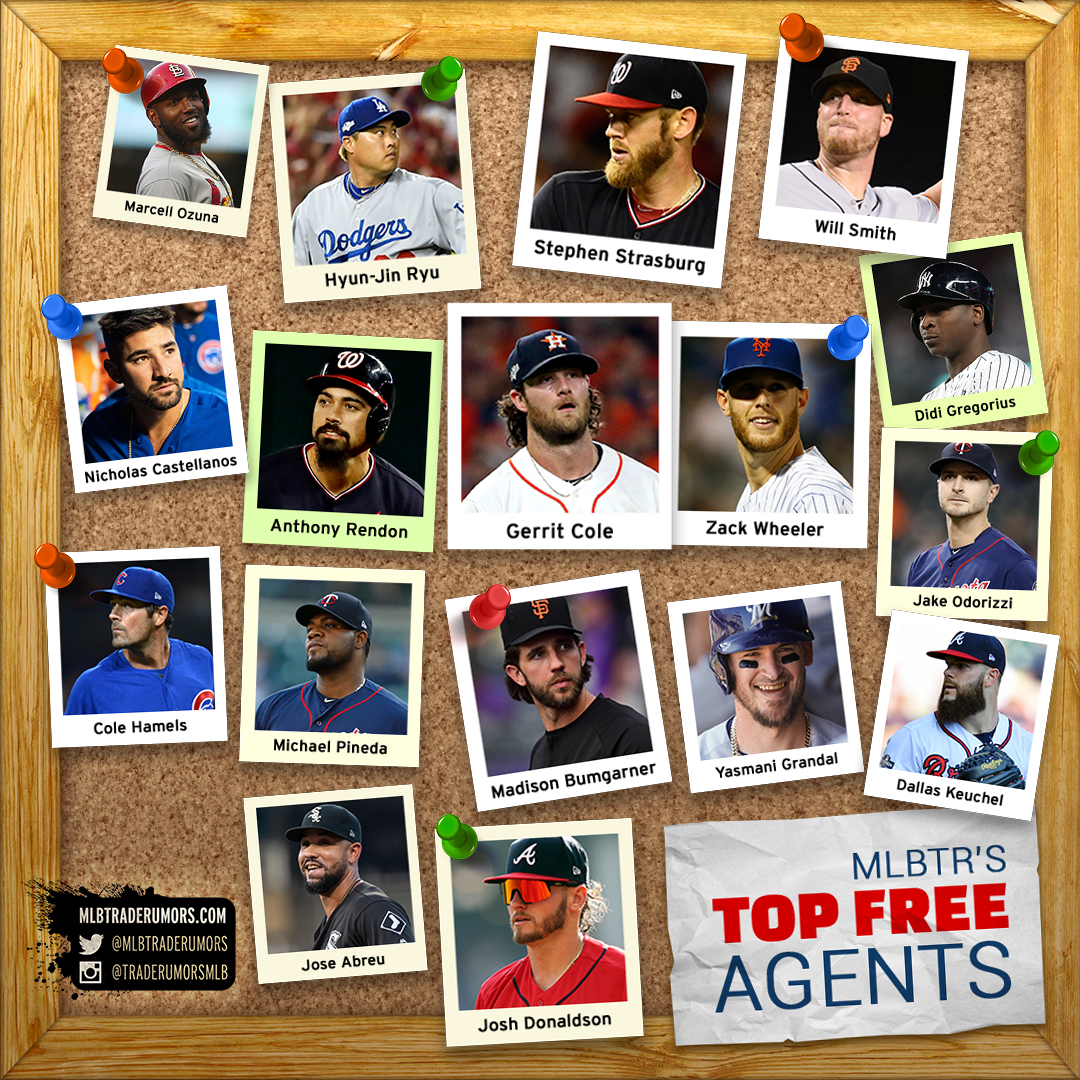 MLB Trade Rumors is proud to present our 14th annual Top 50 Free Agents list! For the entire list of free agents, plus the ability to filter by signing status, position, signing team, and qualifying offer status, check out our mobile-friendly free agent tracker here.
New to MLBTR? You can follow us on Twitter, like us on Facebook, follow us on Instagram, and download our free app for iOS and Android.  Want to make your own picks for cash prizes?  Click here to enter our contest!
MLBTR writers Steve Adams, Jeff Todd, and Connor Byrne joined me in this collaboration, debating free agent contracts and destinations for many hours. We vetted these as much as possible, but with 50 predictions and a volatile free agent and trade marketplace, we know we'll be off on some. Let us know what you think in the comment section! On to our Top 50 free agents:
1.  Gerrit Cole – Angels.  Eight years, $256MM.  If you could grow the perfect starting pitcher in a lab, the result would look a lot like Gerrit Cole. He has a strong case to be considered the best pitcher in baseball after a second consecutive dominant year for the Astros. The 6'4″, 225-pound righty led all of MLB in wins above replacement and strikeout rate, and he also possesses excellent control of his four pitches. This year he maintained an average fastball velocity over 97 miles per hour, second among starters. Cole paced the American League in ERA (2.50) in addition to leading the Majors  in SIERA (2.48). Cole is a true ace, going deep into games and reeling off a quality start nearly 80% of the time. The closest thing to a flaw in Cole's profile is his occasional proclivity toward the home run, as he's a flyball pitcher whose 2019 home run rate ranked 34th among qualified starters. That minor "blemish" notwithstanding, Cole stands a good chance of besting his rotation-mater, Justin Verlander, for AL Cy Young honors.
Cole was drafted 28th overall out of his California high school by the Yankees in 2008, but the pitcher chose to honor his commitment to UCLA. Cole's decision proved to be the correct one financially, as he was drafted first overall by the Pirates three years later. By 2013, Cole reached the Majors, though he missed significant time in 2014 with shoulder fatigue and a lat strain. Cole posted only one dominant season for the Pirates, finishing fourth in the 2015 NL Cy Young voting. He missed time again in 2016 with a triceps strain and elbow inflammation. Cole rebounded with good health in 2017, posting a solid if unspectacular final season for the Bucs.
With two years of club control remaining and escalating arbitration salaries, the Pirates decided to cash Cole in for more controllable players, trading him to the Astros in January 2018. The Astros were able to unlock Cole's talent, urging significant changes in his approach on the mound. Now, he heads into his age-29 season with agent Scott Boras seeking the largest pitching contract in MLB history.
Two pitching records from the 2014-15 offseason are under threat from Cole: David Price's total outlay of $217MM and Zack Greinke's $34.4MM average annual value. Cole is a near-lock to smash through the $217MM barrier, and he has at least some chance of topping Greinke's AAV mark. A $35MM salary seems more likely if Cole is to accept a seven-year term. It's also possible that a team might prefer to do an eight-year contract, which could bring down the AAV and the accompanying luxury tax hit. We haven't seen a significant eight-year contract for a pitcher since Mike Hampton signed with the Rockies 19 years ago. The Astros will likely entertain ways of keeping their ace, but with a burgeoning payroll, owner Jim Crane wouldn't even commit to attempting to sign him when asked in early October.  Cole, for his part, seemingly left the Astros in the dust almost immediately following the team's Game 7 loss, donning a Boras Corporation hat for his reluctant postgame interview.  The Angels, with a huge need for starting pitching and a hometown advantage, will surely make a run at Cole. They could be joined by the Yankees, Dodgers, Nationals, White Sox, Twins, Phillies, Rangers, Cubs, and more in an ownership-level pursuit that seems likely to drag into the new year.
Signed with Yankees for nine years, $324MM.
2.  Anthony Rendon – Nationals.  Seven years, $235MM.  Rendon emerged as one of the five best position players in baseball over the last three seasons, yet the Nationals' understated third baseman made his first All-Star team this year. Perhaps that's because of the well-rounded nature of his contributions, with doubles, walks, and stellar defense rather than sheer home run power. Rendon did set a career high with 34 home runs in 2019, though that was a feat accomplished by a whopping 35 players in this juiced-ball season. Previously, he'd maxed out at 25 homers in 2017.
Rendon was drafted sixth overall by the Nationals out of Rice University in 2011, five picks after Cole as part of star-studded draft. He carried a bit of an injury history with him even out of college, but once he reached the Majors in 2013 he maintained pretty good health outside of his 2015 campaign. Since then, Rendon has averaged 146 games per season. His timing is excellent, with a career-best 7.0 fWAR and 154 wRC+ this year. One potential knock on the low-key Rendon is his reputation as a player who treats baseball more like a job than a passion. He's said he considers baseball "too long and boring" to watch, eschews attention, and has shown signs that he might prefer to retire on the younger side.
Rendon will turn 30 in June, so a seven-year contract would pay him through his age-36 season. His third base counterpart in Colorado, Nolan Arenado, was extended only through age 34. Even Manny Machado signed through age 35 on the open market. We know a seven-year contract is at least on the table, since the Nationals offered that term and $210-215MM (with deferrals) in early September, according to Barry Svrluga of the Washington Post. Arenado's deal, signed in February, included seven years and $234MM in new money, so Rendon may be looking to top that mark. ESPN's Buster Olney noted in mid-October, "Some friends of Rendon believe that he's more interested in a shorter-term deal — perhaps a higher salary for a four- or five-year contract — because he might not be devoted to the idea of playing for as long as he possibly can."
The short-term possibility could put the Dodgers in play for Rendon, as they notably offered Bryce Harper an AAV of approximately $45MM over a four-year period, according to MLB.com's Jon Morosi back in February. The Nationals remain the favorite for Rendon, as Harper's departure left them capacity to sign their third baseman and they've already made an aggressive attempt. The Rangers, Phillies, Braves, Cardinals, and Angels could also be suitors.
Signed with Angels for seven years, $245MM.
3.  Stephen Strasburg – Nationals.  Six years, $180MM.  Back on Opening Day, Strasburg's opt-out decision seemed anywhere from questionable to flat-out unlikely. His 2018 season was a solid but injury-shortened season that saw him toss 130 innings of 3.74 ERA ball with peripherals that largely supported that unspectacular earned run average. He certainly didn't have a bad year, but the thought of him topping four years and $100MM in an open-market setting didn't seem particularly plausible.
Fast forward six months, and Strasburg is a World Series MVP who posted a 3.32 ERA over 209 regular-season innings. His strikeout and walk rates continued to be excellent, and at a time when the juiced ball turned the entire league into 30-homer threats, Strasburg cut back on his 2018 home-run rate while logging the second-highest grounder rate of his career. His postseason heroics were the stuff of legend; in 36 1/3 innings, Strasburg pitched to a 1.98 ERA with a 47-to-4 K/BB ratio — including a gutsy 8 1/3-inning effort in a win-or-go-home Game 6 against the Astros in Houston. This is the Strasburg the Nats dreamed of when taking him first overall back in 2009. He's now posted two six-WAR seasons in his past three years.
There aren't too many teams in baseball that will plausibly go to this level for a pitcher. Strasburg's market should have a direct overlap with Cole, meaning that the Nationals, Phillies, Dodgers, Yankees, Twins, White Sox, Rangers and Cubs could all come into play.  The Padres seem likely to be involved in Strasburg's market as well, given his geographic ties. By all accounts, he's loved his time in D.C., and while paying both Strasburg and Rendon would require an astonishing commitment from the owners Ted and Mark Lerner, it's a lot easier to write those checks coming off a World Series victory.
Signed with Nationals for seven years, $245MM.
4.  Zack Wheeler – Phillies.  Five years, $100MM.  For teams seeking ace potential without the Gerrit Cole price tag, Wheeler is the top choice. Though the 29-year-old's 3.96 ERA this season doesn't jump off the page, he's displayed the ability to miss bats and added a career-best walk rate. Over his past 350 innings, Wheeler is sporting a 3.47 ERA and a 3.27 FIP with a strikeout per inning and just 2.4 walks per nine. He's also one of the hardest-throwing starting pitchers in the game, averaging 96.7 mph this year on his fastball. The Statcast profile on Wheeler is strong, with above average fastball and curveball spin rate and low exit velocity and hard-hit percentage.
Wheeler was drafted sixth overall by the Giants out of high school in 2009, joining the Mets in a July 2011 trade for Carlos Beltran. He had Tommy John surgery in March 2015 and wound up going two and a half years between Major League starts. Wheeler has made 60 starts in the last two campaigns, so the surgery is firmly in the rearview mirror.
Though the free agent market has tightened up considerably since Jeff Samardzija signed four years ago, there would seem to be enough competition to get Wheeler to the heights of that five-year, $90MM contract or even take it to the next level. Wheeler received a qualifying offer from the Mets, who seem unlikely to be able to fit him into their budget. The Phillies, Twins, Nationals, Braves, Brewers, Cubs, Giants, Dodgers, Padres, Red Sox, Yankees, White Sox, Astros, Angels, and Rangers could be part of his robust market.
Signed with Phillies for five years, $118MM.
5.  Josh Donaldson – Rangers.  Three years, $75MM.  After an injury-shortened 2018 season, Donaldson bet on himself by signing a hefty one-year, $23MM deal with the Braves.  The former MVP returned to glory with a 4.9 WAR campaign, playing in 155 games.  He posted a strong 132 wRC+ with his signature excellent third base defense.  Five-WAR seasons were the floor for Donaldson from 2013-17, when he starred for the A's and Blue Jays.  Statcast underlines the fact that Donaldson has returned to form, as he ranked seventh in MLB in average exit velocity and 11th in hard hit percentage.
Unlike last winter, Donaldson has been tagged with a qualifying offer.  The slugging, slick-fielding third baseman turns 34 in December, likely limiting him to a three-year, high-AAV contract.  If the Braves balk, the Rangers, Nationals, Phillies, Brewers, Cardinals, Twins, and Angels could be in the mix.
Signed with Twins for four years, $92MM.
6.  Madison Bumgarner – Twins.  Four years, $72MM.  Bumgarner bounced back with 207 2/3 innings this year after missing significant time in each of the two previous seasons. An April 2017 dirt bike accident resulted in three months lost to a shoulder injury, and then Bumgarner broke his hand in a 2018 Cactus League game after being hit by a comebacker. Bumgarner proved those series of unfortunate events were behind him by making 34 starts in 2019.
From 2011-16, Bumgarner was a lock for 30+ starts, serving as one of baseball's best regular season pitchers and a postseason legend. Though his Giants haven't appeared in the playoffs since 2016, Bumgarner sports over 100 innings of 2.11 ERA ball in the postseason to back up his three rings. He hasn't quite maintained the strikeout rate of his heyday, and he can be prone to home runs, but Bumgarner is only 30 years old and has plenty left in the tank.
The Giants' brief flirtation with a Wild Card run in July worked to Bumgarner's detriment as a free agent, as it prevented a trade that would have made him ineligible for a qualifying offer. Now, Bumgarner must navigate the market with the added cost of his signing team losing a draft pick. He'd still be a welcome addition to just about any pitching staff, and his list of suitors should be similar to that of Wheeler. Some of those teams may even prefer Bumgarner, but he's not an asset on the rise in the way that Wheeler looks to be.
Signed with Diamondbacks for five years, $85MM.
7.  Yasmani Grandal – Reds.  Four years, $68MM.  In each of the last two years, Grandal has trailed only J.T. Realmuto for the highest WAR among catchers. Grandal is the best-hitting catcher in baseball over the last two seasons with a 123 wRC+, a mark that would look good for a player at any position but is downright Herculean compared to the average catcher's 84 wRC+ in that time. On the defensive side, Grandal has caught more innings than anyone over the last two seasons and continually rates as one of the game's best pitch framers.
Back in January, Grandal signed a surprising one-year, $18.25MM contract with the Brewers. Though his market was depressed by a qualifying offer and perhaps some high-profile gaffes in last year's playoffs, the backstop still received plenty of multiyear offers, including a four-year proposal from the Mets in excess of $50MM. Grandal explained in January that average annual value was important to him: "These are guys who have established a market and pay levels for a particular tier of catchers like myself. I felt l would be doing a disservice taking some of the deals that were offered even though they were slightly more long term."
It certainly appears Grandal's bet will pay off, as even a three-year, $42MM deal would put him ahead of the Mets offer he spurned. Grandal turns 31 this month and has a good shot at a four-year deal. This time, he hits the market on a positive note and without the anchor of a qualifying offer. The Brewers will likely attempt to re-sign him, but the Reds, Nationals, Braves, Mets, Rays, White Sox, Angels, and Rangers could also be in the mix.
Signed with White Sox for four years, $73MM.
8.  Nicholas Castellanos – White Sox.  Four years, $58MM.  Castellanos is the best outfield bat on the market this winter. His 126 wRC+ over the past two seasons ranks 26th in baseball, only a bit shy of big names like Kris Bryant, Paul Goldschmidt, Nolan Arenado, and Bryce Harper. Playing in cavernous Comerica Park, Castellanos never reached 30 home runs in a season, but he led MLB in doubles this year and ranked fifth last year. The Tigers sent Castellanos to the Cubs at the trade deadline this year, which ended up having dual benefits: it erased his qualifying offer eligibility, and he went absolutely nuts with a 154 wRC+ and 16 home runs for Chicago in 225 plate appearances. Plus, Castellanos doesn't turn 28 until March, making him the youngest prominent free agent and 15 months younger than Marcell Ozuna.
On the flip side, one reason trade interest was limited in Castellanos this summer is his suspect defense. After four years of below average third base defense, Castellanos moved to right field in 2019 and remained subpar there. Among those with at least 1,500 innings in right field over the last two years, Castellanos ranks dead last in ultimate zone rating and defensive runs saved. It's definitely worth noting, though, that virtually every defensive metric of note reflected improvement from 2018 to 2019. Castellanos went from -19 to -9 in DRS, -12.9 to -4.4 in Ultimate Zone Rating and -24 to -7 in Statcast's Outs Above Average. Scott Boras is surely going to try to sell him as a player whose defensive skills are on the rise along with his bat. Whether he can succeed remains to be seen.
Even if Castellanos just is who he's been, the result in the short-term is still a solid three WAR type player — albeit one who fits better on an American League team. The Cubs remain an option, and the White Sox, Marlins, Reds, Giants, Diamondbacks, Padres, Indians, and Angels could be possibilities.
Signed with Reds for four years, $64MM.
9.  Hyun-Jin Ryu – Rangers.  Three years, $54MM.  Ryu's results the last two years are hard to beat. He won the NL ERA crown with a 2.32 mark this year after posting a 1.97 ERA in 15 starts in 2018. Ryu works at around 91 miles per hour, but he's in the 96th percentile for exit velocity allowed, meaning batters aren't squaring him up despite the lack of premium velocity. He was consistently excellent in 2019, turning in a quality start more than three-quarters of the time. The southpaw turns 33 in March and should score a solid contract despite his age and lengthy injury history.
After a successful career in the Korea Baseball Organization, Ryu was posted by the Hanwha Eagles and the Dodgers won his negotiating rights in 2012. Following a couple of excellent seasons for the Dodgers, Ryu required shoulder and elbow surgeries and missed almost all of the 2015-16 seasons.  After his strong half-season in 2018, the Dodgers issued a qualifying offer, and Ryu accepted. This year, he reached 180 innings for the first time since his rookie campaign and should receive Cy Young votes.
Ryu will be considered a significant injury risk, but he offers the chance at front-of-the-rotation results with a contract in the range of Rich Hill's deal from three years ago. The Dodgers may look to retain him, but otherwise the Rangers, Nationals, Braves, Brewers, Cubs, Giants, Padres, Red Sox, Yankees, Twins, Astros, and Angels could be suitors.  Ryu's market will be aided by the fact that he's ineligible for a qualifying offer, unlike the other top starting pitchers.
Signed with Blue Jays for four years, $80MM.
10.  Jake Odorizzi – Twins.  Three years, $51MM.  Odorizzi, 30 in March, blossomed in 2019 and made his first All-Star team. The righty struck out more than 27 percent of batters faced, which was by far a career-best and good for 21st in baseball among those with 150 innings. Odorizzi also has an excellent track record of health, making at least 28 starts in each of the past six seasons. More encouragingly, he's never been on the IL due to an arm injury.
Odorizzi will not save a team's bullpen, however, as he ranked 80th in baseball at 5.3 innings per start (minimum 100 innings). Perhaps in today's game, where teams prefer not to let a starter go three times through the batting order, Odorizzi's "five and dive" reputation is less of a detriment. He's also been tagged with a qualifying offer, which will probably stunt his market more than anything. Still, plenty of teams will be shopping in the starting pitching middle class, and Odorizzi is one of the best within that bracket.
Accepted one-year, $17.8MM qualifying offer from Twins.
11.  Marcell Ozuna – Giants.  Three years, $45MM.  Ozuna's market figures to be similar to that of Castellanos. Ozuna does have one huge season on his resume: his 2017 campaign for the Marlins wherein he posted a career-best 143 wRC+ with 37 home runs. Miami traded him to the Cardinals afterward, and his offense in St. Louis was pedestrian. Ozuna's 108 wRC+ over the past two seasons is worse than a more affordable free agent like Yasiel Puig. Plus, unlike Castellanos, he's been saddled with a qualifying offer. Ozuna's arm pretty much limits him to left field, where he has received above-average defensive marks.
There is a silver lining here, and it's in Ozuna's Statcast numbers. Ozuna's average exit velocity and hard-hit percentage were both in the 93rd percentile or better this year, suggesting that his current skill level will produce better results in the future. Plus, he turns 29 this month, so he's young enough to present some upside. Assuming Ozuna turns down his qualifying offer from the Cardinals, he's expected to sign elsewhere. The Giants, Marlins, Reds, Padres, Indians, Tigers, and Royals could make sense.
Signed with Braves for one year, $18MM.
12.  Didi Gregorius – Reds.  Three years, $42MM.  A Curacao native who was born in Amsterdam, Gregorius was a rising shortstop prospect with a rocket arm and below average power when he was sent from the Reds to the Diamondbacks as part of a major three-team deal in December 2012.  After a couple of lackluster seasons in Arizona, the Yankees acquired Gregorius in another three-team deal, boldly installing him as Derek Jeter's replacement.  The team was able to unlock Gregorius' power, as he hit 72 home runs from 2016-18.  In 2017-18, Gregorius totaled 8.9 fWAR – third in all of baseball and ahead of Manny Machado, Xander Bogaerts, Javier Baez, Trea Turner, and Carlos Correa.  During that time he provided a large impact on both sides of the ball, with a 115 wRC+ and his typical excellent defense.  However, Gregorius injured his elbow during the 2018 ALDS, requiring Tommy John surgery in October of that year.  He made his 2019 season debut on June 7th.
Gregorius' bat did not return to previous levels in 2019, with a 84 wRC+ after a particularly rough September.  With a normal offseason during which Gregorius will turn 30, there's a good chance he'll return to form as one of the game's best shortstops.  Plus, the Yankees declined to make a qualifying offer, so he hits the market unencumbered.  Though solid multiyear deals will be offered, Gregorius' best play might be to take a strong one-year deal and re-enter the market.  Should the Yankees choose to install Gleyber Torres as their regular shortstop in 2020, Gregorius could land with the Reds, Brewers, Marlins, or Phillies.
Signed with Phillies for one year, $14MM.
13.  Will Smith – Twins.  Three years, $42MM.  Smith may be the most coveted reliever on the free agent market this winter. The 30-year-old southpaw made his first All-Star team this year, serving as the Giants' closer and racking up 34 saves. Though he works around 93 miles per hour, Smith has been piling up strikeouts for the last two seasons. During that time he's punched out nearly 36 percent of batters faced, which ranks seventh among relievers with at least 100 innings. And it's not as if those punchouts came from out of nowhere. He's improved since the start of 2018, but Smith has whiffed a third of the hitters he's faced since moving to the bullpen back in 2013.
Much like Bumgarner, Smith would have benefited from a midseason trade. Now, a qualifying offer puts a drag on his market and could get in the way of a four-year deal. He should still be immensely popular, with the Twins, Nationals, Phillies, Mets, Cubs, Dodgers, Diamondbacks, Red Sox, Yankees, and Rays among the many teams seeking bullpen help.
Signed with Braves for three years, $40MM.
14.  Dallas Keuchel – White Sox.  Three years, $39MM.  Coming off a solid 2018 season for the Astros, Keuchel became the poster boy for last winter's free agent freeze. The soft-tossing southpaw waited until after the June amateur draft to sign, removing the qualifying offer that helped dragged down his market.
Keuchel's work for the Braves in 19 starts was acceptable but not exceptional. He posted a solid 3.75 ERA, but that included his typical lackluster strikeout rate and more than a hit per inning. Keuchel did shine in groundball rate, ranking first in MLB among those with 100 innings. Rare as flyballs were for Keuchel, 24 percent of his left the yard, so he was still homer-prone in the end. How much of that is attributable to the juiced ball is difficult to ascertain, but he's never struggled to that extent. In fact, as recently as 2018, only 11.3 percent of Keuchel's flyballs became home runs.
Keuchel is not eligible for a qualifying offer this time around, so he should be able to find a multiyear deal from a team looking for a veteran innings eater. Given last winter's fiasco, he'll be best served keeping an open mind to all offers, including those from rebuilding clubs.
Signed with White Sox for three years, $55.5MM.
15.  Cole Hamels – Braves.  Two years, $30MM.  Hamels is headed toward the twilight of his career, with his 36th birthday around the corner. The southpaw change-up artist has an admirable career record. His 39.3 WAR from 2007-15 ranks sixth in MLB, nudged between likely Hall of Famers Justin Verlander, Zack Greinke and CC Sabathia. Hamels is still an above average starting pitcher, as evidenced by a 3.30 ERA in 39 starts for the Cubs since they traded for him at last year's deadline. His Chicago renaissance was in full swing for his first 16 starts of 2019, featuring a 2.92 ERA, but an oblique strain in late June knocked him out for over a month. Hamels posted a 5.79 ERA in 10 starts after his return, creating some cause for concern.
Though Hamels' days as a 210-inning workhorse are probably long gone, he's a solid addition if he can provide 300 innings over the life of a two-year deal. The Cubs declined to issue a qualifying offer, so Hamels' first-ever foray into free agency will be uninhibited. The Braves, Phillies, Brewers, Giants, Dodgers, Padres, Red Sox, Yankees, White Sox, Twins, Astros, Angels, and Mariners could be options, though the veteran Hamels would presumably prefer to latch on with a contending club at this point of his career.
Signed with Braves for one year, $18MM.
16.  Jose Abreu – White Sox.  Two years, $28MM.  Six years ago, the White Sox signed Abreu to a six-year, $68MM that was a record for an international free agent at the time and still stands as the largest contract in franchise history.  Abreu, a Cuban defector who turns 33 in January, has been a steady presence for Chicago over those six years, averaging 150 games, 30 home runs, and 102 RBI per season.  He won the AL Rookie of the Year in 2014 and made the All-Star team three times.  By measure of wRC+, Abreu is at 116 over the past two seasons, and that represents a reasonable expectation over the next two.  The White Sox greatly value Abreu's clubhouse presence, and a return seems a near-lock.  The team's qualifying offer was a starting point.  If multiyear talks go awry and Abreu turns down the QO, the draft pick loss plus the first baseman's age could serve to limit interest.  Still, the Marlins, Nationals, Brewers, Red Sox, Twins, and Rangers could be options in the unlikely scenario of a White Sox divorce.
Accepted one-year, $17.8MM qualifying offer from White Sox.  Later reworked as a three-year, $50MM contract.
17.  Michael Pineda – Brewers.  Two years, $22MM.  The Twins signed Pineda to a two-year, $10MM deal in December 2017, with the understanding that the righty was a 2019 stash due to Tommy John surgery. That worked out mostly as planned, as the big righty provided 26 starts of 4.01 ERA ball before being slapped with a 60-game PED suspension in September. The suspension was ill-timed not only due to his impending free agency but also because there could now be some skepticism as to the validity of the 3.10 ERA, 9.3 K/9 and 1.7 BB/9 he logged in 87 innings (15 starts) upon returning from a brief IL stint in mid-June.
At the same time, there's cause to believe that Pineda's case may be the rare suspension in which a banned substance was not related to PED use. According to ESPN's Jeff Passan, "He originally got an 80-game suspension, but it was reduced to 60 on appeal, as a compelling case was made that a banned diuretic he used was not a masking agent for PEDs." As far as Pineda's free agency goes, the main effect of the suspension is that he'll miss the first 39 days of the 2020 season.  So, whoever signs him will have to accept a May debut.
Pineda, 31 in January, has generally posted solid strikeout rates, excellent control, and inflated home run rates in his career with the Mariners, Yankees, and Twins. Those trends continued in 2019, and he could fill the number three or four starter spot for quite a few clubs.  Plus, Pineda doesn't come with a qualifying offer attached. He's the type of starter that will have a broad market; non-contenders in search of innings with a tick of upside could find his price point palatable, and contending clubs could be enticed by the strong results he generated in his final 15 starts.
Signed with Twins for two years, $20MM.
18.  Mike Moustakas – Braves.  Two years, $20MM.  If we keep predicting a multiyear deal for Moustakas, will he finally get one? Time will tell! Moose, who was hitting 38 home runs before everyone starting doing it, has signed consecutive one-year deals the last two winters. He's not one to draw many walks, though he's improved in that regard, and he's smacked 101 home runs over the past three seasons. Moustakas' third base defense rates as acceptable, and he's even shown he's capable of handling second base. It's a solid 2-3 WAR package that could still be useful to the Brewers. The Braves, Nationals, Phillies, Orioles, Indians, Twins and Rangers could get involved as well.
Signed with Reds for four years, $64MM.
19.  Kyle Gibson – Cubs.  Two years, $18MM.  Gibson was drafted 22nd overall by the Twins out of Mizzou in 2009, after he dropped down draft boards due to a stress fracture in his forearm.  At the time, Gibson was considered a possible future ace on the fast track to Minnesota. However, the righty went under the knife for Tommy John surgery in September 2011, delaying his big league debut until 2013. He was 25 years old by then, which is why he's reaching free agency heading into his age-32 season. Gibson's injury history also includes a shoulder strain in 2016.
Gibson made 188 starts in his Twins career spanning parts of seven seasons, displaying good durability and decent results. His strikeout and walk numbers have generally been sub-par or average. While Gibson's strikeout rate has risen over the past two seasons, so too has the entire league's. Where Gibson succeeds is in his ground-ball rate; in fact, his 50.6 percent mark over the past three seasons is the best among all big league pitchers who have thrown at least 500 innings. Unfortunately, an inordinate amount of Gibson's fly-balls have left the yard, including more than 20 percent of them this year. Gibson was posting a decent 2019 season as of August 3rd, with his ERA down to 4.02, but he was rocked in his next five starts and hit the IL for ulcerative colitis.
Gibson feels his season-long gastrointestinal issues may stem from "E. coli that he contracted in the Caribbean during a volunteering trip," according to Do-Hyoung Park of MLB.com. He lost upwards of 20 pounds last winter as a result and wasn't fully able to put the weight back on for the '19 season. Gibson has shown that at his best, he can make 30 starts and provide around 2.5 WAR, so he fits well in the Roark-Miley-Teheran-Porcello aisle of starting pitchers.
Signed with Rangers for three years, $30MM.
20.  Tanner Roark – Blue Jays.  Two years, $18MM.  Roark, a veteran of seven MLB seasons, has never landed on the injured list. He's made at least 30 starts in five of the past six seasons, with the exception being 2015 when he was bumped to the bullpen upon the Nationals' signing of Max Scherzer. His strikeout rate has ticked up over the years, though his lone positive Statcast data point is the excellent spin rate on his curveball.  Roark is a hittable 33-year-old righty with a 92 mile per hour fastball whose main attribute is his ability to take the ball every fifth day. It's not a particularly sexy profile, but durable, league-average innings have value. Some of the less-appealing free agent destinations might be able to lure him with a two-year deal.
Signed with Blue Jays for two years, $24MM.
21.  Julio Teheran – Mariners.  Two years, $18MM.  Teheran made 222 starts for the Braves from 2013-19, a total that ranks fourth in all of baseball.  Teheran, 29 in January, made the All-Star team in 2014 and '16.  Over the last three years, however, the righty has settled in as more of a 4.00 ERA type of innings eater.  Despite an ERA of 4.09 during that time, his SIERA has hovered closer to 5.00.  His control, once an asset, has slipped to an 11% BB rate – third-worst in MLB among qualified starters.  Teheran's fastball velocity is down below 90 miles per hour on average, but he can at least boast of above average spin rates.  It's difficult to get excited about Teheran despite his relative youth, but his durability has value.
Signed with Angels for one year, $9MM.
22.  Will Harris – Cubs.  Two years, $18MM.  Harris, 35, might be the best MLB reliever you've barely heard of, at least until the playoffs this year. Since joining the Astros via a November 2014 waiver claim, Harris has posted 297 innings of 2.36 ERA ball. That mark ranks third in MLB over that time — ahead of Kenley Jansen, Craig Kimbrel, and various other well-compensated firemen. As a righty with a 92 mile per hour fastball and only 20 career saves, perhaps Harris' anonymity makes sense. But Harris is a spin rate monster who specializes in weak contact. He's got an excellent ground-ball rate and should be a popular free agent this winter even after allowing a pair of critical World Series homers (the latter of which was an improbable, barely-a-homer shot that came on a well-executed pitch; tip of the cap to Howie Kendrick…who we'll get to in a bit).
Signed with Nationals for three years, $24MM.
23.  Drew Pomeranz – Dodgers.  Two years, $16MM.  Most free agent markets have a buzzworthy reliever, and this year it's Pomeranz.  A former first round pick of the Indians, the southpaw had some solid seasons in relief for the A's before finding his footing as a starter with the Padres and Red Sox.  Pomeranz posted a 3.32 ERA over 62 starts from 2016-17, but his 2018 season was decimated by a forearm flexor strain and biceps tendinitis.  He hooked on with the Giants for just a $1.5MM guarantee, but failed in a starting role for San Francisco and was shipped to the Brewers at the 2019 deadline.
From August 2nd onward, Pomeranz was an utterly dominant reliever for Milwaukee.  His fastball velocity ticked up to 95-96 miles per hour as Pomeranz struck out nearly half of batters faced, more than Josh Hader during that time.  The eye-opening showing, less than 30 innings in total, could even net Pomeranz a three-year deal.
Signed with Padres for four years, $34MM.
24.  Wade Miley – Angels.  Two years, $16MM.  Miley is coming off a solid year for the Astros in which he posted a 3.98 ERA in 33 starts. The veteran southpaw, 33 this month, had a 3.06 ERA after his August 30th start in Toronto. Then the wheels came off, as he was clobbered for 28 hits and 21 earned runs in 11 1/3 innings over his next five starts and was left off the Astros' ALCS and World Series rosters.
When Miley is going well, he succeeds by way of soft contact. This year he posted an 81st percentile hard-hit percentage and 75th percentile average exit velocity. Miley reinvented himself by ramping up the usage of his cutter, throwing the pitch more than 40 percent of the time starting in 2018 with the Brewers. As he explained last year to Todd Rosiak of the Milwaukee Journal Sentinel, "You suck enough in this game – and I did, for two straight years – I guess insanity is what comes to mind. I kept doing the same thing and expecting a different result and finally I was just like, 'I've got to make an adjustment.' That's what I came up with."
Despite the late-season swoon, the new version of Miley can provide stability at the back end of a starting rotation. With the exception of 2018, Miley made 29 or more starts each season dating back to 2012. The Angels, Braves, Phillies, Mets, Brewers, Cubs, Pirates, Blue Jays, White Sox, Twins, Giants, Mariners, or Rangers could be fits.
Signed with Reds for two years, $15MM.
25.  Corey Dickerson – Padres.  Two years, $15MM.  Dickerson's 127 wRC+ topped all free agent outfielders this year, though he did it in just 279 plate appearances due to a shoulder strain and a broken foot. A left-handed hitter, Dickerson has been at least 15 percent above league average with the bat in each of the past three seasons. He's not big on drawing walks but makes up for it with a relatively low strikeout rate. Dickerson has spent the vast majority of his time in left field, with varying defensive results. He rated poorly in Tampa Bay, which contributed heavily to the Rays' decision to trade him, only to post brilliant metrics in 2018 and win a Gold Glove Award. He could be a useful addition for teams like the Padres, Marlins, Reds, Giants, Orioles, White Sox, Indians, Tigers and Royals.
Signed with Marlins for two years, $17.5MM.
26.  Travis d'Arnaud – Brewers.  Two years, $14MM.  D'Arnaud, 31 in February, was the 37th overall pick by the Phillies out of high school back in 2007. Drafted for his defensive abilities at catcher, d'Arnaud surpassed his younger brother, Chase, as a prospect and was traded to the Blue Jays in the Phillies' December 2009 deal for the late, great Roy Halladay. As d'Arnaud's prospect rating continued to rise, he was included in a second major trade three years later, joining Noah Syndergaard as part of the Mets' return for R.A. Dickey.
D'Arnaud suffered a partially torn posterior cruciate ligament in his left knee at Triple-A in the season leading up to his Mets trade, and it was a sign of things to come. The touted backstop's Mets career spanned 407 games over parts of seven seasons and was wracked by injuries, from a broken foot in 2013 to elbow surgery in 2014 to a broken hand and sprained elbow in 2015 to a rotator cuff strain in 2016 to a bruised wrist in 2017 to Tommy John surgery in 2018. From 2015-18, d'Arnaud had an IL stint lasting at least three weeks in every season. Yikes.
Somehow, once the Mets finally gave up on him in April of this year, d'Arnaud's fortunes changed. After a one-game stop-off with the Dodgers, d'Arnaud was dealt to the Rays and posted a 107 wRC+ in 365 plate appearances. In June and July, d'Arnaud was not only the best-hitting catcher in baseball, he was the fifth-best hitter in all of MLB. He tailed off significantly after that, but importantly was able to avoid the IL. Notably, for a catcher returning from Tommy John surgery, he threw out an above-average 29 percent of attempted thieves on the bases this season.  He's also long been considered an average or better framer. Compared to veterans Robinson Chirinos and Jason Castro, d'Arnaud offers upside along with ample injury risk. The Rays still make sense, and d'Arnaud could also be of interest to the Brewers, Nationals, Pirates, Tigers, Astros, Angels, and Rangers.
Signed with Braves for two years, $16MM.
27.  Chris Martin – Phillies.  Two years, $14MM.  Martin has one of the most fascinating journeys of any player on this list. As outlined by Tim Tucker in the Atlanta Journal-Constitution, Martin was drafted out of both high school and community college, but turned those offers down in hopes of improving his stock. Instead, he suffered a torn labrum in college and basically quit baseball after his shoulder wasn't responding properly. Working at places like Lowe's and UPS in his 20s, Martin realized his shoulder didn't hurt anymore, and forged a path from independent baseball to a Major League debut at age 27,  to a successful two-year stint with the Nippon Ham Fighters, and back home to Texas on a two-year, $4MM free agent deal. In Martin's first year for the Rangers, he was limited to 41 2/3 innings because of forearm irritation as well as hamstring, knee, and groin injuries. This year, he ascended to the team's closer role before being traded to the Braves at the deadline. Martin ended his season on a minor down note, as he was pulled from the NLDS with oblique tightness.
Martin's stats this year jump off the page. In 55 2/3 innings, he punched out 65 batters and walked just five, with a 50 percent ground-ball rate to boot. His fastball averaged nearly 96 miles per hour. On the worrisome side, he was in the 17th percentile for hard-hit percentage, and more than a fifth of his fly-balls left the yard in his time with the Rangers. Plus, there's that injury history.  As free agent relievers go, Martin, who'll turn 34 next June, sits on the higher end of the risk/reward spectrum.
Signed with Braves for two years, $14MM.
28.  Daniel Hudson – Nationals.  Two years, $12MM.  Hudson, 33 in March, signed a minor league deal with the Angels in February, was released in March, signed for a million dollars with the Blue Jays a few days later…and then found himself recording the final out of the 2019 World Series with the Nationals. His roller-coaster season was, in many ways, emblematic of the Nationals organization in 2019 and made for a great story. It also makes for a nice free agent case.
On the season for the Blue Jays and Nationals, Hudson posted a fine 2.47 ERA in 73 frames — his best since switching to relief in 2015 — but his strikeout and walk rates weren't anything special.  He did improve his control upon the trade to the Nats. It should also be highlighted that he's not only one of the hardest-throwing free agent relievers this winter — he also boasts 90th percentile spin rate on his fastball and curve.
Hudson is the rare active MLB pitcher who has twice undergone Tommy John surgery; fewer than 10 hurlers can make that claim.  Hudson's TJS procedures are more than six years behind him, and he already received a two-year free agent deal since, but he did miss a significant portion of the 2018 season with forearm tightness.  It would make sense for the Nationals to try to retain Hudson. Otherwise the Phillies, Mets, Cubs, Diamondbacks, Red Sox, Twins, and Astros could be suitors.
Signed with Nationals for two years, $11MM.
29.  Avisail Garcia – Marlins.  Two years, $12MM.  Garcia batted .330 in his excellent 2017 season, but a hamstring strain cost him two months the following year and he posted a replacement-level campaign. The White Sox chose not to tender him a contract after that, and Garcia landed with the Rays on a $3.5MM pact. His bounceback year went pretty well, with a 112 wRC+, a career-best 20 home runs, and solid defense in right field. Still, it all came out to a 1.8 WAR season.
Garcia is only 28 years old, however, and he's faster and more athletic than you might think, ranking 72nd of 568 big leaguers in average sprint speed — tied with Cody Bellinger and ahead of players like Tim Anderson and Christian Yelich. There's still some upside here to unlock, but the corner-outfield market also features Castellanos, Ozuna, Puig, Dickerson, Gardner, Calhoun and others. Garcia could land multiple years if a team buys into the potential for upside, but some from that group are going to be left standing with disappointing deals, and 20 homers in an all-time era for power isn't ideal for a player who's primarily a corner outfielder.
Signed with Brewers for two years, $20MM.
30.  Howie Kendrick – Twins.  Two years, $12MM.  After serving as the Angels' starting second baseman for nine years, Kendrick was traded to the Dodgers in December 2014 for Andrew Heaney. In the last few seasons, the now-36-year-old Kendrick transitioned into more of a part-time role, logging time at first base and left field in addition to his time at second base. Kendrick's high-contact approach has aged like a fine wine, with a 130 wRC+ over the last three years including a stout 146 mark this year. It would make sense for him to land with a contending team with an unsettled first base situation and the occasional need at second base. He makes some sense with the Twins, Rays, D-backs or Brewers, and a return to the Nationals seems quite possible after a pair of season-saving playoff dingers.
Signed with Nationals for one year, $6.25MM.
31.  Rick Porcello – Giants.  One year, $11MM.  Porcello has made 281 starts over the last nine seasons, behind only Max Scherzer, Justin Verlander, and Jon Lester. He also started at least 28 games in each of those seasons from 2011-19, something only Lester can also boast. Porcello, 31 in December, is a paragon of durability. He's also a paragon of mediocrity outside of his 2015 Cy Young season for the Red Sox, as he's otherwise settled in as a two-WAR starting pitcher with an ERA in the mid- to high-4.00s.
Porcello will soak up 32 starts a year like clockwork, and his strikeout-to-walk ratios are solid. He's also got excellent spin rate on his fastball and curve. However, Porcello's flyball rate is eighth-highest in the game over the past three seasons and his home run rate is sixth-worst. He'd do well in a place like San Francisco, but interest could also come from the Braves, Mets, Cubs, Padres, Blue Jays, White Sox, Royals, Twins, Astros, Angels, Mariners, and Rangers. Porcello should receive two-year offers, but he may prefer to bet on himself with a one-year deal. Doing so would allow him to hit the market again prior to his age-32 season, though with a strong enough year he'd also potentially be subject to a qualifying offer.
Signed with Mets for one year, $10MM.
32.  Brett Gardner – Yankees.  One year, $10MM.  Gardner has been indispensable in his 12-year career with the Yankees, as he just keeps churning out 3-4 WAR seasons.  In fact, his 21.9 WAR from 2013-19 ranks 12th among all MLB outfielders, ahead of players like Justin Upton, Jason Heyward, and A.J. Pollock. He's a well-rounded contributor who generally rates as above average on both offense and defense.  The 36-year-old Gardner has typically served as a left fielder, but he proved more than capable of  center when he took more than half of the Yankees' innings at that position in Aaron Hicks' absence.  It's hard to picture him in anything other than a Yankees uniform, but perhaps some team could lure him with a two-year deal. The Phillies, D-backs, Indians and others could weigh outfield additions, but with Hicks likely out for most of the 2020 season following Tommy John surgery, a Bronx reunion seems all the likelier.
Signed with Yankees for one year, $12.5MM.
33.  Robinson Chirinos – Astros.  Two years, $10MM.  The 35-year-old Chirinos has proven himself to be one of the better-hitting catchers in the game, as his 111 wRC+ from 2017-19 ranks eighth in baseball in a group led by Yasmani Grandal's 117 mark.  He's clearly a bat-first catcher, ranking poorly in pitch framing and preventing stolen bases despite the Astros' counseling. Still, it appears he's become good enough behind the dish, and he should draw interest from most of the team's listed for d'Arnaud. The Astros have extra incentive to keep him around, as they have virtually nothing on the depth chart behind the dish and Chirinos became Justin Verlander's preferred receiver in 2019.
Signed with Rangers for one year, $6.75MM.
34.  Jason Castro – Angels.  Two years, $10MM.  Castro, by contrast, is more of a glove-first type of catcher, though his bat was above average this year for the first time since 2013. He walks at a high clip, evidenced by a career 10 percent rate and a mark near 12 percent over the past four seasons, and has above-average power for a catcher. However, he also strikes out frequently (career 27.9 percent), which limits his average, OBP and overall offensive contributions.
Castro's defensive value is primarily driven by his pitch framing, as his career caught-stealing rate is roughly in line with the league average. His blocking numbers, per Baseball Prospectus, took a nosedive this season, although perhaps that's to be expected in his first year back from knee surgery.  The 32-year-old missed almost all of 2018 due to a torn meniscus in his right knee and ended up ceding about half the playing time in 2019 to Mitch Garver, who had a breakout year for the Twins. As noted when previously discussing d'Arnaud, the Rays, Brewers, Nationals, Pirates, Tigers, Astros, Angels, and Rangers could all be on the lookout for catching help.
Signed with Angels for one year, $6.85MM.
35.  Craig Stammen – Mets.  Two years, $10MM.  Stammen broke in as a starter with the Nationals in 2009 but flourished as a multi-inning reliever beginning in 2012. He missed almost all of the 2015 season with a torn flexor tendon, joining the Padres on a minor league deal prior to the 2017 campaign. Since that time he's second among MLB relievers with 241 1/3 innings, with a solid 3.06 ERA and 50.6 percent ground-ball rate. Stammen, who turns 36 in March, won't wow anyone with velocity and saw his swinging-strike rate fell off a cliff this year. Still, he rates well on exit velocity and hard-hit percentage and has a shot at a two-year deal.
Signed with Padres for two years, $10MM.
36.  Steve Cishek – Diamondbacks.  Two years, $10MM.  The sidearming Cishek has a 2.52 ERA over the past four seasons, second only to Kenley Jansen during that time. Cishek's strikeout and walk rates have been moving in the wrong direction, but he's a high spin rate guy whose success comes from weak contact. He ranks in the 99th percentile in terms of opponent exit velocity and hard-hit percentage, in fact; this year, Cishek's average exit velocity of 84.5 miles per hour ranked fourth in all of MLB.
All of that may sound more enticing than two years and $10MM, but Cishek will be 34 next June and posted the second-highest walk percentage of his career in 2019 (10.9 percent). Those control issues were particularly prominent against left-handed batters, whom he walked at a near-15-percent clip. Cishek is a monster against right-handed batters (career .199/.265/.288) but has long had control issues when facing hitters who hold the platoon advantage (.229/.335/.360). There'll be plenty of overlap with the markets for relievers like Cishek, Stammen, Hudson and Martin.
Signed with White Sox for one year, $6MM.
37.  Yasiel Puig – Tigers.  One year, $8MM.  After Guggenheim Baseball Management bought the Dodgers for $2.15 billion in 2012, one of GM Ned Colletti's first moves was to sign Puig, a Cuban defector, to a $42MM deal without ever seeing him play in a game. Puig came with huge raw talent and maturity questions from the outset, and it's arguable that those same concerns still exist. His 2013 season, in which he finished second in the NL Rookie of the Year voting, was bookended by a pair of reckless driving arrests. Puig tallied 9.4 WAR in 252 games for Don Mattingly's 2013-14 Dodgers, heights he surprisingly would never reach again. Puig's 2015-16 was marked by a scuffle with a Miami night club bouncer, regular hamstring injuries, and a stint in Triple-A.  The 2017 season was a bounceback of sorts, as it was the only year in the past five in which Puig reached two wins above replacement.  Last December, Puig's up-and-down Dodgers career came to an end as he was shipped to the Reds.
His Reds career started quietly, as it took two months for his bat to get going.  No stranger to ejections, Puig famously took on the Pirates in a brawl minutes after news of his late-July trade to the Indians broke. Though Puig's power was absent in his time with the Indians, he still managed to post a 112 wRC+. For all his notoriety, the results on the field have been uninspiring for Puig, and he might have to accept a one-year deal. The Giants could use a corner outfield bat, but I doubt the team's fanbase would embrace Puig while potentially losing Bumgarner. The Marlins are a fun fit, but Puig wasn't on speaking terms with manager Don Mattingly at the end of his Dodgers career. Puig did finish on good terms with the Indians, but they aren't likely to be looking to spend much this winter. Rebuilding teams like the Tigers, Orioles, or Royals could make sense, while the Diamondbacks, Padres, Rays, and White Sox might also look to add an outfielder.
38.  Edwin Encarnacion – Rays.  One year, $8MM.  Encarnacion, 37 in January, just finished his eighth consecutive season with at least 32 home runs. From 2012 to present, no one matched EE's 297 bombs or 850 RBIs. Though the slugger's defensive limitations might ultimately limit him to the Hall of Very Good, Encarnacion proved he can still mash with a 129 wRC+ this year. That's better than fellow free agents Nicholas Castellanos, Jose Abreu, Mike Moustakas, Avisail Garcia, and Marcell Ozuna. The key to fitting Encarnacion into the middle of a team's lineup is finding a spot for him defensively, as he's topped out at about 500 innings at first base in recent years and should mostly serve as a designated hitter. The Rays, Blue Jays, Indians, Orioles, White Sox, and Yankees could theoretically find a place for Encarnacion's bat, though several of those teams have already done so in the past.
Signed with White Sox for one year, $12MM.
39.  Alex Wood – Mariners.  One year, $8MM.  Wood posted a 3.20 ERA over 304 innings from 2017-18 for the Dodgers, but they shipped him to the Reds last December as a way of clearing salary. A back injury delayed Wood's Reds debut until July 28th — much later than expected. He made seven starts before the back issue returned, knocking him out for all of September. Wood's injury history also includes nearly four months missed in 2016 due to elbow debridement surgery in 2016 and two separate IL stints in 2017 for inflammation of the sternoclavicular joint. He's only once made 30 starts in a season. Still, Wood doesn't turn 29 until January and has demonstrated fine results when he's been able to take the mound, with a 3.40 career ERA in 839 innings.  The southpaw pitches at 89-91 when he's right, and he was able to do that in his brief time with the Reds this year. This winter it's mainly a matter of figuring out the severity of Wood's back injury. He's a perfect candidate for a one-year deal, possibly from a rebuilding team.
Signed with Dodgers for one year, $4MM.
40.  Adam Wainwright – Cardinals.  One year, $8MM.  Speaking of the Hall of Very Good, Wainwright proved this year that he's not done yet. The longtime Cardinals starter inked an incentive-heavy deal to stay with the team and made good on it with 171 2/3 innings of 4.19 ERA ball. Wainwright garnered four top three Cy Young finishes in his 2009-14 heyday, but now he's a back of the rotation righty who has lost some life on his heater (89.9 mph average in '19) but can still boast an 83rd percentile spin rate on his vaunted curveball.
Signed with Cardinals for one year, $5MM.
41.  Brock Holt – Diamondbacks.  Two years, $8MM.  Holt, 31, has been a slightly above-average hitter over the last two seasons, but he's best known for his defensive versatility. He's got at least 200 career innings at all four infield positions as well as the outfield corners. Holt would like to remain in Boston, but it's possible the team's budget crunch will force him to sign elsewhere. Arizona GM Mike Hazen and his top lieutenants were all in the Boston front office at one point and have taken chances on former Red Sox talent in the past. If not Arizona, Holt could make sense with the Reds, Pirates, Brewers, Phillies, Nationals and Indians, among others.
Signed with Brewers.
42.  Josh Lindblom – Astros.  Two years, $8MM.  Lindblom might be a vaguely familiar name for avid baseball fans or a complete unknown for others. He totaled 136 2/3 innings with the Dodgers, Phillies, Rangers and A's from 2011-14 without establishing himself in the big leagues, and he had a brief 10 1/3-inning return with the Pirates in 2017. Like many players with unremarkable careers in the U.S., Lindblom took a chance on an overseas opportunity. He's spent most of the past three seasons in the Korea Baseball Organization, where he's experienced a breakout of sorts.
Over the past two seasons, Lindblom has a 2.68 ERA and a 346-to-67 K/BB ratio in 363 1/3 innings. The righty was carrying a sub-2.00 ERA for much of the 2019 season in the hitter-friendly KBO, and while win-loss record doesn't mean much in 2019, his 35-7 mark over the past two seasons speaks to the success he's found. Were Lindblom younger, he may well be ranked higher on the list. He'll turn 33 next June, however, and paired with the shaky MLB track record, that will give some teams pause. That said, Lindblom's numbers are superior to those of Merrill Kelly during his own KBO breakout, and he inked a two-year, $5.5MM deal with the D-backs upon returning stateside. His fastball stands out in terms of spin rate, but its velocity isn't particularly eye-catching (90-92 mph). A team looking for upside at a relatively low cost makes sense here — particularly if said team heavily values spin rate and exit velocity. The Astros, Brewers, Dodgers, Twins, Cubs and Angels all seem like viable fits, but there's no reason to think that a rebuilding team wouldn't take a flier on a low-cost pitcher with some upside.
Signed with Brewers for three years, $9.125MM.
43.  Dellin Betances – Rays.  One year, $7MM.  Betances, 32 in March, authored a dominant five-year stretch for the Yankees in which he posted a 2.22 ERA and struck out 40.3 percent of the hitters he faced in 373 1/3 innings from 2014-18. Both figures are second in MLB during that time. Betances was also near the top with a 97.4 mile per hour average fastball during that period. However, a shoulder injury appeared during Spring Training 2019 and surprisingly delayed Betances' season debut until September 15th. He struck out the only two batters he faced that day, but suffered a partial tear of his left Achilles tendon in the appearance. Betances was around 95 miles per hour in that outing, so he's yet to return to his typical 98-99 mph range. He'd do well to hold a showcase for teams next spring once his Achilles heals and take a one-year deal to rebuild value. He's a high-risk, high-reward addition to a contender's bullpen.
Signed with Mets for one year, $10.5MM.
44.  Kole Calhoun – Pirates.  One year, $6MM.  The 32-year-old Calhoun spent parts of eight seasons with the Angels due to an extension signed in 2017. This winter, the Halos chose a $1MM buyout over a $14MM club option to finish off that deal. After a subpar 2017-18, Calhoun bounced back to a 108 wRC+ this year with a career-best 33 home runs in 632 plate appearances. Unfortunately for him, the appeal of a 33-homer season isn't as strong when he was one of a ridiculous 58 players to top 30 big flies with 2019's juiced ball. Calhoun is an above-average right field defender, so there's a chance he can serve as a two-WAR stopgap for someone. Calhoun posted a career-best 11.1 percent walk rate in 2019, but he countered that with a career-worst 25.6 percent strikeout rate. Statcast bolsters his stock with a 73rd percentile hard-hit percentage this year.
Signed with Diamondbacks for two years, $16MM.
45.  Shogo Akiyama – Diamondbacks.  Two years, $6MM.  In an free-agent market largely devoid of center field talent, Akiyama should hold appeal to clubs seeking help in that regard. Akiyama, 32 next April, has batted at least .300 for the Seibu Lions of Japan's Nippon Professional Baseball in four of the past five seasons, with the lone exception coming in 2016, when he hit .296. He's walked at a 10.8 percent clip in that half-decade span while punching out only 14.3 percent of the time.
Akiyama has topped 20 homers in each of the past three seasons and swiped 15-plus bags in each of the past five years. In all, since the 2015 season, he's a .320/.398/.497 hitter. As with any free agent from Japan, particularly one who'll turn 32 in his first would-be MLB season, there will be questions about whether his abilities will carry over to MLB. He's a star in NPB, so he should be able to land a multi-year deal to remain in Japan if he doesn't find a big league offer. But Akiyama is the best free-agent bet to give a big league team a regular center fielder.
A win-now team with ample money to spend probably wouldn't take on this level of uncertainty, but a team like the Diamondbacks, Rangers, Indians, White Sox or Mariners could view Akiyama as an upside play and take the modest risk.
Signed with Reds for three years, $21MM.
46.  Rich Hill – Dodgers.  One year, $6MM.  Hill's three-year deal with the Dodgers went about as well as could have been expected, with a 3.30 ERA in 327 innings and another 37 innings in the postseason. When he's able to take the mound, he's produced huge strikeout rates, with the 13th-best overall percentage among starting pitchers during that three-year period. Still, since returning to prominence in 2016, Hill has gone on the IL nine times and missed a total of 322 days due to injuries. Aside from the recurrent blisters that accompany his chart-topping spin rates, Hill missed almost three months this year due to a forearm strain. Hill, who'll turn 40 in March, seems likeliest to return to the Dodgers or go back to his hometown Red Sox on an incentive-heavy one-year deal.
Signed with Twins for one year, $3MM.
47.  Michael Wacha – Tigers.  One year, $6MM.  Drafted 19th overall by the Cardinals in 2012, Wacha was the NLCS MVP a little over a year later. He missed more than two months in 2014 with a stress reaction to the scapula in his right shoulder but bounced back with his lone All-Star campaign in 2015. A similar shoulder injury flared up in August 2016, knocking Wacha out for a month. Healthy again in '17, Wacha produced middling results. Then in 2018, he missed more than three months with an oblique strain. Wacha was mostly healthy this year until a late September shoulder injury ended his season. He's still only 28, and he had early career success, but Statcast doesn't offer much hidden value and there are lingering health issues. He'll likely prioritize a rotation job and a one-year deal to rebuild value. That seems likeliest to come from a rebuilding team, as most contenders will prefer more certainty when trying to fill out the rotation.
Signed with Mets for one year, $3MM.
48.  Ivan Nova – Mets.  One year, $6MM.  Nova, 33 in January, has made 120 starts over the past four seasons, good for 13th-most in baseball. His hallmark is excellent control, as his flat five percent walk rate is the third-best in the game over that period, nestled between Clayton Kershaw and Zack Greinke. However, Nova's strikeout rate is third-worst among qualifiers, and he's prone to the long ball. It's clearly a back of the rotation package, but Nova is capable of having a decent run when the hits drop in less frequently than usual. For example, he had a 17-start stretch this summer with a 3.02 ERA, though his full-season mark was 4.72. He's a good fit with a team that merely needs some cheap innings behind a strong top three or four in the rotation, hence the Mets pick. Beyond them, Nova could add some stability to the Angels, Rangers or Nats, and he could also hold appeal to rebuilding clubs in Baltimore, Detroit, Kansas City and Seattle as a veteran mentor and source of steady innings.
Signed with Tigers for one year, $1.5MM.
49.  Pedro Strop – Red Sox.  One year, $5MM.  Coming to Chicago with Jake Arrieta in the Cubs' franchise-altering trade with Baltimore, Strop cemented his place in Cubs lore with a 2.82 ERA over 373 innings spanning parts of seven seasons. His stretch from 2014-18 placed him in the top 15 in MLB in ERA, strikeout rate, and ground-ball rate for relievers. Strop faltered with a 4.97 ERA and reduced velocity this year, possibly due in part to IL stints for hamstring and neck injuries. The 34-year-old righty could easily bounce back in 2020 and should garner widespread interest.
Signed with Reds for one year, $1.85MM.
50.  Drew Smyly – Pirates.  One year, $3MM.  Drafted in the second round out of the University of Arkansas by the Tigers in 2010, Smyly became a major piece of the return when the Rays sent David Price to Detroit at the 2014 trade deadline.  The lefty was pitching well until he was diagnosed with a minor tear in his labrum in May 2015.  Smyly opted for rehab and was able to return that season.  He made a career-high 30 starts in 2016, albeit with a 4.88 ERA.  Smyly was dealt to the Mariners the following offseason and pitched in the World Baseball Classic, but he ended up needing Tommy John surgery in July that year and never pitched in an official game for Seattle.  The Mariners cut him loose that winter and the Cubs inked him to a two-year, $10MM deal with an eye on rotation depth for 2019.  Instead, the club picked up Cole Hamels' option and shipped Smyly to the Rangers to save money, making the Cubs another team that employed Smyly but never used him on a Major League mound.
Smyly made his Rangers debut on April 1st this year, two and a half years after his previous MLB start.  His time in Texas went terribly, and they released him in late June.  After a few appearances for the Brewers' Triple-A affiliate, Smyly hooked on with the Phillies and joined their rotation in late July.  His dozen starts with the Phillies weren't too bad, with a 4.45 ERA.  Smyly's 25.9% strikeout rate for the Phillies was good for 22nd among MLB starters during that period.  Smyly's career has been marked by injuries and flashes of brilliance, and the 30-year-old will be an interesting addition somewhere on a one-year deal.
Signed with Giants for one year, $4MM.
Honorable mentions:
Brett Anderson – signed with Brewers for one year, $5MM
Todd Frazier – signed with Rangers for one year, $5MM
Brandon Kintzler – signed with Marlins for one year, $3.25MM
Martin Perez – signed with Red Sox for one year, $6MM
Starlin Castro – signed with Nationals for two years, $12MM
Jonathan Schoop – signed with Tigers for one year, $6.1MM
Ben Zobrist – no plans to play in 2020
Eric Thames – signed with Nationals for one year, $4MM
Hunter Pence – signed with Giants for one year, $3MM
Jordan Lyles – signed with Rangers for two years, $16MM
Yoshitomo Tsutsugo – signed with Rays for two years, $12MM
Homer Bailey – signed with Twins for one year, $7MM
Eric Sogard – signed with Brewers for one year, $4.5MM
Gio Gonzalez – signed with White Sox for one year, $5MM
Jose Iglesias – signed with Orioles for one year, $3MM
Notable deals for unlisted players:
We realize that a Top 50 Free Agents list with one set of specific team predictions will leave some fanbases dissatisfied. A few notes on certain clubs:
Most teams will meet some needs through trades and free agents who fell short of this list.
The Orioles, Royals, Indians, Athletics, and Rockies did not end up with any free agents from this list. Certainly they might be in play on some of the more affordable names.
With this list, we try to present one possible puzzle where everything could happen. Once we start to get picks wrong, it has a ripple effect.
While some teams' key needs have gone unaddressed, we wouldn't recommend reading into it. There are only a handful of impact starting pitchers on the free agent market this winter, and in this iteration we haven't given one to the Yankees, Dodgers, Astros, Cubs, or Padres. Some of those teams will be involved on the big names and one could easily land one. If that doesn't happen, the trade market presents other scenarios for improvement.
While we've made spending capacity estimates for each of the 30 teams as part of this exercise, those change quickly with trades, non-tender decisions, and unexpected payroll changes.  We've projected quiet offseasons for the Astros and Red Sox largely because of payroll constraints, but those aren't set in stone.
Originally published 11-4-19.