We've recently taken a position-by-position run through next winter's free agent class, highlighting which catchers, first basemen, second basemen, shortstops, third basemen, corner outfielders, center fielders, designated hitters, starting pitchers, lefty relievers and righty relievers will be available. All in all, it's a class with top-heavy class, headlined by Mookie Betts and then dropping off to a series of appealing stars like J.T. Realmuto, George Springer and Marcus Semien. Next year's group has plenty of intriguing pitchers but no standout aces and, outside of Betts, there's probably no surefire candidate to score anything greater than a five-year deal on the open market. (Caveat: as has been oft discussed, that's particularly true of next winter, when it seems safe to expect a more tepid free-agent market as owners look to recoup lost revenues from the 2020 season.)
Mookie-mania will make for a fun headline story in free agency. So will Trevor Bauer's year-to-year mercenary act, which will begin this coming winter.
But at the risk of looking a little too far down the line, it's hard not to notice that the 2021-22 crop of free agent shortstops might be the single best collection of players we've ever seen at one position in one free-agent class. Extensions, injuries and downturns could thin out this group — but unexpected one-year deals this winter (could Semien or Didi Gregorius accept a qualifying offer?) could also theoretically deepen it. As things stand, here's an early look at a legitimately jaw-dropping crop of shortstop talent that will hit the market upon conclusion of the 2021 season (age for the 2022 season included in parentheses)…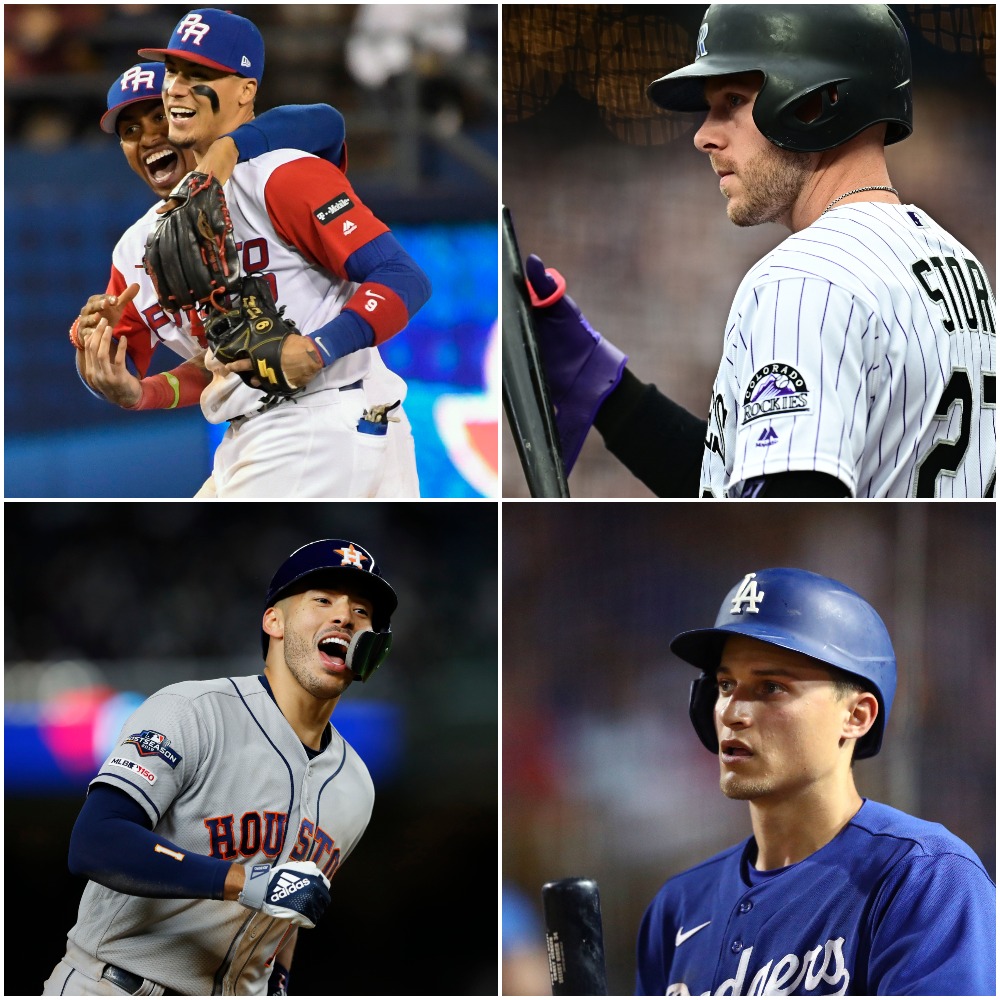 Top of the Class
Established Veterans/Potential Regulars
Chris Taylor (31): Taylor has been outstanding since the Dodgers acquired him in a low-profile deal that wound up looking like a heist. He's hit .268/.340/.468 in three seasons while playing all over the outfield and everywhere but first base on the infield.
Brandon Crawford (35): Long one of the game's best defensive players, Crawford's all-around game has taken a dip in recent years. There's still time for the lifelong Giant to turn things around, though, and he should be provided ample opportunity to do so given his status as a leader in San Francisco.
Miguel Rojas (33): The Marlins hold a $5.5MM option over Rojas that'll vest if he reaches 500 plate appearances in 2021. Rojas plays quality defense and is extremely difficult to strike out. But if he reaches the open market after 2021, it'll be because Miami deemed him expendable despite that affordable rate.
Utility/Bench Options
Greg Garcia (32): Garcia has never hit that much, but he's a useful defender at three infield positions who draws plenty of walks. Some could argue that his walk rate is propped up by hitting ahead of the pitcher, but Garcia has walked at a 13.8 percent clip in 326 PAs hitting leadoff, too.
Donovan Solano (34): Solano had barely seen the Majors since 2014 when he came out of nowhere to hit .330/.360/.456 in 228 PAs with the Giants last year. There's a fair bit of smoke and mirror there, evidenced by a .409 BABIP, but that renaissance will still give him some new life in the big leagues.
Danny Santana (31): Speaking of unexpected renaissances, Santana brushed away a combined .219/.256/.319 from 2015-18 (732 PAs) to rake at a .283/.324/.534 clip with Texas last year. His strikeout rate soared to nearly 30 percent, though, and while his .353 BABIP wasn't as high as his .405 mark from his brilliant rookie season in '14, it still seems ripe for regression.
—
When a 28-year-old Corey Seager is the fourth- or fifth-best option at his position in free agency, we've officially reached the twilight zone. All five members in the "top of the class" bucket were first-round or supplemental first-round picks. In fact, all but Story, who "fell" to No. 45 overall, were selected inside the top 20. Correa was the No. 1 overall pick and isn't even in the conversation for the best name on the list. All five were top 100 prospects. They've all made at least one All-Star team, and Correa is the only one of the bunch who hasn't won a Silver Slugger (thanks largely to the fact that he shares a league with Lindor, who has won four in a row).
While the 2020-21 crop of free agents doesn't have more than one total free agent who is a lock for a deal of six years or more in length, the 2021-22 class has five shortstops who could push for that length of contract given their track record, upside and in particular, their age. They won't all get there, but right now we can't rule any of them out.
Lindor seems like a lock, barring a catastrophic injury. Baez has some plate discipline questions but is an excellent defender and baserunner with plus power. Story's defense probably doesn't get enough attention, and he's certainly not a bad hitter on the road. (There's also some evidence to suggest that road performance is depressed for Rockies hitters, just as their home performance is bolstered, thanks to altitude issues.) Seager and Correa have been hit hard by injuries and would do well to avoid the IL between now and the conclusion of the 2021 season, but we're talking about two shortstops on the right side of 30 with career wRC+ marks of 128 and 129, respectively, and 18-plus fWAR apiece through their first four-plus seasons (Seager despite missing nearly all of 2018 due to Tommy John surgery).
We'll need to see just how free agency is hit by a season of diminished revenue in 2020 and what impact the expiring collective bargaining agreement has on open-market pricing. The current CBA expires in December 2021. And even if market circumstances are largely normal, to what extent will the sheer volume of quality shortstops available hurt the top players' earning power? Right now, Lindor is the cream of the crop, but any of the five will have a bit harder time drumming up a true bidding war thanks to the presence of the others. All that said, the stage is set for some unprecedented fireworks thanks to what could very well be the best collection of shortstops we'll ever see reach free agency at the same time.