Wilmer Flores cried. It was the eighth inning, and the Mets were trailing the Padres by five runs. The non-waiver trade deadline was 36 hours away, and the only organization he'd ever known had agreed to trade him and teammate Zack Wheeler to the Brewers in exchange for two-time All-Star Carlos Gomez. The 23-year-old Flores learned of the reported agreement between innings … but he was left in the game to hit in the seventh inning … and to return to the field to play second base in the top half of the eighth.
In a whirlwind span of 15 to 30 minutes, Flores went from being traded to staying put among friends and teammates; the Mets had backed out of the reportedly agreed-upon trade once talks progressed to medical reviews. Tom Haudricourt of the Milwaukee Journal-Sentinel reported that an issue with Gomez's hip and perhaps some hesitance over Wheeler, who was on the mend from Tommy John surgery at the time, had torpedoed the deal.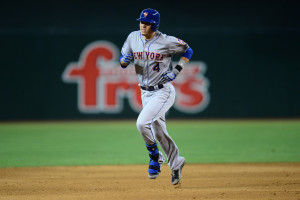 Two nights later, with the deadline behind him, Flores pumped his fist as he rounded first base and thumped the Mets logo across his chest as he approached home plate after hitting one of the most emotional walk-off home runs in recent memory. It was the last standing ovation in a day that saw Mets fans rise to their feet to embrace Flores on multiple other occasions. Flores went on to have a fine Mets career, calling Citi Field home up through the 2018 season. He'll always hold a special place in the hearts of most Mets fans.
The memory of that unusual and emotional scene, however, is only the surface of a much more layered "what if" scenario. If the Mets had gone through with that trade, the ripple effects would've radically altered the future of several teams and — in a more roundabout way — perhaps the very fabric of the game.
How so? Let's examine:
The Mets
Imagine a world where the Mets weren't issuing statements to the press about their highest-paid position player being injured in a freak wild boar accident. If the Mets had gone through with the Brewers trade, it's quite possible that Yoenis Cespedes never would've played a game for them. The deal bringing Cespedes to Queens was a buzzer-beater just seconds before the deadline — not 48 hours after Flores' outpouring forever endeared him to the Mets' fanbase.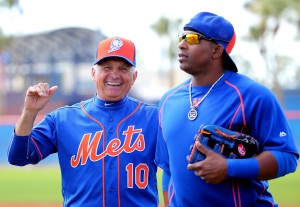 Cespedes was an absolute juggernaut for the Amazins down the stretch, fueling their torrid finish to the season with an outstanding .287/.337/.604 with 17 home runs in just 57 regular-season games. Mets fans clamored for the then-Sandy-Alderson-led front office to re-sign the slugger. While he initially looked to be outside their price range, Cespedes didn't see his market develop the way he'd hoped and ultimately opted for a compromise deal that promised him $75MM over three years but came with opt-outs after years one and two. Following a terrific 2016 season, Cespedes indeed opted out, and the two sides brokered a more concrete four-year, $110MM pact covering the 2017-20 seasons.
But what if the club had acquired Gomez on July 30? Curtis Granderson was productive in right field. Juan Lagares was a world-beating defensive center fielder even if his bat was characteristically flimsy. Michael Cuddyer was still on the roster, and a top prospect named Michael Conforto had made his MLB debut just days earlier, on July 24. With Gomez added to that bunch, would the Mets have gone through with Cespedes trade? You can argue there was still room — put Gomez in center, Cespedes in left and use Lagares off the bench — but the urgency obviously would've been lessened and the Mets surely would've been more protective of their prospect assets. And without that magical stretch run erased from history and Gomez signed through 2016, the Mets' motivation to sign Cespedes would've likely been wiped out.
Furthermore, with Cespedes then sure to have been traded elsewhere, might the pitcher they traded to Detroit have instead won a Rookie of the Year Award in New York? It's impossible to say, but dropping Michael Fulmer into the mix of quality Mets arms in place of Wheeler would've maintained their enviable stash of arms for a longer time. Fulmer, Jacob deGrom, Matt Harvey (prior to his regression), Noah Syndergaard and Steven Matz is clearly a talented enough group on which to build a contending staff. And the "what ifs" only continue if you stop to wonder what precise course Fulmer's career would've taken a different setting.
The Tigers
Speaking of Fulmer, well, Tigers fans wouldn't be left to wonder whether the club should've traded him prior to all of his injury troubles. Fulmer had a masterful rookie season but has since undergone an ulnar nerve transposition procedure, Tommy John surgery and knee surgery. They could've pulled the trigger on a trade for him early in his big league tenure, but doing so would've meant trading four-plus years of control over the right-hander. Tigers fans can voice frustration with the benefit of hindsight, but trades of quality, established starters with that much club control remaining are of the utmost rarity.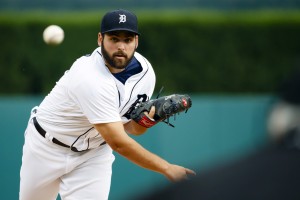 It's likely that Cespedes would've been moved elsewhere. The Astros, Orioles, Giants and Pirates were among the teams on the hunt for outfield upgrades that trade deadline, and then-Detroit GM Dave Dombrowski was committed to a rare sell-off, evidenced not only by the Cespedes swap but the David Price blockbuster with the Blue Jays. If you want to get truly hypothetical, though, let's say no Cespedes trade materializes. …Would late owner Mike Ilitch still have moved on from Dombrowski shortly after the trade deadline? Would Dombrowski ever have ended up in Boston?
The Brewers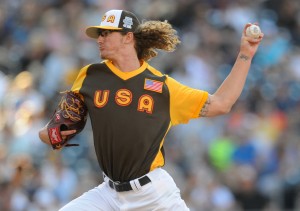 Sayonara, Josh Hader. In this hypothetical world, you were never a Brewer, because Gomez was traded for Wheeler and Flores. Corey Knebel and Jeremy Jeffress surely could've formed a potent back-of-the-pen duo while their peaks overlapped, but the three-headed monster that propelled the team to the 2018 NLCS would never have come to be. Hader would've been dominating in Houston or elsewhere, depending on whether the Astros traded him. Could a Wheeler-fronted rotation have made up for his absence?
The ripple effect doesn't stop there. Also coming to Milwaukee in the Astros swap that did happen were Brett Phillips, Domingo Santana and Adrian Houser. Phillips was flipped for Mike Moustakas in 2018, so without his presence in Milwaukee, who knows whether Moose would've been acquired via trade or subsequently re-signed in the winter? Santana's 30-dinger season in 2017 doesn't happen, nor do the Brewers eventually trade him for Ben Gamel. Houser, meanwhile, doesn't show promise of a late-blooming breakout with the '19 Brewers, for whom he turned in 111 1/3 innings of 3.72 ERA/3.88 FIP ball with 9.5 K/9, 3.0 BB/9, 53.4% grounder rate. The Brewers' 2020 rotation is short another arm in that instance, as Wheeler still would've been a free agent, barring an extension.
Of course, the Brew Crew would've enjoyed Wheeler's renaissance since he reemerged from arm troubles. And that brings us to…
The Astros
The craziest part of this entire butterfly effect isn't that Josh Hader might've been closing out games for Houston. In fact, it doesn't involve Hader or Gomez at all. It's that the other player traded to the Astros alongside Gomez in exchange for Hader, Phillips, Santana and Houser was none other than right-hander Mike Fiers. Fiers joined the Houston rotation, promptly threw a no-hitter in his fourth outing, made 67 starts for the 'Stros over the next two and a half seasons … and ultimately proved to be the whistleblower who outed a sign-stealing scandal that led to the firing of manager A.J. Hinch and president of baseball operations Jeff Luhnow.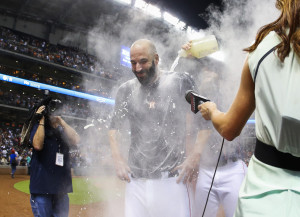 Perhaps the Astros were enamored of Fiers enough that they'd have found a way to acquire him from Milwaukee in a different swap. But it's eminently plausible that had the Wheeler/Flores/Gomez trade between Milwaukee and New York gone through, we'd still have no firm knowledge of the Astros' nefarious scheme. True, we might've had some inkling of wrongdoing; Jeff Passan, after all, reported for Yahoo back in 2017 that two players told him they believed Houston had banged on a trash can to convey signs. Athletics GM David Forst has acknowledged asking the league to investigate the Astros for improper use of technology. But without the smoking gun that was Fiers' testimony, the league was either unable or unmotivated to bring the scandal to public light.
Peeling the onion back further — imagine if Hader had become every bit as dominant in Houston as he did in Milwaukee. Would the Astros have ever acquired Roberto Osuna to shut down games? Would since-fired assistant GM Brandon Taubman's belligerent locker room taunting ever have led to his dismissal? Would the Astros have libeled Sports Illustrated's Stephanie Apstein, calling her report of Taubman's actions "misleading and completely irresponsible" before accusing her of attempting to "fabricate a story where one does not exist"?
To be clear: the Astros' scandals reflect the indefensible choices of many individuals associated with the organization, for which they're fully responsible collectively and individually. But the counter-factual scenarios do at least suggest that these matters might have occurred and/or been brought to light in quite different ways.
The Red Sox
Depending on the previous Dombrowski question I raised, who knows what state the front office would be in? We do know, definitively, that without the Astros' sign-stealing scandal coming to light last fall, Alex Cora would not have been fired as the team's manager. Ron Roenicke would still be his bench coach.
All that brings us back to…
The Mets
Carlos Beltran's debut as the Mets' manager would've been delayed by the COVID-19 pandemic, but it wouldn't have been outright wiped out of existence by virtue of his own involvement in the Astros scandal. Luis Rojas would be a quality control coach and not a big league manager.
Whether the Mets would've been better off in the long run with Gomez and Fulmer in the organization as opposed to Wheeler, Flores and Cespedes is debatable. Cespedes was again their best hitter in 2016 when the club secured a Wild Card postseason berth, but they were unable to advance beyond that initial round, falling to the Giants. The subsequent four-year deal has been a disaster. Cespedes has been extremely productive when on the field, but he of course hasn't been on the field much. He's played 119 games through the first three seasons of that deal and agreed to have his contract restructured this winter after the surreal wild boar injury.
Wheeler didn't pitch again until 2017 and wasn't very good that year. But his 2018-19 seasons were strong, as he posted a combined 3.65 ERA in 377 1/3 innings with a strikeout per frame and a total of roughly eight wins above replacement. The Mets didn't make the postseason either year, though, and they're left with a draft pick to show for their decision to hang onto him.
Flores hit .272/.317/.409 after the trade-that-wasn't, taking another 1275 plate appearances as a Met before signing with the D-backs in free agency in the 2018-19 offseason and then inking a two-year deal with the Giant this past winter.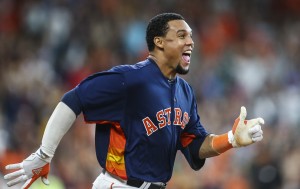 Adding Gomez in 2015 probably wouldn't have cost the Mets the division — they won the NL East by seven games — but it'd have made things much closer. He'd already seen his 2013-14 All-Star form begin to fade, and his production worsened following his eventual trade to Houston. In 2016, Gomez played so poorly with the Astros that they simply released him in mid-August. A late surge with the Rangers served to remind that Gomez was still talented, so perhaps had he never gone to Houston in the first place, he could've remained a solid bat — but he was never going to hit at Cespedes' level.
Fulmer, meanwhile, would still be controlled by the Mets through at least 2022 — if not 2023 (depending on when they promoted him). Virtually every prominent Mets starter has had Tommy John surgery in recent years (all of deGrom, Harvey, Wheeler, Matz and now Syndergaard), and it's likely that Fulmer would've still eventually required his own surgery. But the other injuries that have dogged him and the timing of the procedure can't be known. Marcus Stroman, acquired last July as an advance means of "replacing" Wheeler once it was clear an extension wasn't happening, might not be a Met. Anthony Kay, traded in that deal, could be projected in the 2020 rotation.
The exact manner in which rosters would've been impacted can be speculated upon ad nauseam, but will never be known to any real degree of confidence. It doesn't seem like the Mets cost themselves any playoff opportunities, but the effects of that near-trade were extremely broad reaching — and it seems certain that without Fiers being traded to Houston, we'd still be lauding the 2017 Astros as the most dominant team in recent history (at least until the shocking news emerged in some other manner).
Photos courtesy of USA Today Sports Images.