The Mariners' rebuild began in earnest following a disappointing finish to the 2018 season, when GM Jerry Dipoto first began talk of re-imagining his roster. The M's have added a bevy of prospects since that time, highlighted by Jarred Kelenic and Justus Sheffield, but one of their most important long-term pieces was acquired on July 21 in 2017, when the club was still aiming for immediate contention.
That day saw Seattle trade slugging minor league outfielder Tyler O'Neill to the Cardinals in exchange for left-hander Marco Gonzales. The now-28-year-old Gonzales has become a fixture in the rotation, but the trade wasn't exactly well-received among M's fans at the time. The club was below .500 but just 1.5 games back from a Wild Card spot at the time of the swap. Dipoto had been trying to acquire young pitching, hoping to add to his core while also remaining competitive in a top-heavy American League. (The 85-win Twins claimed the league's second Wild Card position that year.)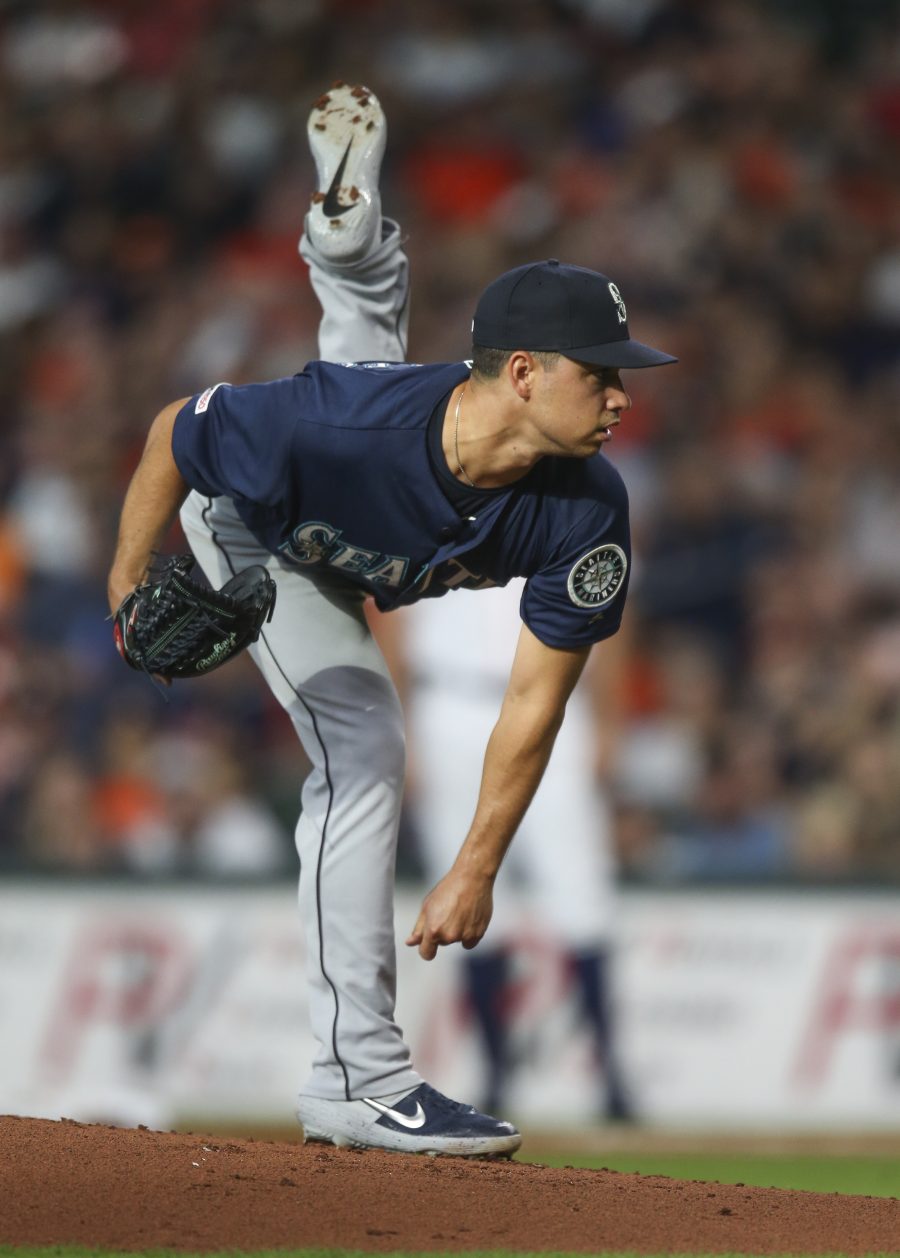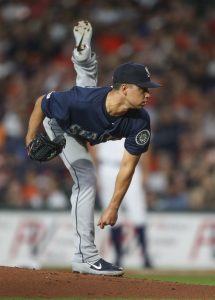 The consensus among Mariners fans at the time of the swap was, essentially, "Why would they do this?" Social media reactions to the deal weren't favorable, and looking through the comments on the trade's writeup at MLBTR, FanGraphs or most other sites reveals a similarly perplexed set of replies. O'Neill had entered that year as one of the game's 100 best prospects and the second-best in the Mariners organization, while Gonzales had made just one appearance in the Majors since returning from 2016 Tommy John surgery. He was having a nice season in Triple-A, but most scouting reports on him pegged Gonzales as a mid-rotation arm, at best. In addition to that Tommy John surgery, he battled shoulder troubles in 2015.
Injury risk or not, Dipoto was undeterred. The Mariners' GM spoke the day before the trade about only being willing to deal from his premium prospects if it meant acquiring a long-term rotation piece, and days after the swap he called Gonzales "about as big-league-ready as a Triple-A pitcher could be." Sure enough, Gonzales was in the big leagues less than three weeks later.
The initial results did little to assuage the concerns of Seattle fans. Gonzales pitched just 36 2/3 innings of 5.40 ERA ball down the stretch as the Mariners again fell shy of the postseason. O'Neill hit .253/.304/.548 with a dozen homers in 37 Triple-A games following the trade that year. On-base questions notwithstanding, the power was still impressive and Mariners fans were skeptical of the lefty for whom O'Neill had been shipped out.
Despite that lackluster showing, Gonzales opened the 2018 season in the Seattle starting five. His early work didn't inspire much confidence, but after four shaky starts, Gonzales settled into a groove and pitched to a 3.60 ERA over his final 150 innings, averaging 7.6 K/9 and 1.7 BB/9 along the way. In 2019, Gonzales posted a 3.99 ERA that was nearly identical to his 4.00 ERA from 2018 — but he did it in a larger sample of 203 frames.
Setting aside his rocky debut in 2018, Gonzales has given the Mariners 369 2/3 frames of 3.99 ERA ball with an even better 3.83 FIP, 7.1 K/9, 2.1 BB/9, 0.97 HR/9 and a 42.5 percent ground-ball rate. From 2018-19, he was worth 6.0 bWAR and 7.1 fWAR. The rebuilding Mariners made clear that they view Gonzales as a core piece back in February, signing the southpaw to a four-year, $30MM contract extension (2021-24) that also contains a $15MM club option for the 2025 season.
The trade would likely look like a solid one for the Mariners even if O'Neill had blossomed into an everyday corner outfielder. That hasn't happened yet, however. While Gonzales was solidifying himself in the Mariners' rotation, O'Neill was bouncing back and forth between Triple-A and St. Louis, hitting a combined .258/.307/.454 with 14 home runs in 293 plate appearances. The power has been good but not elite, and O'Neill's contact struggles have indeed been magnified against MLB pitching; he's punched out 110 times in those 293 plate appearances (37.5 percent).
To be fair to O'Neill, he hasn't exactly been given a real opportunity to win an everyday job. Just months after he was traded to St. Louis, the Cardinals went out and acquired two years of control over Marcell Ozuna in a trade that sent Sandy Alcantara, Zac Gallen and Magneuris Sierra to the Marlins. With Ozuna, Dexter Fowler, Tommy Pham (in 2018) and Harrison Bader all logging considerable time in the St. Louis outfield, opportunities for O'Neill have been sparse. But the very fact that the Cards felt it necessary to pursue a Giancarlo Stanton acquisition and then pull off a deal for Ozuna speaks to some level of question in O'Neill's readiness.
The Cards didn't add a left fielder to replace the departing Ozuna this winter, but they also have uber-prospect Dylan Carlson nearing the Majors. Even if Carlson seizes an outfield spot, the likely implementation of the universal DH will give O'Neill some additional opportunities to get into the lineup, so perhaps he'll finally get the chance to justify the deal from the St. Louis end. The Cards haven't exactly been hurting for pitching even without Gonzales in the fold, but there's no denying he's been the more valuable piece of the straight-up swap to this point.
The Gonzales/O'Neill trade won't be looked back upon as any time of blockbuster, but it offers some reminders when judging future trades:
Prospect rankings are useful and entertaining, but it's easy to overemphasize them. Prospect values are in a constant state of flux. Even a few weeks and certainly a couple months can change the opinion on a prospect. Whether it's adding a new pitch, adding/losing velocity, outgrowing a position, altering mechanics at the plate or any number of other changes a player can exhibit, a prospect's value can alter in a hurry.
It's too easy to write off post-hype prospects. Gonzales himself was a first-round pick and top-100 prospect prior to injury troubles. At the time of the O'Neill trade, he was less than two years removed from ranking as the game's No. 50 prospect, per Baseball America. A recent top prospect with some big league experience and four to five years of control is generally still a valuable piece even if he's not a star. MLBTR's Connor Byrne recently looked at another player fitting this mold: Pittsburgh's Joe Musgrove.
Position scarcity matters. We've seen corner outfielders and first baseman go for smaller returns on the trade market and in free agency in recent seasons. Part of the Mariners' calculus was surely that a corner outfielder with some on-base questions was easier to come by than an affordable mid-rotation starter, even if the latter carried considerably more risk.
In some regards, the end result of this trade is common. "Team gets one of its best pitchers by trading away key prospect" is hardly a unique storyline in baseball, but the manner in which the Mariners went about this particular instance of that narrative isn't typical. The result speaks for itself right now, though. And while O'Neill can still change how we look at the deal in the long run, it's worked out about as well as the Mariners could've hoped.