12:20pm: Though Mae, The Athletic, MLB Network and several other national outlets have all reported a deal is in place, a Blue Jays official now refutes that notion to Mae (Twitter link). That official's statement, per Mae: "The team remains interested in Michael Brantley but there is no deal currently in place."
It's possible that there are some semantics at play, of course, as the reported contractual agreement was still pending completion of a physical. Reports after the initial word of yesterday's agreement with Kirby Yates pushed back similarly, stressing no deal was completed, as Yates was still in the process of taking his physical.
Jeff Passan of ESPN and Mark Feinsand of MLB.com both tweet that a deal could yet be pushed across the finish line, even though nothing is final just yet. Still, the door seems to remain cracked for Brantley to yet land elsewhere.
10:57am: The Blue Jays have continued their frenzied free-agent strike, agreeing to a three-year contract with outfielder/designated hitter Michael Brantley, Sportsnet's Hazel Mae reports (via Twitter). The deal is pending a physical. Brantley is represented by Excel Sports Management.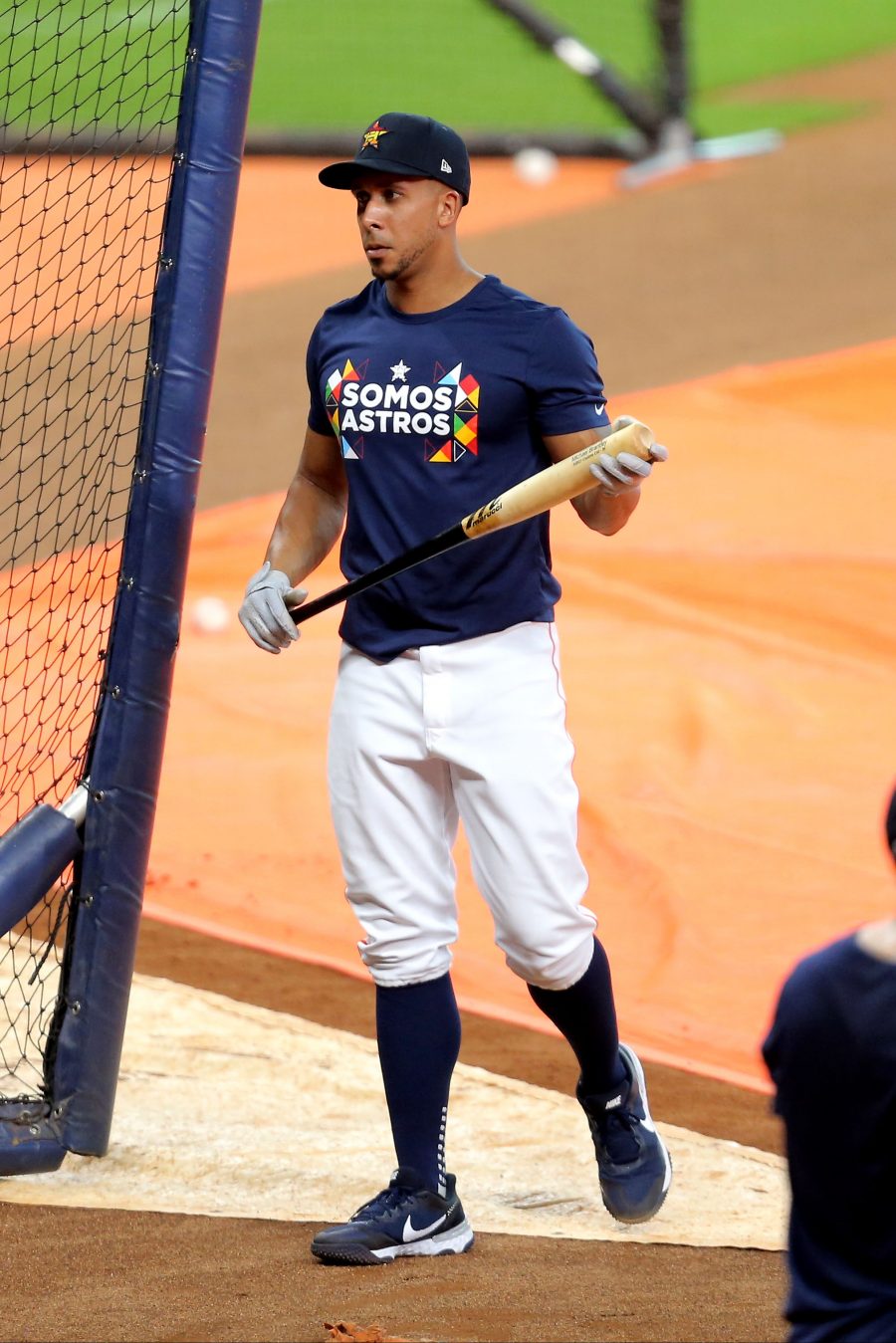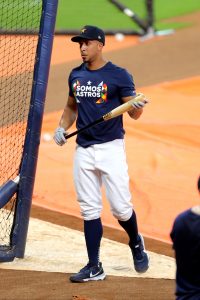 Brantley follows his former Astros teammate, George Springer, to Toronto on the heels of the Jays' agreements with right-handers Kirby Yates and Tyler Chatwood. It's a dramatic crescendo after months of the Jays being linked to virtually every free agent on the market — one that gives Toronto one of the deepest lineups not just in the American League but in all of Major League Baseball.
While Springer was rightly heralded as the top bat on the offseason market, Brantley has a legitimate claim to being the second-best hitter available. The former seventh-round pick has displayed elite bat-to-ball skills and hit for a high average since his Major League debut back in 2009, but since a breakout showing with Cleveland in 2014, Brantley has more quietly ranked among the game's elite bats, hitting a combined .311/.371/.481 in more than 3100 plate appearances over that stretch. In that time, Brantley's 131 wRC+ — indicating he's been 31 percent better than an average hitter after adjusting for park and league — ranks 29th among 398 qualified hitters. (Springer's 134, in fact, sits just five spots higher.)
Not only has Brantley been among the best overall hitters in the game during that seven-year stretch — he's also been one of the most difficult to strike out. Only four players have a lower strikeout percentage than Brantley's 10.1 dating back to 2014. Springer himself has dropped his strikeout rate considerably, punching out at a career-low 17.1 percent in 2020. The Jays' newest pairing, then, not only brings plenty of power to the table but also will further improve upon a 22.4 percent strikeout rate that was the 11th-lowest in MLB.
The addition of Brantley and Springer gives the Jays a host of outfield options on the 40-man roster, as that pair will join incumbents like Teoscar Hernandez, Lourdes Gurriel Jr., Randal Grichuk and Derek Fisher. Between that potential logjam and a similar collection of options behind the plate (Alejandro Kirk, Danny Jansen, Reese McGuire, Riley Adams, Gabriel Moreno), there's been plenty of speculation about the Jays utilizing those ostensible surpluses to acquire pitching help on the trade market.
Springer and Brantley will become anchors in a lineup that already boasts an impressive collection of young talent, headlined by budding superstar Bo Bichette as well as Gurriel, Hernandez, Cavan Biggio, Vladimir Guerrero Jr. and Rowdy Tellez. It's still possible the Jays will add an infielder to that mix, but the rotation, led by Hyun Jin Ryu, figures to be the primary area of focus in the days and weeks to come.
Prior to their agreement with Brantley, the Jays had about $98MM committed to a dozen players and were more than $80MM shy of the $210MM luxury tax barrier. For a club that carried a payroll of nearly $165MM as recently as 2017-18, there's obviously considerable room to further supplement the roster even after signing Brantley. It's possible, too, that the Jays could trade away some players who alter that financial outlook; Grichuk is owed $28MM over the next three years, while Gurriel is owed $13.4MM in that same stretch. Hernandez is signed for $4.325MM in 2021 and controlled via arbitration through 2023.
Frankly, the Blue Jays ought to have the payroll capacity to take their pick of available free-agent starters and relievers, should they choose. They've already met with Trevor Bauer who, like Brantley, is a known entity to Jays president Mark Shapiro and GM Ross Atkins, who were the Indians' general manager and director of player development at the time Bauer was traded from Arizona to Cleveland. Toronto has also been tied to Jake Odorizzi, a client of the same agency that represents Springer, Brantley and Chatwood alike. The trade market presents myriad opportunities, and now that the Jays have Springer and Brantley set in place, they'll have a better idea of their budget and which players they feel are potentially expendable.
Regardless of which specific arms the Jays add to the mix, it's clear that they'll be adding some form of pitching. The magnitude of those additions will go a long way in determining just how good this club can be, but it's clear right now that the Jays are emerging as credible threats to both the Yankees and the Rays in the American League East.