11:45am: Scherzer can opt out of the contract after the 2023 season, reports ESPN's Jeff Passan. There's also a full no-trade clause in the pact, per Joel Sherman of the New York Post. The $130MM guarantee will be distributed at an even $43.333MM in each year of the deal, Sherman adds.
11:41am: The agreement has been finalized and is now a "done deal," tweets Martino.
11:03am: The Mets and three-time Cy Young winner Max Scherzer are finalizing a three-year contract worth $130MM, tweets MLB Network's Jon Heyman. There are only "minor details" left to be sorted out before the Scott Boras client puts pen to paper on a contract that will shatter Gerrit Cole's $36MM annual value record. SNY's Andy Martino had suggested just minutes beforehand that the two parties were moving close to an agreement.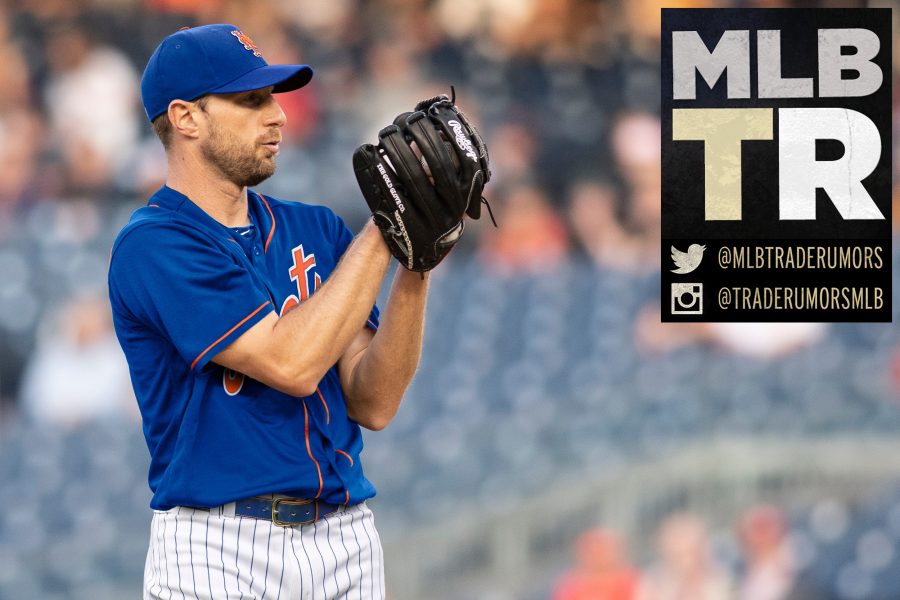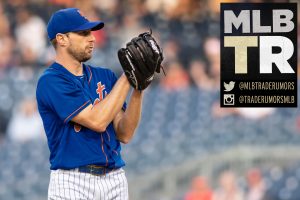 The Scherzer signing is the latest in a frenzied series of free-agent signings for a Mets club that added Starling Marte (four years, $78MM), Mark Canha (two years, $26.5MM) and Eduardo Escobar (two years, $20MM) over the weekend. Scherzer joins a Mets rotation already headlined by one of the generation's best pitchers, Jacob deGrom, giving the club a one-two punch with a combined five Cy Young Awards and 12 All-Star appearances.
As can be seen on MLBTR's updated list of the highest average annual values (AAVs) in MLB history, the $43.33MM annual value on Scherzer's contract establishes a new precedent by a whopping $7.33MM. MLBTR predicted would handily top the previous $36MM record by signing a three-year, $120MM deal — but he'll break the prior record by an even wider margin. As one of the eight players on the MLBPA's executive subcommittee, Scherzer undoubtedly takes pride in advancing the AAV record forward by more than 20 percent.
It comes as something of a surprise to see the deep-pocketed Dodgers outbid on the very type of short-term, huge-AAV deals they tend to prioritize, but Joel Sherman of the New York Post suggested this morning that Los Angeles perhaps preferred to stick to a two-year term. Scherzer, confident in his own abilities and quite likely heartened by the Mets' aggressive weekend, opted to jump to a club that missed the postseason entirely in 2021 but has quickly come to look more formidable (and surely isn't yet done with its winter dealings).
The contract carries some obvious risk for the Mets, given not only the sheer magnitude of the number but also given that they're acquiring Scherzer's age-37 through age-39 seasons. He'll turn 40 years old shortly before the contract draws to a conclusion, and the dead arm that plagued him late in the playoffs could certainly have given some interested parties a bit of pause. Still, Scherzer is effectively an unprecedented free agent — so an unprecedented contract only feels fitting.
With three Cy Youngs in his back pocket already, plus another trio of Top 3 finishes (and a pair of fifth-place finishes), Scherzer has emerged as the greatest pitcher of the current generation. He'd be a slam-dunk Hall of Famer even if he retired today, but he'll spend the next three seasons in Queens, hoping to help the Mets not only secure their first postseason berth since 2016 but win their first World Series title since 1986.
Despite his age, Scherzer remains one of the most dominant pitchers on the planet. Among the 129 pitchers with at least 100 innings pitched in 2021, Scherzer ranked fourth in ERA (2.46), tenth in FIP (2.97), third in strikeout rate (34.1%), 11th in walk rate (5.2%), second in K-BB% (28.9%) and third in swinging-strike rate (15.9%). He was well above average in terms of limiting hard contact, and Statcast pegged him in the 91st percentile or better in expected opponents' batting average, expected ERA and expected opponents' wOBA. Whether you prefer those newer metrics or simply to look at Scherzer's 15-4 record, minuscule ERA and a similarly microscopic 0.86 WHIP — there's no getting around the fact that "Mad Max" is not just a bona fide ace but is still one of the game's truly elite pitchers, even in his late 30s.
The opt-out decision in Scherzer's contract will be fascinating when it's due. If he continues at that historic level and wants to continue pitching into his 40s, there's every reason to expect he could find a better deal than that one-year, $43.33MM commitment for the 2024 season. After all, we just saw another future Hall of Famer, Justin Verlander, sign a two-year deal that guaranteed him $50MM through his age-39 and age-40 seasons — at a time when he'd only thrown six innings in a two-year period, owing to Tommy John surgery. Wild as it might sound for a 39-year-old Scherzer to forgo a one-year deal at more than $43MM, the possibility shouldn't be completely dismissed.
For the 2022-23 seasons, however, Scherzer joins deGrom atop a Mets rotation that isn't short on injury risk but is also teeming with talent. That iconic pairing will be followed by the likes of Carlos Carrasco, Taijuan Walker, David Peterson and Tylor Megill — though it certainly remains possible that the Mets will further augment the starting staff. Though both Megill and Peterson have shown plenty of promise, either has solidified himself as an MLB contributor over multiple big league seasons. And, with limited upper-level depth behind the current top five, it's easy to see the appeal in installing another veteran arm and pushing Megill and Peterson to "overqualified" Triple-A depth roles in the event of injuries on the big league staff.
The recent free-agent flurry leaves the Mets with a jaw-dropping $268MM payroll projection, per Roster Resource's Jason Martinez, with upwards of $273MM in luxury-tax obligations. Even with that stratospheric number in place, however, we're not even two weeks removed from owner Steve Cohen stating plainly at GM Billy Eppler's introductory press conference that when it comes to payroll for Eppler and the rest of the baseball operations department: "It's whatever they need."
We can't know exactly what lies in store for the luxury-tax system — not with the collective bargaining agreement set to expire this week — but it appears all but set in stone that the Mets will be penalized to an extent in each of the next two seasons. Beyond the aforementioned $273MM in luxury obligations for the 2022 season, New York already has more than $191MM in luxury obligations in 2023. The team's ultra-aggressive couple of weeks since Eppler joined the organization suggests that number will climb with not only additional moves in the current offseason but quite likely in the 2022-23 offseason.
This type of spending spree is perhaps the exact scenario Mets fans dreamed of when Cohen purchased the Mets from the Wilpon family — an ownership group that had never taken payroll beyond $158MM despite playing in the game's largest market. Cohen's aggressive spending and public candor even on baseball operations matters (e.g. his frustration regarding Steven Matz negotiations) hearken back to another famed New York owner, the late George Steinbrenner, who never shied away from impulsive personnel decisions or speaking his mind.
It won't become clear for years whether this will be the norm under Cohen or if he merely felt compelled to act opportunistically in such a deep free-agent market. That's of little consequence in the immediate future, however; Cohen and Eppler are living in the here-and-now, aggressively adding to a Mets roster that looks considerably more like a postseason threat than it did even 96 hours ago. There's little reason to expect the Mets to take their foot off the gas, even if some of the remaining moves have to wait until the looming lockout has been resolved.
Photo courtesy of Imagn/USA Today Sports.