A lot has changed since the last edition of MLBTR's Free Agent Power Rankings. Joe Musgrove, formerly the No. 5 entrant on the list, has since signed a five-year extension with his hometown Padres, keeping him from reaching the market. Willson Contreras, the No. 9 entrant on that edition of the list, was somewhat stunningly not traded at the deadline, meaning he'll be subject to draft-pick compensation. Jacob deGrom had yet to pitch at that point in the season but has now made a dominant pair of outings in his 2022 debut. More broadly, several players on the list or on the "honorable mention" portion of the list have altered their stock with strong play or faded.
Here's a look at where things stand, with a reminder that this list is based on what the MLBTR team believes to be each player's earning power in free agency — not necessarily a ranking of the "best" free agents or who'll hold up the best over the life of a major free-agent contract.
1. Aaron Judge, OF, Yankees (Last ranked: 1): While plenty has changed since the May 25 version of these rankings, it's business as usual for Judge, who boldly turned down a seven-year, $213.5MM extension offer back in Spring Training and now looks prescient for doing so. Judge was hitting .314/.386/.692 at the time of our last rankings and has followed that with a remarkably consistent .292/.390/.654 line in 64 games since. Judge is on pace to top Roger Maris' 61 home runs from the 1961 season, leading the Majors not only in long balls (44) but also runs scored (93), RBIs (98), slugging percentage (.677), OPS (1.068) and wRC+ (196). He's leading the AL with 122 hits and has even stolen a career-high 11 bases (without being caught).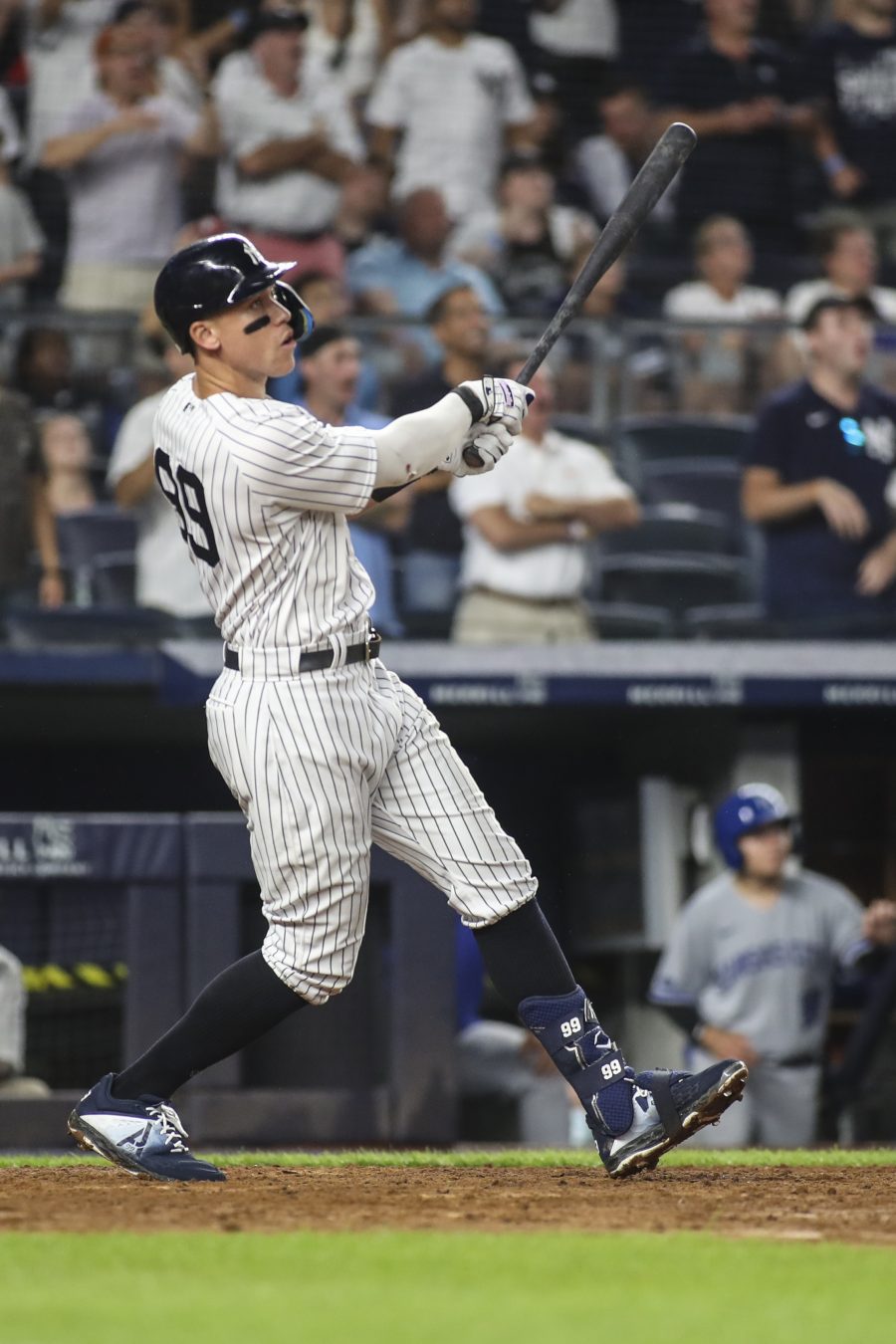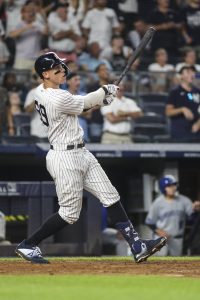 Judge has been the best hitter on the planet since Opening Day, and as things currently stand, the only person who could conceivably stand in his way of winning his first AL MVP trophy would be Angels sensation Shohei Ohtani. However, great as Ohtani has been again in 2022, his offense isn't quite what it was last year (and isn't anywhere close to Judge's league-leading dominance). From a pure WAR perspective, Judge has been so good this year that his value with the bat has eclipsed Ohtani's combined value at the plate and on the mound.
Regardless, Judge is now poised to reach free agency on the heels of the finest season of his already brilliant big league career. He'll play the 2023 season at age 31, which is about the only strike against him in free agency. Judge will receive and reject a qualifying offer from the Yankees, and even though he'd be 38 by the end of an eight-year deal, that seems plenty plausible. He could very well command the largest annual salary any position player has ever received, too, and a $300MM overall contract doesn't seem out of the question. This is what it looks like to bet on yourself and win — in resounding, overwhelming fashion, no less.
2. Trea Turner, SS, Dodgers (LR: 3): There's not much on the baseball field that Turner doesn't do well. The 29-year-old is the sport's fastest player, by measure of Statcast's Average Sprint Speed, and he's hitting .305/.345/.499 as of this writing. The 28 home runs he popped in 2021 might very well go down as a career-high, but Turner should finish this year around 25 dingers and has twice in the past hit 19 long balls (including in a 2019 season where he played in just 122 games).
That injury shortened '19 campaign was the only one in the past half decade in which Turner spent significant time on the shelf. Over the  past five years, he's a .303/.358/.493 hitter who's made a pair of All-Star teams, won a batting title and taken home a World Series ring.
By the end of a long-term deal, Turner will probably move off shortstop, but he's a solid option there for now who'd be plenty capable of sliding over to second base at some point. Over the past three seasons, he's been 43% better than league-average with the bat, by measure of wRC+, and this will be his fourth season of at least four wins above replacement in the past five years — with the 60-game 2020 season, when he boasted 2.8 fWAR and bWAR alike, being the lone exception.
If Turner had been born a day later, next year would technically be considered his age-29 season, but he'll be 30 on June 30, and the July 1 cutoff is (for whatever reason) generally seen as the arbitrary turning point for a player's age in a given year. A seven-year deal for Turner would run through age-37, and an eight-year deal through age-38. He'll have to contend with a qualifying offer and another deep class of shortstops, but Turner is one of baseball's most well-rounded players and figures to be compensated in line with the game's 10 to 20 best position players.
3. Nolan Arenado, 3B, Cardinals (LR: 6): It's difficult to directly compare Arenado's 2022 season and the 2019 season that propelled Anthony Rendon to a seven-year, $245MM contract, given that Rendon's Herculean '19 effort came during the juiced-ball season. Offense is down league-wide now, yet Arenado stacks up favorably in terms of batting average, on-base percentage and slugging percentage. Metrics like wRC+ and OPS+, which weight for both home park and league environment, feel that Arenado's 2022 production at the plate has actually been slightly better.
Defensively, Arenado is nearly peerless at his position. Since making his MLB debut in 2013, Arenado ranks second among all players, regardless of position, with 151 Defensive Runs Saved, trailing only Andrelton Simmons. He's third to Francisco Lindor and Nick Ahmed in Statcast's Outs Above Average, which tracks defensive data dating back to 2016. Arenado's numbers aren't inflated by early-career marks, either. He remains elite this season, ranking third in all of MLB in DRS and second in OAA. Defensive metrics and the eye test agree, as Arenado has been a human highlight reel at the hot corner for his decade-long career.
The age gap between 2022 Arenado (31) and 2019 Rendon (29) can't be ignored. However, that should be more reflected in the length of a theoretical Arenado contract than in the annual value. It's also, of course, worth noting that Arenado is technically under contract through 2027. He's guaranteed $144MM in that time but has the right to opt out of the contract after the current season. Arenado forwent an opt-out clause after the 2021 season, but his 2022 campaign is the best of his career.
Even if he's capped at a five-year deal in free agency, he should be able to trounce the current $28.8MM annual value remaining on his deal by as much as $5-7MM — and a six-year deal doesn't seem impossible to imagine coming off such a brilliant effort. (Freddie Freeman scored a six-year deal beginning with his age-32 season, so there's recent precedent.) Perhaps Arenado and the Cardinals will work out a compromise, and it's always possible he decides he's happy in St. Louis and just passes on the opt-out entirely. If he does want to test the market again, however, there could be another $20-60MM in earning power for him on top of his current deal.
4. Carlos Correa, SS, Twins (LR: 2): The 2022 season might not have gone quite as well as either Correa or the Twins hoped, but he's still enjoying a sound all-around year, hitting .265/.343/.433 (22% better than league average, by measure of wRC+). He got out to a slow start in April and has slumped following the All-Star break, but for a three-month stretch from late April to late July, Correa hit .308/.375/.509. Provided the current slump doesn't last too long, Correa stands a decent chance to be around 30% better than average at the plate for the second straight season and third time in four years.
Last year's all-world defensive ratings have taken a dip thus far in 2022 — surprising for a player who has generally been a consistent source of elite glovework. He's made five throwing errors this season, tied for his most since 2016, but Correa has been plenty sure-handed, booting just two balls hit to him. He's spent the year throwing to Miguel Sano and a pair of makeshift first baseman who've converted from other positions (Luis Arraez, Jose Miranda), so perhaps some of the throwing miscues can be forgiven by a team with a better defensive outlook at first base.
If those first couple paragraphs feel like they're filled with caveats — well, they are. The simple fact is that Correa hasn't had as strong a season as he did in 2021 and probably shouldn't be expected to command the type of contract many (MLBTR included) thought to be possible last offseason. That said, Correa still hasn't even turned 28 — the age at which he'll play nearly all of the 2023 season. His youth alone gives him the chance to command the longest contract of any free agent this winter; even a 10-year deal would run through age-37.
That type of contract may not be on the table without a huge finish, but Correa is still a plus defender and well above-average hitter with age on his side. It's perhaps narrowly more plausible that he could opt into a second year with the Twins, take another $35.1MM salary and hope to hit free agency on the heels of a stronger platform in 2023, but his current earning power is still among the best in this year's free-agent class.
5. Xander Bogaerts, SS, Red Sox (LR: 4): When the last version of our list was published, Bogaerts had homered just four times in 174 plate appearances while posting a below-average .135 ISO (slugging minus batting average). It was easy enough to overlook as little more than small-sample noise at the time, but Bogaerts has hit just five home runs in 267 plate appearances since that time and now has nine long balls and a tepid .141 ISO in 441 trips to the plate. That's the worst power output we've seen from Bogaerts since 2017 by an overwhelming margin. From 2018-21, he belted 90 homers in 2106 plate appearances while turning in a stout .224 ISO.
Bogaerts is still hitting .311/.383/.452 on the season, but he's also sporting a career-high .382 average on balls in play that he's not going to sustain — particularly not when his average exit velocity, barrel rate and hard-hit rate are at their lowest or near-lowest levels since 2017.
There's still no doubt that Bogaerts will opt out of the remaining three years and $60MM on his contract, but he'd be higher on this list if not for his power stroke going MIA. Couple that with ongoing questions about his defense — some teams are surely going to see Bogaerts as a player who needs to move off shortstop, perhaps as soon as 2023 — and the current free-agent outlook is a bit murkier than expected.
Nevertheless, Bogaerts has a long track record of excellent offense and well above-average power output. With a strong finish to the season, particularly in the power department, he should have no problem commanding a notable nine-figure deal — and something in excess of $200MM can't be ruled out.
6. Jacob deGrom, RHP, Mets (LR: 7): The No. 6 ranking here for deGrom factors in something of a best-case scenario, but this list is based on earning power, after all. If deGrom gets hurt again or struggles down the stretch, it's possible he'll drop off the list entirely. The latter of those two scenarios seems unlikely, though, as deGrom hasn't "struggled" since 2017. He's been dominant through his first two starts of the 2022 season, averaging 99.2 mph with his fastball and holding opponents to three runs on four hits and a walk with 18 punchouts through 10 2/3 innings.
Dating back to 2018, deGrom has a comical 1.95 ERA in 591 2/3 innings with a 34.9% strikeout rate against a 5.3% walk rate. When healthy, deGrom is simply unmatched in terms of starting pitching dominance over that period. He ranks second among all Major League pitchers with 24 wins above replacement dating back to 2018, per FanGraphs, despite the fact that he's made only 93 starts in that time. Max Scherzer tops the list but has started 24 more games and logged 143 2/3 more innings — about an extra 75% of a season's worth of work.
If deGrom finishes the season with no red flags, the bidding should be furious. He'll turn 35 next June, making him nearly three full years younger than Scherzer was when he secured his record-setting three-year, $130MM deal from the Mets. DeGrom could justifiably look to top that AAV on a multi-year deal, and he's too good for the bidding to stop at two years. The biggest question surrounding deGrom is just how many years someone will be willing to guarantee. A three-year pact in excess of Scherzer's seems doable, and a fourth year ought to be on the table as well.
7. Dansby Swanson, SS, Braves (LR: Not Ranked): Long a plus defender at shortstop, Swanson is having another strong year with the glove and a career year with the bat. He's followed up a career-high 27 home runs in 2021 with a .292/.348/.461 showing through 463 trips to the plate. He's been the beneficiary of a .375 average on balls in play that he surely won't sustain over a larger sample, but Swanson is also making hard contact at a career-best 44.7% clip and elevating the ball more than he has in years past.
A greater walk rate than his current 7.3% clip or lower strikeout rate than his 26.3% mark would raise Swanson's floor, but his glove alone will make him an above-average regular and he's well on his way to his second straight 25-homer season. Add in that Swanson will play all of next season at 29 years old, and a nine-figure deal seems likely. Both Trevor Story and Javier Baez landed six-year, $140MM pacts last winter at the same age. Swanson will have to contend with a qualifying offer and with some more decorated shortstop options ahead of him on the market, but he'll be in high demand all the same.
8. Carlos Rodon, LHP, Giants (LR: 8): Rodon was the best pitcher in baseball through late July in 2021, but he was capped to five innings per appearance (at most) down the stretch as he battled shoulder fatigue and diminished velocity. For a pitcher with Rodon's injury history, that limited interest in him to the point that he took a two-year, $44MM deal with a chance to opt out following the 2022 season — provided he reached 110 frames.
Rodon has not only reached 110 innings — he's shot past it with career-best velocity (95.8 mph average fastball) and another sub-3.00 ERA (2.95 through 128 1/3 frames thus far). Rodon is averaging just shy of six innings per outing and boasts a 31.2% strikeout rate against a 7.6% walk rate. He's reached double-digit strikeouts in six of his 22 starts and held opponents to three or fewer runs in 18 of 22 tries.
Rodon's fastball in his past eight starts is down about one mile per hour over his average from his first 14 starts, but it's still been a healthy 95.1 mph in that stretch. That said, he threw a complete game on July 9, worked seven shutout innings on July 31, and averaged a resurgent 96 mph with his heater in his most recent outing. At least so far, Rodon doesn't appear to be fading at all. If he can avoid the type of late swoon he experienced in 2021, he ought to find four-  and five-year offers at superior annual values to this contract's $22MM AAV. He'll receive a qualifying offer and surely reject it, which isn't ideal, but he has the best combination of age (30 all of next season) and 2022 performance of any starter on this year's market.
9. Justin Verlander, RHP, Astros (LR: Not Ranked): Simply returning to make a full season's worth of starts would've been a feat for a 39-year-old who had pitched just six innings since the end of the 2019 season due to Tommy John surgery. Verlander, of course, is no ordinary 39-year-old, and he's not only returned but positioned himself as a front-runner for the AL Cy Young Award.
It's a jaw-dropping feat, even for one of this generation's best. Verlander has a 1.73 ERA with a 25.5% strikeout rate against a minuscule 4.6% walk rate. He's averaging nearly 6 2/3 innings per start, sitting 95.1 mph with his heater — his second-best mark since way back in 2011 — and has thrown a quality start in 16 of his 20 appearances this year. Verlander hasn't yielded more than one earned run in a start since June 18 and has held opponents to one or zero earned runs in a stunning 15 of 20 starts.
He'll turn 40 in February, but Verlander has a legitimate case to break Max Scherzer's $43.33MM AAV, particularly if he's looking at a two-year deal. He's said he wants to pitch into his mid-40s and looks as good as ever, though, so we shouldn't discount the possibility that a team shrugs and goes to three guaranteed years for this generation's most prolific workhorse. Verlander unlocked a $25MM player option when he reached 130 innings pitched, but he should be able to crush that in free agency even if he prefers to work out an extension with Houston.
10. Edwin Diaz, RHP, Mets (LR: Not Ranked): It's been six years since Mark Melancon (four years, $62MM), Kenley Jansen (five years, $80MM) and Aroldis Chapman (five years, $85MM) each set new records for relief contracts in the same offseason. Diaz, the most dominant reliever in baseball this season, will have a chance to topple that Chapman record when he heads into free agency in advance of his age-29 season.
After a nightmarish first season in Queens, Diaz has righted the ship and become a spectacle in the best kind of way. He's averaging 99.1 mph on his heater this season, has punched out 52.9% of his opponents and has an entrance more befitting of a professional wrestler than a Major League closer.
Diaz's Baseball Savant profile looks like a video game cheat code. He's leading the Majors in expected ERA, expected wOBA, expected batting average, expected slugging percentage, strikeout rate, whiff rate and ranks in the 99th percentile in average exit velocity, opponents' chase rate, opponents' barrel rate and fastball velocity. Diaz last allowed an earned run on June 18, and in 18 innings since that time he's posted a 38-to-1 K/BB ratio while yielding just seven hits.
The 2022 version of Edwin Diaz might be the best reliever we've seen since Mariano Rivera. He'll be hit with a qualifying offer, but it's doubtful the teams pursuing him are going to even care about that. It'd be a surprise if Diaz doesn't set a new contract record for relief pitchers this winter, and he could be baseball's first nine-figure reliever.
Honorable Mentions: Brandon Nimmo, Willson Contreras, Jose Abreu, Josh Bell, Chris Bassitt, Nathan Eovaldi, Andrew Benintendi