Going into this offseason, the writing seemed to be on the wall in Oakland. All of the rumors pointed to a big selloff, with any player approaching free agency expected to be traded for prospects. Though the club waited until after the lockout to pull the trigger, they eventually traded Matt Chapman, Matt Olson and Chris Bassitt within a week of the resumption of transactions. Sean Manaea would follow them out the door a couple of weeks later.
There were a few names that were mentioned in rumors who didn't end up moving, with Frankie Montas being the most obvious trade candidate still wearing green and gold. He seems likely to be traded in the next two weeks, as long as his shoulder cooperates. There was also Ramon Laureano and Sean Murphy, though their extra years of control likely made them less of a priority for the Oakland brass. Plus, Laureano had the remainder of his suspension as a complicating factor.
Then there's Lou Trivino, who emerged as the club's closer last year, racking up 22 saves. He isn't slated to reach free agency until after the 2024 season, meaning there was no rush for the A's to trade him this winter. But given the volatility of relief pitchers, there would have been logic to cutting a deal in the offseason, even though there were a few years of club control remaining. Since a quick drop in performance can cause a reliever's trade value to plummet in kind, it often makes sense to take the proverbial cash on the barrelhead.
The team has clearly had bigger fish to fry, however, working out those aforementioned trades and surely discussing Montas deals as we speak. But in that space between the offseason and today, Trivino has gone out and demonstrated the capricious nature of bullpen arms by having the worst season of his career, at least in terms of earned runs. The righty had a 3.70 career ERA coming into the season but has a mark almost double that for the year, currently sitting on a 6.59.
Despite that ugly ERA, there are other statistics that would suggest he has actually taken a step forward this season. His ground ball rate was 46.1% coming into the season but is at 49.4% this year. His 28.9% strikeout rate on the year is well above the 23.9% of prior seasons. His walk rate of 9.6% is slightly above league average, but better than his own previous mark of 10.9%.
More grounders, more strikeouts, fewer walks and yet his ERA has jumped by almost three full runs? The answer to the riddle seems to be contact. A look at Trivino's Statcast page shows a bit of red for things like strikeouts and fastball velocity, but a bit of blue for hard hit percentage (27th percentile) and barrel percentage (33rd percentile). That certainly suggests that, despite the extra Ks, Trivino is getting hit harder when batters do make contact.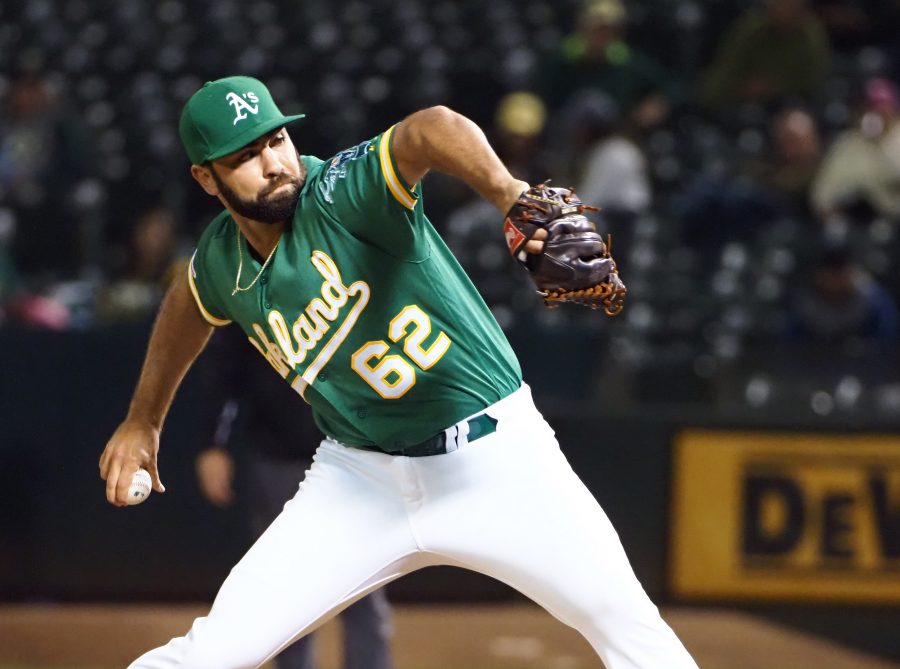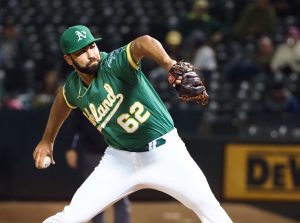 However, there's actually not that much of a difference to previous seasons. His 8.5% barrel percentage on the year is just barely above the 7.8% he had last year and actually below the 10.5% rate of 2020. His 41.5% hard hit percentage is the highest he's ever had, but not drastically higher than the 35.7% rate of his career overall. His 13.6% HR/FB rate is above the 10.8% rate of prior seasons, but again, by a reasonable margin. A major factor seems to be luck, as Trivino's batting average on balls in play this year is a whopping .468, well above the league .285 league average for relievers this year and Trivino's .275 mark coming into the season.
One potential explanation for the sudden burst in BABIP is Trivino's sinker. Last year, it had an average exit velocity of 88.3 mph and a launch angle of four degrees, fairly expected numbers for a pitch often used to get ground balls. This year, the exit velocity has dropped to 85.3 mph and the launch angle even lower at -5 degrees. However, opponents are hitting .486 on the pitch this year compared to .329 last year.
Regardless of the cause, the advanced metrics all seem to indicate that Trivino has been better than his 6.59 ERA would indicate, much better in fact. He has a 3.01 SIERA on the season, a 3.81 xERA, 3.22 FIP and 2.99 xFIP. All of those numbers suggest that the baseball gods have been staunchly against Trivino this season and that he really has been his old self all along.
Baseball front offices are surely sophisticated enough to appreciate all of this and still see the value in Trivino as a pitcher. He has a very diverse arsenal as a reliever, with a five-pitch mix that allows him to be effective in various different scenarios. He's making a modest $3MM salary this year and can be controlled for two more seasons beyond that via arbitration. Despite his unsightly ERA on the year, there's still plenty to like, meaning any acquiring team should be happy to have him.
Image courtesy of USA Today Sports.