The Yankees have announced that they have acquired Frankie Montas and Lou Trivino from the Athletics. In exchange, the Athletics will receive pitchers JP Sears, Ken Waldichuk and Luis Medina, as well as second baseman Cooper Bowman.
Next to Luis Castillo and Tyler Mahle, Montas has been seen as one of the better starting pitchers available at the trade deadline. The Yankees had been connected to Castillo, but he was traded to the Mariners in recent days. The Yanks evidently turned their attentions to Montas in order to satisfy their desire for boosting their rotation.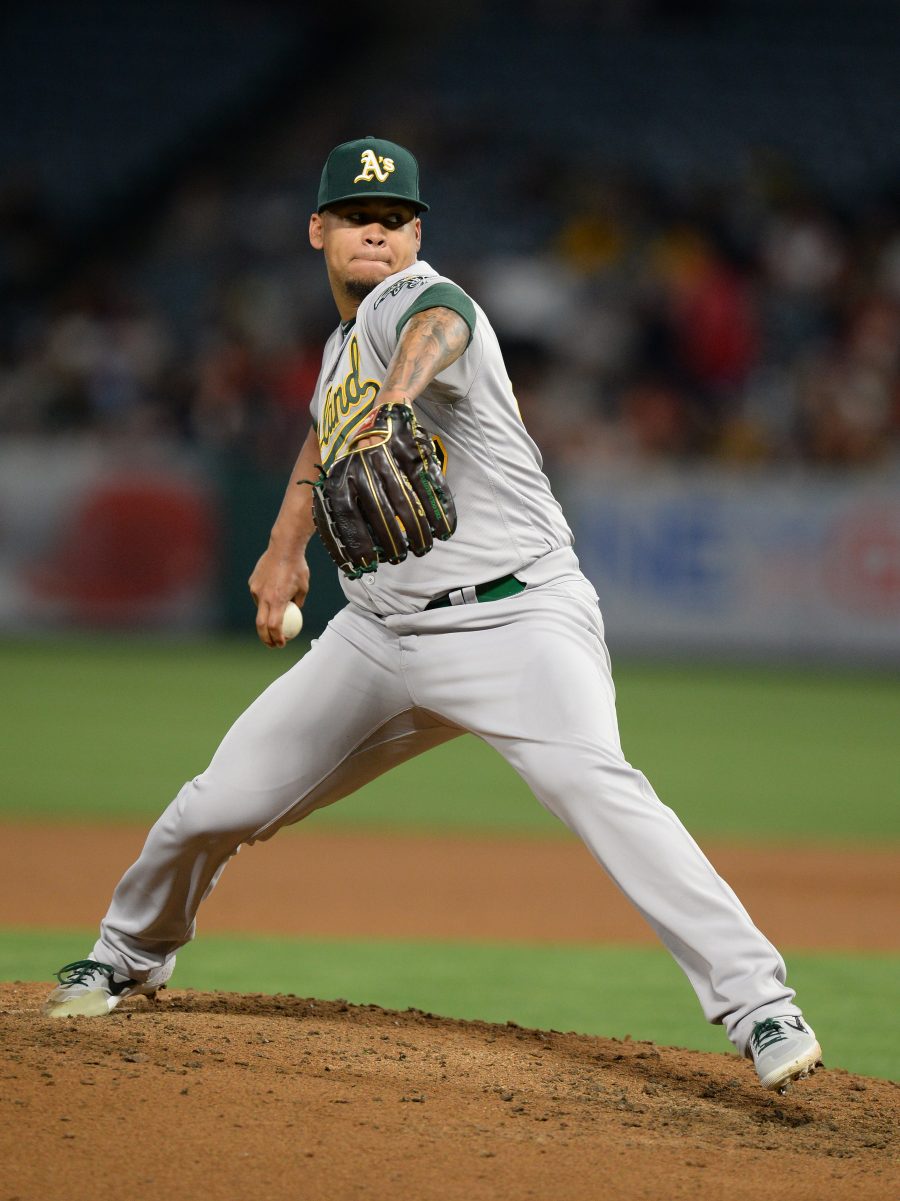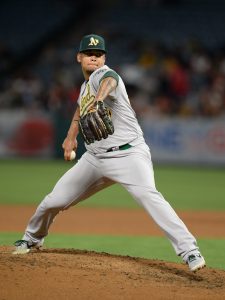 Montas has been a solid member of Oakland's rotation for years, first establishing himself in 2018. Despite a down year in 2020, Montas still owns a career 3.73 ERA with a 24.8% strikeout rate, 7.8% walk rate and 43.5% ground ball rate. Just looking at what he's done since the start of the 2021 season, he's been on an even better level, logging a 3.30 ERA, 26.3% strikeout rate, 7.1% walk rate and 44% grounder rate. He's been worth 6.1 wins above replacement in that time, according to FanGraphs.
Despite being a solid performer, Montas has seemed like an inevitable trade candidate for quite some time now. As the 2021 season finished and the offseason began, the A's were widely reported to be planning a massive sell-off of any player making a significant salary and/or approaching free agency. Montas was frequently cited among the trade candidates, next to Chris Bassitt, Sean Manaea, Matt Olson and Matt Chapman. Those four latter names were all moved between this winter's lockout and the beginning of the season, but Montas stayed. He's making just over $5MM this season, making him the cheapest of that group, but he only has one further season of club control remaining. Given that the A's aren't likely to return to competition in that time, it made sense to make him available to other clubs.
The Yankees have been incredibly healthy in terms of their rotation this year, with their front five of Gerrit Cole, Jameson Taillon, Nestor Cortes, Jordan Montgomery and Luis Severino all staying healthy for the first three-plus months of the season. As such, the rotation as a whole has logged 567 innings, the third-most in the majors, while also posting a 3.37 ERA that's third in the league. However, Severino landed on the IL a couple of weeks ago with shoulder tightness. While he's been out, Domingo German has made two starts but has an 8.22 ERA in those. When Montas reports to the team, he will likely bump German back to the minors or a long-relief role. If Severino can get back on the mound while everyone else is still healthy, the Yanks might have to make a tough decision about to fit everyone into the mix, but that would be a good problem to have in the future.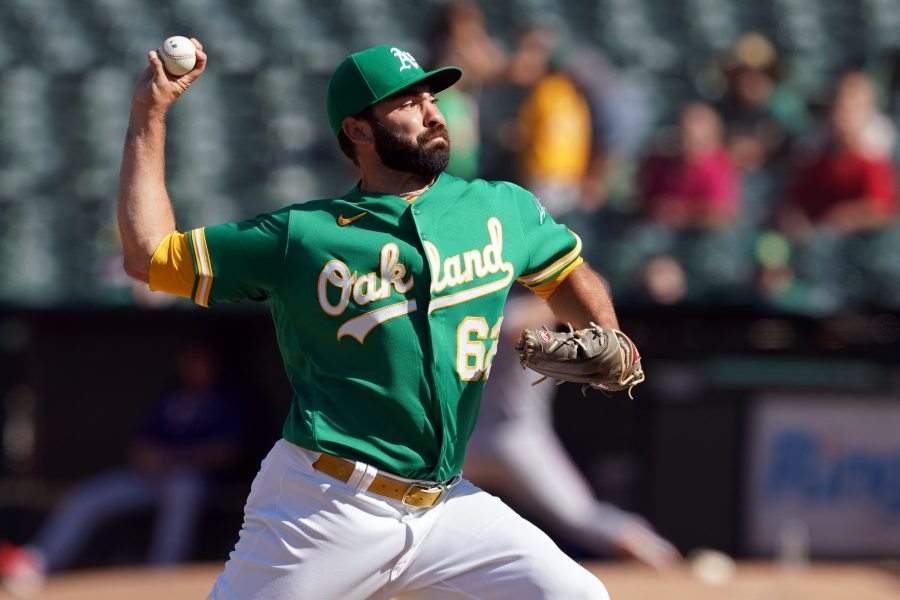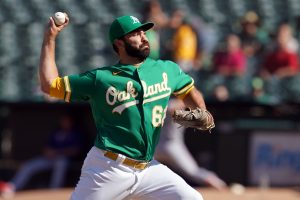 The Yankees weren't content to merely upgrade their rotation, however, also adding Trivino into the bullpen, their second such addition of the day, following their earlier acquisition of Scott Effross. Yankee fans might see Trivino's 6.47 ERA and scoff, but there's actually more to like under the hood. Trivino's been the victim of a .451 batting average on balls in play, despite that number being around .250 in the two previous seasons. His 28.7% strikeout rate and 52.3% ground ball rates on the year are both career highs while his 8.9% walk rate is a career low. As such, all of the advanced metrics feel that batted ball luck is masking his true talents, with Trivino currently sporting a 4.29 xERA, 3.84 FIP, 2.92 xFIP and 2.89 SIERA. He's making a modest $3MM salary this year and can be retained via arbitration for another two seasons.
The Yankees' bullpen seemed unstoppable for much of the season but has since hit some snags. Chad Green required Tommy John surgery and won't be back this year. Michael King is also done for the year after suffering an elbow fracture. The once-untouchable Aroldis Chapman has struggled since coming off the IL. Clay Holmes, who seemed to replace Chapman as the unhittable monster in the bullpen, has also come back down to earth in recent weeks. With the additions of Effross and Trivino, the Yankees have given themselves some extra options for late-game duty.
The A's have already completely remade their system this year with the aforementioned trades of Bassitt, Manaea, Olson and Chapman, and this deal will allow them to bring in four more fresh faces. The highlight of the bunch is probably Waldichuk, 24, who is enjoying a tremendous breakout season. Selected by the Yankees in the fifth round in 2019, he has split his time this year between Double-A and Triple-A. In 17 starts between the two levels, he's thrown 76 1/3 innings with a 2.71 ERA and incredible 36.5% strikeout rate. The 10.4% walk rate is a little above-average, but there's still plenty to be excited about in that performance. The southpaw was recently ranked the #5 prospect in the Yankees' system by Baseball America.
Sears, 26, came in 20th on that same list at BA. He made his MLB debut this year and has looked good so far, notching a 2.05 ERA in his first 22 big league innings. He's only gotten strikeouts at an 18.1% clip in that time, but is much better at getting punchouts in the minors. In 43 Triple-A innings this year, he has a 1.67 ERA with a 33.7% strikeout rate, along with a 4.3% walk rate.
Medina, 23, has also been considered one of the top Yankee prospects by BA, oscillating between the #7 and #11 spot from 2018 to the present. He's made 17 starts in Double-A this year, throwing 72 innings with a 3.38 ERA, 50.9% ground ball rate, 26.4% strikeout rate, but a high 13% walk rate.
As for Bowman, he's the most long-term play among the new Athletics, as he's just 22 years old and was just drafted last year, being selected in the fourth round. He's played 80 games in High-A this year, putting up a line of .217/.343/.355 while playing second base and shortstop.
While the A's are ramping up for the future, the Yankees are loading up for right now. Their 69-34 record is the best in the American League and only percentage points behind the Dodgers for best in the majors. In recent days, they've bolstered their lineup by adding Andrew Benintendi, added Montas to their rotation and Effross and Trivino to their bullpen. Though there's still about 24 hours until the trade deadline for them to make further moves, they've clearly cemented themselves as one of the strongest teams this year.
With Castillo and Montas now both off the market, teams looking for rotation upgrades will likely turn their attentions to Tyler Mahle. Teams like the Cardinals, Twins, Padres and Blue Jays have been connected to Montas in recent days, with those clubs now likely to pivot to Mahle or other arms.
Jack Curry of the YES Network reported the particulars of the deal before the official announcement (Twitter links).
Images courtesy of USA Today Sports.