Nov. 16, 9:46pm: Lin reports the full contract breakdown, which goes well beyond a traditional deal. According to the Athletic, Martinez will make $10MM next season. At the end of the year, the Friars have to decide whether to trigger successive $16MM team options for the 2024-25 campaigns — essentially a two-year, $32MM option. If the team declines those options, Martinez will have to decide whether to exercise successive $8MM player options — a two-year, $16MM guarantee — or test free agency next offseason. The deal also contains various yet-unknown incentives and escalators that could boost the price of both his 2023 base salary and those of the option years.
It's an atypical but not completely unheard of contract structure. The deal resembles one signed by James Paxton with the Red Sox last winter, which gave Boston a two-year club option that, if declined, would leave Paxton to decide on a player option or trip to free agency.
It's technically a three-year, $26MM guarantee, as previously reported. Player options are treated as guaranteed money, so that $16MM plus his $10MM base salary for next year counts as the $26MM total. For luxury tax purposes, it's calculated as an $8.67MM average annual value. However, if the Padres were to exercise their option, Martinez would be paid $42MM over the next three years (plus any incentives he reaches). Depending on the option decisions, he could reach free agency again next offseason having collected $10MM or play things out in San Diego for three years at either $26MM or $42MM.
Nov. 16, 7:43am: Jon Heyman of the New York Post tweets the deal is a three-year, $26MM contract with incentives to boost that base-level guarantee.
Nov. 15: The Padres are in agreement with free agent righty Nick Martinez, tweets Jon Heyman of the New York Post. Ken Rosenthal and Dennis Lin of the Athletic (Twitter link) were first to report the sides were making progress on a new contract. Martinez, an Octagon client, had opted out of the final three years on his previous deal with San Diego last week. It's a new three-year deal for Martinez, Lin reports (Twitter link). Unsurprisingly, he's expected to top the $18MM he left on the table when he triggered his opt-out provision.
The 32-year-old will stick with the organization that signed him to a four-year guarantee last offseason. That deal, a surprisingly strong sum for a player who'd spent the prior three seasons in Japan, reunited the former Ranger hurler with longtime Texas executive A.J. Preller, who's running baseball operations in San Diego.
Preller and his staff's affinity for Martinez paid off, as the Fordham product acclimated well in his return to the big leagues. He began the year in the rotation, starting 10 of 12 appearances through the middle of June. He posted a solid 4.03 ERA in 60 1/3 innings, striking out a roughly average 21.9% of opposing hitters. Martinez walked batters at a slightly elevated 10.4% clip but was a generally solid back-of-the-rotation stabilizer.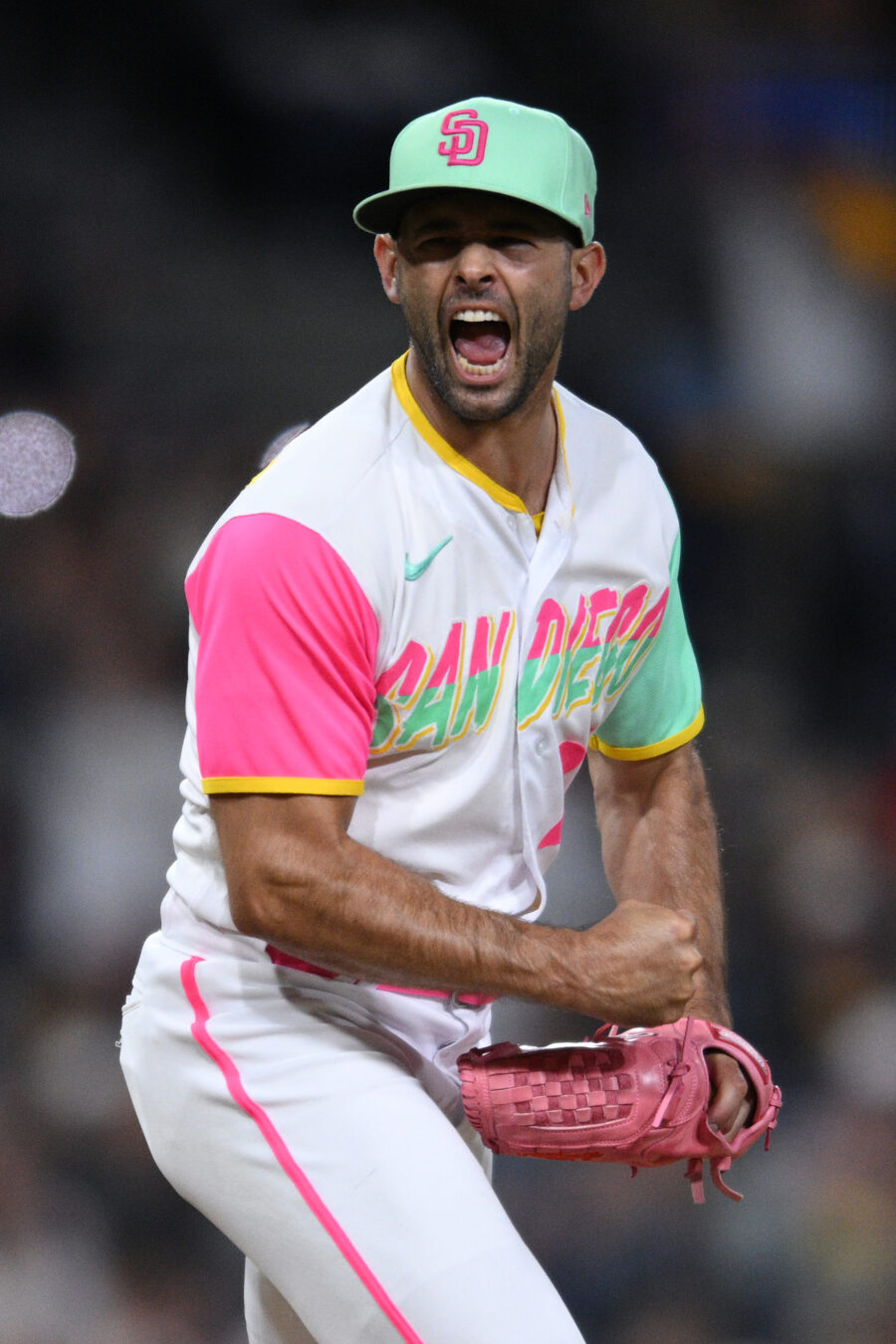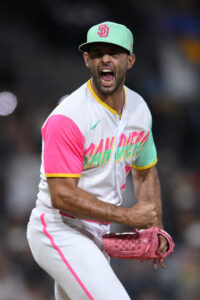 The Friars nevertheless elected to kick Martinez to the bullpen at that point, preferring to rely on a rotation of Yu Darvish, Joe Musgrove, Blake Snell, Sean Manaea, Mike Clevinger and MacKenzie Gore. Even after Gore was injured and subsequently traded to the Nationals, San Diego kept Martinez in relief. That's in large part due to his effectiveness, as he was particularly valuable for the club working in shorter stints. In 46 innings across 35 appearances from that point forward, he posted a 2.74 ERA while holding opponents to a putrid .211/.282/.333 line in 188 plate appearances.
Dominant as that showing was, Martinez didn't experience the same kind of boost most pitchers do upon working in shorter stints. His strikeout rate actually dipped relative to his early-season mark, falling to 20.2%. His velocity did jump, but the bigger change in his profile was improved control. Martinez only walked 7.4% of batters faced upon a full-time conversion to relief; he also induced grounders on almost half the batted balls he allowed during that stretch.
Altogether, Martinez's return season in the big leagues consisted of 106 1/3 innings of 3.47 ERA ball. He fared better in the bullpen but had success in both roles. Heading into his age-32 campaign, he and his representatives were faced with one of the tougher opt-out decisions of the winter. The three remaining years on his deal contained a total of $19.5MM in guaranteed money while affording him the chance to opt out after each season. He chose to do so after 2022, collecting a $1.5MM buyout while giving him the chance to explore offers from other teams.
Even as he hit the market, Martinez and the Padres seemed to have mutual interest in a reunion from the beginning. Perhaps the bigger potential stumbling block than financial terms was the hurler's desire to get a full-time rotation opportunity. Preller confirmed at last week's GM Meetings that Martinez preferred to be a starter, but he stopped short of publicly committing him a rotation spot. Dennis Lin of the Athletic wrote at the time some in the organization believed Martinez was a better fit for relief work, but it seems likely the Friars will at least give him a chance to compete for a starting job next spring.
The enviable rotation depth San Diego possessed six months ago is now far thinner. Gore was traded, while Manaea and Clevinger struggled down the stretch and look likely to depart via free agency. Musgrove signed a five-year extension and is locked in atop the rotation for the future. Darvish and Snell are each under contract for one more season and presently look as if they'll occupy the second and third spots, although Preller's affinity for bold roster shake-ups at least raises the possibility one of those two could be dealt. Even if they return, Martinez would join Adrián Morejón, Jay Groome, Ryan Weathers and Reiss Knehr among the internal candidates for a back-of-the-rotation spot. Further bolstering the starting staff figures to be a priority for Preller and his group, even if they plan to legitimately consider Martinez for one such role.
Financial terms of the agreement are not yet clear. The Friars presently have around $204MM in estimated commitments for 2023, not including Martinez, per Roster Resource. Their projected luxury tax ledger is around $225MM, not far shy of the $233MM base tax threshold. It looks likely the Friars will exceed the CBT for a third straight season in 2023 — particularly since the rotation, first base and left field remain areas in question for the win-now club in the coming months.
Image courtesy of USA Today Sports.