December 9: The Cardinals made it official, announcing that they have signed Contreras to a five-year deal with a club option for 2028. Specifics of the option aren't know, although Derrick Goold of the St. Louis Post-Dispatch writes it'd push the total outlay north of $100MM if exercised.
December 7: The Cardinals have a deal that would bring Willson Contreras to St. Louis for five years and $87.5MM. The longtime Cub will stay in the NL Central but will suit up for their top rival.
St. Louis has been determined to find a starting catcher this offseason. President of baseball operations John Mozeliak has spoken of that being the team's top priority on a number of occasions, and he told reporters on Monday he hoped to land their new backstop before the Winter Meetings wrapped up this afternoon. It appears the Cards will come through on that goal by nabbing the undisputed top free agent option at the position.
Contreras is one of the game's more consistent offensive threats behind the plate. He's been an average or better hitter in every season of his career. Over parts of seven MLB seasons, he carries a .256/.349/.459 line. While he's never topped 25 home runs, he's eclipsed the 20-homer mark on four separate occasions. With only a half-season of action in 2016 and the truncated schedule in 2020, Contreras only once failed to reach 20 longballs over a full year of playing time (back during a 2018 campaign that proved his worst year to date).
The three-time All-Star will bring that offensive ability to Busch Stadium, while he'll join Nolan Arenado and Paul Goldschmidt as right-handed presences in the middle of the lineup. Contreras performed as well as he ever has during his platform year, putting up a .243/.349/.466 line with 22 homers across 487 trips to the plate in his final season as a Cub. Those slash stats are about par for the course for Contreras' career, but they become increasingly valuable in a league where offense was down significantly. By measure of wRC+, his production was 32 percentage points above league average, the highest such mark of his career.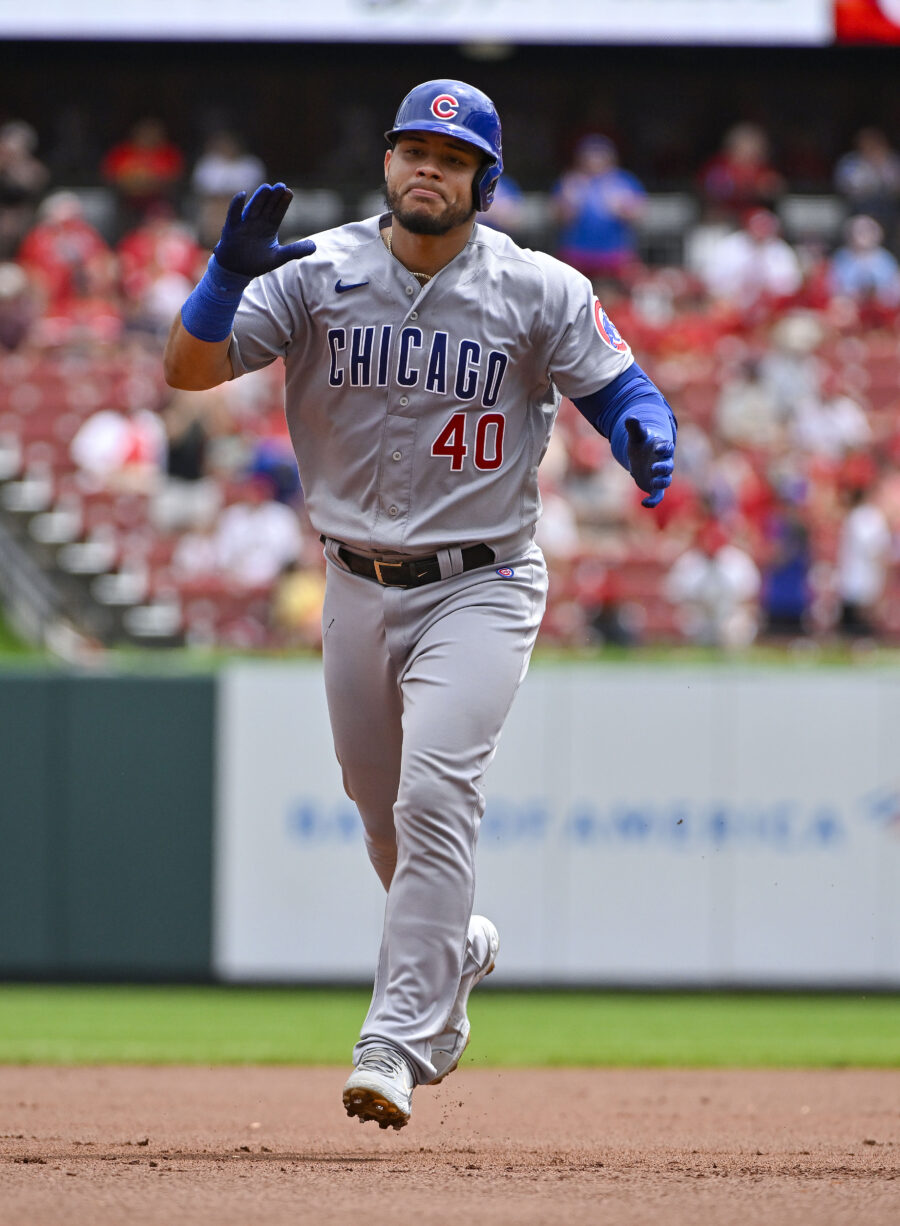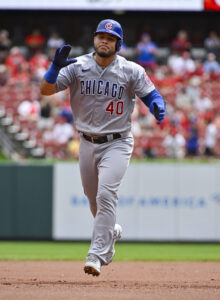 That offense is even rarer when compared to his positional peers. On the whole, catchers mustered just a .228/.295/.368 line this past season. Of the 29 backstops with 300+ plate appearances, Contreras trailed only Alejandro Kirk, Adley Rutschman and his younger brother William Contreras in on-base percentage. Only William Contreras, Cal Raleigh, J.T. Realmuto and Travis d'Arnaud had a higher slugging mark.
Contreras backs that strong production up with quality batted ball metrics. His average exit velocity has topped 90 MPH in each of the past two seasons, while he's bested a 47% hard contact rate in each of the last three years. For reference, the league average marks in those respective categories are 88.4 MPH and and 35.8%. Contreras' strikeout and walk marks typically hover around average, leading to a solid offensive profile built around his above-average power.
While there's little question of his offensive track record, Contreras' glove has been a key talking point for months. With the Cubs out of contention at this past trade deadline and showing little appetite to work out a long-term deal, the 30-year-old backstop was one of the summer's prime trade candidates. Concerns about his ability to manage a pitching staff and call a game trickled out in the weeks leading up to August 2, and the Cubs wound up hanging onto him. That's not to say there was no interest — reports later emerged the Astros were prepared to send starter José Urquidy to Chicago in a one-for-one swap before Houston ownership killed the deal — but trepidations about his game-calling acumen have lingered into the offseason.
That's an unquantifiable concern, and it's probably not as pressing an issue with Contreras having a few months to build rapport with pitchers before jumping into game action. Teams generally tend to be wary about drastic midseason shake-ups behind the plate, reasoning that it's difficult for a new acquisition to learn pitcher tendencies in the midst of a pennant race. Houston skipper Dusty Baker, who encouraged ownership to kill the trade over the summer, told reporters this week he'd be much more interested in bringing Contreras in as a free agent over the offseason. To that end, Houston reportedly put forth a multi-year offer and was seemingly one of the favorites for his services, but it appears they'll lose out on the bidding in the long run.
Contreras, it's worth noting, fares well enough behind the plate in more measurable aspects. Statcast has pegged him as a roughly average pitch framer for the past three seasons, as he worked to overcome ghastly receiving marks from earlier in his career. Contreras boasts an excellent arm, having cut down 29.8% of attempted base-stealers in his career. That's well north of this year's 25% league average. Statcast credited him with the 11th-lowest pop time (average time to throw to second on a steal attempt) among 73 backstops with 10+ attempts in 2022.
St. Louis is clearly comfortable enough with Contreras' overall defensive profile to make him their successor behind the plate to franchise icon Yadier Molina. They explored a number of trade and free agent possibilities, with reports tying them to the #2 free agent at the position (Christian Vázquez) and top trade candidates Sean Murphy and Danny Jansen. In the end, they have held off on dealing away young talent for a catcher and have gone to the top of the market in free agency. Contreras will step in as their #1 backstop, relegating Andrew Knizner to reserve duty and allowing the team to keep prospect Iván Herrera in Triple-A.
At the start of the offseason, MLBTR predicted he'd land a four-year, $84MM deal, with this $87.5MM deal now becoming one of the largest free agent contracts in franchise history. The Cardinals have only previously topped $80MM for a free agent on three occasions, adding Matt Holliday for $120MM and going right around $80MM for both Mike Leake and Dexter Fowler. As noted by Jeff Jones of the Belleville News-Democrat, this is the largest guarantee they've given to a free agent who hadn't previously played for the team.
The Cardinals will also have to surrender a draft choice. Contreras declined a qualifying offer from the Cubs at the start of the offseason, tying him to draft compensation. St. Louis neither received revenue sharing payments nor surpassed the luxury tax threshold in 2022. They're therefore subject to standard penalties for signing another team's qualified free agent — the surrender of their second-highest pick in the 2023 draft and $500K in international signing bonus space.
The Cubs, meanwhile, will recoup a pick between Competitive Balance Round B and the third round in next year's draft. That typically checks in around 75th overall. It'll be small consolation to a fanbase disappointed to see a fan favorite depart, particularly to join their most hated rival. Contreras' departure has long seemed an inevitability given the team's lack of desire at making a longer-term commitment. Chicago will move forward with Yan Gomes and potentially an outside acquisition behind the dish, the latest example of the team closing the book on its 2016 curse-breaking club. Starter Kyle Hendricks, who's under contract for one more season, is the sole remaining player from that team.
Ken Rosenthal of The Athletic first reported that the Cardinals were closing in on a deal. Jon Heyman of The New York Post first floated the five-year structure. Jon Morosi of MLB Network first had the sides in agreement. Jesse Rogers of ESPN first had the $87.5MM guarantee.
Image courtesy of USA Today Sports.