December 9: The Padres have officially announced the deal. Chris Cotillo of MassLive provides the full contract breakdown. Bogaerts will make a $5MM signing bonus followed by 11 straight seasons with a $25MM salary.
December 8: The Padres closed out the Winter Meetings with a stunner, reportedly agreeing to an 11-year, $280MM contract with Xander Bogaerts. The deal does not contain any options or opt-out provisions, although it does include a full no-trade clause. Bogaerts is represented by the Boras Corporation.
Bogaerts had spent his whole career in Boston, originally joining the organization as an amateur signee from Aruba back in 2009. He quickly developed into one of the sport's top prospects and was in the majors by August 2013, a few months before his 21st birthday. Bogaerts claimed two Silver Slugger awards within his first four MLB seasons, but his .283/.339/.409 career slash line through 2017 was roughly league average. He took a major step forward in 2018, reaching another level in his age-25 campaign.
He hit .288/.360/.522 with 23 home runs over 136 games that season, helping lead Boston to 108 wins and a World Series title. Bogaerts sustained that new level of excellence, as he's been a well above-average offensive performer in each of the four years since then. Going back to the start of the 2018 campaign, the righty-hitting infielder owns a .300/.373/.507 line that checks in 34 percentage points above league average by measure of wRC+.
On the heels of that breakout season, the Red Sox inked Bogaerts to a long-term deal. Boston guaranteed him $120MM between 2020-25, allowing him to opt out with half that money remaining after 2022. Bogaerts played well enough to earn MVP votes in each of the four seasons since signing that extension, making it a no-brainer he'd take his opt-out opportunity unless he and the Red Sox could preemptively agree upon a new deal.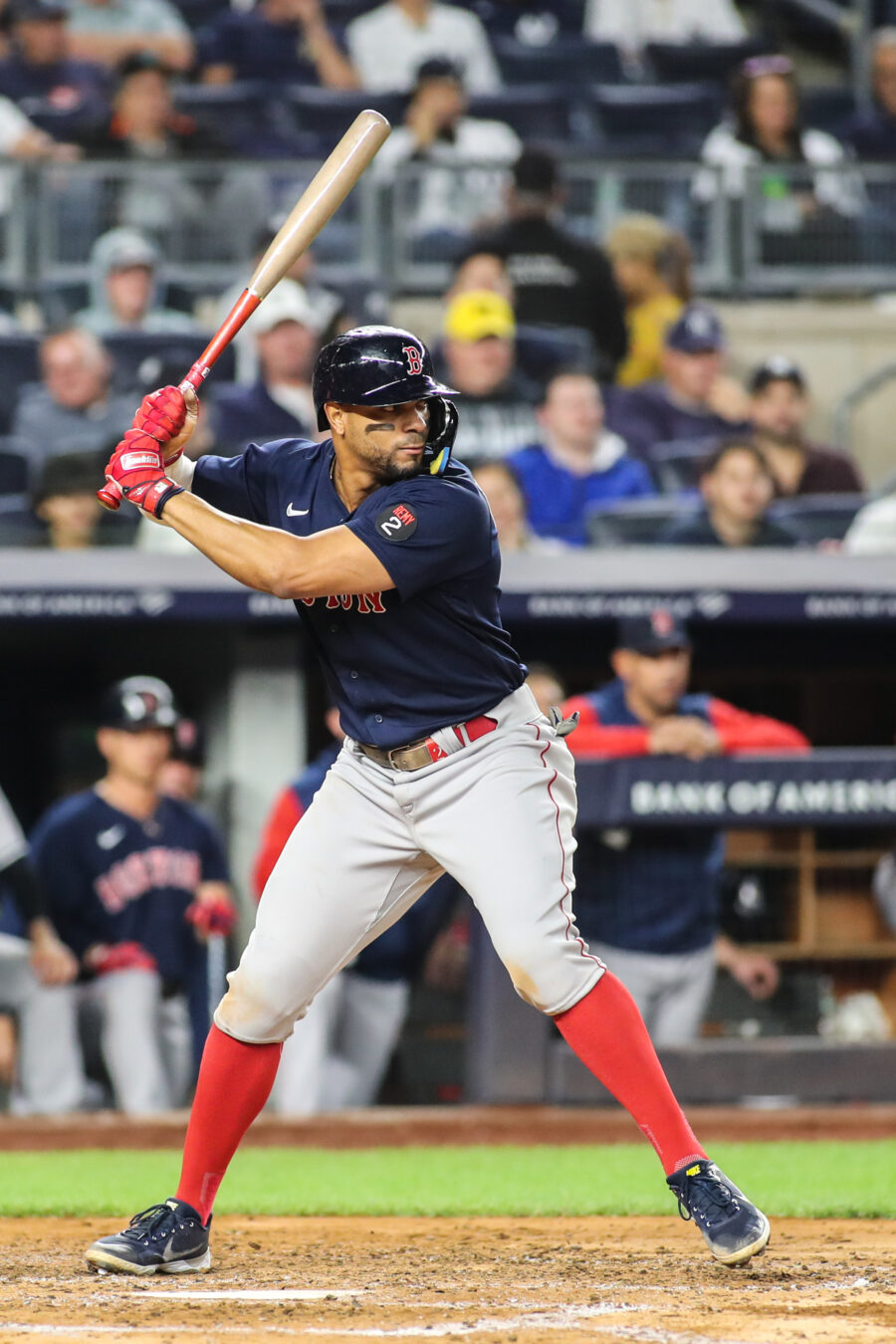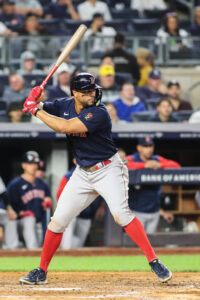 Extension talks this spring didn't come close, as Boston reportedly offered to tack on one additional season at $30MM. Turning that down was an easy call for Bogaerts' camp, and he solidified his opt-out decision with another excellent year. Through 631 plate appearances, he hit .307/.377/.456. Bogaerts' 15 home runs marked his lowest full-season total since 2017, but he finished tenth in the majors (minimum 500 plate appearances) in on-base percentage.
A career-best .362 batting average on balls in play propped up those rate stats, and it's unlikely he'll manage to sustain quite so lofty a mark in future seasons. He owns a career .336 BABIP, though, so there's plenty of room to remain a strong hitter even if his batting average comes down slightly. He's walked at an average or better clip in each of the past five years, and he's kept his strikeout rate remarkably consistent around 18% six seasons running.
Bogaerts makes contact, draws walks and typically threatens or tops 20 homers per season. He's one of the more well-rounded offensive players in the game, and he'll step right into an already loaded San Diego lineup. Bogaerts joins Manny Machado, Juan Soto and Fernando Tatis Jr. in the middle of a lineup that should be incredibly difficult for opposing pitchers to navigate. That quintet has 11 combined Silver Slugger awards, and they'll bring an incredible collection of weapons from both sides of the dish.
Where to pencil everyone in on the diamond is a decision the front office and manager Bob Melvin will work out over the coming months. San Diego's middle infield was already strong. Tatis, two years removed from inking a $341MM extension to serve as the franchise shortstop, will return from his performance-enhancing drug suspension within the first month of next season. Ha-Seong Kim is a Gold Glove caliber shortstop who had a solid .251/.325/.383 line in his second big league campaign. Jake Cronenworth is an above-average defender at second base and owns a .257/.339/.443 mark through his first three seasons.
At least for the moment, Bogaerts seems likely to step in at shortstop. Scott Boras categorically rejected the possibility of Bogaerts moving off the position earlier this offseason. Perhaps the strength of the Padres' offer changed that thinking, but it's also possible the Friars rearrange their infield to accommodate his wishes. San Diego had already been considering the idea of moving Tatis to the outfield after his lost season in deference to Kim. Pushing Tatis into left or center field now seems especially likely. Bogaerts could step in at shortstop, with Kim moving to second base and Cronenworth taking over an uncertain first base position.
Bogaerts' glove has been the subject of immense attention throughout the free agent process. The 6'2″, 218-pounder has a larger build than many shortstops, and he's drawn some criticism for lacking prototypical range. Public defensive metrics roundly panned his glove throughout his career, with Defensive Runs Saved pegging him below par every year from 2014-21. Concerns about his long-term defensive outlook seemingly played into Boston's low extension offer this past spring, but Bogaerts posted the strongest defensive metrics of his career in 2022.
In 1249 2/3 innings this past season, he rated as five runs above average by DRS and four runs better than par, according to Statcast. Concerns about his lateral quickness into his mid-30's figure to persist, but his strong 2022 campaign at least reduced any urgency to move him off shortstop immediately.
The Padres clearly aren't much concerned about Bogaerts' long-term defensive fit. Owner Peter Seidler and president of baseball operations A.J. Preller have been hellbent on adding another star regardless of position. They reportedly made offers well north of $300MM for both Trea Turner and Aaron Judge, but both players declined and signed elsewhere. Those failed pursuits of Turner and Judge made the Padres a fascinating wild card this offseason, and while reports initially suggested they were unlikely to dip back into the shortstop market, they pivoted and made a run at Bogaerts.
An 11-year term will take him through his age-40 campaign. That matches the term Turner received from Philadelphia, but Bogaerts was generally expected to command a lesser deal in light of his long-term defensive concerns. Turner's $300MM guarantee does beat the one received by Bogaerts, but the $20MM gap was closer than most had envisioned.
The deal shatters MLBTR's pre-offseason prediction of $189MM over seven seasons. It's the second-largest free agent deal in franchise history — trailing only Machado's ten-year, $300MM pact. The $280MM guarantee is the seventh-largest for a free agent in MLB history, with Judge and Turner topping it thus far among this offseason's free agents.
The cost for the Padres goes well beyond the terms of the offer itself. The specific financial breakdown hasn't yet been reported, but the contract comes with a $25.45MM average annual value. That's the relevant consideration for luxury tax purposes, and it sends the Padres well into tax territory. Roster Resource projects the Friars for a tax number around $254MM at present. That's $21MM north of the $233MM base threshold, and $1MM above the second tier of penalization.
San Diego has paid the luxury tax in each of the last two seasons, and it looks all but certain they'll do so again. They're taxed at a 50% rate for every dollar spent between $233MM and $253MM, coming out to $10MM in fees. They'll be charged 62% on any overages between $253MM and $273MM, and they'd face heightened penalties thereafter. As things currently stand, the Bogaerts deal sets them up for a tax bill around $10.6MM. Further additions or subtractions will alter that number, but it's virtually certain they'll be into competitive balance tax territory yet again.
It's worth noting that at $27.27MM and $25.45MM respectively, both Turner and Bogaerts accepted lower average annual values than expected while also reaching an 11-year term that had only happened once before in free agency when Bryce Harper signed for 13 years.  With infielders Corey Seager, Nolan Arenado, Francisco Lindor, and Anthony Rendon receiving AAVs ranging from $32.5-35MM dating back to 2019, it may be surprising that Turner and Bogaerts fell well below that range.  It's all about that CBT – the Phillies and Padres reduce their luxury tax hits and tax bills for taking on the players' late-30s seasons, which project to have little value.
Bogaerts rejected a qualifying offer from the Red Sox, meaning the Padres will also have to surrender draft choices to add him. As a team that paid the luxury tax in 2022, they're subject to the highest penalties. San Diego will be stripped of its second and fifth-highest selections in next year's amateur draft, and they'll forfeit $1MM in international signing bonus space.
While the Padres load up for another run at the powerhouse Dodgers in the NL West, the Red Sox will have to move on from a homegrown star who's played a key role with the franchise for nearly a decade. It's an abrupt about-face for the organization. While it had long looked as if Bogaerts would depart given the lack of progress on an extension in Spring Training, reports Wednesday morning suggested their talks with his camp were gaining momentum.
It seemed as if he might remain in Boston for the entirety of his prime, but the Padres' offer wound up handily surpassing Boston's. Pete Abraham and Alex Speier of the Boston Globe report the Red Sox had offered a six-year term worth around $160MM. That was more in line with general pre-offseason expectations and contained a slightly higher annual salary than the deal Boagerts received, but San Diego's willingness to tack on an extra half-decade in guaranteed money made the gap enormous.  Somehow, the $137.375MM the Red Sox spent on Masataka Yoshida and Kenley Jansen earlier Wednesday almost seems quaint in comparison to the Bogaerts contract.
The Red Sox will receive compensation for Bogaerts' departure, but it's at the lowest tier since Boston also paid the competitive balance tax in 2022. They'll receive a pick after the fourth round in next year's draft. That's of small consolation, and the far greater concern is how the club will move forward. Boston signed Trevor Story to a $140MM guarantee last offseason, giving themselves some cover at shortstop. Should they prefer to keep Story at second base, they could check in with the two remaining top free agent shortstops, Carlos Correa and Dansby Swanson.  Regardless, Boston is certainly not done after chief baseball office Chaim Bloom said Monday he hopes to add "seven, eight, nine" players to the team this offseason.  Starting pitcher and the catcher position are two items remaining on the shopping list even if shortstop is handled in-house.
Correa and Swanson are sitting pretty with Turner and Bogaerts having exceeded expectations in terms of total dollars.  While the Boras Corporation representing both Bogaerts and Correa could be viewed as a conflict of interest, the agency managed to get Bogaerts signed with a team that hadn't been expected to sign a shortstop at the outset of the offseason.
It's a deal of massive proportions, one that could drastically shake up both leagues. After a couple attempts came up empty, the Padres landed their desired superstar. The Red Sox's optimism of a few hours ago was dashed by a determined organization that now spends like a big-market behemoth. Bogaerts lands one of the largest contracts in MLB history, setting the stage for a fascinating bidding war for the two star shortstops who remain unsigned.
Jon Heyman of the New York Post was first to report Bogaerts and the Padres had agreed to an 11-year, $280MM contract. Jon Morosi of MLB.com reported the deal did not come with any opt-out provisions and included a full no-trade clause.
Image courtesy of USA Today Sports.