With the trade deadline now less than two months away, we at MLBTR are setting our sights backwards for a bit to highlight past trades. With an arbitrary cutoff point of 2017, we're counting down the top 10 returns that a team got when selling a rental player. We're on to #7 in our series, looking back four years to a last-minute 2019 swap.
The Cubs entered deadline season nearing the end of their contention window. Chicago had snapped their World Series drought three years prior. While the Kris Bryant, Anthony Rizzo, Javier Báez, Willson Contreras and Kyle Hendricks core never returned to the Fall Classic and fell short of dynastic expectations some observers had heaped on them, Chicago remained a good club. They went to the NL Championship Series in 2017 and made the playoffs again the following season, losing to the Rockies in the Wild Card game.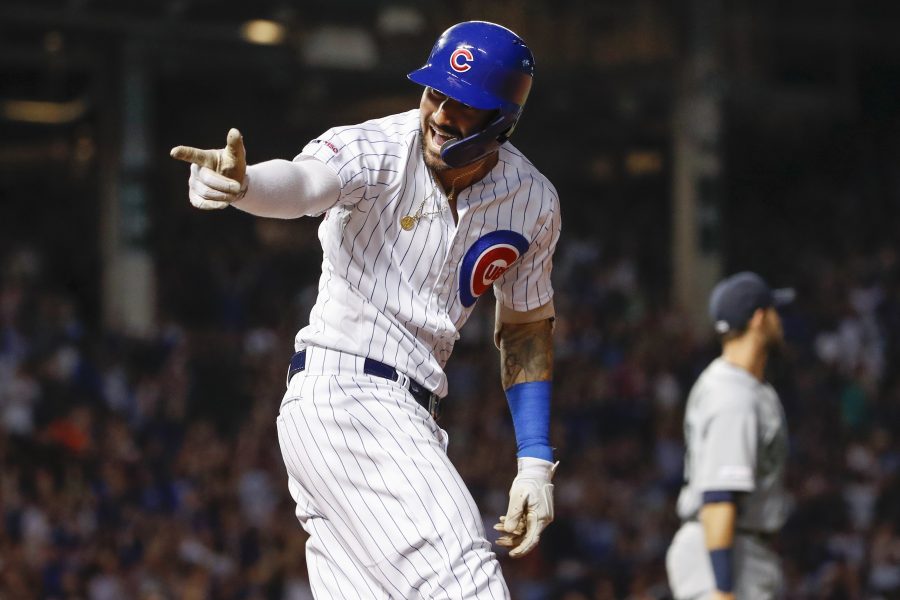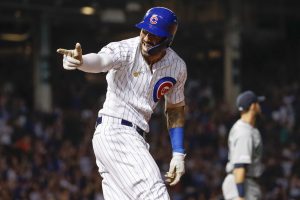 Chicago's then-Theo Epstein led front office set out to bolster the roster further in hopes of securing a fifth straight playoff berth. They sat at 56-50 heading into play on July 31, a game back of the Cardinals in the NL Central. The Cubs looked to inject some life into an offense that had ranked 14th in run scoring to that point. The addition: corner outfielder Nick Castellanos in a swap sending prospects Alex Lange and Paul Richan to the Tigers.
Castellanos was amidst a relative down season at the time of the trade. While he'd hit .298/.354/.500 the prior year, the right-handed hitter was carrying a .273/.328/.462 line midway through a '19 campaign that had seen a home run explosion around the league. The Cubs looked past that comparatively slow start.
In return, they dealt a pair of fairly recent high draft choices to a Detroit club that was midway through a full-scale rebuild and en route to one of the worst seasons in history (47-114). Lange had been the 30th overall pick in 2017 after helping LSU to the College World Series finals. Richan was a second round draftee the next season out of the University of San Diego. Lange had posted middling minor league numbers up through Double-A; Richan had a solid but not overwhelming High-A performance.
It was a bit of a buy-low situation for the Detroit front office. Both pitchers had seen their prospect stock hit a down ebb. The Tigers immediately moved Lange from the rotation to the bullpen, hoping that a simplified repertoire and shorter stints would mitigate longstanding questions about his delivery and command. Detroit surely believed he'd be a viable MLB reliever but probably didn't anticipate this level of dominance.
Lange debuted in 2021 and posted a 4.04 ERA in 35 2/3 middle relief innings. He took his game to a new level last season, significantly upping his swing-and-miss to force his way into higher-leverage spots. Lange tossed 63 1/3 frames of 3.41 ERA ball while punching out more than 30% of opposing hitters. An absurd 19% swinging strike rate — bettered only by Edwin Díaz and Andrés Muñoz among qualified relievers — suggested the potential to push the strikeouts even further. Paired with an absurd 55.6% ground-ball rate, Lange demonstrated an ultra-rare combination of whiffs and unthreatening contact. He was one of just five relievers (min. 30 innings) to record both a strikeout rate above 30% and a grounder percentage north of 55%.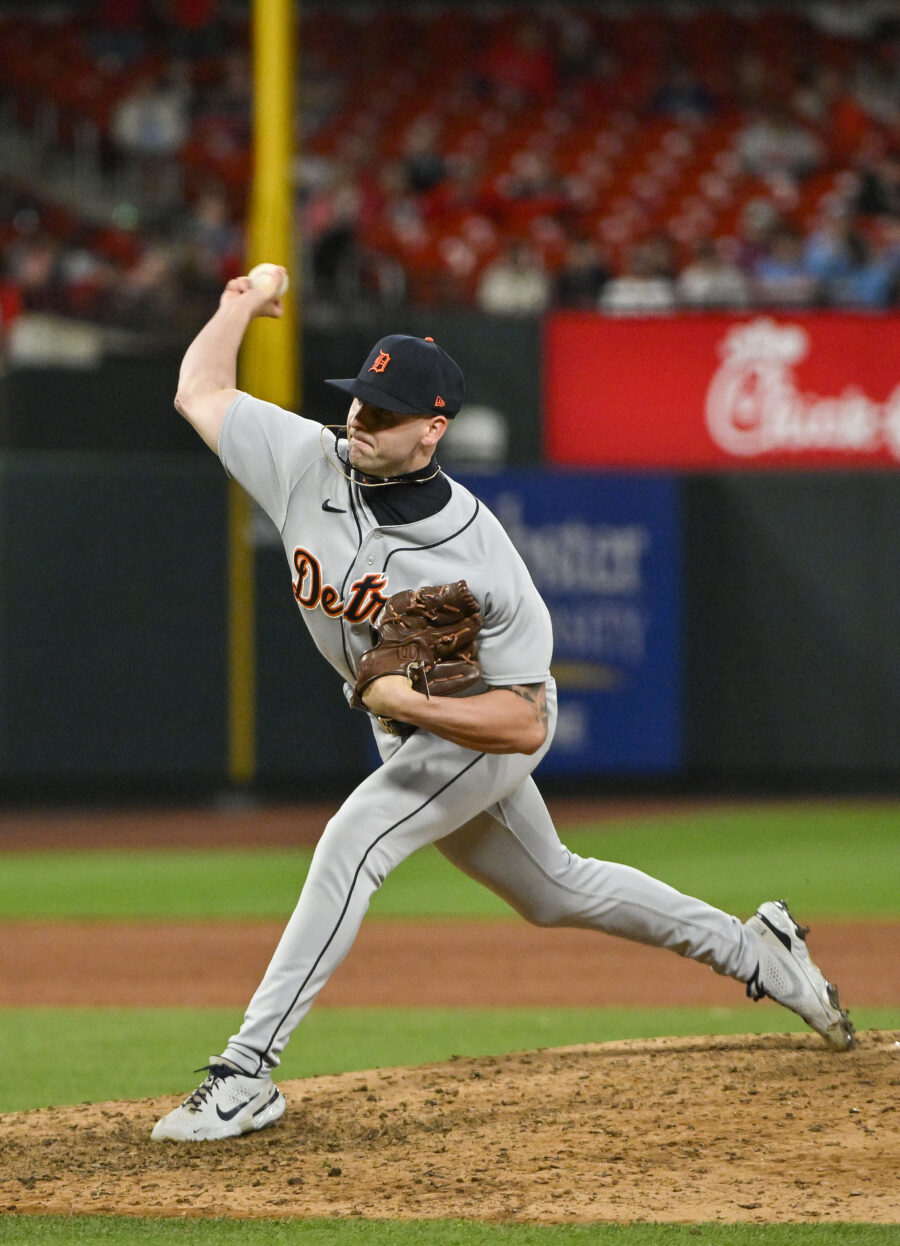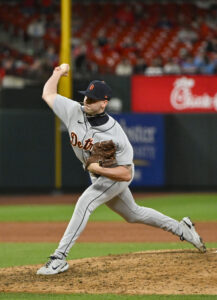 In his second full MLB campaign, Lange has indeed upped the strikeouts. Entering play Thursday, he's punched out 35% of batters faced. Lange carries a 2.55 ERA in 24 2/3 innings and been entrusted with the ninth inning by manager A.J. Hinch. The 27-year-old has saved 10 of 11 opportunities. He was blown up for four runs in a third of an inning by the White Sox in his most recent appearance, but Lange has made 17 scoreless outings and recorded multiple strikeouts on 14 occasions.
Lange's control still comes and goes. He's walked at least 9.9% of opponents in all three of his big league campaigns. That includes a lofty 13% walk percentage thus far in 2023. Yet he's been so dominant at his best that he's able to navigate the free passes. Since the start of the 2022 campaign, opponents are hitting .190/.298/.292 in 371 trips to the plate.
The Tigers didn't get anything out of Richan. He topped out at Double-A and was released last September. Hitting to the extent they have on Lange has more than made up for Richan stalling out from Detroit's perspective. They landed a high-leverage reliever who has shown impact talent. If Lange dials in his control, he could be one of the three to five best late-game arms in the sport. Even if he's "only" an All-Star caliber hurler, that's a great pull for a player who was two months from free agency. The Tigers forfeited the chance to recoup a draft pick via the qualifying offer for Castellanos' departure but Lange has been far better than the expected value of a choice landing at the end of the first round.
Lange is under club control through the 2027 campaign. He entered this season with one year and 112 days of service time, so he'll head into next offseason at 2.112 service years. That could leave him just shy of the cutoff for early arbitration as a Super Two player, which has landed between 2.115 and 2.134 years over the past five winters. Even if Lange does get to arbitration next season, four years of arb control for a pitcher of his caliber is a massive asset.
The Tigers' rebuild has stagnated, leading to a front office shakeup last summer. While Detroit is only 3 1/2 games out in the AL Central right now, they're seven games under .500 and have been outscored by 70 runs. This isn't a likely playoff contender even in the sport's worst division. As a result, other clubs have called on Detroit's relievers (Lange included) about a potential deadline deal.
With their extended control window, there's no pressure on president of baseball operations Scott Harris and his staff to pull the trigger. They dealt shorter-term relievers like Joe Jiménez and Gregory Soto over the winter but moving Lange would be at another level of boldness. The more probable outcome is that Lange will stick around into next season, hopefully anchoring a bullpen for the next competitive Detroit club.
From the Cubs' perspective, the trade had mixed results. Had they anticipated Lange being this good, they wouldn't have made him available for a rental. Castellanos validated their optimism, though, rebounding from his middle-of-the-road start with a torrid stretch. He slashed .321/.356/.646 with an absurd 16 home runs in 51 games. Castellanos earned a $64MM guarantee from the Reds the ensuing offseason. His Cincinnati deal afforded a post-2021 opt-out clause which he leveraged into a $100MM contract from Philadelphia on the heels of another excellent season.
Even with Castellanos hitting at a top 20 level down the stretch, the Cubs never kicked into another gear. They'd go 27-28 from August onward. Chicago ended third in the division and five games behind the Brewers for the last postseason spot. They returned to the playoffs during the abbreviated 2020 campaign but were swept in the first round by the Marlins. Chicago hasn't gotten back to the postseason since and is going on six years dating back to their last playoff win.
Previous installments: honorable mentions, Drew Smith/Lucas Duda (#10), Steve Pearce/Santiago Espinal (#9), Lane Thomas/Jon Lester (#8)
Images courtesy of USA Today Sports.